This Muffaletta Pizza Recipe is so flavorful and simple.  It gives the famous sanwich a run for it's money!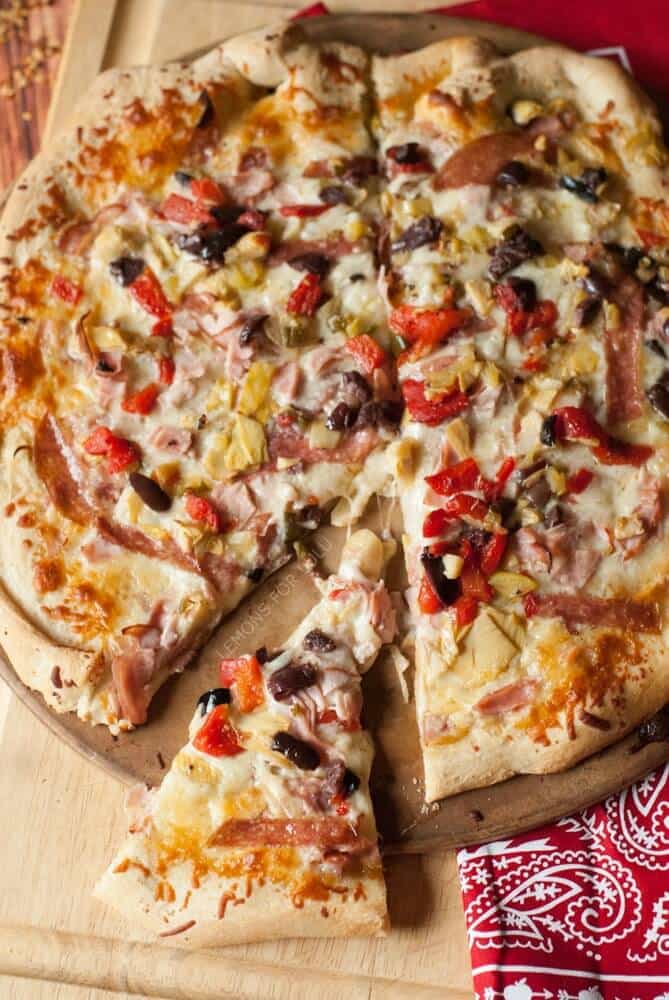 I've decided that for Father's Day I'm going to make my husband a muffaletta pizza.  We LOVE, LOVE, muffaletta sandwiches.   I personally love everything about them.   I love the tang of the olive salad paired with the mildness of the provolone cheese.  And I will eat anything with salami!  Yessirree, it's my kind of sandwich!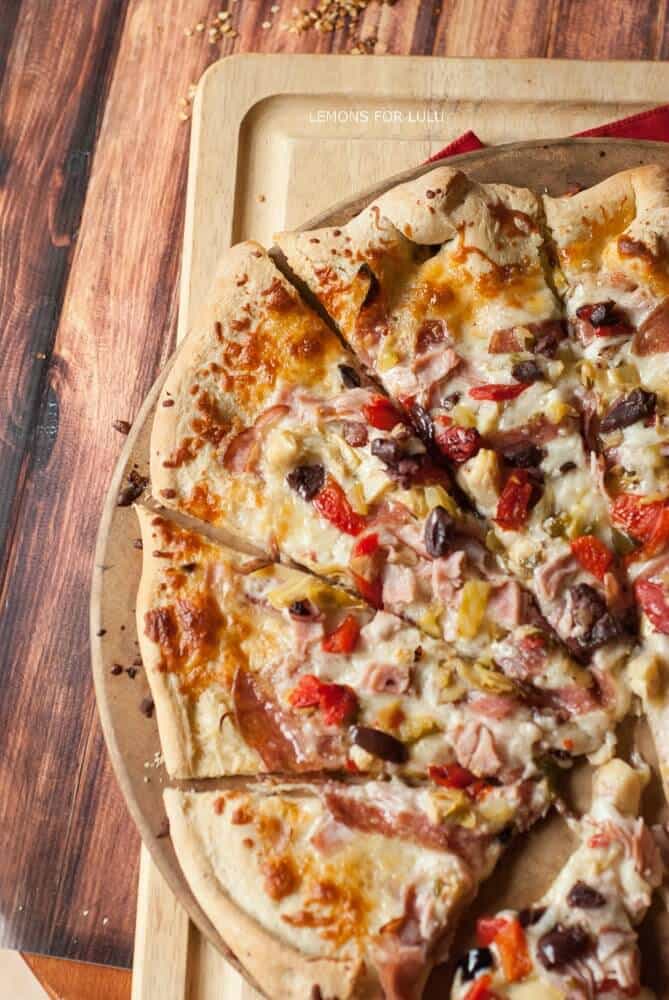 My husband is so wonderful about eating everything I make.  He never complains, but if something isn't appealing, he'll kindly suggest I not make it again.  Which is fair, I don't want to make food he hates!  He's a great husband and a great dad, he deserves a good meal!  A few years ago, I made a Malaysian pizza for dinner.  It sounded delicious.  It had chicken tossed with a sweet, spicy sauce.  The sauce was made up of peanut butter, brown sugar, soy sauce, red pepper flakes and ginger.  I admit, it was a bit unusual, but intriguing.  And I love trying out new recipes.  I followed the recipe instructions exactly, but the final product looked nothing like the beatific picture in the magazine.  It was like eating a chicken pizza coated in toffee!   The sauce thickened and became brittle  I could hardly cut the pizza into slices!  I reluctantly served our pieces and set them on the table.  We both silently stared at our plates, neither of us were eager to dig in.  I went ahead and took the first bite and promptly ran to the garbage can to spit it out.  I will always admit my failures and boy that was a big one.  My husband was so relieved!  For one, he didn't have to taste it(or eat it) and two he wouldn't have to be the one to admit how awful it was!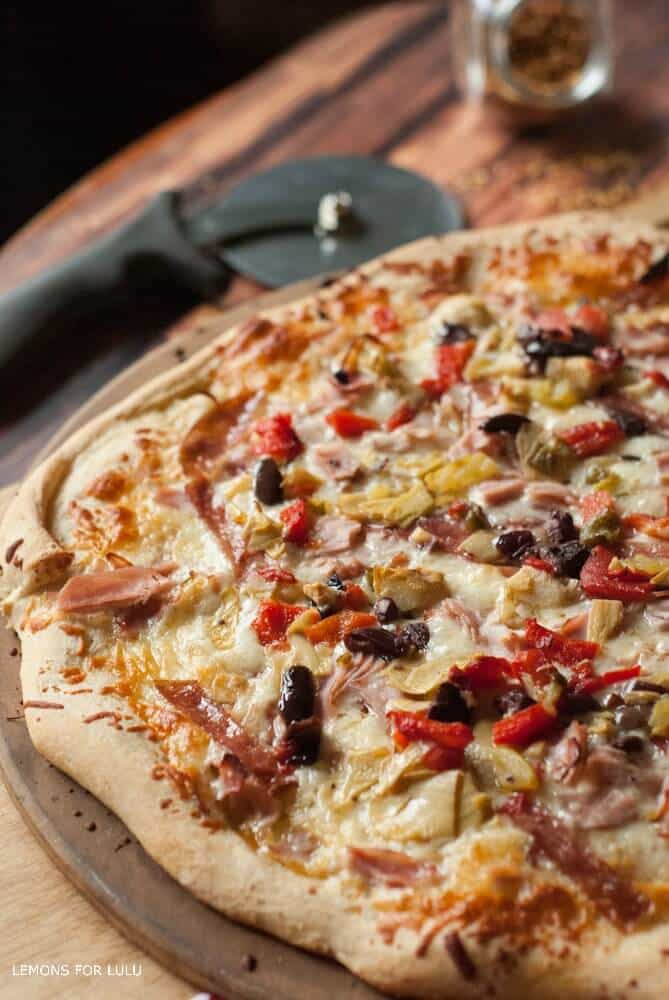 This muffaletta pizza recipe is so unlike that tragedy!  It's savory and delicious!  I could eat the olive salad with bread and call it a day!   This tasty dinner is for the man who will swim in a freezing cold pool water with the kids,  play catch for hours,  let his daughters fluff his hair and make up his face and who will answer an endless amount of questions with love and patience.  It's the least I could do.
Ingredients
Olive salad
1

cup green olives chopped

1

cup black olives, chopped

6

oz marinated artichoke hearts undrained

1/2

cup roasted red peppers.

1

T olive oil

1

tsp jarred garlic
For the Pizza
3/4

cup chopped hard salami

3/4

chopped smoked ham

8

oz shredded Italian blend cheese

1/2

tsp oregano

Premade pizza dough
Instructions
1. Pre heat oven 350
2. Combine all the ingredients for the olive salad in a bowl. Stir.
3. Drizzle oil over pizza dough. Spread olive salad over dough. Top with half the salami and half the ham. Spread cheese on top of meat layer. Top with remaining meet and sprinkle with oregano.
4. Bake for 20 minutes until crust is golden and cheese is melted.