Energy bites that taste like cherry pie, but are healthy, light and a tasty!
I'm not sure if you are at all familiar with the Youtube sensations; Dude Perfect. I know way more about trick shots than I care to admit. My 11-year-old son loves these guys as much as I love cupcakes. He is ALL in.
While trick shots may not be my thing, these guys are entertaining. They have one particular character called "the rage monster." He is the guy that seems normal but in the blink of an eye; he can fly off the handle and yell at everything and everyone around him. His face turns beat red; spit flies out of his mouth, and all sorts of veins pop out of his head. I'm pretty sure you all have seen someone like this at some point in your life ( kid sports?? Anyone?).
I hate to admit this, but when I am hungry; I AM that "rage monster." I think "hangry" is the accurate description. I get ugly, loud, mean and nasty. It's embarrassing. I need to make sure I have some healthy, easy, quick snacks with me at all times. Snacks like these cherry pie energy bites.
I have wanted to try energy bites for ages. With all the fresh cherries available this time of year, I thought cherry pie flavored energy bites would be amazing. These energy bites are so simple; they start with oatmeal and almond butter. Flaxseed, chia seeds, fresh cherries, agave nectar, and extracts are all thrown in to boost health benefits and flavor. I could not believe how easy and delicious this snack is; I see these becoming a staple in my fridge. Plus the flavor combinations are endless. All I have to do is think of my favorite summertime pies…peach pie, plum pie, key lime pie….
Cherry Pie Energy Bites
Energy bites that taste like cherry pie, but are healthy, light and a tasty!
Ingredients
1 cup old fashioned oats
3/4 cup almond butter
3/4 cup chopped fresh cherries
1/8 teaspoon cinnamon
1/2 cup flaxseed
2 tablespoon chia seeds
1/4 teaspoon almond extract
1/4 teaspoon vanilla extract
1/3 cup agave nectar
Instructions
In a bowl stir together the oat, almond butter, cherries, cinnamon flaxseed, chia seeds and extracts. Refrigerate for 30 minutes.
Roll mixture into 1-inch balls. Store energy bites in the fridge in an airtight container. Keep bites separated by parchment paper.
Nutrition Information
Yield

24
Serving Size

1
Amount Per Serving
Calories

97
Total Fat

6g
Saturated Fat

1g
Trans Fat

0g
Unsaturated Fat

5g
Cholesterol

0mg
Sodium

2mg
Carbohydrates

8g
Fiber

3g
Sugar

3g
Protein

3g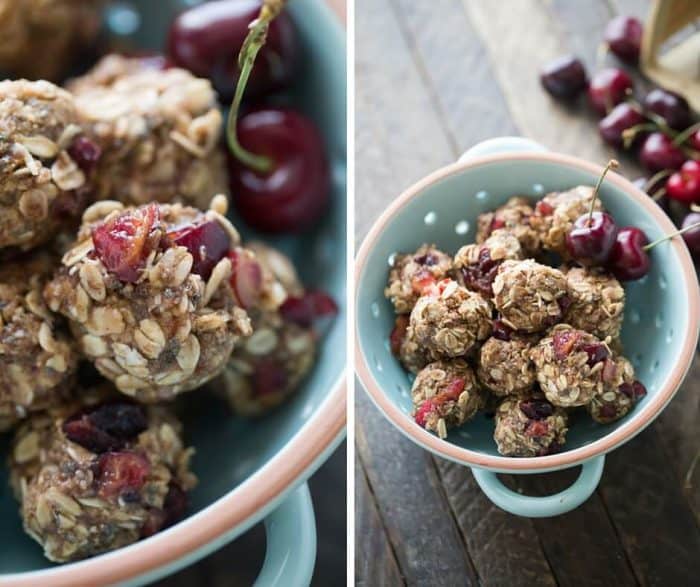 This post was created in partnership with Meijer and Produce for Kids to raise awareness for Jump for Jill. Jump for Jill is a music-based health program for kids that makes nutrition education rock, offering audiences live concerts, recorded music, video experiences, and cross-curricular classroom activities.
Since 2013, Produce for Kids has donated $342,823 to Jump with Jill. About 75 schools
have been supported through the campaign since fall 2014. Visit www.produceforkids.com/Meijer
for more information on how to support the campaign.