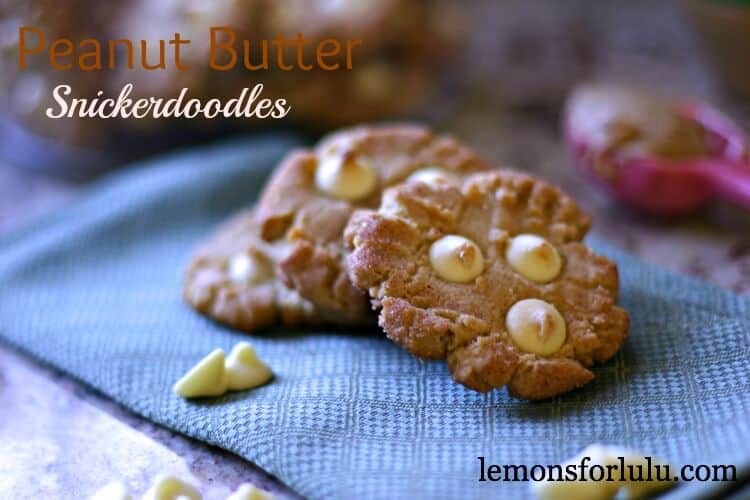 I made these cookies with my youngest daughter, Lucy.   She is my baking assistant.  She is an expert egg cracker.  Yes, a few end up on the floor, but it's all part of learning.  Lucy is also very good at adding my pre measured ingredients.  Her favorite ingredient to add is the chocolate chips.  I usually give her a little pile to sample before we stir the chips into the batter.  It makes her very happy.
Lucy and I made these peanut butter snickerdoodles together.  With these cookies, I let Lucy press the white chocolate chips onto the cookies before we put them in the oven.  She had complete creative license as to chip placement.  I think she did a fabulous job.
We are sharing these snickerdoodles today as part of the Cookies for Crafts for Sandy Hook Elementary.   A bunch of bloggers and Etsy shop owners have teamed up to help in any way we can.   No, cookies and crafts aren't going to fix the world.  But this is our way of spreading the word to let everyone know we don't have to feel helpless.  If you'd like to make any sort of donation, please click on the link below for more details.   If you like a list of Etsy shop owners who are participating, Ashton, from Something Swanky has a list for you.
The families of Newtown, CT are in our hearts, thoughts and prayers.  On Christmas Eve, we'll be setting cookies out for Santa, but we'll be remembering these young lives lost in the process: Daniel Barden, Olivia Engel, Josephine Gay, Ana M. Marquez-Greene, Dylan Hockley, Madeleine F. Hsu, Catherine V. Hubbard, Chase Kowalski, Jesse Lewis, James Mattioli, Grace McDonnell, Emilie Parker, Jack Pinto, Noah Pozner, Caroline Previdi, Jessica Rekos, Avielle Richman, Benjamin Wheeler, Allison N. Wyatt, Mary Sherlach, Victoria Soto, Anne Marie Murphy, Lauren Rousseau, Dawn Hochsprung, and Rachel Davino  
Lemons for Lulu
Yields 36
Peanut butter snickerdoodles with white chocolate chips.
15 minPrep Time
10 minCook Time
25 minTotal Time
Ingredients
1/4 cup butter, softened
3/4 cup sugar, divided
1/2 cup brown sugar
1 teaspoon vanilla
3/4 cup peanut butter
1 egg
1 1/2 cups flour
1 teaspoon baking soda
1/2 teaspoon salt
2 tablespoons heavy cream
1/4 cup cinnamon sugar (1/4 cups sugar and 1 tablespoon cinnamon)
1 cup white chocolate chips
Instructions
Preheat oven to 350. Line baking sheets with parchment paper and set aside.
In a large bowl, beat butter, 1/2 cup sugar, brown sugar and vanilla on medium speed until fluffy, about 4 minutes. Add peanut butter mixing until smooth. Beat in eggs.
In a medium bowl, whisk together flour, baking soda, and salt. With mixer on low, carefully mix in flour mixture in three batches, alternating with the cream. Mix will to combine.
Using a cookie scoop, scoop up dough and roll into balls. Roll each ball in cinnamon sugar. Flatten each cookie with a small glass dipped in sugar. Place 4 or 5 white chocolate chips onto each cookie. Bake for 10-12 minutes. Let cookies cool on pans for 5 minutes before transferring to wire racks.
Makes about 36 cookies.
http://www.lemonsforlulu.com/peanut-butter-snickerdoodles/
Recipe adapted from Better Home and Gardens