Need a simple, family pleasing dessert?  Then ice cream pie is for you!
A chocolate chip cookie crust is topped with chocolate chip cookie homemade ice cream!
Layers of hot fudge and caramel bring it all together!
 Have you ever heard of  sphenopalatine ganglioneuralgia.  No?  Neither have I.  Well, not the scientific name anyway.  I know this as "brain freeze".  And it stinks.  So does turning 40.  Because I think I developed an acute case of brain freeze right about the same time  that I hit that ominous milestone.  Its seems I can no longer enjoy ice-cold beverages, milkshakes, slushies and malteds because not only will they go to my slowly sagging hips, but they go to my head as well!  What a crock!
I have read about several ways to cure brain freeze.  And I have tried them all!  Imagine how utterly ridiculous I look holding a milkshake in my left hand while holding two fingers from my right hand up to the roof of my mouth!  Holding ones breath doesn't work either.  I've almost passed out on that one!  Lets see, I've also tried tilting my head while drinking, and breathing in through my nose and exhaling through my mouth and frankly, all those just make me look stupid.  Don't get me wrong, I'm totally fine with looking stupid if those so-called "cures" actually worked!
The good news through all this is that my brain does not freeze if I simply eat ice cream…slowly.  Thank heavens.  What would I do if I couldn't enjoy a creamy, cool bowl of my favorite ice cream!   Die, probably.  Coldstone Creamery happens to be one of my most favorite places to go for ice cream.  I was sort of over the moon when I discovered International Delight had Coldstone Creamery coffee creamer!   So I did what any ice cream lover would do with ice cream inspired coffee creamer, I made ice cream!
Then I made ice cream pie!  The homemade ice cream tastes just like chocolate chip cookies dunked in a tall glass of milk!  A childhood treat right?  I used mini chocolate chip cookies as the crust and then layered homemade ice cream, hot fudge sauce, caramel sauce and cookie crumbs!  Holy moly this is the mother of all ice cream pies!
I had such a hard time photographing this pie.  Sure, it got a little drippy and melty, but that wasn't the problem.  The problem was I couldn't stop eating it!  Every time I adjusted my picture I took a nibble.  I just kept adjusting and nibbling, adjusting and nibbling until….
 I didn't expect to eat the whole piece, but it was so darn good.  And there was no brain freeze to stop me.  Huh, guess that brain freeze is good for something.  Self control.
A LITTLE MORE FOR YOUR VIEWING PLEASURE: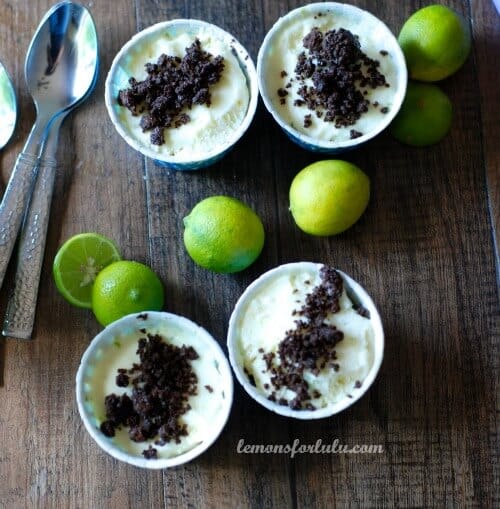 Key Lime Frozen Yogurt Cups
NEVER MISS A RECIPE!  SUBSCRIBE TO MY EMAIL TODAY!
FOLLOW ME:
FACEBOOK | RSS | TWITTER | GOOGLE + | BLOGLOVIN | INSTAGRAM
Hot For Cookie Ice Cream Pie
Ingredients
1 4oz container egg product, such as Egg Beaters
1/2 cup sugar
2 cups heavy cream
1 cup International Delight Coldstone Creamery Chocolate Chip Cookie Coffee Creamer
2 packs mini chocolate chip cookies (9 oz bag, I used Chips Ahoy)
1 12.25 oz jar hot fudge
1 12.25 oz jar caramel topping
Instructions
In a blender combine, egg product, sugar, cream and coffee creamer. Mix until completely blended. Refrigerate for at least one hour. When ready, prepare ice cream according to manufacturer's instructions. Freeze until ready to use.
In an 8 in. pie plate, line bottom and sides of plate with mini chocolate chip cookies. Allow ice cream to soften, and spread half of the ice cream over cookie crust. Place pie in freezer to allow ice cream to harden, about 1 hour. Heat hot fudge according to package directions. Let cool for about 30 seconds before pouring over ice cream pie. Return pie to freezer for another hour. Layer remaining ice cream over hot fudge layer. Return pie to freezer. Heat caramel sauce. Once second ice cream layer has hardened, spread caramel sauce over this layer. Crumble remaining cookies and spread over top of caramel sauce. Return pie to freezer until ready to serve
http://www.lemonsforlulu.com/hot-for-cookie-ice-cream-pie/
ARE YOU READY FOR SOME FUN?
Love ice cream + coffee? This summer, International Delight is bringing your favorite Cold Stone Creamery ice cream flavors to coffee and they're celebrating by giving away five $400 grand prizes to throw this summer's ultimate Ice Cream Social!  To enter, visit the ID + Ice Cream Pinterest board and pin your favorite image using the #IScream4ID hashtag. Good luck!
This is a sponsored conversation written by me on behalf of International Delight. The opinions and text are all mine.
I'll be sharing this with these fantastic sites as well as with Jam Hands and