If you are a fan of orange creamsicle then you will love this easy, no-bake dessert!
This icebox cake is creamy and sweet; it is a simple treat that everyone will love!
Orange Creamsicle Ice Box Cake Brings Back Memories
This easy icebox cake reminds me of my ice cream truck days. My friends and I could be in a very serious game of hide and seek, but if we heard the ice cream truck (even from blocks away) everyone would immediately abandon their hiding places to run home to get money for ice cream.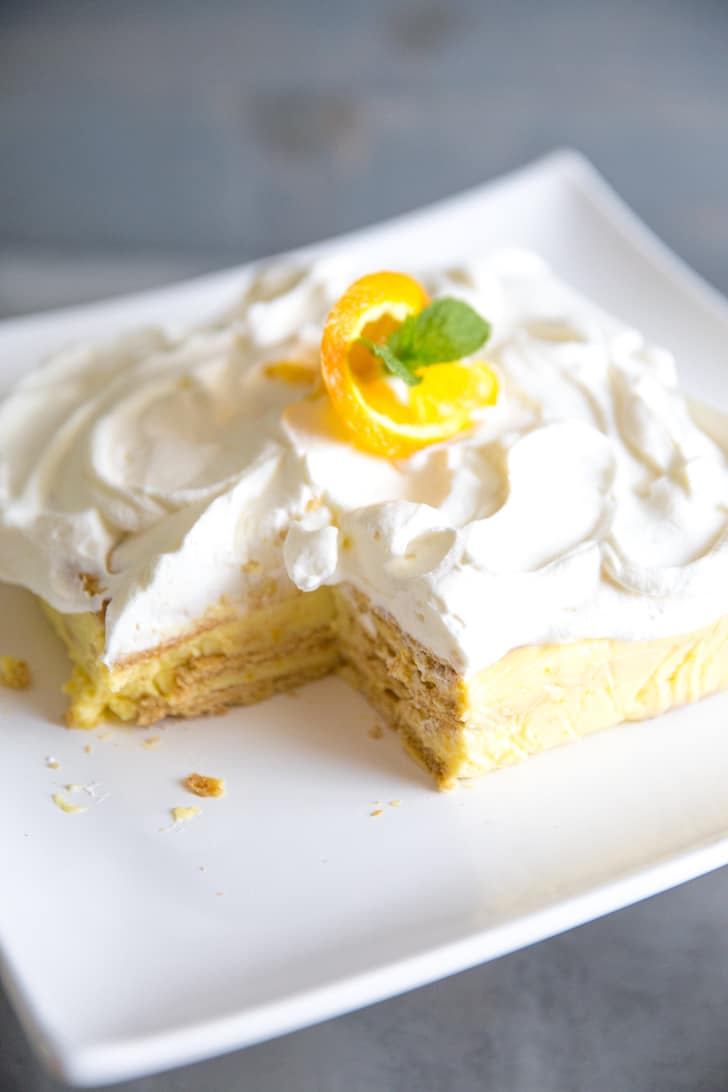 The ice cream I purchased most often was an orange Creamsicle. Creamsicles were the best of both worlds; smooth ice cream and fruity popsicles! They were the perfect blend of orange/vanilla and fruit/cream. Each bit was so satisfying, I just loved them! Which is why I am pretty excited about this icebox cake.
About this Orange Creamsicle Ice Box Cake
This cake is so easy; it is such a great summertime treat! Graham crackers make up the "cake" while a creamy, orange custard is layered in between. The custard does require a little cooking, but aside from that, the only challenge will be to wait for the icebox cake to chill before you can dig in! I topped my Orange Creamsicle Cake with a homemade whipped topping (frozen whipped topping works just as well).
The method for making this icebox cake is simple and the ingredient list is short. What is even better is I was able to use Kroger store brand for each ingredient.
I used the Kroger Mobile App to purchase all of my ingredients, and guess what? You can do the same! The mobile app is so easy to use and it is so convenient too!
How To Use the Mobile App:
Download the Kroger mobile app from either the Google Play or the App store and set up your account.
There is a search bar at the top of your screen where you can search for individual ingredients and add them to your cart.
After you have filled up your cart, you can choose a store location for your pickup. You can also choose the date and time for pickup as well.
You can decide if you would like Kroger to substitute items for you if the item you selected is unavailable.
Enter your payment information and submit your order.
The Kroger Mobile App Best Features Are:
Start My Cart for pickup orders
Load digital coupons to your card
Start My List for easy in-store shopping
View the Weekly Ad
Find items in-store with the Aisle Locator
Track your Fuel Points
Manage your prescriptions
Schedule an appointment at your local Little Clinic
Buy gift cards
You can also save $5 off $50 or more when you download the Kroger app, load a special app-exclusive coupon and use it before August 1
This offer will only be available to new app download users.
$10 off a $50 purchase will be available to Dillons, Baker's, and Gerbes shoppers only.
Want more icebox cakes? Try this Pina Colada Icebox Cake and this Vanilla Coconut Icebox Cake!
Yield: 8-10
Orange Creamsicle Ice Box Cake
If you are a fan of orange creamsicle than you will love this easy, no-bake dessert!
This icebox cake is creamy and sweet; it is a simple treat that everyone will love!
Cook Time
9 hours
15 minutes
Ingredients
¾ cup sugar
¼ cup cornstarch
Pinch of salt
4 egg yolks
2 cups half and half
3 tablespoons butter
3 tablespoons orange zest
½ cup orange juice
45 graham cracker squares
1 cup heavy cream
4 tablespoons sugar
Instructions
In a small saucepan, whisk together the first three ingredients. In a separate bowl, whisk together the egg yolks and half and half. Slowly mix egg mixture into the sugar mixture whisking constantly; bring to a boil. Continue to whisk; boil for 1 minute. Whisk in the butter and the orange zest until the butter has melted. Mix in the orange juice.
Pour mixture into a metal bowl and place the bowl over ice. Let the mixture cool for about 10 minutes or until the custard has thickened and cooled.
Meanwhile, line an 8 x 8 inch square pan with plastic wrap allowing enough to extend over the sides. Place 9 graham cracker squares on the bottom, overlapping them if necessary.
Spoon about ¾ cup of custard over the graham crackers and spread to the edges. Top with 9 more graham crackers and repeat process. Top with remaining 9 crackers. Cover the cake tightly and freeze for 8 hours or overnight.
Before serving, lift the cake from the pan and place on your serving dish. Remove the plastic wrap and allow the cake to stand for an hour.
Before serving, whisk the heavy cream on high; gradually add in the sugar until the cream develops soft peaks. Cover the top of the cake with the whipped cream. Store the cake in the refrigerator.
Notes
I used all Kroger brand products to make this recipe
Nutrition Information
Amount Per Serving
Calories

0
Total Fat

0g
Saturated Fat

0g
Cholesterol

0mg
Sodium

0mg
Fiber

0g
Sugar

0g
Protein

0g
Limit one per digital account. Limited to new app downloads only. We reserve the right to withdraw this offer at any time. Offer redemption expires August 1, 2018. Only valid on a purchase of $50 or more. Offer is non-transferrable. $50 purchase is after all discounts are applied and excludes Alcohol, Tobacco Products, Fuel, Money Orders, Western Union, Green Dot Cards, Money Paks, Taxes, Postage Stamps, Gift Cards/Certificates, Lottery, Promotional Tickets, CRV, Prescriptions and Customer Care Center Services. Exclusions apply; see store for
a complete
list. Void if reproduced, transferred or where taxed, prohibited or restricted by law. DO NOT DOUBLE. Must use Rewards card. Coupon only valid at Kroger Family of Stores.
This coupon is digital only and will ONLY BE AVAILABLE IN MOBILE APP and only available for new app downloads. It should be usable for both in-store and online shopping experiences. Discussed special category with coupon team and suggest using App Exclusive as category and flag on the coupon itself.