Buttery, chewy coconut cookies are made better with lots of sweet, pastel colored White Chocolate M & M's!
The perfect cookie for Easter!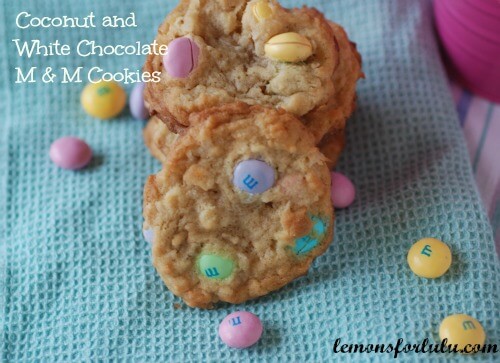 I'm going to confess something to you.  I don't like Easter baskets, or rather, I don't like FILLING Easter baskets.  I did when my kids were wee little tots.  I'd chock them full with little toys, books, movies and an over abundance of jelly beans and chocolate (ok, ok, I can't lie, those jelly beans were for me).
As the years passed, it finally occurred to me that I was spending way too much money on these overflowing Easter baskets.    The bigger realization was that it wasn't worth it.  Yes, the kids enjoyed the trinkets and gifts, but it was all about the candy.     It was bad enough that the kids were getting all this candy from us, but, the grandparents had to one up me each year.  They felt it necessary to buy each kid an enormous prepackaged basket filled with fluffy pink stuffed bunnies and loaded to the brim with candies off all kinds.   The house would look like a war zone when they kids were finished going through their loot.  Pastel foiled wrappers would litter the ground like shrapnel.  And the carnage!  Peeps would be bitten and forgotten.  It was like on old Godzilla movie with gooey, sugared ears, heads and legs forming a trail to where my kids would be found slumped in a corner, coming down from their sugar high with jelly bean juice slowly dribbling down their quivering chins.  The sight truly was horrific!  All this by 9 a.m.!
Once my kids came to, I'd try to coax them into forgetting the candy, and eating my homemade treats, but I'd get shot down each time.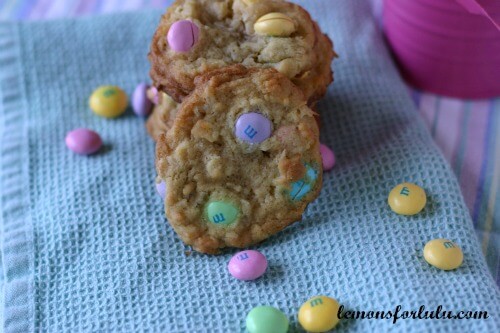 Things have changed.  I got wiser and cheaper.  Each year, my kids receive a Target gift card at Christmas from one of their aunts.  I immediately take these gift cards and hide them.  Come Easter, I use each gift card to fill each child's basket.  It's genius, if I do say so myself.  I don't feel a bit guilty.  The gift cards ARE spent on them after all!  But  with a finite budget, I keep those baskets realistic.   We all win.  I spend less money, my kids still get a wonderfully filled basket filled with their favorite treats, just in smaller quantities.  My homemade treats, like these coconut white chocolate M & M cookies, are consumed with a new-found zeal.  Yes, this Easter bunny is very happy!
You might enjoy these too: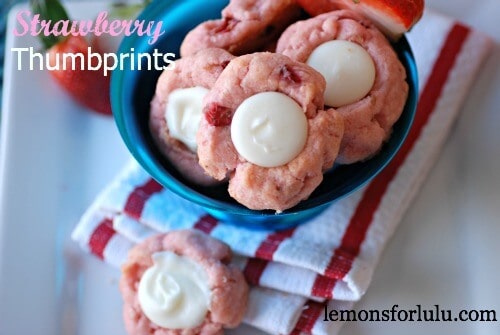 If you've like a little Lulu in your life, please subscribe via email | Facebook | Google + | or Bloglovin!  I love staying in touch with friends!
Coconut and White Chocolate M & M Cookies

Ingredients

1 2/3 cup flour
¾ teaspoon baking powder
½ teaspoon baking soda
½ teaspoon salt
¾ cup butter, softened
¾ cup brown sugar
1/3 cup sugar
1 teaspoon vanilla
1 teaspoon coconut extract
1 egg
1 9 oz package white chocolate M & M's
1 cup coconut

Instructions

Preheat oven to 375
In a small bowl, combine flour, baking powder, baking soda, and salt; set aside.
In a large bowl, beat butter both sugars, vanilla and coconut extract until creamy. Beat in the egg. Slowly beat in the flour mixture. Add coconut. Stir in all but ½ cup of the M & M's.
Drop cookies by tablespoons onto a lined baking sheet. Press remaining M & M's into the tops of each cookie.
Bake for 8-10 minutes or until edges are slightly browned. Allow cookies to cool on baking sheet for 2 minutes before removing to a cooling rack.
Makes 36 cookies.

http://www.lemonsforlulu.com/coconut-and-white-chocolate-m-m-cookies/
Check out this recipe on my Pinterest Board!
If you've enjoyed this post, I would love a thumbs up!  I'm in the running for the Top 10 Food Blogs!  Yahoo!
I'll be sharing this recipe at these fabulous sites as well as too: Jam Hands, Back for Seconds and