The holidays are the most wonderful time of the year, but they are stressful too. We want everything to be perfect! The truth is, hosting a holiday party doesn't have to be hard to be perfect!
®® This post was sponsored by NABISCO , The J.M. Smucker Company, and Baileys . All opinions are my own.
Hosting a holiday party can be a lot of work, but it doesn't have to be stressful. Today, I am going to share with you some tips and tricks on how to host a magical and rewarding holiday party! For additional holiday inspiration, please visit https://www.evite.com/c/festiveflightsanddelights.
Plan Ahead
The whole "making a list and checking it twice" isn't just for the man in the big red suit! I highly recommend making a list to prep for your holiday party. Plan the guest list, the menu, the drinks, the setup, and the clean up as well as any games or activities.
Make a Target run to pick up your party supplies and essentials.
It isn't a bad idea to make a holiday playlist as well.
Writing out your timeline can be especially helpful: when will you send out invitations, when do you need to have your RSVPs by, when should you order/make your food and drinks, etc. And don't be afraid to ask for help from friends and DELEGATE!
Send out digital invitations using Evite. Evite is a super-easy way to organize get-togethers, especially during the busy holiday season. I love this invitation for a holiday gathering: It's simple to create and easy to send!
Plan Your Budget and Stick To It
Party costs have a way of snowballing. You think of a party theme, and then between the decorations, food, alcohol, kid activities, tableware, goody bags and those adorable cupcake toppers you just have to have…your party spending can get out of control.
Before you set out to shop for your supplies, take inventory of what you already have at home. Have leftover red plates from your Valentine's Day party? Those work great! Have a lot of red wine already? Only shop for white. You'll be surprised by what you already have at home!
Visit your local Target store for party supplies and check out savings with Circle in the Target app. Target has a great selection and won't break your budget. Target is your one-stop-shop for party essentials (food, decorations, paper goods, beverages,etc).
Consider making the party a potluck! People love to pitch in and bring their favorite dishes. You can designate dishes based on the first letter of your guests' last names to keep things simple and sweet.
Finally, if you're in a pinch, it is okay to borrow from friends and neighbors. People understand how difficult it can be to host a party and most people are very eager and willing to help!
Cook Ahead
Don't spend the day of the party making all the food. Save that time for any last-minute errands or decorating.
Dips, party trays (antipasto trays) and finger foods can often feed a crowd and they can be made in advance. Things like mini quiches, tarts, cookies, brownies, and bite-sized cheesecakes can also be made in advance and frozen.
Drinks like Rum Punch and Sangria can also be made in advance.
Have Enough Food
Your party is going to end very quickly if you don't have enough food!
Stock up on your favorite party essentials like TRISCUIT® and RITZ® crackers. They come in a variety of flavors and make wonderful party bites with easy toppings.
Grab all your party snacks at Target is one stop shopping, grab your snacks while you are buying other party supplies. (Red Circle link will be inserted here)
If you are looking for easy and festive snacks, try these TRISCUIT® Mashed Avocado Toppers and these RITZ®-Y Snowmen. They are festive, fun and come together quickly!
The TRISCUIT® Mashed Avocado Topper recipe requires only a handful of fresh ingredients and takes minutes to prepare. The great thing is you can make as many or as few as you need!
Cover the crackers in plastic wrap and refrigerate until needed. Caution as avocado tends to brown if prepared too much ahead of time
The RITZ®-Y Snowmen are adorable. You will need a few candy items from Target, but this recipe is a great way to let loose, have fun, and let your creativity shine! Your snowmen will be loved by all your guests, young and old.
Prioritize Cleaning
It's okay to prioritize your cleaning and focus on the high traffic areas like kitchen, bathroom, and living room.
Honestly, you can throw clutter and items you don't want to be seen in a room and shut the door. Guests are pretty aware of the fact that a shut door means there is nothing in there for them!
Simplify Drinks
Have an assortment of sodas, water bottles, seltzers and mixers on ice and in beverage tubs. If this is a kid-friendly event, make sure you have a variety of juice bags as well.
Pair your snacks with this Peppermint Mocha Coffee Punch, as it is warm, cozy, and tastes like the holidays! This coffee punch is the perfect pick-me-up after all the savory and sweet snacks have been enjoyed!
This punch is made with the trusted taste of Folgers® Classic Roast Coffee. Folgers® coffee has been around for generations and with good reason!
The coffee has a rich, smooth, timeless taste that is delicious on its own. For the holidays, add a splash of Baileys® Peppermint Bark Coffee creamer for a touch of mint and creamy goodness!
Feel free to add the coffee creamer in your holiday baked goods anywhere that dairy is needed; the taste is delicious and it can be a great addition to your holiday table (in the drinks and in the food).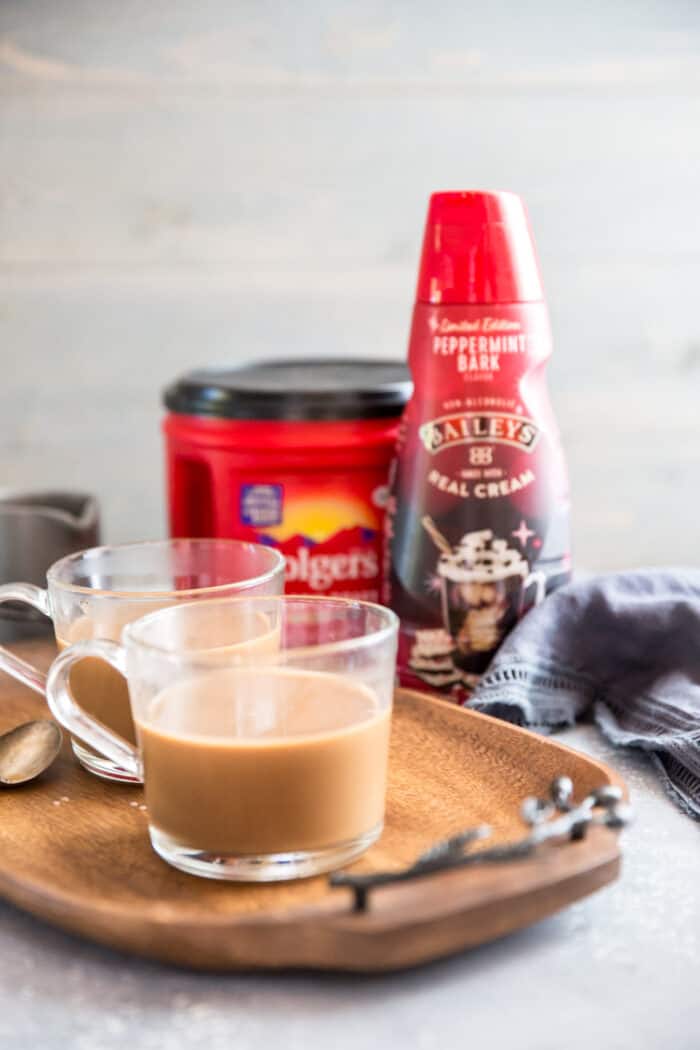 Have An Exit Strategy
Consider putting an end time on your invitations. This will let your guests know that this isn't an all-night event!
If guests linger, it's perfectly acceptable to use subtle cues like blowing out candles or turning off the music to help people start to feel like they should head for the door.
Tidying up, clearing plates and cups are also good cues that the party is coming to a close.
The most important thing to remember is to give yourself some grace, relax and enjoy the time with your guests. They are there to see you and will accept imperfections, so don't stress!
Tips On Hosting A Holiday Party
The holidays are the most wonderful time of the year, but they are stressful too. We want everything to be perfect!  The truth is, hosting a holiday party doesn't have to be hard to be perfect!
Ingredients
TRISCUIT® Mashed Avocado Topper
Prep Time: 25 min Total Time: 25 min | 24 servings, 2 topped crackers each
What You Need
2 Tbsp. mayonnaise
1 tsp. Sriracha sauce (hot chili sauce)
1 fully ripe avocado
2 tsp. fresh lime juice
48 TRISCUIT Crackers
48 fresh cilantro leaves
2 small fresh jalapeño peppers, cut into thin slices 2 Tbsp. slivered red onions
Peppermint Mocha Coffee Punch
What You Need
Brewed Folgers® Classic Roast ground coffee
Vanilla Extract
Chocolate Syrup
Baileys® Peppermint Bark Coffee Creamer
RITZ®-Y Snowmen
Prep Time: 30 min Total Time: 30 min Makes 16 servings, 3 topped crackers each.
What You Need
2 pieces multi-colored sour belts (each 6 inches long)
4 oz. white candy coating wafers, melted
48 RITZ® Crackers
24 small gumdrops, cut lengthwise in half
Decorations: assorted small round candies and/or sprinkles
Instructions
To Make The Avocado Topper
Mix mayonnaise and Sriracha sauce until blended.
Mash avocado in a medium bowl until smooth; stir in lime juice.
Spread onto crackers.
Top with cilantro, mayonnaise mixture, peppers, and onions.
To Make The Coffee Punch
Prepare coffee according to package directions.
Into each coffee cup, stir in 1 teaspoon vanilla, 1 tablespoon chocolate syrup, and coffee creamer. Serve. (Amounts are not listed as this recipe can easily be adapted according to the number of guests you serve.)
To Make The Snowmen
Cut each sour belt lengthwise into 3 strips, with 2 colors in each strip, then cut each strip crosswise into 8 pieces.
Use small scissors to cut thin strips of sour belt pieces to resemble fringe on a scarf
Spread melted candy wafers onto crackers. Immediately attach gumdrops pieces to crackers for the snowmen's hats and sour belt pieces for the scarves.
Decorate with small candies and/or sprinkles for the snowmen's faces.
Nutrition Information
Yield
24
Serving Size
1
Amount Per Serving
Calories

497
Total Fat

10g
Saturated Fat

3g
Trans Fat

0g
Unsaturated Fat

7g
Cholesterol

7mg
Sodium

602mg
Carbohydrates

97g
Fiber

11g
Sugar

26g
Protein

12g