Reese's peanut butter cups, caramel sauce, peanut butter and chocolate sauce are layered between
ice cream sandwiches in this easy ice cream cake!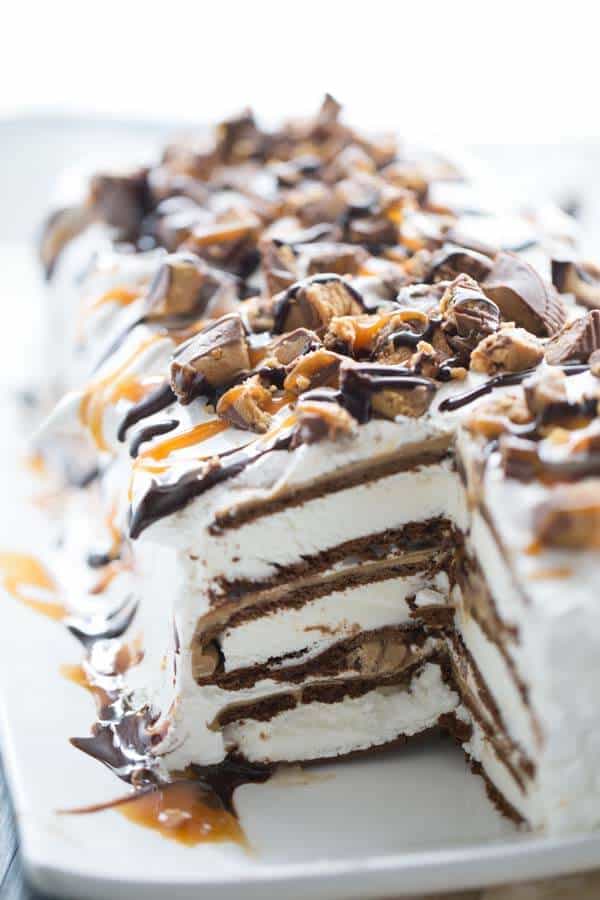 What Is An Ice Cream Cake?
An ice cream cake is a cake layered with various cream flavors with whipped frosting on top. Ice cream cakes come in a ton of varieties and are a fun twist on a traditional cake.
I have never in my life tasted an ice cream cake. Never. How sheltered am I? Friends share their fond childhood memories of DQ cakes or Baskin Robbin's ice cream cakes, and as they tell me all about their favorite flavors, I can't help but stare at them blankly. I just cannot relate.
I could wallow in self-pity at how deprived I've been, or I could just make my own, which is what I chose to do. While I cannot attest to how tasty store-bought ice cream cakes are, I CAN tell you that this ice cream cake is spectacular! It's super easy too! In fact, assembling this cake will take a fraction of the time it would take you to actually pick up a store-bought cake.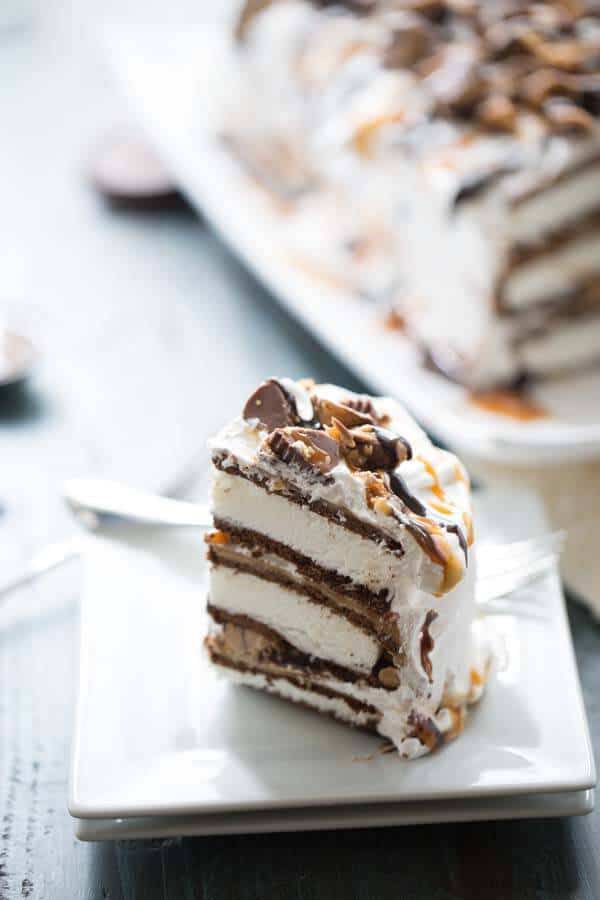 WHERE IS THE ICE CREAM CAKE RECIPE?
If you'd rather skip cooking tips, suggestions, handy substitutions, related recipe ideas – and get straight to the Ice Cream Cake Recipe– simply scroll to the bottom of the page where you can find the printable recipe card.
Ice Cream Cake With Ice Cream Sandwiches
For this no-fuss recipe, I layered vanilla ice cream sandwiches and filled each layer with peanut butter, chopped Reese's Peanut Butter Cups, caramel and chocolate sauces. I don't need to go on, do I? You are already drooling, I can tell.
I've made some divine frozen dessert in the past. I was crazy about the Chocolate Chip Cookie Ice Cream Pie. I was nuts about this S'mores Ice Cream Cake, but I am so in love with this cake. I quite confident you will be in love too. I'd venture to say that this ice cream cake will disappear quickly every time you make it.
Summertime and the living is easy, creamy and scrumptious!
How To Make Reese's Ice Cream Cake
This is recipe starts by layering ice cream sandwiches with melted (microwaved) peanut butter. Now, you could instantly change up the flavor if this dessert by using a different kind of ice cream sandwich; i.e. chocolate ice cream sandwiches. Caramel and chocolate sauces are drizzled over the peanut butter along with chopped up peanut butter cups. Continue layering until you've used up about 18 sandwiches.
I used 1 1/2 containers of Cool Whip to "frost' this cake. You may want to adjust this to your needs and tastes by either using only one container or a full two. You could also make your own whipped cream if you prefer. Drizzle more chocolate and caramel over the top and add your Reese Cups!
After serving the cake, be sure to place the ice cream cake back into the freezer, the whipped topping will come to room temperature and soften very quickly.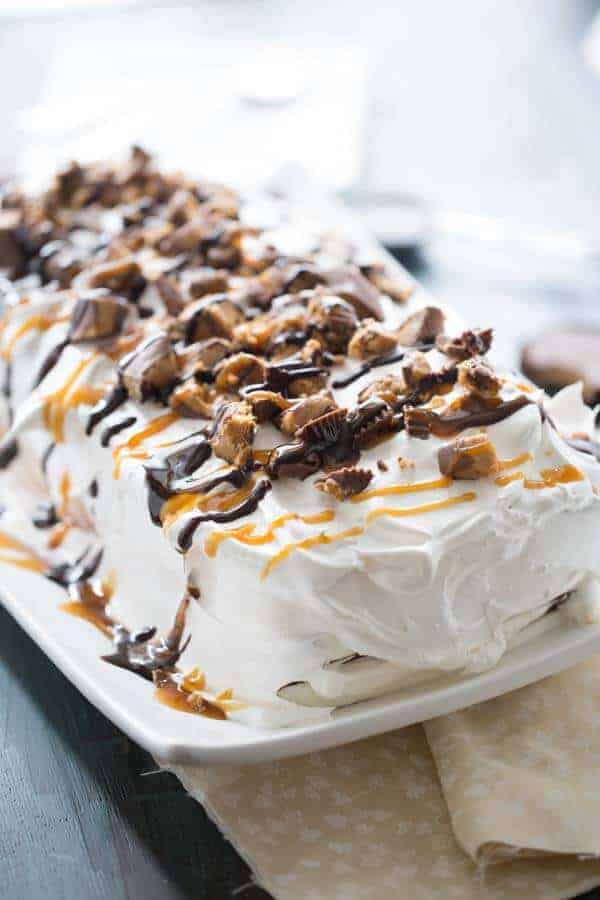 Want more frozen treats? Try this Oreo Ice Cream Cake, Snickers Pie, and Berry Crumble Bites!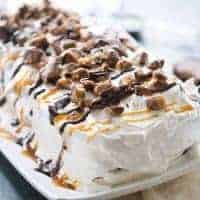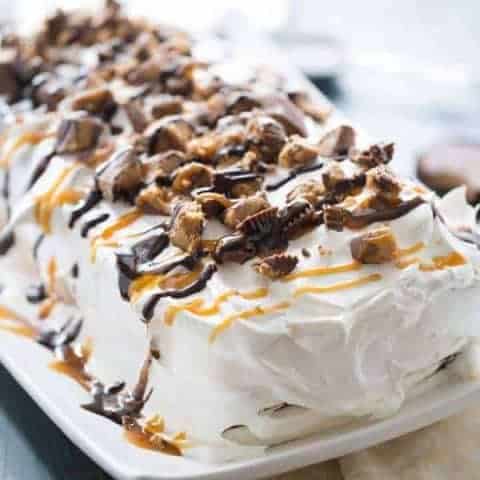 Reese's Ice Cream Cake
Chocolate and peanut butter come together in this simple, crowd-pleasing ice cream cake!
Ingredients
18 vanilla ice cream sandwiches
1 cup peanut butter, melted
1 9.5 oz package Reese's peanut butter cups (12 total)
6 tablespoons caramel sauce
6 tablespoons hot fudge sauce
2 8 oz containers whipped topping
Instructions
Arrange six ice cream sandwiches on a serving platter. Drizzle half of the peanut butter over top. Drizzle two tablespoons of the caramel sauce and the hot fudge sauce. Top with a third of the chopped candies. Arrange six more ice cream sandwiches and drizzle the remaining peanut butter over top. Drizzle two tablespoons of each of the sauces and top with another third of the chopped chocolates. Top with remaining ice cream sandwiches. Surround the cake with the whipped topping. Drizzle the cake with the remaining sauces and top with the remaining chocolates. Allow the cake to set in the freezer for at least 30 minutes before serving.
Nutrition Information
Yield

10
Serving Size

1
Amount Per Serving
Calories

814
Total Fat

45g
Saturated Fat

19g
Trans Fat

0g
Unsaturated Fat

21g
Cholesterol

28mg
Sodium

484mg
Carbohydrates

94g
Fiber

3g
Sugar

61g
Protein

15g