This easy egg drop soup recipe is simple yet satisfying. The soup broth has the deepest, richest flavor; it's restaurant tasting food right at home.
My sister and I had a standing weekend tradition; the Chinese buffet. Yes, every Saturday we'd meet at our favorite Chinese restaurant, stand in line for the buffet then sit and talk about our weekend antics. It was all about quality sister time (and sesame chicken).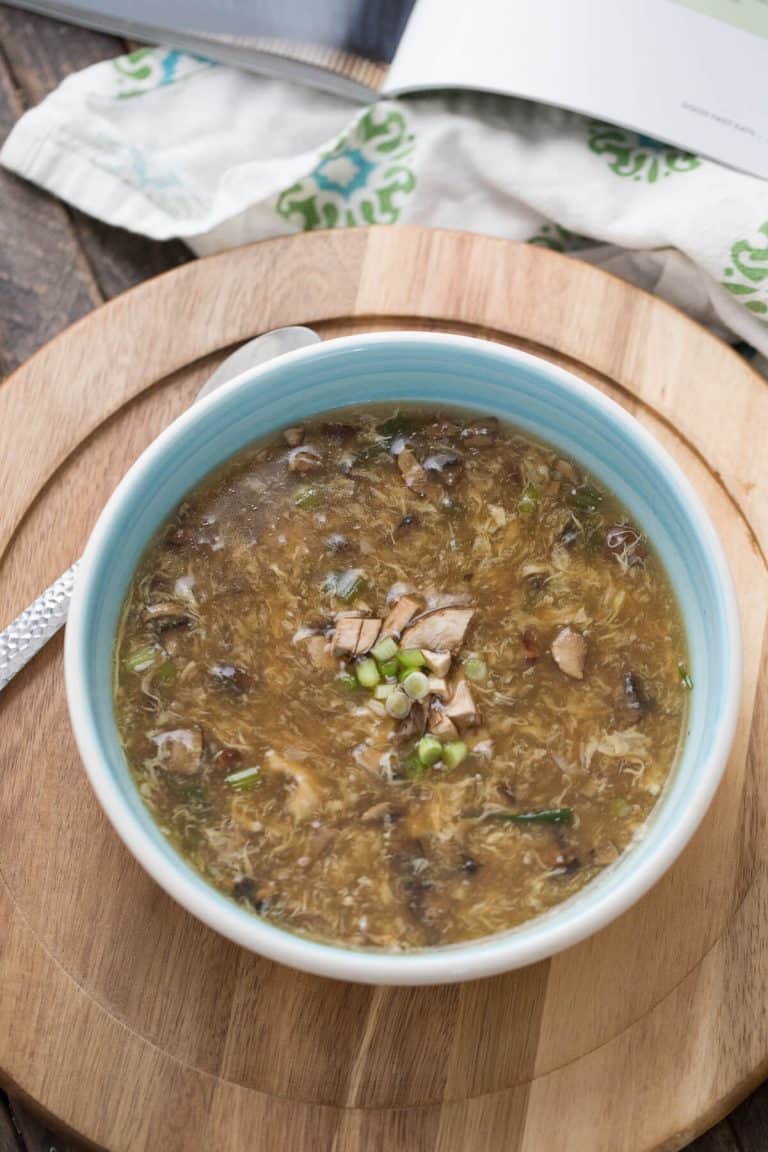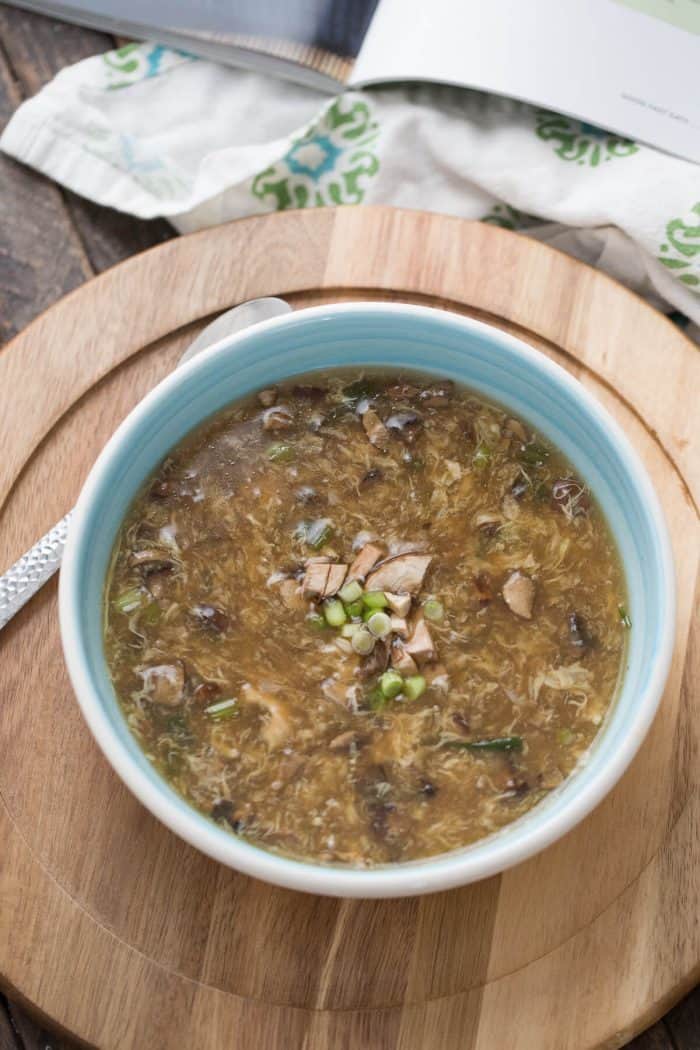 My "first course" was always egg drop soup. Oh, how I love egg drop soup! The fresh tasting green onions popped against the earthy taste of the mushrooms and the broth. It was the perfect way to wet my appetite. Truth be told, I could typically stop eating after just one bowl. The soup was always so filling and satisfying.
My friend Amy from Belly Full has just released her first cookbook, "Good, Fast Eats". This book is all about simplicity. In this book, you will find quick and easy main dish meals like Vegetable Beef Stir-Fry, Easy Chickpea Curry, and desserts that will please any sweet tooth!
When I spotted the Egg Drop Soup in the cookbook, I knew I had to try it. I cannot tell you how easy this recipe is and it only takes 15 minutes! You CANNOT beat a 15-minute meal.
This recipe is made mostly with vegetable stock (Amy says to buy high-quality stock, although I used broth). Chicken stock will do, but the flavor will be changed) scallions, mushrooms, a few ingredients for flavor and of course, eggs.
I was a little concerned about whether or not my eggs would ribbon like Amy's, but with her clear instruction, I had nothing to worry about.
Thankfully my kids do not like egg drop soup. I suppose that's exactly why I chose this recipe. I knew I would be able to eat the entire pot by myself!
A rich tasting egg drop soup recipe that could not be quicker or easier!
Ingredients
3 tablespoons cornstarch
1/4 cup water
6 cups good quality vegetable broth
8 whole scallion, thinly sliced
3 oz crimini mushrooms, chopped
1/4 teaspoon sugar
1/4 teaspoon salt
1/4 teaspoon pepper
3 tablespoons low-sodium soy sauce
1 tablespoon sesame oil
3 whole eggs, beaten
Instructions
In a small bowl, whisk together the cornstarch and the water.
In a medium pot set over medium heat, whisk together the broth, scallions, mushrooms, sugar, salt, pepper, soy sauce, sesame oil and cornstarch mixture. Bring to a boil.
As soon as soup begins to boil, remove the pan from heat. Using a fork, stir the soup in large, circular motions while slowly pouring in the eggs, creating ribbons as you stir.
Serve immediately
Nutrition Information
Yield
4
Serving Size
1
Amount Per Serving
Calories

148
Total Fat

7g
Saturated Fat

2g
Trans Fat

0g
Unsaturated Fat

5g
Cholesterol

140mg
Sodium

1585mg
Carbohydrates

13g
Fiber

1g
Sugar

3g
Protein

8g