This bourbon Daisy is a sweet and tangy way to sip on bourbon.
I'm taking bourbon to new heights with this fun and flirty cocktail!
A bourbon daisy is a fun and easy way to serve up the best flavors in your old-fashioned glass. Made to look colorful and fun this somewhat tropical bourbon cocktail is exactly what you need to relax and unwind. Made with just a few ingredients this simple bourbon grenadine cocktail is a simple cocktail recipe you're going to love at first sip.
What is a Bourbon Daisy?
This cocktail starts with a little bourbon, simple syrup, lemon juice, and grenadine that is shaken together. Tonic water tops off each cocktail. Orange slices and maraschino cherries are added for garnish. The bourbon's deep taste is lightened by the crisp lemon juice and the sweet grenadine. This bourbon Daisy is sophisticated and playful all at the same time.
Ingredients
Bourbon – I use Woodford Reserve
Fresh lemon juice –
Grenadine –
Simple syrup –
Tonic water –
Garnishes – Maraschino cherries and orange slices work well to garnish this drink.
For the exact amounts needed, please see the recipe card below.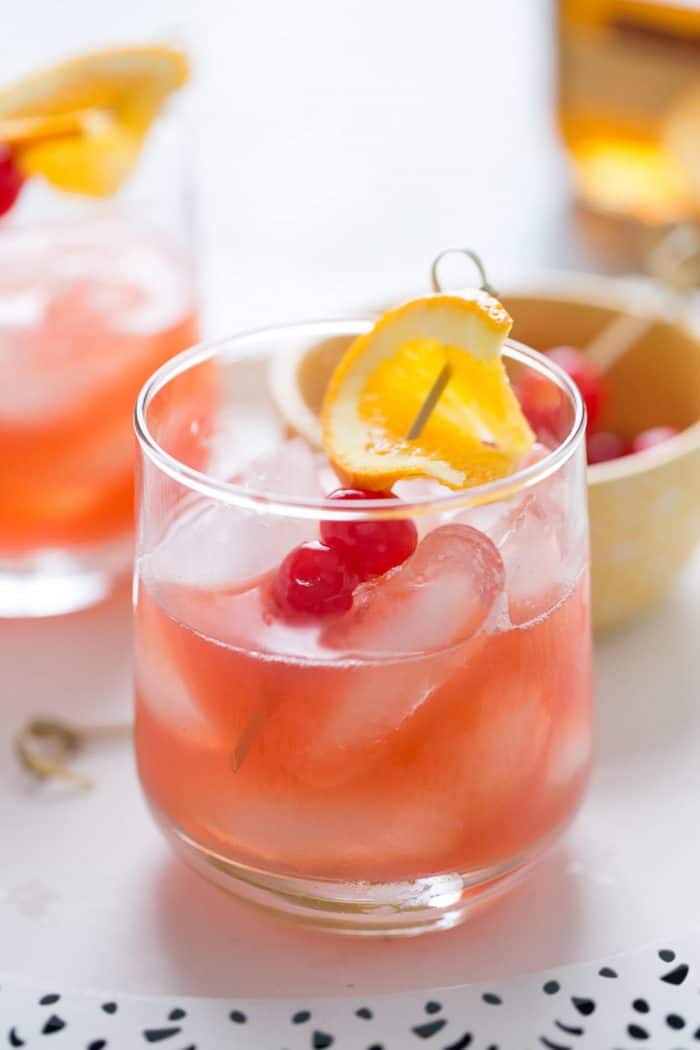 How to Make a Bourbon Daisy
In a shaker filled with ice, combine your bourbon, lemon juice, grenadine, and simple syrup.
Shake well for about 20 seconds to fully incorporate the ingredients.
Pour the drink over ice in an old-fashioned glass and then top it off with some tonic water.
Garnish the glass with an orange slice and maraschino cherries.
Drink and enjoy!
FAQs
Can This Bourbon Daisy Recipe Be Scaled?
Absolutely depending on how many drinks you want to make or how big your glasses are you can scale this recipe up or down to suit your needs. you may need a larger drink shaker if you want to make more than one glass worth at a time or else you might be shaking for a while.
Does the Type of Bourbon Matter?
I used what I already have on hand and so can you. This drink recipe is all about changing up the flavors in the glass so that the bourbon is nice and palatable, so don't worry about using high-quality bourbons as the flavor will be well hidden being the citrus flavors in the cocktail.
What Can I Use Instead of Grenadine Syrup?
If you don't have or don't like grenadine syrup you can use a simple replacement like raspberry syrup to help flavor the drink and give it that pink color we're looking for.
If you loved this bourbon drink recipe then you are going to love these other bourbon cocktail recipes Blackberry Bourbon Fizz Cocktail, Ginger Maple Bourbon Cocktail, Pineapple Bourbon Cocktail, and Strawberry Lemonade Bourbon Cocktail.
Want a new way to enjoy bourbon? This flirty little cocktail with it's lemon juice and grenadine is elegant yet playful all at the same time.
Ingredients
2 oz bourbon ( I used Woodford Reserve)
1 oz fresh lemon juice
1/2 tablespoon grenadine
1/2 tablespoon simple syrup
Top with tonic water
Garnish with cherries and orange slices
Instructions
Combine bourbon, lemon juice, grenadine and simple syrup in a cocktail shaker filled with ice. Shake for 20 seconds.
Pour over ice in an old-fashioned glass and top with tonic water.
Garnish with an orange slice and maraschino cherry.
Nutrition Information
Yield
1
Serving Size
1
Amount Per Serving
Calories

368
Total Fat

0g
Saturated Fat

0g
Trans Fat

0g
Unsaturated Fat

0g
Cholesterol

0mg
Sodium

45mg
Carbohydrates

62g
Fiber

3g
Sugar

53g
Protein

1g