This bourbon Daisy is a sweet and tangy way to sip on bourbon. I'm taking bourbon to new heights!
I always considered myself a solid beer drinker. I mean I LOVE beer. I'm not talking about the kind of cheap beer you consume in college. That's just "barley" water. I'm talking about amber colored, rich tasting craft style beer. Nothing says makes happy hour happier than a pint of good beer.
Last year I experimented. I dabbled in wine and made a few sangria recipes that I loved. I made a few summery vodka recipes like this Key Lime Vodka Collins and this luscious Blueberry vodka lemonade. And while I was at it, I made a few Moscow mules too. Each cocktail was refreshing and delicious. They inspired me to stick with my new cocktail hobby.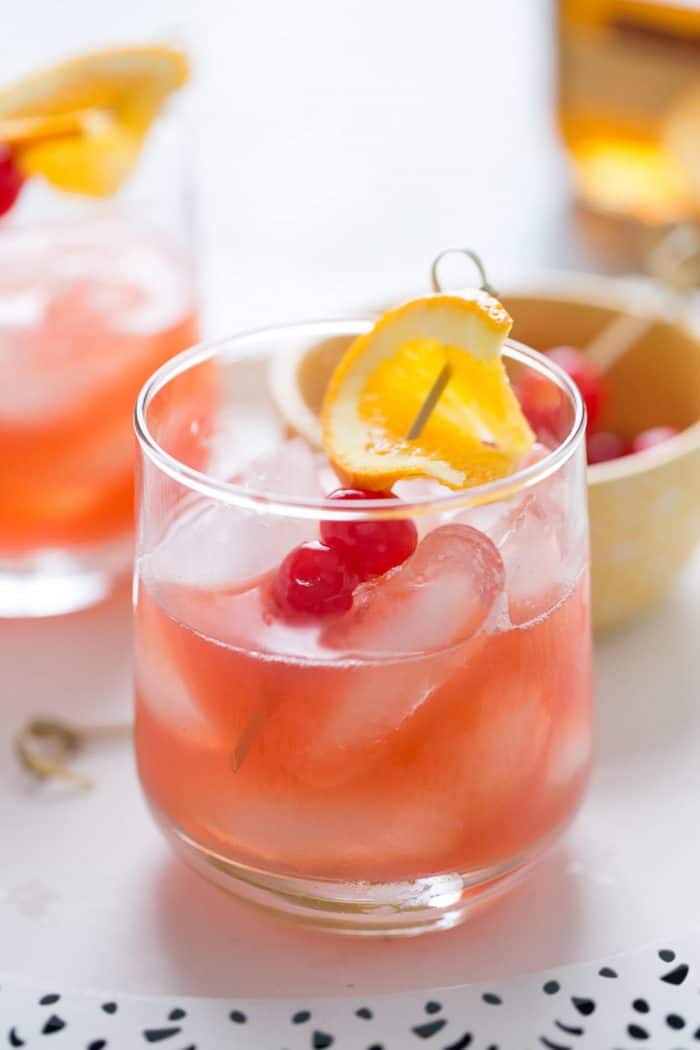 Then I saw the bourbon ice ball press. A friend had this nifty little gadget that made the perfect ice sphere which was specifically designed for the bourbon lover. The ice melts uniformly and slowly and keeps each liquor-laden glass perfectly cool. At the end of the day, it's just a ball of ice. But nothing is quite as captivating as watching the sphere of ice form. The day I discovered the ice ball press is the day I discovered bourbon.
I haven't switched allegiances; beer is still my true love. But every once in a while a good bourbon cocktail is in order. There is a time and place for a whiskey sour or a pineapple bourbon cocktail. And now, this bourbon Daisy.
This cocktail starts with a little bourbon, simple syrup, lemon juice and grenadine that is shaken together. Tonic water tops off each cocktail. Orange slices and maraschino cherries are added for garnish. The bourbon's deep taste is lightened by the crisp lemon juice and the sweet grenadine. This bourbon Daisy is sophisticated and playful all at the same time.
Bourbon Daisy
Want a new way to enjoy bourbon? This flirty little cocktail with it's lemon juice and grenadine is elegant yet playful all at the same time.
Ingredients
2 oz bourbon ( I used Woodford Reserve)
1 oz fresh lemon juice
1/2 tablespoon grenadine
1/2 tablespoon simple syrup
Top with tonic water
Garnish with cherries and orange slices
Instructions
Combine bourbon, lemon juice, grenadine and simple syrup in a cocktail shaker filled with ice. Shake for 20 seconds.
Pour over ice in an old-fashioned glass and top with tonic water. Garnish with an orange slice and maraschino cherry.
Nutrition Information
Yield

1
Serving Size

1
Amount Per Serving
Calories

368
Total Fat

0g
Saturated Fat

0g
Trans Fat

0g
Unsaturated Fat

0g
Cholesterol

0mg
Sodium

45mg
Carbohydrates

62g
Fiber

3g
Sugar

53g
Protein

1g