The Best American Goulash recipe around! This is such an easy recipe that is very family-friendly! This is a cozy meal that satisfies the whole family!
This American goulash recipe is very family-friendly and is so much better (in my opinion) than the goulash I grew up with. My mom used to make Hungarian goulash all the time.
I think this was her way of using up discounted or soon to be expired meat. Hungarian goulash is not a kids favorite meal. It was more of a beef stew that was heavy on the tomatoes and paprika. Sometimes mom threw in potatoes, but often we just had a side of crusty bread.
American goulash does not have the big, hunks of chewy meat I was forced to consume, it is made with ground beef instead. It is still a tomato-based dish, but to make it more appealing to the whole family it is also made with elbow macaroni.
What Is American Goulash Recipe?
American goulash is pure comfort food that is similar to a chili mac recipe without the cheese and the spice. It is sometimes referred to as American Chop Suey.
It is a one-pot meal that makes short work of dinner, which is just what you want for your back to school routine.
The ingredients for this recipe are basic, as is the method. Everything you need is totally accessible and are, for the most part, pantry staples.
What Is The Difference Between American Goulash and Hungarian Goulash?
Traditional Hungarian Goulash is more of a stew than a pasta dish. It usually has a cut of beef that simmers in a tomato and broth-based sauce along with lots of paprika and vegetables.
American goulash is more of a stovetop casserole where ground beef is tossed with pasta and a tomato-based sauce.
Is American Goulash Chop Suey?
It depends on who you ask. This is a dish of many names, it really comes down to where you live in the country. In some places it is known as Johnny Marzetti or chili mac, in other places it is American goulash or American Chop Suey. The ingredients and method are mostly the same, it all comes down to the region and what you grew up with!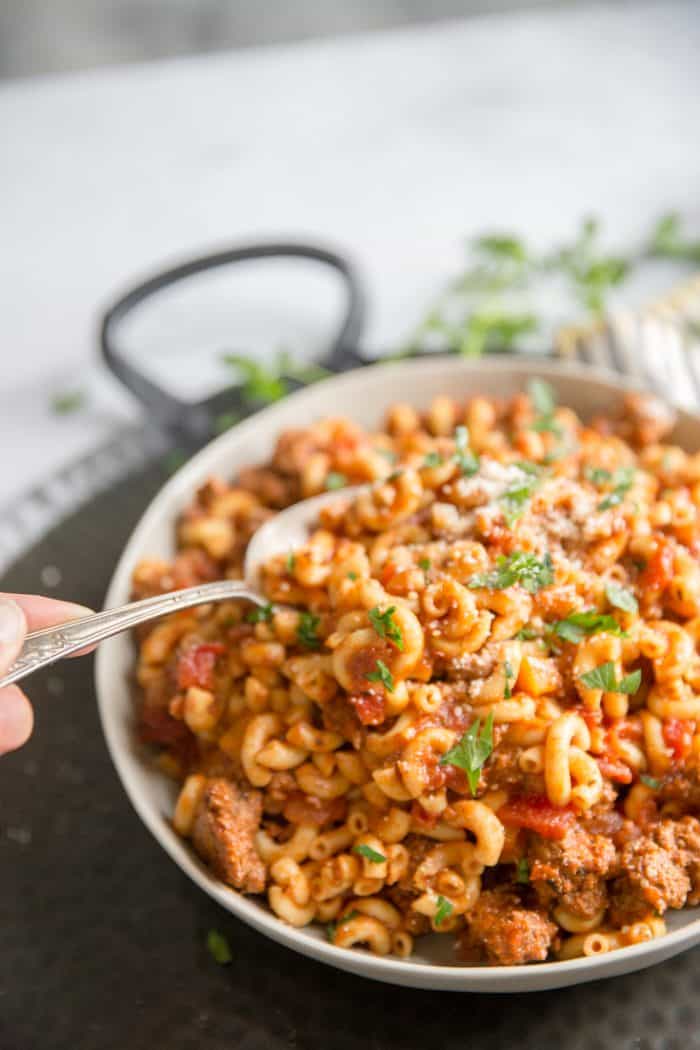 What Do I Need To Make This Cheesy Beef Goulash Recipe?
Olive oil
Onions
Ground beef
Bell pepper
Minced garlic
Salt
Dried oregano
Dried basil
Paprika
Fire-roasted diced tomatoes
Tomato sauce
Chicken broth
Elbow macaroni
How To Make Goulash
STEP ONE – Heat oil in a large, deep skillet or a stockpot over medium-high heat, add onions and cook 2 to 3 minutes or until soft. Add ground beef to the skillet and cook until crumbled and no longer pink. Stir in bell pepper and garlic.
STEP TWO – Season the beef mixture and cook another few minutes until the peppers have softened.
STEP THREE – Add diced tomatoes, tomato sauce, and chicken broth. Bring mixture to a low boil, and stir in dried pasta.
STEP FOUR – Cover and simmer over a reduced heat. Cook until the pasta is tender, and the liquid has been absorbed.
Can Beef Goulash Recipe Be Frozen?
Yes! Allow the goulash to cool slightly before placing it in a freezer-safe container. The dish should last for 1-2 months in the freezer.
When you are ready to use the goulash, run warm water around the outside of the container to loosen the contents. Pour the American goulash into a large saucepan and simmer over medium-low until fully heated through.
Ingredient Substitutes For Goulash
I like to add colorful peppers to my dishes, so I used orange bell peppers in this goulash recipe. Feel free to use green peppers, or whatever peppers you have on hand, or feel free to omit them altogether.
Add chopped carrots to this dish.
I love used fire-roasted diced tomatoes, but you could use any type of canned tomato you would like.
Use beef broth for a more concentrated beef flavor.
Elbow macaroni works great in this recipe because of its size, you could use almost any other pasta, but I would keep it small so that it doesn't overpower the meat.
Ground pork, chicken, Italian sausage; or a combination of meats can all be used in this goulash recipe.
What To Serve With This Goulash Recipe?
Keep it simple and serve a salad like this Lemony Kale Salad, Harvest Salad, Greek green beans, or this Herb Drizzled Zucchini! And don't forget the crusty bread!!
More Beef Dishes You Will Love:
Beef and Noodles Recipe (Beef Lombardi)
French Onion Skillet Beef Casserole
Crockpot Beef Tips and Noodles
Ground Beef For Goulash
A 3-ounce serving of beef (about the size of an iPhone) provides more than 10 essential nutrients and 25 grams of protein for less than 150 calories.
Lean beef is an important part of a healthy diet for kids. Research shows that enjoying lean beef daily can help lower cholesterol levels.
Save money on beef by buying family-sized packs of beef! Large packs have a variety of cuts for everyone in your family, including Ribeye, Flat Iron and Kabobs. Learn more ways to save when buying beef.
Ground beef is a go-to when feeding a hungry family in a hurry. When purchasing, be sure to select ground beef with a bright cherry-red color that is firm to the touch and doesn't have excessive liquid in the package. Store ground beef in your refrigerator for 1-2 days, or in the freezer for up to 4 months.
There are 17,000 beef farming families in Ohio, who are committed to providing excellent care of their animals, protecting the environment for future generations and producing safe, healthy beef. Meet Ohio beef farmers who may live near you at OhioBeef.org.
Yield: 6
American Goulash
The Best American Goulash recipe around! This is such an easy recipe that is very family friendly! This is a cozy meal that satisfies the whole family!
Ingredients
2 teaspoons olive oil
¼ cup diced onions
1 lb lean ground beef
⅓ cup diced orange pepper
2 cloves minced garlic
1 teaspoon salt
1 teaspoon dried oregano
1 teaspoon dried basil
½ teaspoon paprika
1 14 oz can fire roasted diced tomatoes
1 14 oz can tomato sauce
1 cup chicken broth
1 ¼ cup elbow macaroni
Instructions
Heat oil in a large stockpot over medium heat. Add onions and allow them to soften for 2-3 minutes. Add ground beef. Cook until the beef is no longer pink.
Add orange peppers and garlic.
Season mixture with salt, oregano, basil, and paprika. Cook another 3-5 minutes, or until peppers start to soften.
Add diced tomatoes, tomato sauce, and broth.
Bring mixture to a low boil. Stir in pasta, cover, reduce heat and cook until the liquid has absorbed and pasta is al dente (about 10-12 minutes).
Nutrition Information
Yield
6
Amount Per Serving
Calories

267
Total Fat

11g
Saturated Fat

4g
Trans Fat

0g
Unsaturated Fat

6g
Cholesterol

68mg
Sodium

988mg
Carbohydrates

16g
Fiber

3g
Sugar

5g
Protein

25g