Need a healthy appetizer recipe?  Then this recipe for bruschetta is just what you need!  It's light, easy and so flavorful!
Anytime anyone asks me to bring food, I volunteer to bring dessert and appetizers!  My two favorite food groups.  Typically I gravitate towards hot, bubbly,  ultra cheesy dips.  The thing with cheesy dips, is you know darn well that you may as well rub that cheesy goodness right on your thighs because that's where it will end up!   But they are always irresistible!!!  The cheese is at its molten best when the dip is pulled fresh from it's heat source.  The top is still nicely browned and the grease is still hiding at the edges.   I don't care if my tongue hates me for shoving that first bite in my mouth while the dip is still smoldering!   I want it and I want it NOW!!!!   But, inevitably, the guilt catches up with me.    My stomach bloats and lethargy sets in.  I'm so disgusted with the dip and myself for eating as much as I did!  I swear off eating cheese for at least a week!
Then there are times when I want an appetizer that is light, refreshing and healthy.  Something like this bruschetta.  The ingredients are fresh and bursting with seasonal flavors.    I  combined the strawberries and the tomatoes with balsamic vinegar while the bread toasted up.  This appetizer took no time, but the results were outstanding and impressive!   Just knowing I was eating a light appetizer made me feel instantly skinny!  Of course, after 8 pieces of bruschetta, I didn't feel quite AS skinny, but what the heck.  Strawberries, tomatoes and balsamic vinegar are quite the trio!  Throw in some goat cheese and you have a nice contrast of flavors and textures!  Each time someone took a bruschetta, I found myself counting how many were left!  I was getting a little nervous.  I was already dreaming of eating this bruschetta for lunch the next day.  I naturally  assumed people would  pass this by in favor of the queso dip.   But  to my horror, the bruschetta was the first to go!    I made an important mental note: always double up the bruschetta!!!
You might enjoy these too:
Strawberry Tomato Bruschetta
Ingredients
1 French Baguette
¾ cup diced strawberries
¾ cup chopped cherry tomatoes
2 tablespoons Italian leaf parsley
2 tablespoons olive oil, plus extra for drizzling
1 tablespoon balsamic vinegar
salt to taste
2 tablespoon goat cheese
Instructions
Preheat oven to 450.
Slice the baguette on the diagonal into 1 inch thick slices. Drizzle each slice generously with olive oil. Lay bread slices, oil side down onto a baking sheet. Bake for 5 minutes or until the bread starts to brown. Remove bread to a serving dish (toasted side up).
While bread bakes, combine strawberries, tomatoes, olive oil and vinegar in a small bowl. Season with salt (to taste). Spoon mixture over bread slices. Sprinkle with parsley and crumbled goat cheese. Serve immediately.
Serves 12
I'll be sharing this with these site as well as with Jam Hands, Back for Seconds and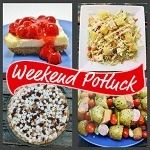 Find this recipe on my Pinterest Board!