Breakfast for dinner is such a treat, especially when it involves homemade pancakes
and brown sugar bacon!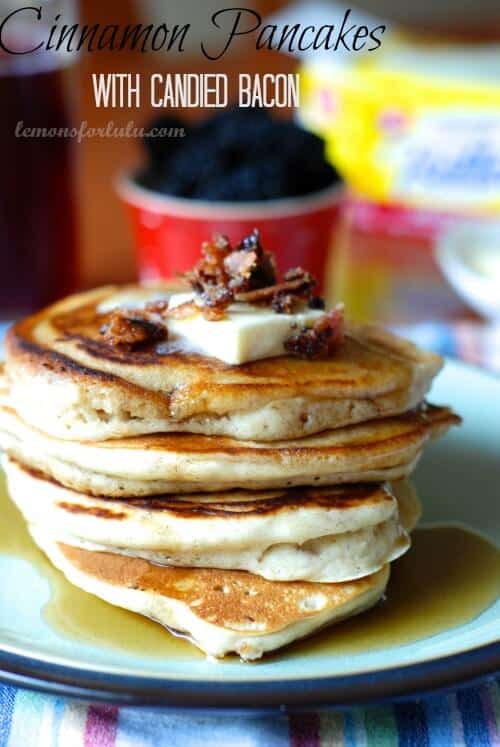 There are two foods that my family never gets tired of eating.  Bacon would be the first.  What's not to love about bacon?   I'm not talking about turkey bacon, I don't mess with that stuff.  I'm talking about the salty, crispy, full of fat, greasy, straight from the pig bacon!  The second is breakfast.  My family can put away large quantities of breakfast food, whether it's omelets, scrambled eggs, french toast, donuts, or pancakes.  We chow down!   And because it is easier to serve my family something they all actually enjoy, we frequently have breakfast for dinner.  What I love about breakfast for dinner, is it is always easy, it's tasty and I know for sure that plates will be clean when dinner is over!  There will be no arguing over how many bites have to be eaten and there will be no whining about how awful cooked tomatoes taste.  Everyone simply eats.  And they eat happily.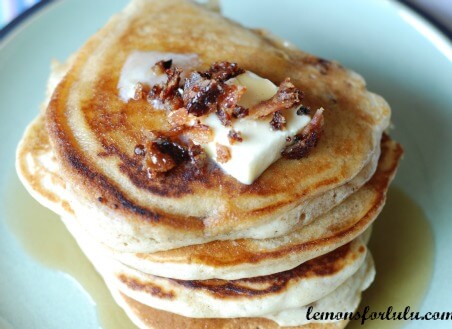 Although I enjoy cooking a variety of dinners, there is something so fun about having breakfast for dinner.  I think it feels like we are cheating time.  It's as though it SHOULD be dinner time, but ha ha we are eating breakfast AGAIN!  Take that father time!  I love it.  I love how relaxed our meal is, I love the smell that fills the kitchen, I love the smiles at the end of the meal.  Breakfast for dinner feels like a wee vacation from our daily dinner grind.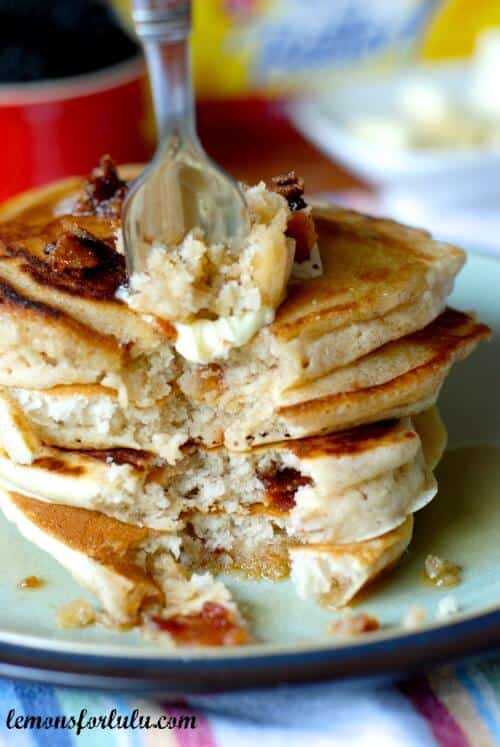 I switched things up a bit this time.  Instead of cooking bacon and serving it on the side, I covered it in brown sugar and candied it in the oven.  It's dangerous really.  I can see me snacking on candied bacon all the time.  It's sweet, salty, sticky and crunchy all at once!  I did make this cinnamon pancake batter with I Can't Believe It's Not Butter buttery spread.  It's perfect to cook with for one thing, but knowing I was about to sprinkle sweetened bacon into the batter, I thought I'd try to cut down the fat content in this breakfast as much as possible!  With 70% less saturated fat than butter, I Can't Believe It's Not Butter was the perfect ingredient!  These were so good!  Neither the cinnamon nor the candied bacon overwhelmed the pancakes.  The bacon added both a touch of sweetness and saltiness to the pancakes.  My son finished eating his man sized portion and declared that he could eat these every meal for a week and not be sick of them.  I'd say that's a compliment, wouldn't you?
I found this I Can't Believe It's Not Butter Breakfast After Dark webisode, I have a feeling I'll be making that Italian Skillet very soon!  Breakfast for dinner has so many possibilities!  I can't wait until next time!
MORE BREAKFAST FOR YOU: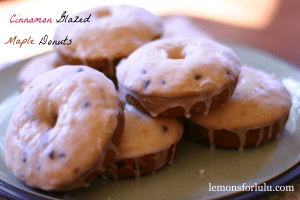 NEVER MISS A RECIPE!  SUBSCRIBE FOR MY EMAILS TODAY!
FOLLOW ME:
FACEBOOK | RSS | GOOGLE + | TWITTER | BLOGLOVIN
Cinnamon Pancakes with Candied Bacon
Ingredients
6 slices thick cut bacon
¼ cup brown sugar
1 ½ cups flour
3 ½ teaspoons baking powder
1 teaspoon salt
1 tablespoon white sugar
1 teaspoon cinnamon
1 ¼ cup milk
1 egg
3 tablespoons melted buttery spread
½ teaspoon vanilla
Instructions
Preheat oven to 350. Line a baking sheet with foil. Arrange bacon on foil and sprinkle with brown sugars. Cook for 20 minutes, turning bacon half way through cook time. Let cool completely before chopping.
In a bowl, combine flour, baking powder, salt, sugar and cinnamon. Make a well in the center of your dry ingredients and carefully mix in milk, eggs, butter and vanilla. Stir in chopped bacon, reserving a tablespoon for your topping.
Heat a griddle pan or a skillet, using buttery spread to grease your pan. Ladle about ¼ cup full of batter. Brown pancakes on each side.
Serve with reserved bacon.
Serves 8
http://www.lemonsforlulu.com/cinnamon-pancakes-with-candied-bacon/
SEE THIS ON MY PINTEREST BOARD:
<
I'll be sharing this with these parties as well as to Jam Hands, Back for Seconds and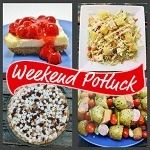 I was selected for this opportunity as a member of Clever Girls Collective and the content and opinions expressed here are all my own.