Two bite cheesecake cupcakes are a blend of sweet and tart!
A lemonade cheesecake is topped with a sweet strawberry flavored buttercream to create a dessert that is tangy and delicious! These Strawberry Lemonade Cheesecake Cupcakes are bursting with bright and fresh flavor!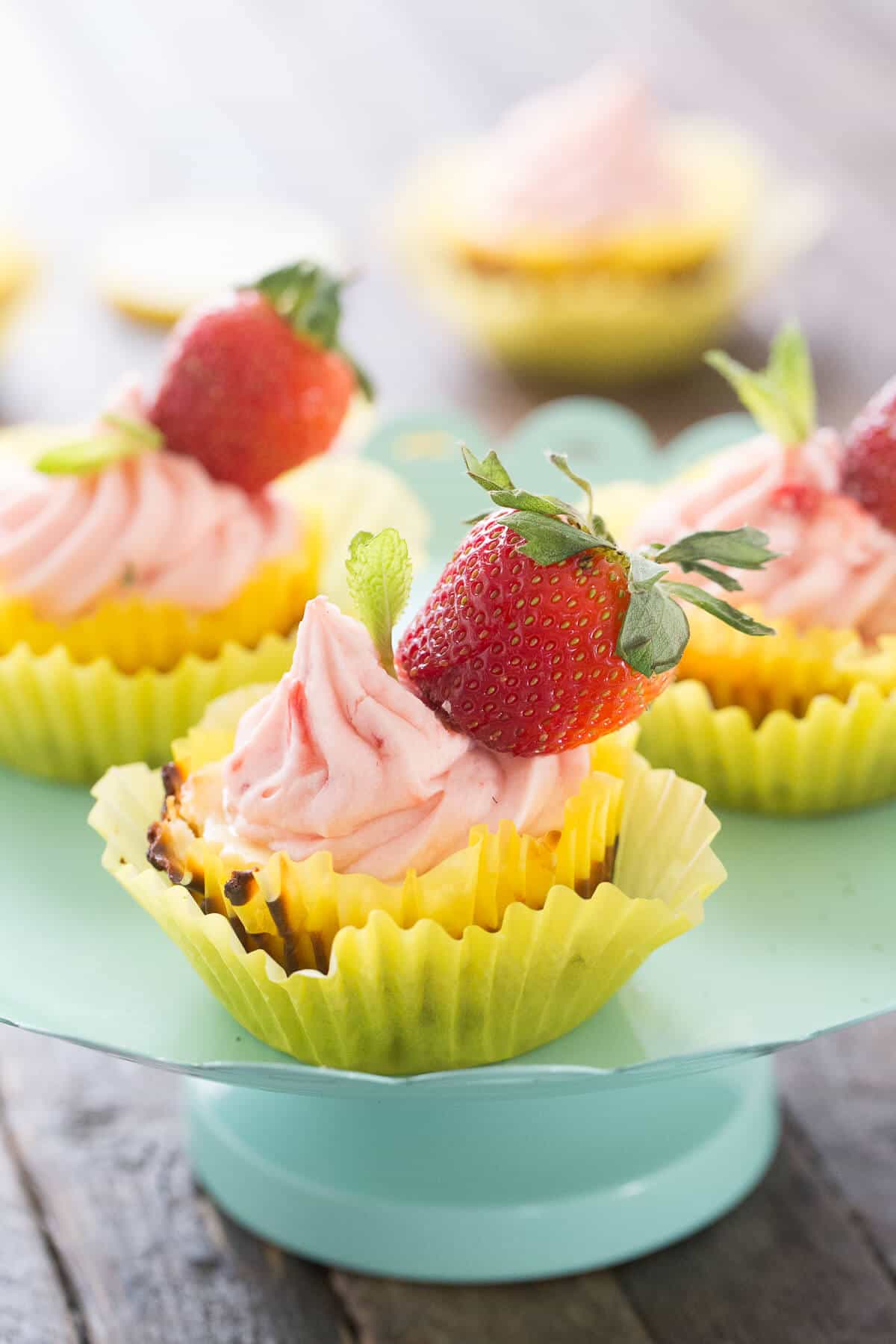 It is not often that I find myself staring at the glass case of a bakery.  I'm a little arrogant when it comes to baking.  I think I'm a pretty decent baker, so I rarely feel the need to stop and purchase baked goods.   Sometimes, however, I find my car mysteriously pulling into the parking lot of local cupcake shops.  I think my car likes it when I do "research".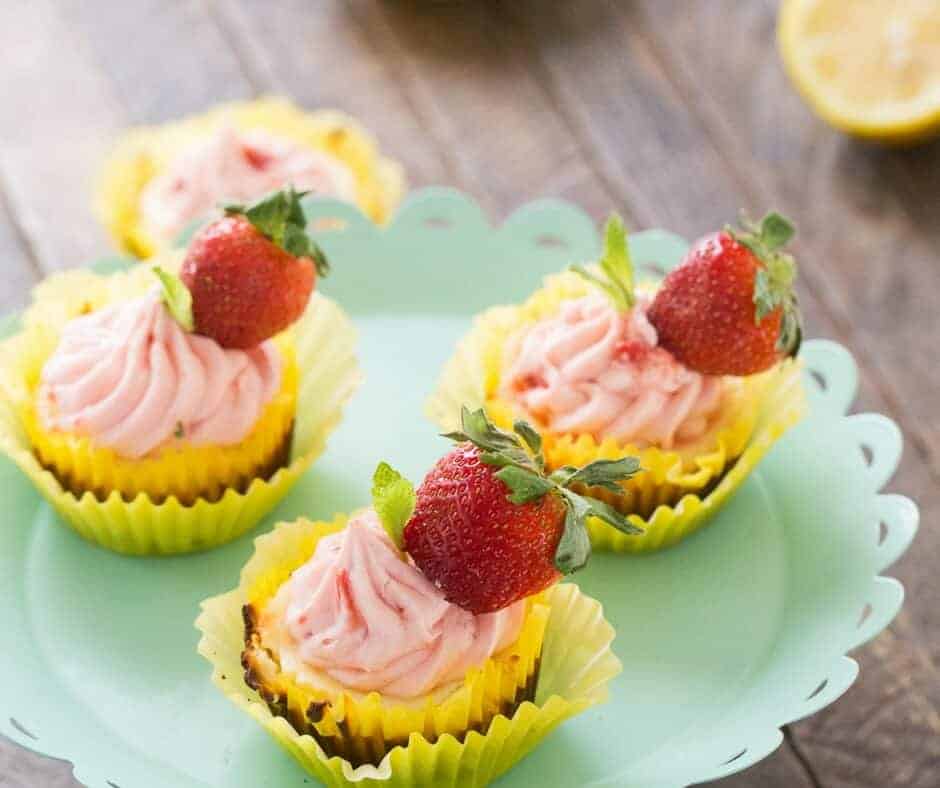 The idea for these strawberry lemonade cheesecakes came from a recent excursion with my girls.  After a day full of shopping we found ourselves in need of a little pick me up.  We found the perfect little cupcake shop to enjoy an afternoon snack.  I typically gravitate towards anything caramel or chocolate. Cherry Coke Cupcakes and Bailey's Salted Caramel Brownies are where my heart usually lies, but for someone reason, lemonade cheesecakes were calling my name. I'm so glad they were calling my name because I fell in love with the idea of lemonade flavored cheesecakes! And idea was instantly born.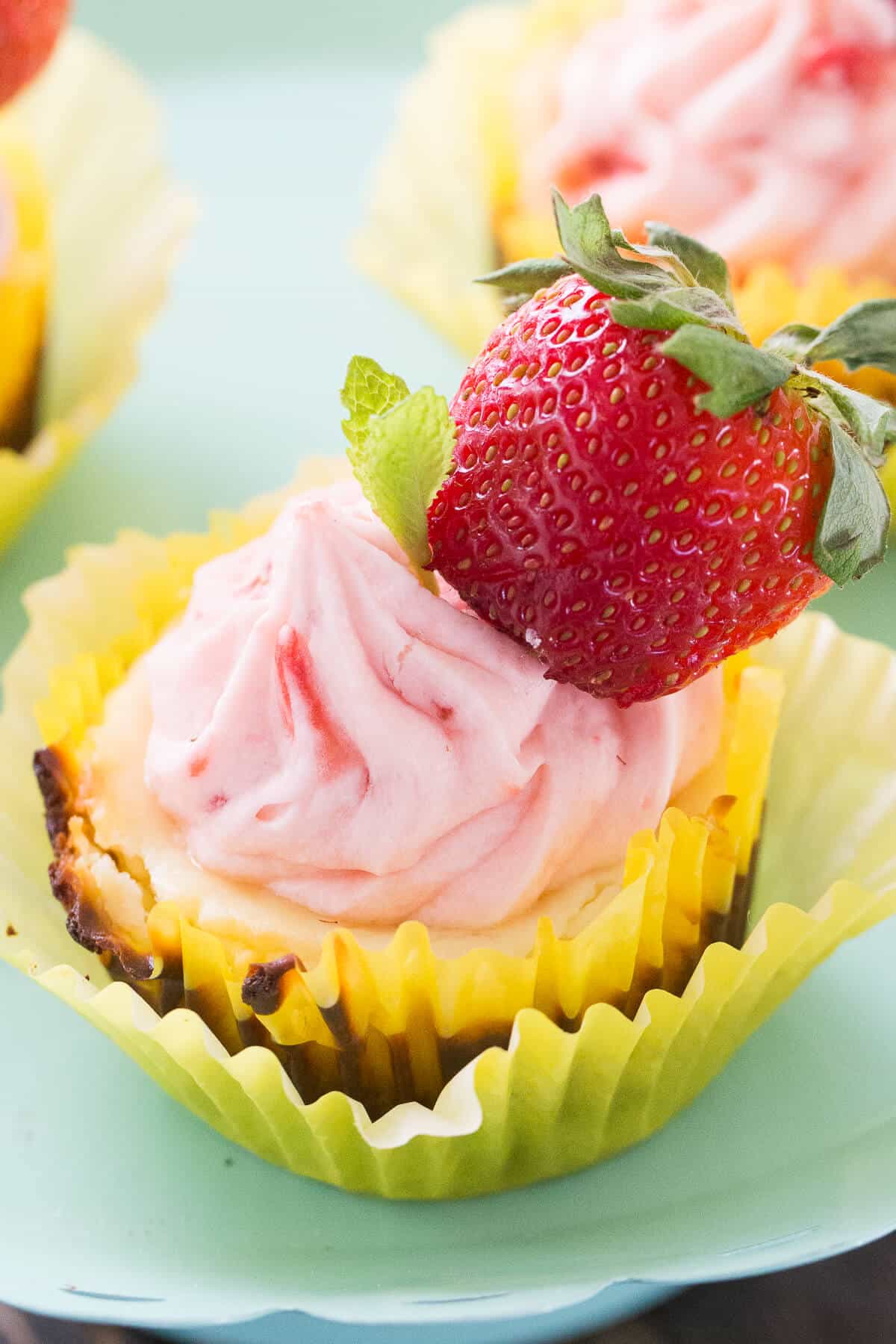 These little cheesecakes have a bright and sunny flavor that is sure to pick you up!  They only take about two about two bites to consume, so the fact that they are topped with a decadent buttercream is no big thing, right?  The cheesecake is light and fluffy while the buttercream is creamy and luscious.  The tart cheesecakes are the perfect foil to the sweet frosting.  A buttery lemon Oreo crust pulls it all together!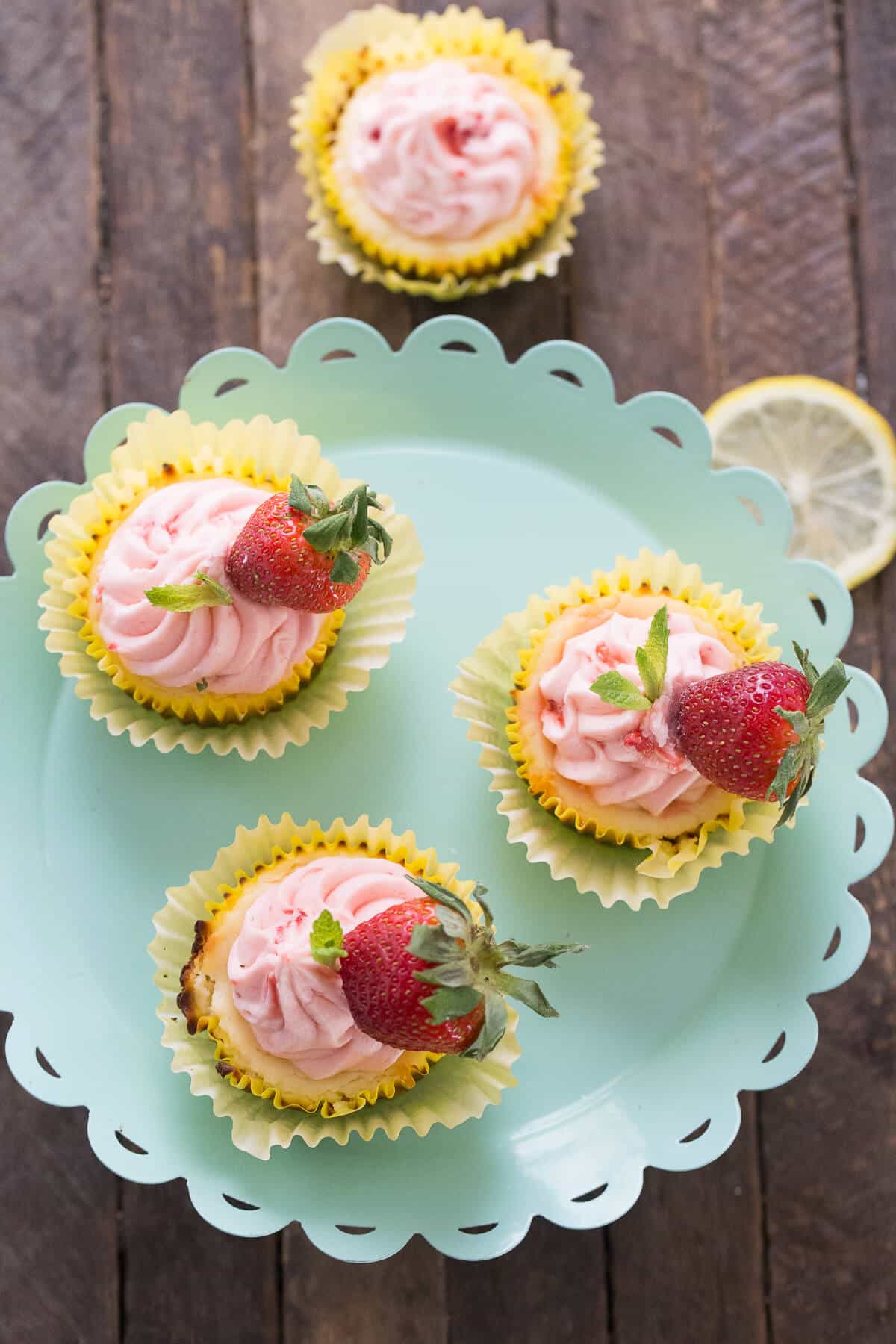 These little treats are the epitome of summer.  They are sunny and vibrant with flavor to match!  Make these to impress your guests or just because.  These strawberry lemonade cupcakes are bound to make you happy!
I still think I can make many things I see in bakeries, but it sure is fun searching for inspiration!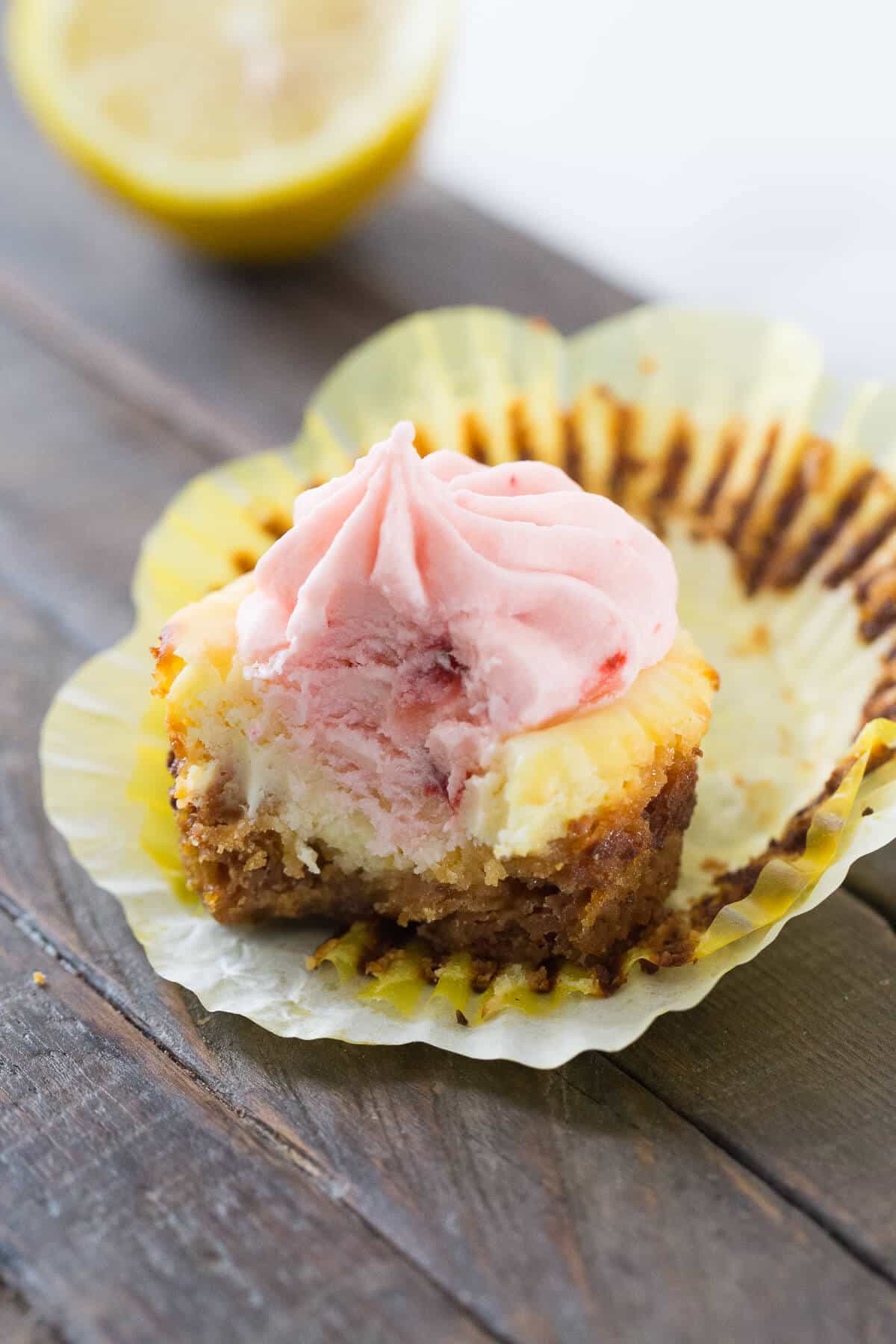 Strawberry Lemonade Cheesecake Cupcakes
24
adjust servings
Tart lemonade cupcakes with a creamy strawberry buttercream!
Ingredients
1

package Lemon Oreos 

1/2

cup melted butter

3

(8 oz) packages cream cheese

1

cup sugar

3

eggs

8

tablespoons thawed frozen lemonade concentrate

1

cup sour cream

 

1

cup butter

4

cups powdered sugar

1/2

cup finely chopped fresh strawberries

Heavy cream as needed

 

Preheat the oven to 350 degrees.

Line two cupcake pans with liners and set aside.

In a microwave safe bowl, melt butter.

Place Oreos in a food processor and pulse until you get fine crumbs.  Stream in melted butter.

Spoon the cookie crust into the cupcake liners so that it is evenly divided among all 24 cakes. Press the mixture firmly into the bottom of each cupcake liner.

Beat the cream cheese, sugar and vanilla in a large bowl until they are well-mixed and smooth.

Add the eggs one at a time and beat the mixture after each addition. Beat in lemonade.

Fold the sour cream into the mixture with a large spoon or spatula.

Divide the cheesecake batter between each cupcake liner,  leaving 1/4 inch of space at the top of each liner for the cheesecake to rise.

Bake the cheesecakes for about 15-18 minutes or until a toothpick inserted into the center of each comes out clean.

Remove the cheesecakes from the oven and allow them to cool.

 

For the buttercream, cream the butter in the bowl of a mixer until light and fluffy.  Slowly beat in powdered sugar one cup at a time.  Add heavy cream until frosting is creamy enough to pipe or spread.  Stir in strawberries.

Pipe frosting over cupcakes.  Top with fresh berries if desired.

 
Instructions