Nothing says spring like fresh berries!
These Lemon Raspberry Muffins have lots of ripe, fresh raspberries and a splash of lemon in each bite!
I reached a new milestone in parenthood. My son called me mean. Frankly, I assumed that someone would have called me that sooner. I'm not necessarily mean, but I am an enforcer of rules. Rules and kids don't always mix. I should say, by enforcing rules, I mean I yell a lot. It's not my fault. I come from a long line of yellers. That's just how we talk.
At first I was shocked by the name calling. In the next instant I was hurt, angry and sad all at once. My son thought I was mean. Me, mean. All this time I thought I was nice, you know, the cool mom. Nothing like reality slapping you in the face in the form of a nine year old's tears.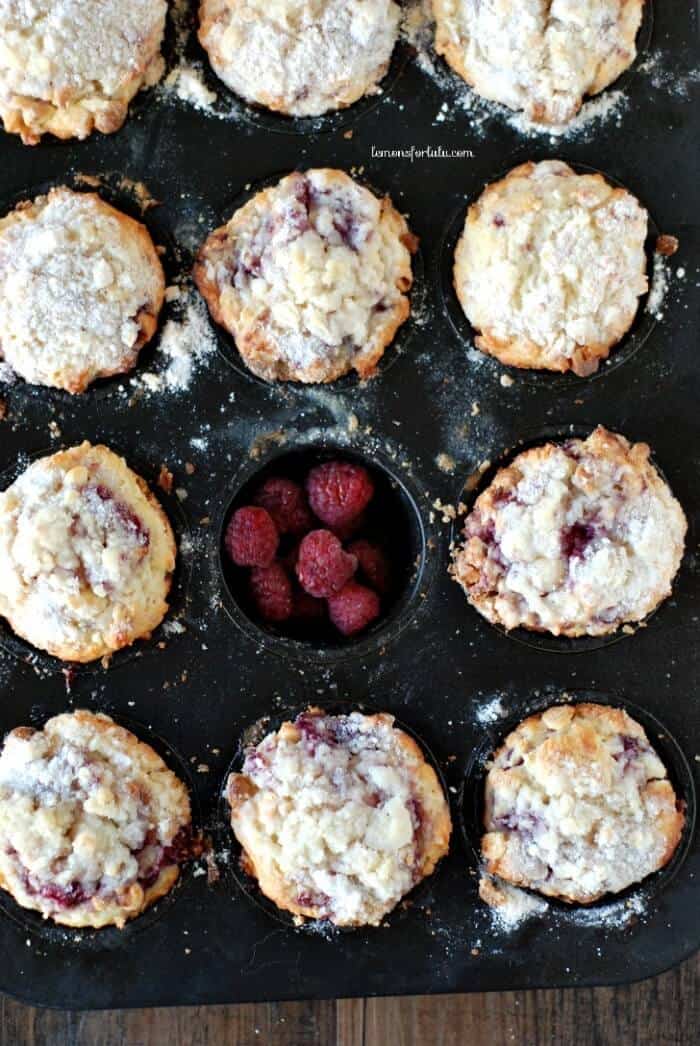 My instincts were to yell and say something like "I'll show you mean," but I didn't. I calmly reminded him the only reason he thinks I'm mean is because he is not getting his way. Then I moved on…and made him muffins. Oh, I know what it sounds like. It sounds like I was trying to win him over with food. You would be right. I'm not ashamed to admit it! Kill them with kindness I always say! I knew after eating one of these sweet little lemon raspberry muffins, my son would totally change his tune. After all, would a mean mom whip up a batch of lemon muffins that tasted this good? Would a mean mom let him eat two muffins right before dinner? Heck no!
I'm thankful Driscoll's approached me about Muffin Madness. Not only did my son love these lemon raspberry muffins, the whole family happily ate them up! The bit of lemon is just enough to bring out the sweetness in the raspberries. I used Greek yogurt too, which I think makes these muffins especially moist. A little streusel topping finishes them off!
Do you suppose I should buy my muffin ingredients in bulk when we enter those teenage years??? I'm thinking yes.
MAD FOR MUFFINS
NEVER MISS A RECIPE! SUBSCRIBE TO MY EMAIL TODAY!
FOLLOW ME:
FACEBOOK | TWITTER| GOOGLE +| BLOGLOVIN | INSTAGRAM
Lemon Raspberry Muffins
These Lemon Raspberry Muffins have lots of ripe, fresh raspberries and a splash of lemon in each bite!
Ingredients
2 1/4 cups flour, divided
2/3 cup sugar
2 1/2 teaspoon baking powder
1/2 teaspoon salt
1 8 oz container plain Greek Yogurt (I used Fage)
1/2 cup vegetable oil
2 large eggs
Zest and juice from 1 lemon
1 6 oz package fresh raspberries, such as Driscoll's
1 cup white chocolate chips (optional)
3 tablespoons sugar
1 tablespoon cold butter
Instructions
Combine 2 cups flour, sugar, baking powder and salt in a large bowl. Make a well in the center.
Mix together the yogurt, the oil, the eggs, the lemon zest and juice. Add to dry ingredients and stir until blended.
In a small bowl, toss together the berries and 2 tablespoons of flour. Fold berries into batter along with the chocolate chips. Using a large cookie scoop, fill a greased muffin pan about 2/3 full.
Combine remaining 2 tablespoons of flour, 3 tablespoons of sugar and cut in cold butter. Sprinkle streusel over muffins.
Bake at 375 for 20-25 minutes or until golden brown. Remove muffins from pan and let cool on a wire rack.
Nutrition Information
Yield

12
Serving Size

1 muffin
Amount Per Serving
Calories

349
Total Fat

16g
Saturated Fat

4g
Trans Fat

0g
Unsaturated Fat

10g
Cholesterol

37mg
Sodium

241mg
Carbohydrates

46g
Fiber

2g
Sugar

26g
Protein

7g