Jamaican jerk chicken goes for a saucy, flavorful ride in this easy dip recipe! Kick it up a notch with this Jamaican Jerk Chicken Dip. A creamy spicy appetizer ready for the occasion.
This jerk chicken dip is the kind that everyone will love and want to talk about. It's an incredible party food because it's a simple jerk chicken appetizer that everyone will enjoy.
The sweet and tangy jerk sauce (I used store-bought, you could use homemade) gets poured over creamy and cool cream cheese, Greek yogurt, blue cheese, and garlic. Mild Monterey Jack cheese marries all the flavors together and turns them into one happy family.
Jamaican Dip
Serve up this tasty dip recipe for your next party, get-together, or tailgate. There's no wrong time to serve such a fabulous appetizer. Serve it up with sliced bread, tortilla chips, or even hard crackers and it's sure to be a huge hit no matter what. This dip never lasts long as everyone goes in for another scoop so don't be afraid to make a double batch so that there is plenty to share.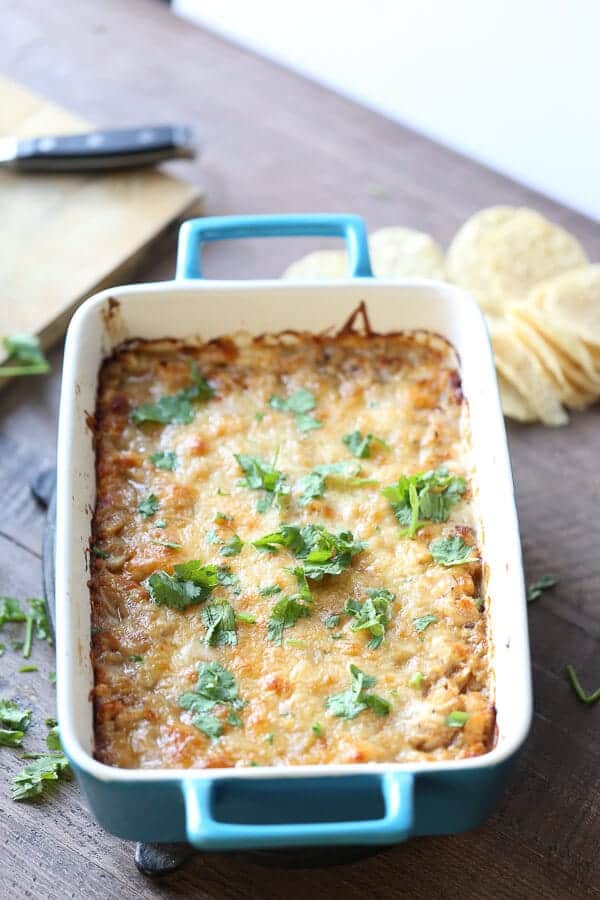 Ingredients you'll need for Jamaican Jerk Chicken Dip:
Cream cheese
Plain Greek Yogurt
Blue cheese dressing
Garlic clove
Canned chicken
Jamaican Jerk sauce
Crumbled blue cheese
Monterey Jack cheese
Cilantro
For the exact amounts needed, please see the recipe card below.
How to Make Jamaican Jerk Chicken Dip
Preheat your oven to 350 degrees F.
Spray the inside of an 8×8 baking dish with nonstick cooking spray and then spread softened cream cheese over the bottom of the dish.
In a bowl, combine the Greek yogurt, blue cheese dressing, and garlic until well mixed.
Spread over the cream cheese.
Toss your jerk sauce and chicken together in a bowl and then spread over the top of the layers.
Sprinkle some Jack cheese and crumbled blue cheese on top.
Bake in the oven for 20-25 minutes or until the cheese has melted and the mixture is bubbly.
Garnish with some fresh cilantro just before serving.
FAQs
What is Jamaican jerk sauce made of?
Jamaican jerk sauce is traditionally made with a combination of spices, peppers, brown sugar, and garlic. Spices like cinnamon, nutmeg, cloves, and thyme help to make the sauce feel warm and comforting while scotch bonnet peppers really bring the heat.
What do you eat with Jamaican jerk chicken dip?
This dip is great with anything from a hard crusty bread to corn chips like tortilla chips and more. I even enjoy serving it up with some fresh cut veggies like carrots, celery, and bell peppers for a refreshing change. The cold juicy veggies help to offset some of the heat from the dip.
Is canned chicken cooked?
Yes, canned chicken is chicken that has been fully cooked and also gone through a pressurized canning process to keep it fresh. It's both shelf stable and safe to consume straight from the can. It's also a pretty affordable option and about the same price as a can of tuna.
Here are some more great chicken dip recipes to try soon:
Yield: 16
Jamaican Jerk Chicken Dip
Tangy Jamaican jerk chicken is surrounded by hot, melted cheese for an unforgettable dipping experience!
Ingredients
8 oz cream cheese, softened
3 tablespoons plain Greek Yogurt
3 tablespoons blue cheese dressing
1 clove of garlic, minced
2 10 oz canned chicken, drained
2/3 cup Jamaican Jerk sauce
1/4 cup crumbled blue cheese
1 1/2 cup Monterey Jack cheese
1 tablespoon chopped cilantro
Instructions
Preheat oven to 350 degrees.
Spray an 8 x 8 square baking dish with non stick spray. Spread softened cream cheese over the bottom of your dish.
In a bowl combine yogurt, blue cheese and garlic. Spread mixture over cream cheese.
Toss jerk sauce and chicken and layer over cheese. Sprinkle jack cheese over chicken along with crumbled blue cheese. Bake for 20-25 minutes or until cheese has melted and mixture is bubbly.
Garnish with cilantro just before serving.
Nutrition Information
Yield
16
Serving Size
1
Amount Per Serving
Calories

186
Total Fat

13g
Saturated Fat

7g
Trans Fat

0g
Unsaturated Fat

6g
Cholesterol

45mg
Sodium

374mg
Carbohydrates

2g
Fiber

0g
Sugar

1g
Protein

13g