Jamaican jerk chicken goes for a saucy, flavorful ride in this easy dip recipe!
My 6-year-old recently attended a friend's birthday party. The party was only two hours long and it was held at the birthday girl's home. I could tell as I was walking my daughter to the door that she was nervous and hesitant. She was a little concerned about what other girls would be there. Will she know them? Will she get along with them? What if they don't like her? I felt for her, the look of fear in her eyes broke my heart. Since it's my job to be her cheerleader, I vehemently assure her that she will be absolutely fine. You know what? She was fine.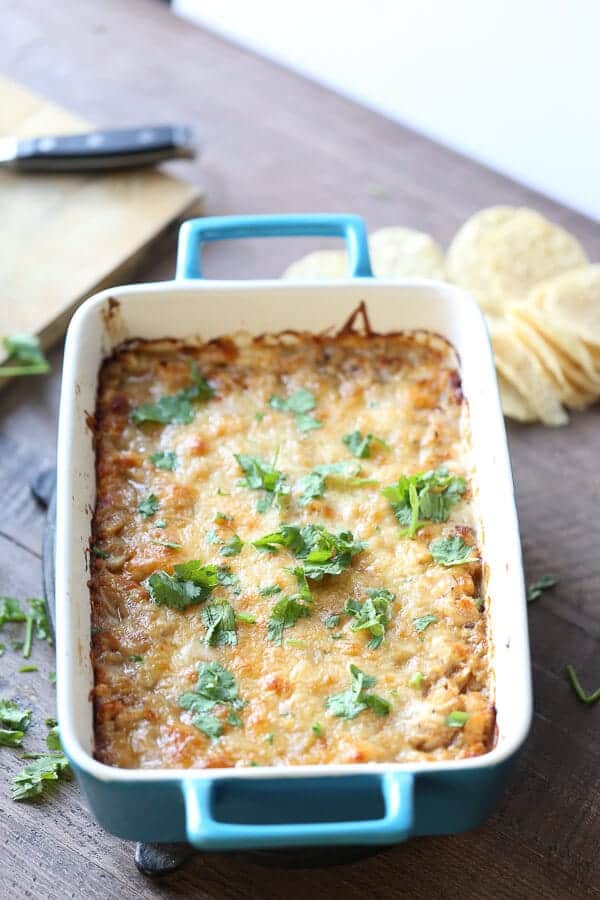 It made me think about my own party insecurities. I too wonder who else will be at the parties I attend. Will I know anyone, and will they like me? Will I have anything to say? It can be scary walking into a room full of people. Parties can be so intimidating. Sometimes I think if it wasn't for the food and drinks served at parties, I would be utterly lost. When talking to strangers, it always helps if you can hide behind a buffer. Fill one hand with a drink like a shandy and the other hand with a plate of wings and you have THE perfect buffer! If all else fails, stand by the food table and talk about both the food and the weather to whomever will listen.
This Jamaican jerk chicken dip is incredible party food! It is the kind of dip that people will definitely want to talk about!
The sweet and tangy jerk sauce (I used store-bought, you could use homemade) gets poured over creamy and cool cream cheese, Greek yogurt, blue cheese and garlic. Mild Monterey Jack cheese marries all the flavors together and turns them into one happy family.
I've said it once and I'll say it again, a party is only as good as the food! Folks, this IS good food! Please make a double batch, as you don't want to run out. Nervous party goers need a conversation starter!
Jamaican Jerk Chicken Dip
Tangy Jamaican jerk chicken is surrounded by hot, melted cheese for an unforgettable dipping experience!
Ingredients
8 oz cream cheese, softened
3 tablespoons plain Greek Yogurt
3 tablespoons blue cheese dressing
1 clove of garlic, minced
2 10 oz canned chicken, drained
2/3 cup Jamaican Jerk sauce
1/4 cup crumbled blue cheese
1 1/2 cup Monterey Jack cheese
1 tablespoon chopped cilantro
Instructions
Preheat oven to 350 degrees.
Spray an 8 x 8 square baking dish with non stick spray. Spread softened cream cheese over the bottom of your dish.
In a bowl combine yogurt, blue cheese and garlic. Spread mixture over cream cheese.
Toss jerk sauce and chicken and layer over cheese. Sprinkle jack cheese over chicken along with crumbled blue cheese. Bake for 20-25 minutes or until cheese has melted and mixture is bubbly.
Garnish with cilantro just before serving.
Nutrition Information
Yield

16
Serving Size

1
Amount Per Serving
Calories

186
Total Fat

13g
Saturated Fat

7g
Trans Fat

0g
Unsaturated Fat

6g
Cholesterol

45mg
Sodium

374mg
Carbohydrates

2g
Fiber

0g
Sugar

1g
Protein

13g