These cherry chip cookies get a dose of cheer with their liqueur soaked dried cherries! These cookies are a unique blend of bold-flavored ingredients that will please the sophisticated pallet!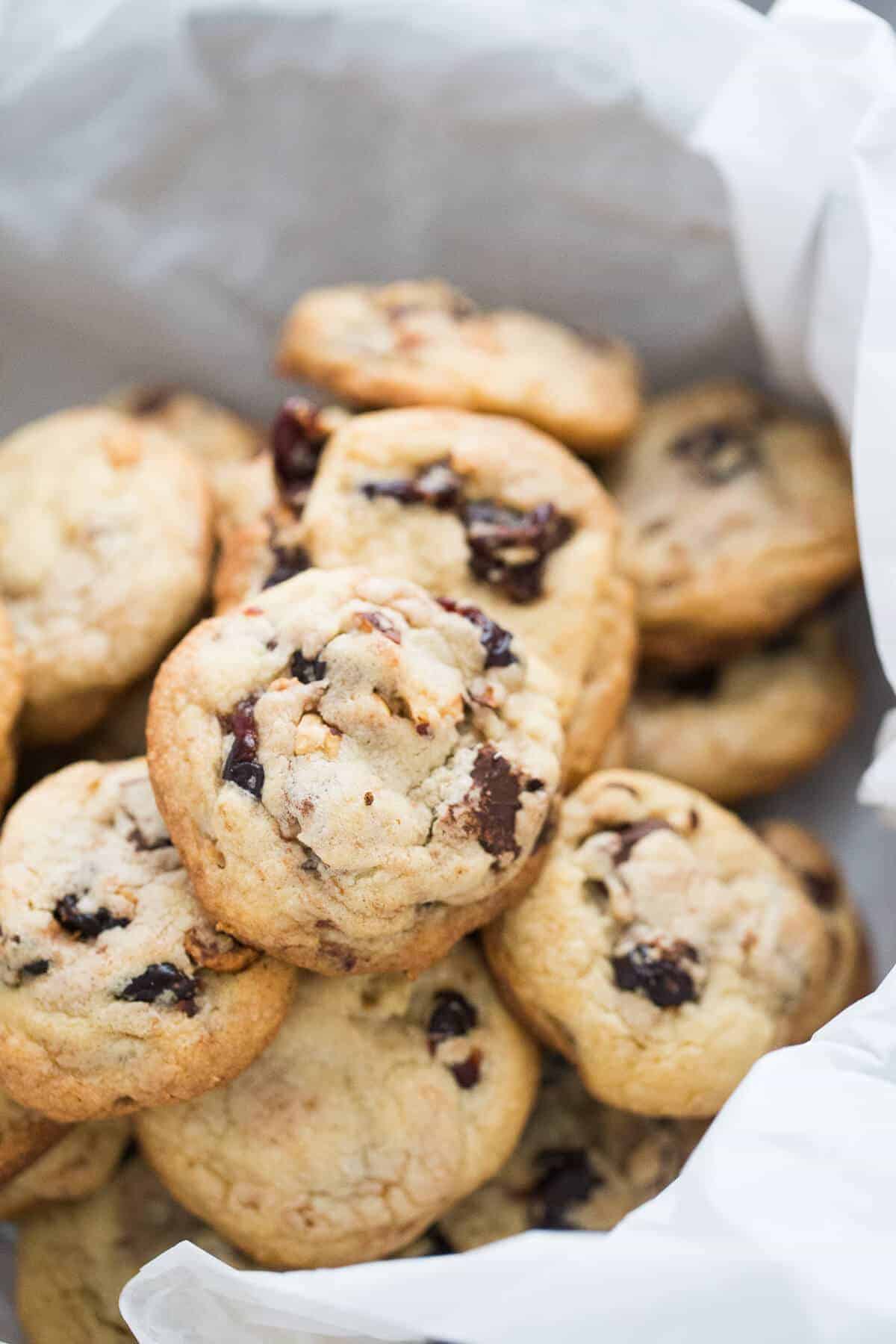 Several years ago I received a gift that would forever change the way I viewed dried cherries.  The gift was a package of premixed cookie dough in which all I had to do was add oil, measure out the cookies and bake.  In 18 minutes I had the softest, melt-in-your-mouth cookies ever!  What made these cookies special was they did not contain one single chocolate chip.  I am a HUGE chocolate lover, and would never have dreamed of consuming one single cookie that didn't contain some sort of chocolate morsel.  But there I was shoveling cookies studded with dried cherries.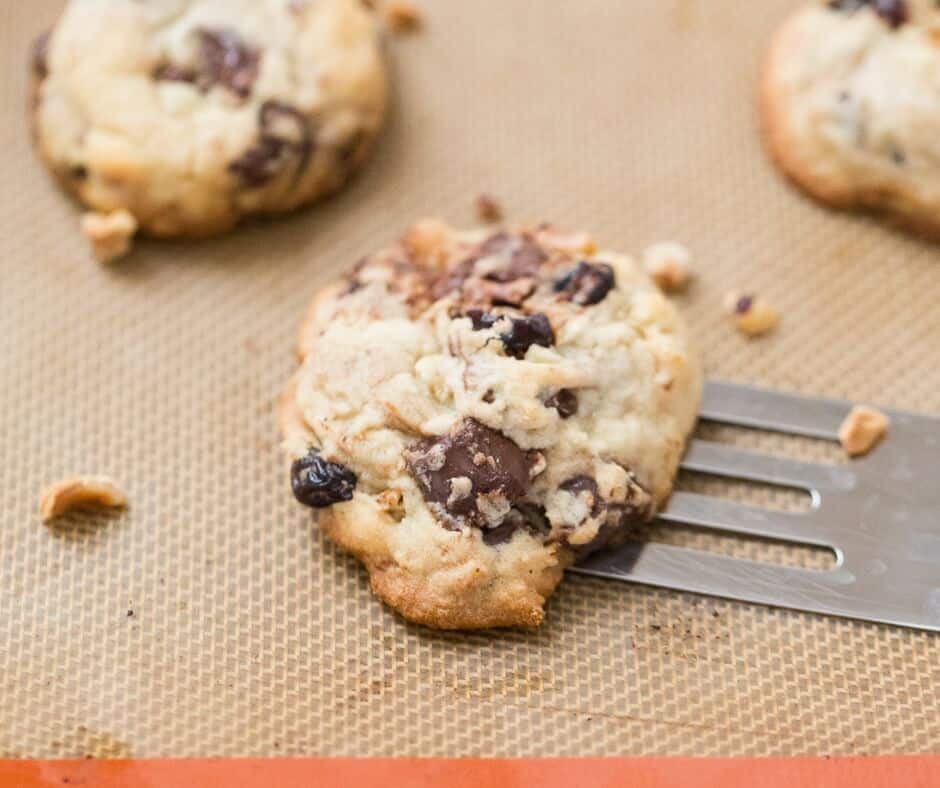 I have since moved on from prepackaged cookie mixes to making cookies from scratch.  But I grew to appreciate dried cherries way more than I anticipated.  Now I add those tart little nuggets to savory foods like this Broccoli Ramen and Kale Salad as well as to easy candies like this Cherry Almond Chocolate Bark.  But nothing reveals the softer side of dried cherries quite like homemade cookies.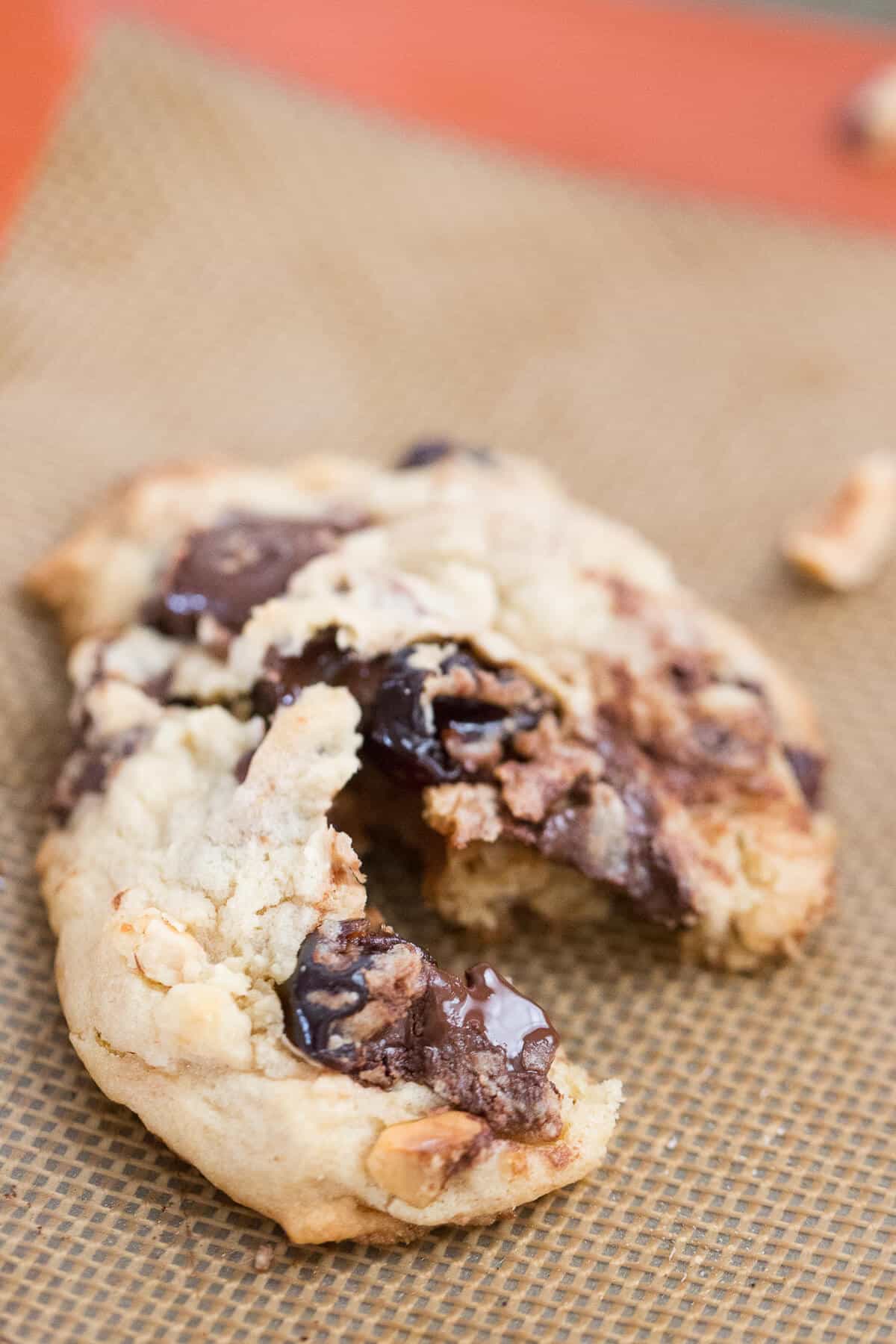 These cherry chip cookies are truly special.  To enhance the flavor of the cherries; I soaked them in Frangelico (a hazelnut liqueur) and heated them just for a few minutes.  The heat did two things; the cherries absorbed more of that nutty flavor while growing big, plump and soft.  These bursting cherries are added to the cookie dough along with delicious dark chocolate chunks and crunchy chopped hazelnuts.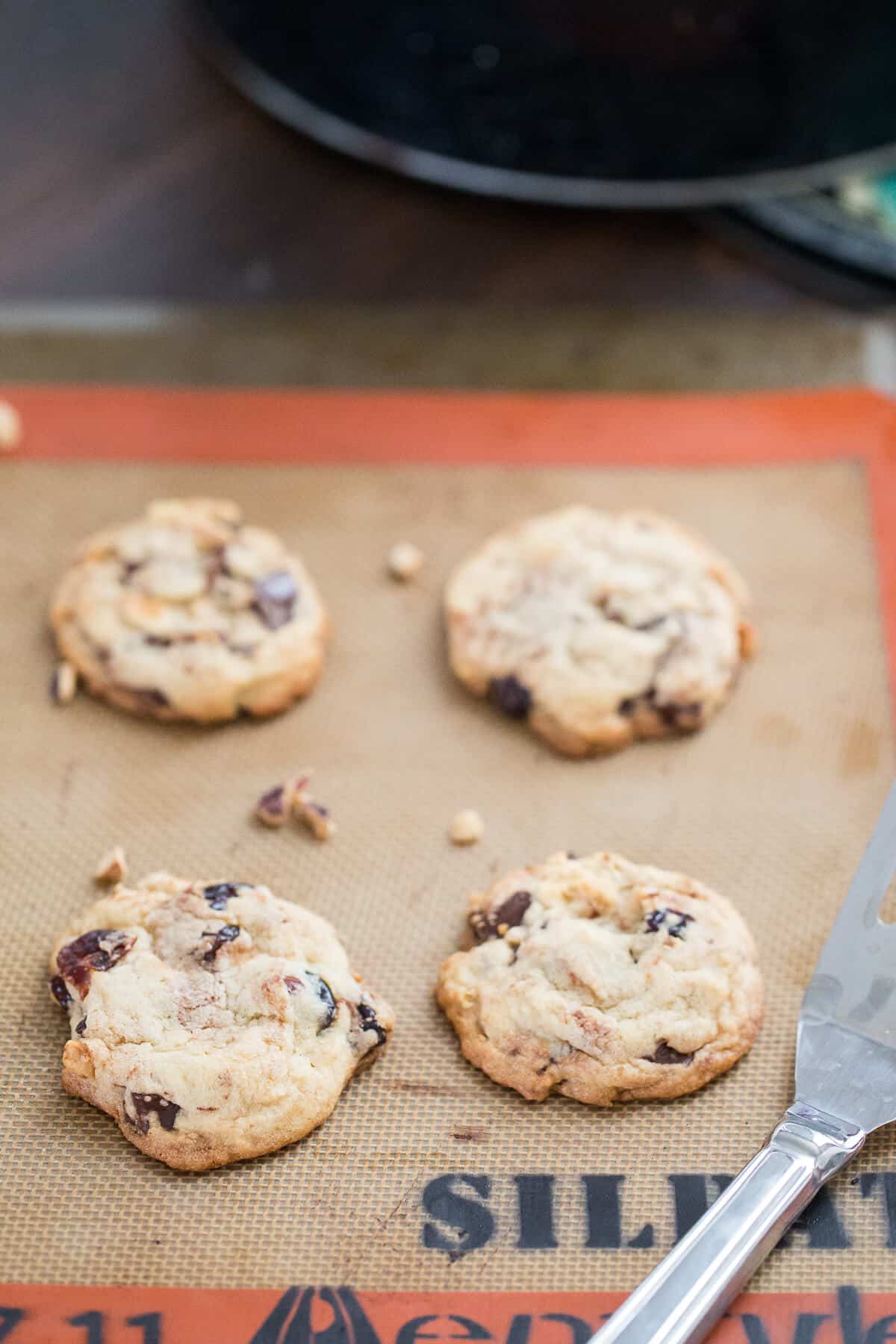 These cookies are more for the sophisticated cookie connoisseur.  The hazelnut liqueur permeates the background while the bold dark chocolate contrasts with the sweetened dried cherries.  The chopped hazelnuts round out the flavors and bring a crunchy surprise.  Between the dark chocolate and the drunken cherries, I'd say these cherry chip cookies are as romantic as they come!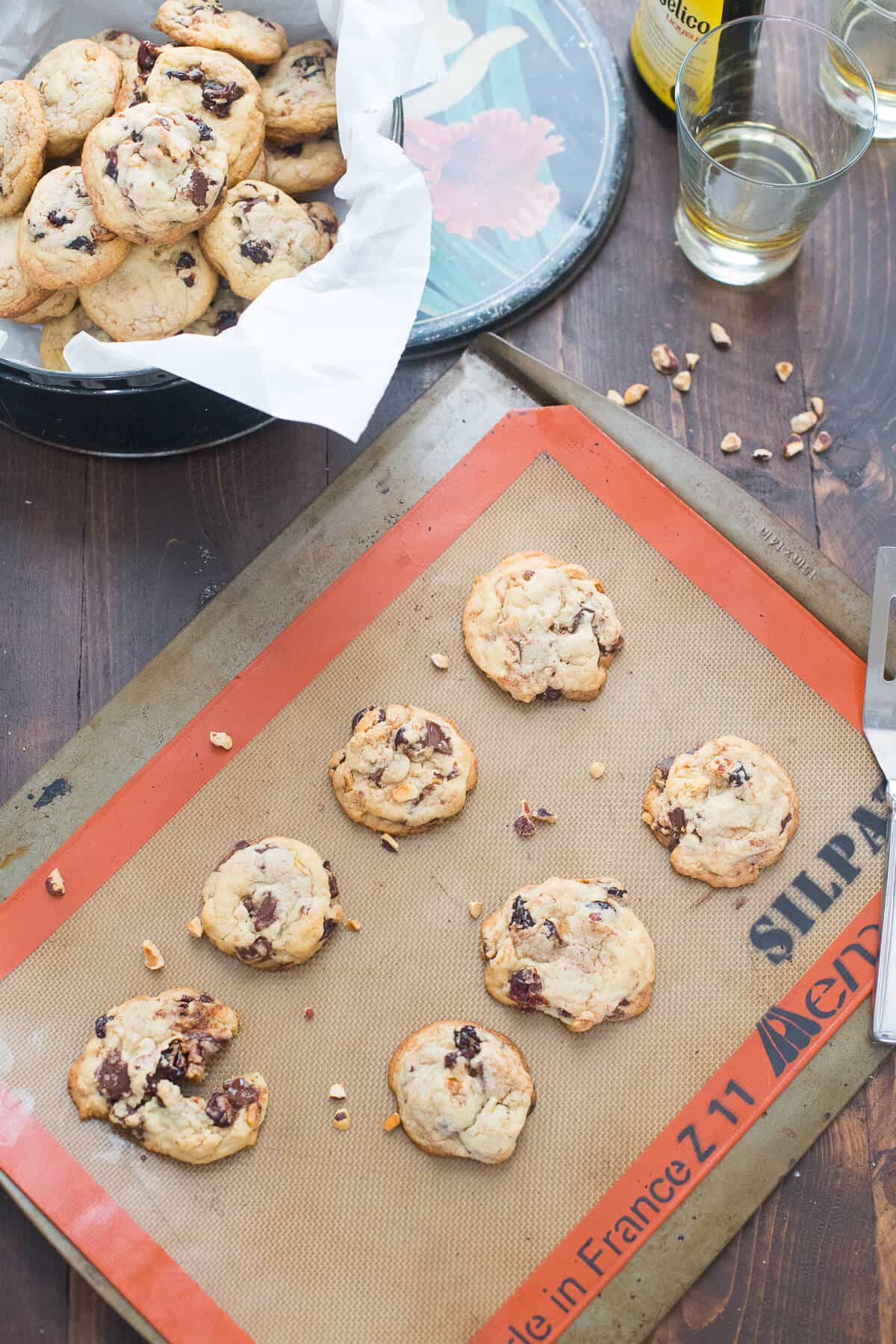 Drunken Cherry Chip Cookies
48
adjust servings
Sweet cherry chip cookies with boozy cherries, chocolate chunks and hazelnuts!
Ingredients
1 8oz

package Bob's Red Mill Dried cherries

1/2

cup Frangelico (hazelnut liqueur)

3/4

cup softened butter

1

cup brown sugar

1/3

cup sugar

2

eggs

1

tablespoon vanilla

1/2

teaspoon salt

1/2

teaspoon baking powder

1/4

teaspoon baking soda

2 1/2

cups flour

1 10

oz package chocolate chunks (dark)

1/2

cup chopped hazelnuts
Instructions
Preheat the oven to 375 degrees. Line your baking sheets with parchment paper or non-stick mats and set aside.
In a small bowl, combine cherries and Frangelico. Microwave cherries for 1 minute or until cherries are plump. Allow cherries to sit in the alcohol while you prepare the cookie batter.
In a mixer, beat together the softened butter, brown sugar and sugar until creamy. Add in eggs one at a time. Stir in vanilla. Carefully add dry ingredients to the batter beating until fully incorporated.
Drain cherries. Stir cherries, chocolate, and nuts into the cookie dough.
Drop dough by tablespoons onto your lined baking sheets. Bake cookies for 10 minutes. Remove from the oven and allow the cookies to cool on the baking sheet for 1 minute before removing to a cooking rack.