Thumbprint cookies made with chopped cherries and filled with a vanilla filling!  A Hershey's Kiss candy rests right in the middle!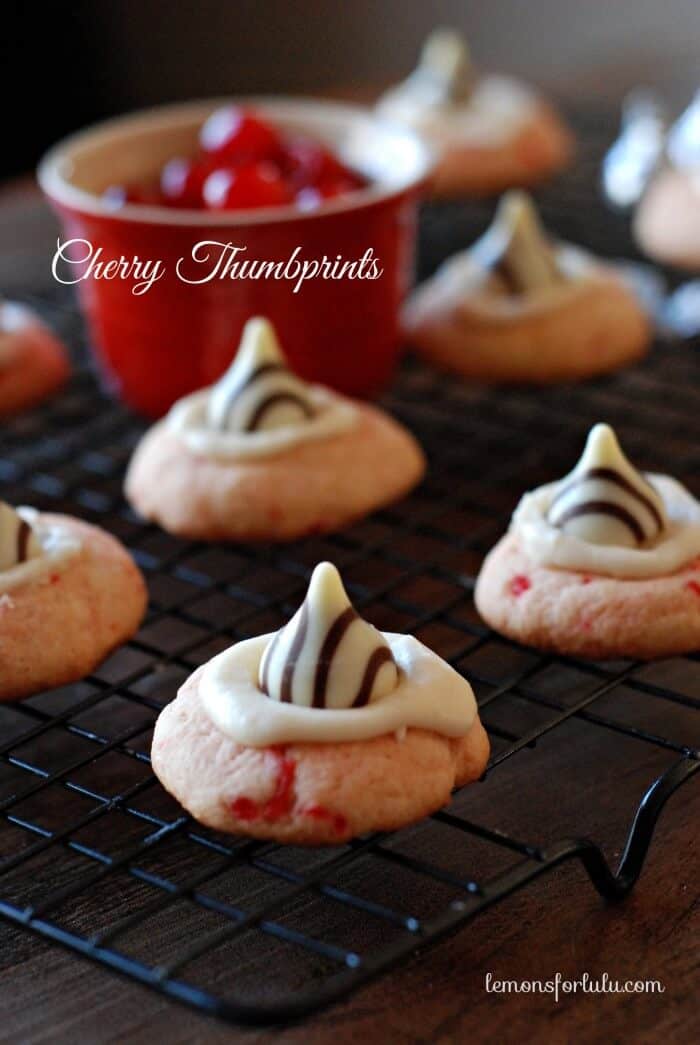 My son's Lego addiction has become quite tiresome.  At first it was cute.  My husband and I encouraged this little hobby.  Lego's are creative and intelligent.  They require coordination and concentration, perfect for a little boy.  But as the years went on (and money was spent), we realized this little hobby wasn't going away.  Quite contrary, it got bigger and more expensive.
For Christmas, all my son wanted was Legos.  All he wants for his birthday are Legos.  All he and his friends talk about are Legos.  All he plays with at home are Legos.  All he wants to do when he grows up is design Legos.  I'd be buying him pocket protectors for the future if he weren't so social and athletic.  Recently, I was fortunate enough to listen to a very long, detailed explanation on how he was going to build an addition to a house he was constructing.  He went on and on about he was going to place a 1×1 brick here or a round piece there and use this sliding piece as a door….that's about the point that I got glassy eyed.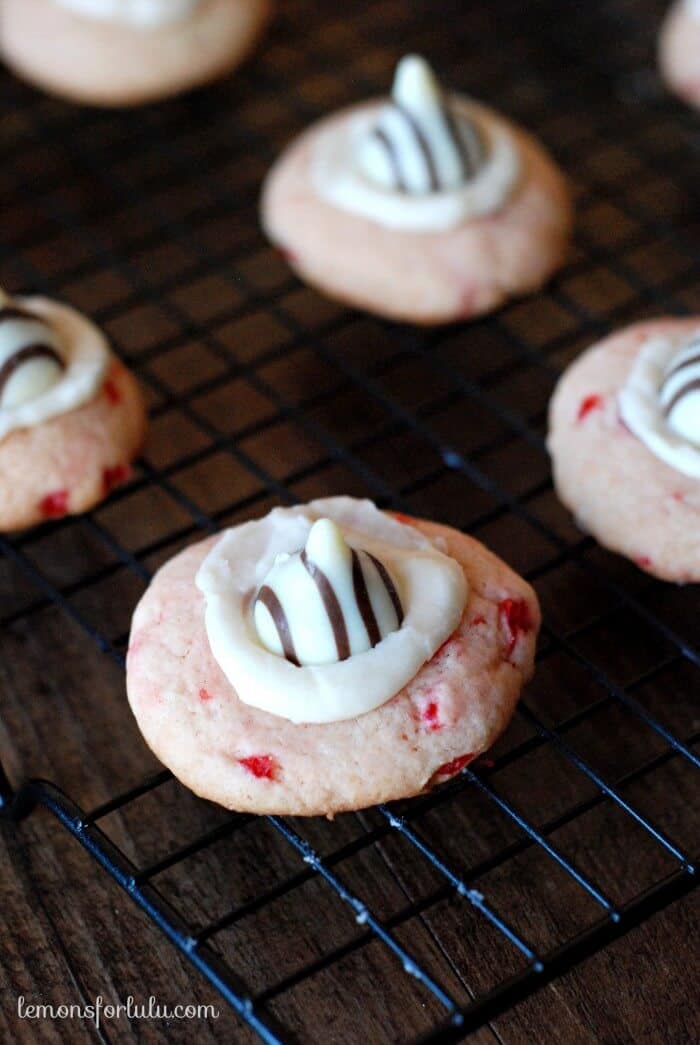 I was dreaming about cookies.  These cherry thumbprints Kiss cookies to be exact.  I was thinking about how I'd mix in these cherries here and put some vanilla filling there and add these little Kisses right on top.   I woke up from my little day dream with the realization that my son and I are exactly the same.  We both have obsessions.  They consume us, but we love them.  I will buy him Legos and he will eat my cookies.  All will be copasetic.
NO TWO THUMBPRINTS ARE THE SAME
NEVER MISS A RECIPE! SUBSCRIBE TO MY EMAIL TODAY!
FOLLOW ME:
FACEBOOK | TWITTER| GOOGLE +| BLOGLOVIN | INSTAGRAM
Cherry Thumbprint Kiss Cookies
Ingredients
1/2

cup butter, softened

1

cup sugar

1

egg

1

1/2 teaspoons vanilla extract

2

cups flour

1/4

teaspoon baking soda

1/4

teaspoon salt

2

tablespoons milk

1/3

cup chopped Maraschino cherries

3/4

cup powdered sugar

2

tablespoons butter

3

tablespoons milk

1/2

teaspoon vanilla extract

36

Hershey's Kiss Hugs
Instructions
Preheat oven to 350. Remove wrappers from Kisses, set aside.
Beat together butter, sugar, egg and vanilla in a large bowl. In a small bowl, combine flour, baking soda and salt. Add dry ingredients to butter mixture alternately with milk. Stir in chopped cherries.
Shape dough into one-inch balls. Gently press your thumb into the center of each cookie. Bake for 8-10 minutes, or until edges have set. Remove from oven and let cookies rest on baking sheets for about 3 minutes (pressings centers of cookies again if necessary). Remove from cookie sheets and let cool on a baking rack.
To prepare filling, combine butter, sugar, milk and extract in a bowl. Beat until creamy. Using a teaspoon, fill each cookie with filling. Place a Kiss in the center and let set completely before storing.