Sweet Hawaiian bread is tossed with tart apples, spiced rum, eggs, and sugar in this simple but comforting bread pudding recipe!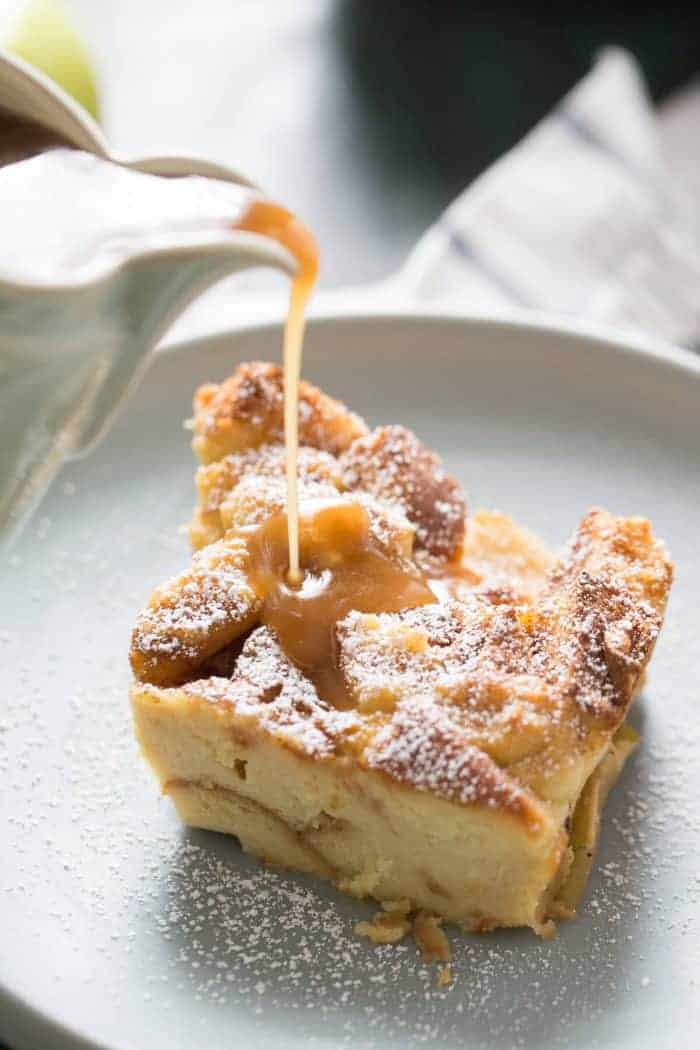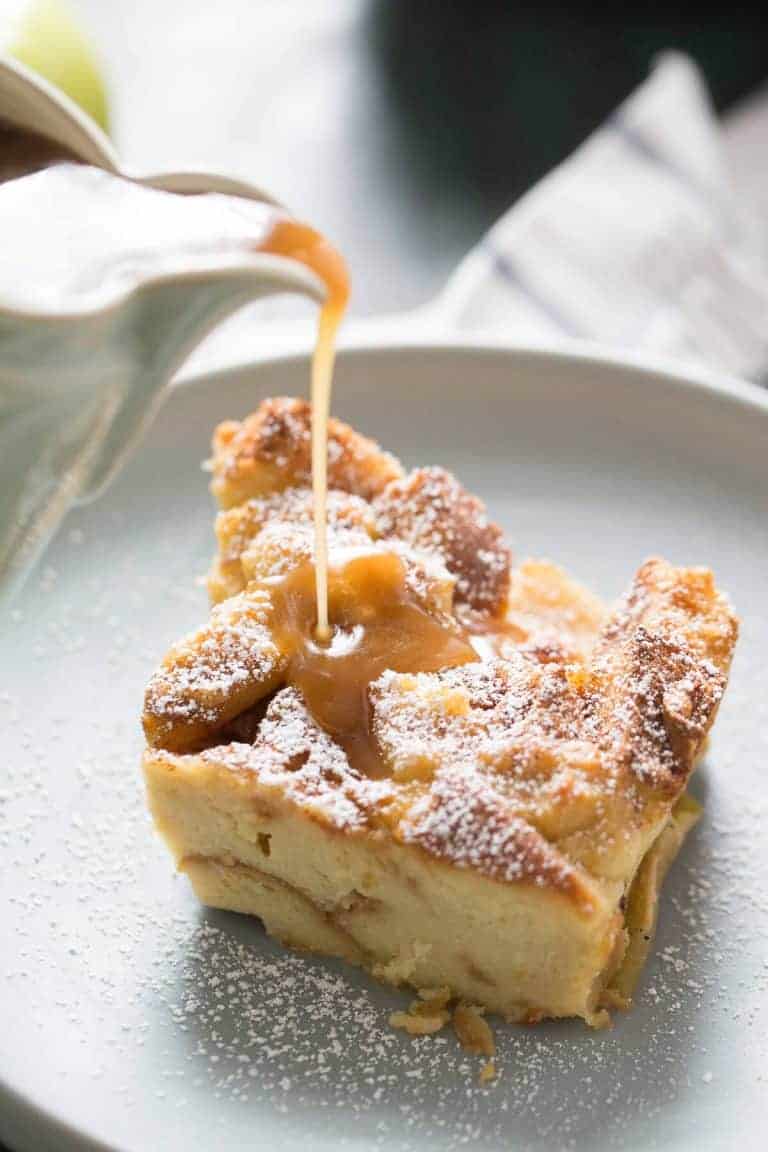 My absolute favorite dessert is frosting.  I have always been the kind of kid who asked for as many roses as possible on my birthday cake.  My goal was to eat each rose one by one, savoring the butter and sugar as I went along.  As for the actual cake, well I didn't care about the cake.  The only reason to order a cake is because bakeries do not sell buttercream roses on their own (although they should).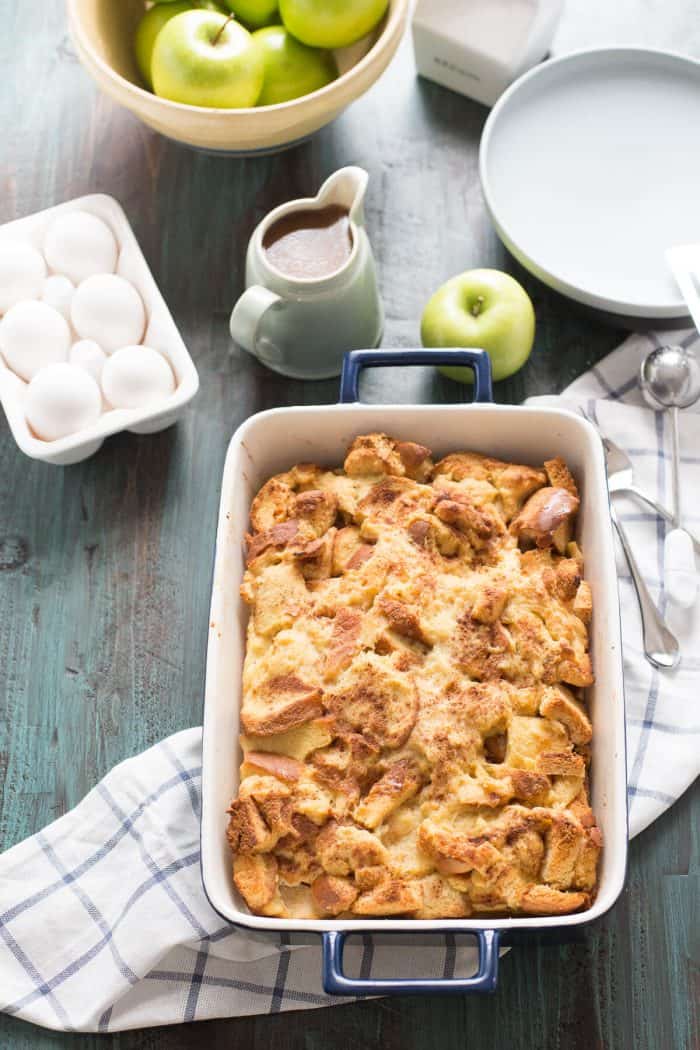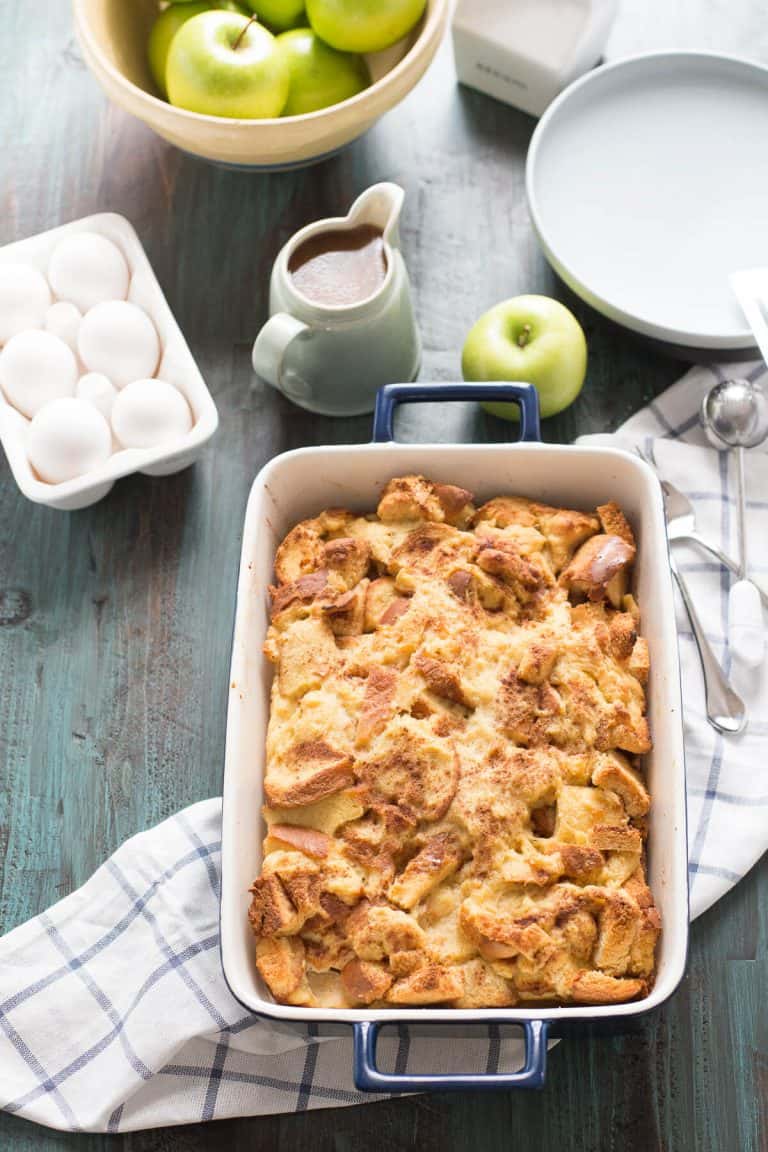 Over time, I started to enjoy the actual cake as well.  I began to see how a tender chocolate cupcake is complimented by buttercream frosting; they work well TOGETHER. I began branching out into other frostingless desserts like pies, trifles, and now this bread pudding recipe.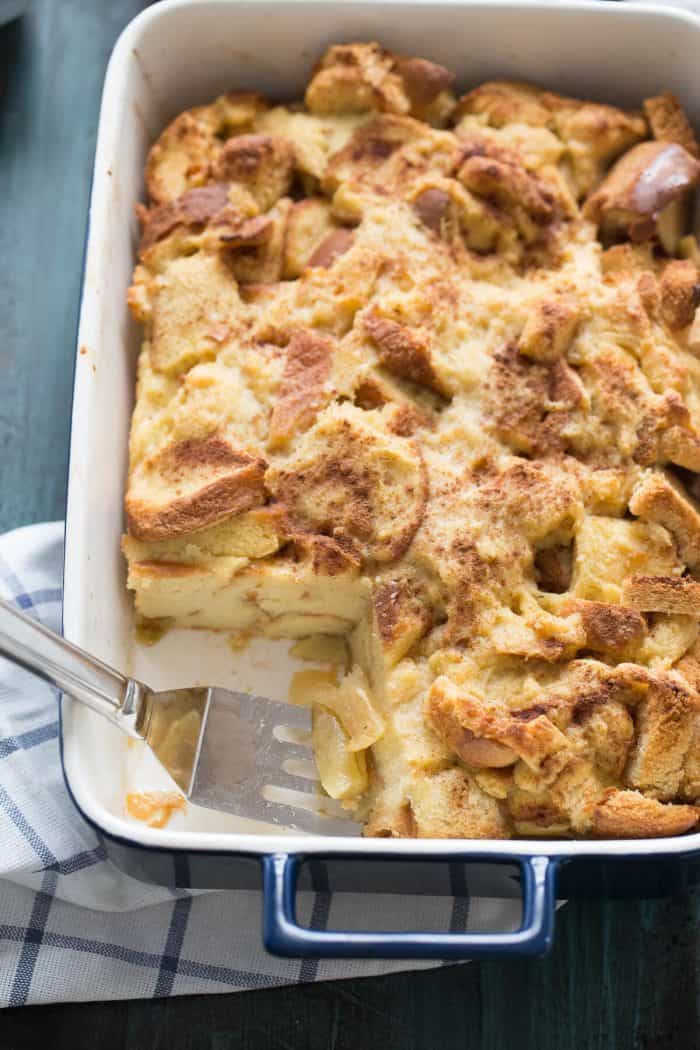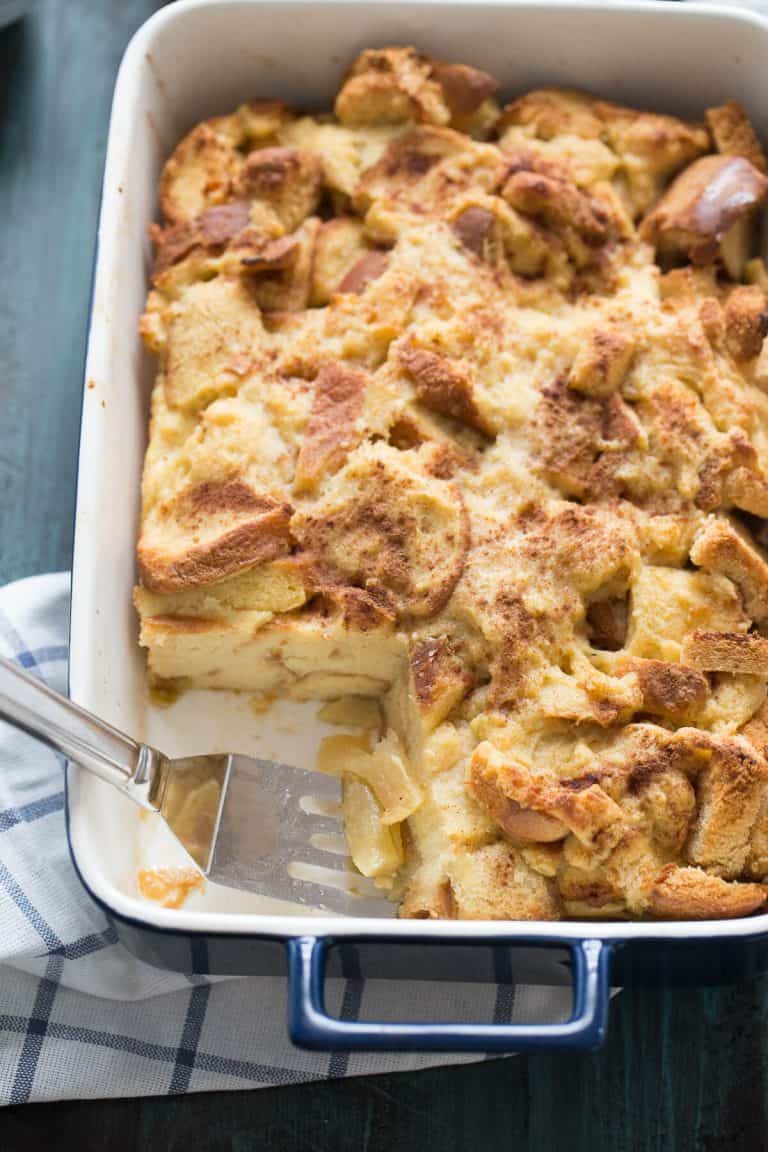 I honestly didn't know how I would like this bread pudding.  I'm not a big fan of pudding.  When ranking my desserts from my most favorite to my least, pudding would be there lurking at the bottom.  The one exception would be boozy pudding.   I like boozy pudding.
Turns out that something magical happens when you combine sweet bread with eggs, milk, sugar, butter and rum.  You get a rich, caramel-crusted tender bread pudding that practically melts right into your mouth.  The best part might be the sweetened cinnamon apples hidden inside.  It's as if cake and pie collided into one happy accident.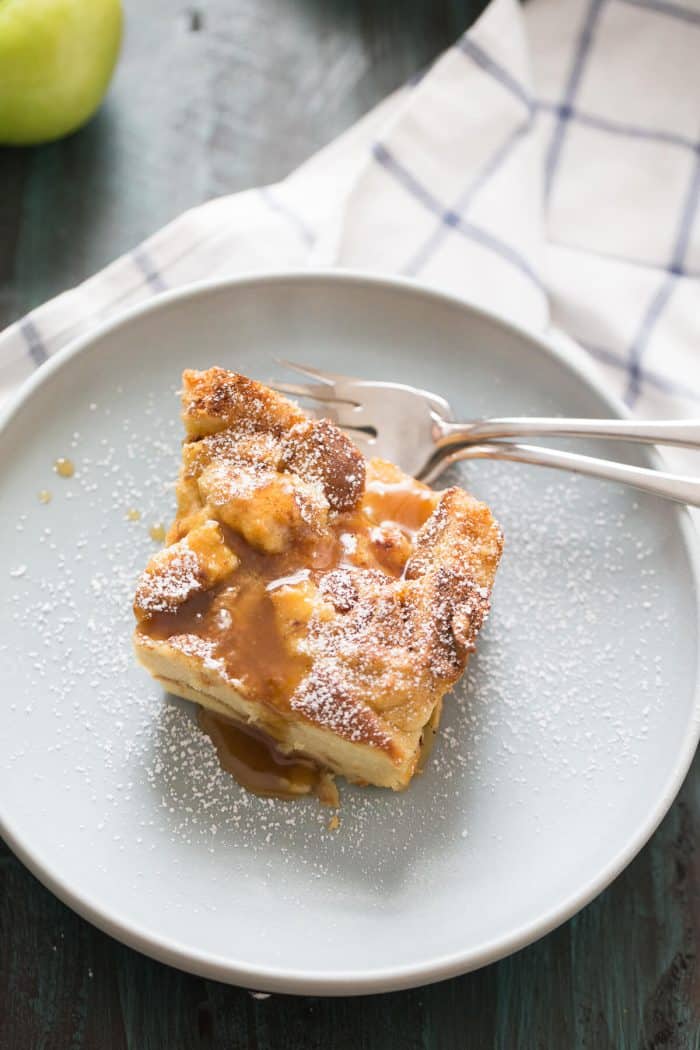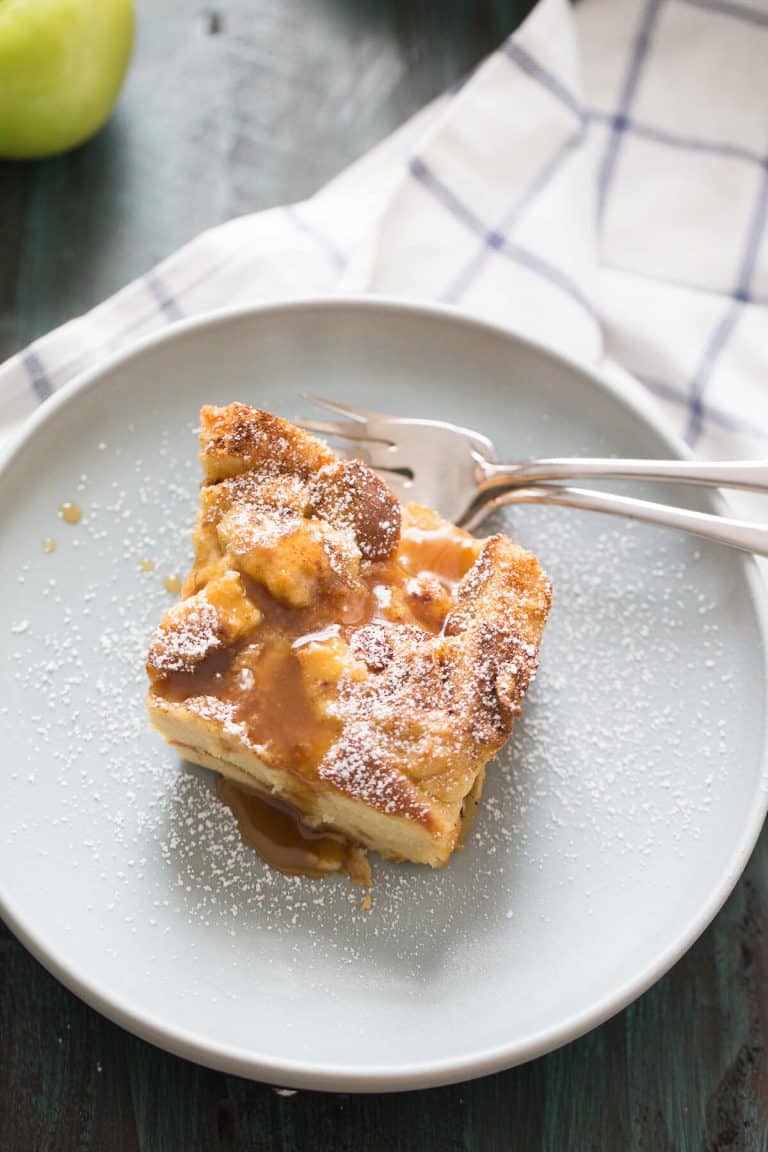 Notes about the recipe
I used whole milk.  The added fat in the whole milk will help the custard thicken and set up properly.
I like the thickness and the sweetness of the Hawaiian bread.  Challah or brioche would work well.  They are all light and sweet  types of bread.
If you would like to keep this free from alcohol, rum extract can be substituted.
Easy Apple Recipes
Apples Foster Bread Pudding Recipe
8
adjust servings
Tender sweet bread is combined with cinnamon apples and spiced with rum for a sinfully delicious fall flavored treat!
Ingredients
2

tablespoons butter

1

tablespoon brown sugar

3/4

teaspoon cinnamon

4

green apples, peeled and sliced

5

eggs

2 1/4

cup whole milk

1/3

cup brown sugar

1

teaspoon vanilla

2

tablespoon spiced rum

1

loaf Hawaiian bread, cubed (I used Private Selection from Kroger)

2

tablespoons butter, melted

2

tablespoon sugar

1/3

cup butter

1/4

cup heavy cream

1/2

cup brown sugar

pinch of salt

1/4

cup dark rum (optional)
Instructions
Preheat oven to 350 degrees.
Spray a 9 x 13 inch pan with non-stick spray and set aside.
Heat butter in a skillet over medium heat. Add brown sugar, cinnamon and apples. Cook apples until they are slightly soft and caramelized.
In a bowl, whisk together the eggs, milk, brown sugar, vanilla and rum. Add cinnamon apples and three-quarters of the cubed bread, stirring to coat. Arrange mixture in the bottom of the prepared baking pan. Allow bread to rest for 15-20 minutes.
Arrange remaining bread cubes over the top. Drizzle melted butter over the top following by the tablespoon of sugar.
Bake for 40-50 minutes or until golden. Edges should pull slightly away from pan.
To prepare the caramel sauce, place butter, cream, sugar and salt in a saucepan over medium heat. Whisk until butter has melted and sugar dissolves. Simmer the sauce and continue to whisk for another 8-10 minutes or until sauce has thickened. Remove from heat and whisk in rum. 1-2 teaspoons of rum extract may be used in place of the alcohol.

With the exception of the rum, I used Private Selection and Kroger Brand products to create this recipe