These pork kabobs have an Italian flair!  Pork loin, sausage and fresh vegetables are grilled to perfection and served along side a tangy balsamic bbq sauce!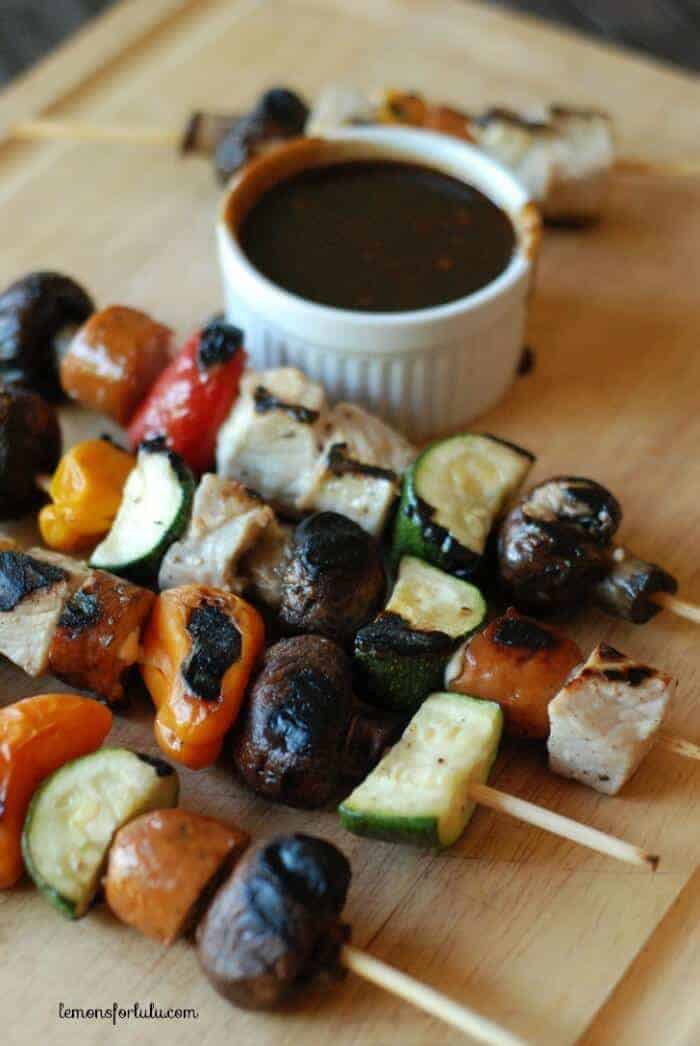 You know when you are kid, you think your parents are completely normal.  Then when you grow up and spend more time at other people's houses you realize your family does things a little differently.  On the surface things appeared to be normal but if you were to look in let's say, our dishwasher, you'd find that it was where we stored our drinking glasses.   Doesn't everybody store their clean drinking glasses in their dishawasher that NEVER gets used???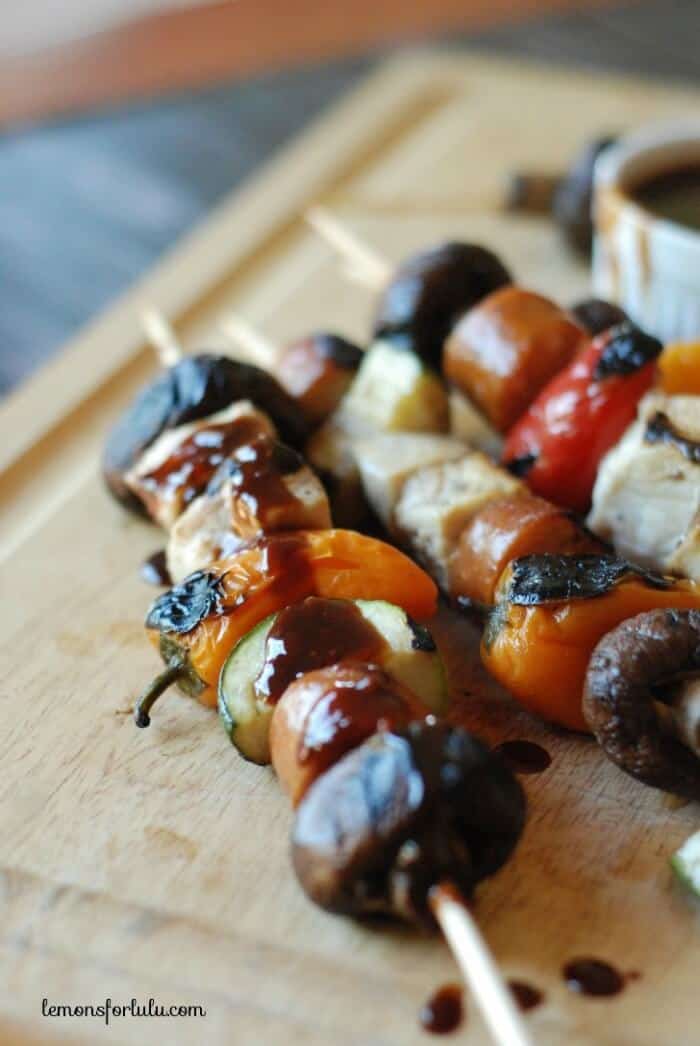 If you were to open the oven, you'd find it was completely void of any dirt.  Instead, it housed my mom's baking pans.  Space was clearly limited.  So where did my mom cook?  Why, in the basement of course!  Yes my friends, she cooked in a makeshift kitchen in the unfinished portion of our basement.  There's more.  Next to the stove was our washing machine, which actually saw quite a bit of action.  It was the lonely clothes dryer next to it that longed to blast hot air over our colorful clothing.  Instead it was where my mom would store her tupperware containers, plastic bags and aluminum pans.   Doesn't everyone store their leftover containers in the clothes dryer?  Totally normal right?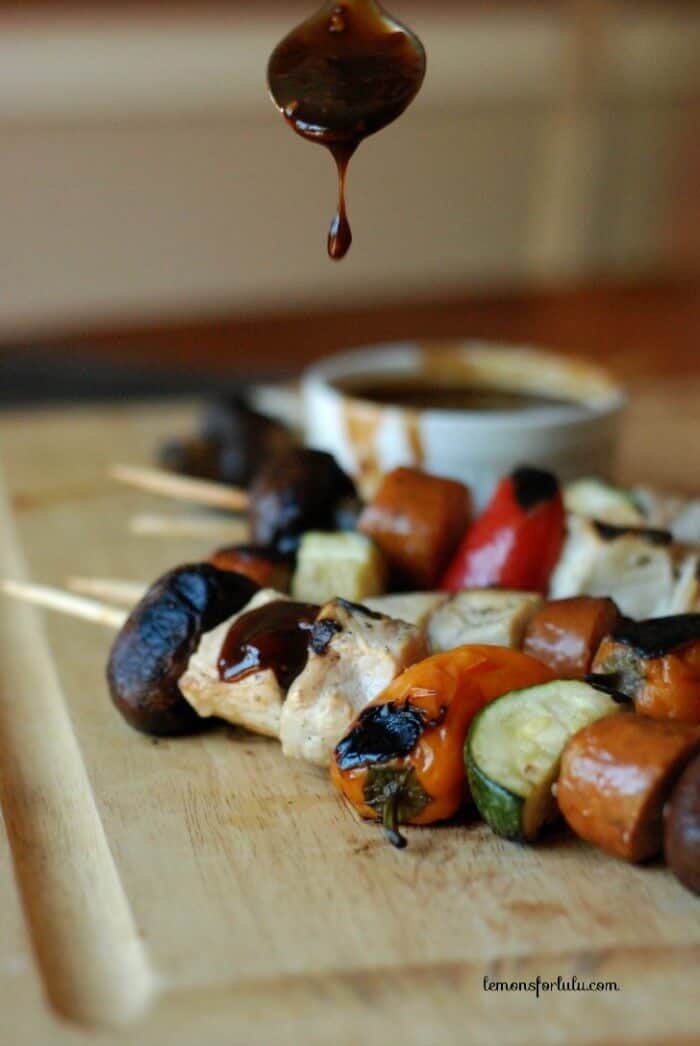 If you moved down from the clothes dryer/storage unit, you'd see our utility sink which natually was used for washing dishes.  Next to that was our kitchen table where we sat down together as a family.  Boy was it convenient just plopping our dirty dishes right there in the utility sink.  As you can imagine, I rarely invited friends to eat with us.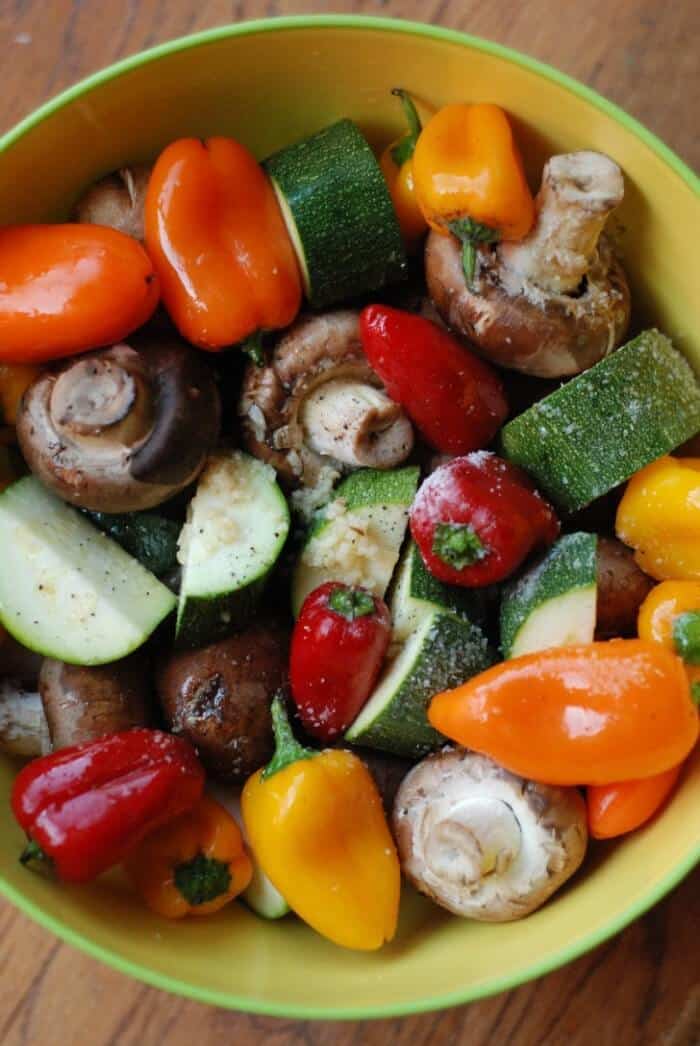 The funny thing is, with the exception of the clothes/dryer storage unit (mom has finally seen the practicality of that appliance) my mom still operates this way today.  The kitchen oven is used more these days, but when not in use, it stores extra baking pans.  The dishwasher still houses clean dishes, and there is still an oven in her unfished basement.  I've come to the conclusion that my mom has never wanted to have the appearance of a dirty house.  If you don't use the kitchen, you don't have to CLEAN the kitchen.  Keep the mess in the basement where no one will see it.  So, now I'm left to wonder, was my mom really an oddball or was she a genius?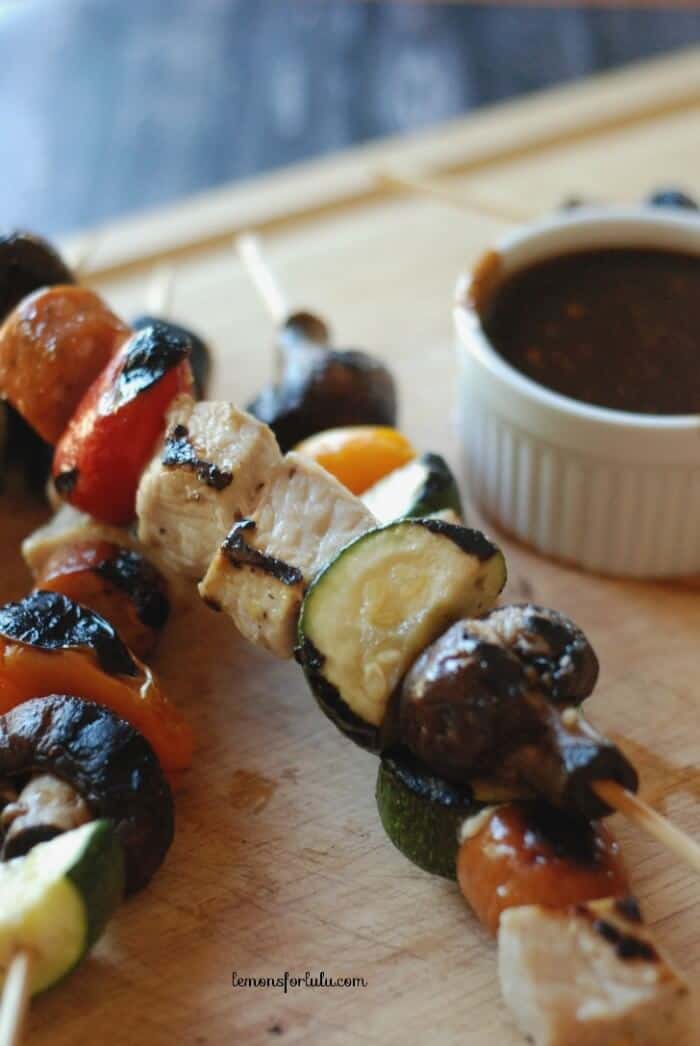 Of course my mom could have just done what I do now.  I use my grill as often as possible!  The mess stays on the grill and my kitchen stays clean!  As I mentioned here, I'm on a grilling spree!  It's been a while since I've made kabobs, I was due.  I've decided on lean pork loin along with chicken sausage.  I threaded lots of fresh veggies like baby bell mushrooms, mini bell peppers and zucchini.  So much fresh flavor going on with these pork kabobs, I knew they were going to be good!  They were better than good.  In fact, they were outstanding, especially with the homemade balsamic bbq sauce I served on the side.  Holy smokes!  Forget the oven, the grill is where it's at!
YOU WANT SOME?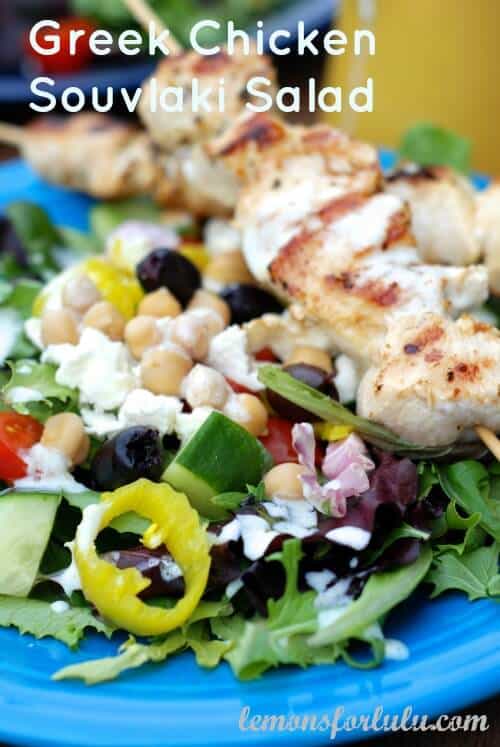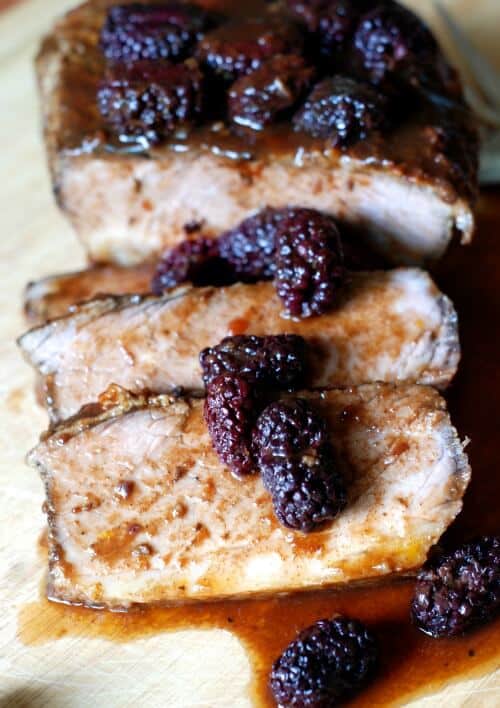 NEVER MISS A RECIPE! SUBSCRIBE TO MY EMAIL TODAY!
FOLLOW ME:
FACEBOOK | TWITTER| GOOGLE +| BLOGLOVIN | INSTAGRAM
Don't forget you can save each of these recipes to your personal recipe box , create your own meal plan, or add ingredients for each recipe to your shopping list! Just use the "Save Recipe" on all my recipes!
Chicken Kabobs with Balsamic BBQ Sauce
Ingredients
For the sauce:

1 cup balsamic vinegar
¾ cup ketchup
3 tablespoons brown sugar
2 tablespoons honey
2 tablespoons Worcestershire sauce
2 cloves garlic
1 teaspoon red pepper flakes
2 teaspoons stone ground mustard

For the Kabobs:

1 pound pork loin, cubed
1 small zucchini, chopped into thick slices
1 pound baby Bella mushrooms
1 pound mini sweet bell peppers
1 12 oz package chicken sausage
½ cup olive oil
3 cloves garlic
1 teaspoon salt
½ teaspoon pepper
12 wooden skewers
Instructions
For the sauce: In a saucepan combine all ingredients; stir. Simmer on low heat until thickened, about 20 minutes.
Soak skewers in cold water for at least 30 minutes. In a large bowl combine pork through sauce. Drizzle olive oil over meat and vegetables. Add garlic, salt and pepper. Cover and chill for 30 minutes.
Heat grill over medium heat. Thread mushroom, pork, sausage, zucchini, and bell peppers. Grill for 15-20 minutes turning at least once.
Serve with bbq sauce
http://www.lemonsforlulu.com/pork-kabobs-balsamic-bbq-sauce/
SEE THIS ON MY PINTEREST BOARD!
Follow Tanya Schroeder @lemonsforlulu.com's board What to feed the family on Pinterest.


I may be linking this up to these parties and to The Weekend Potluck!