We moved.
You might have noticed that it is Friday and not Monday. I didn't mean to scare you into thinking that the week was starting all over again or anything. After some very unscientific polling and some Facebook questions about your grocery habits we figured out that a) you guys like new food ideas and b) you either shop every day or you shop on the weekend. So here are your meal idea for next week. I gotta tell ya — I think this is my favorite meal plan yet.
MONDAY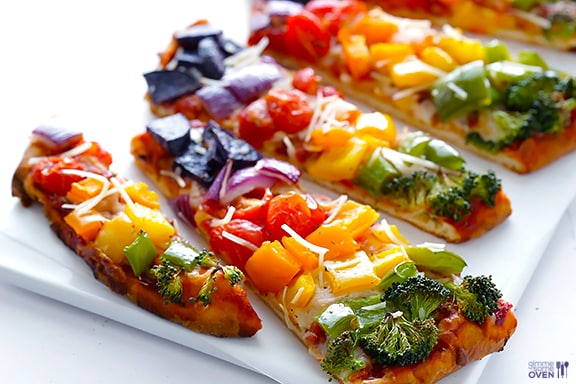 Rainbow Veggie Flatbread Pizza from Gimme Some Oven – I'm pretty sure a Meatless Monday meal never looked like so much fun. I think I always want my food to be in a rainbow.
TUESDAY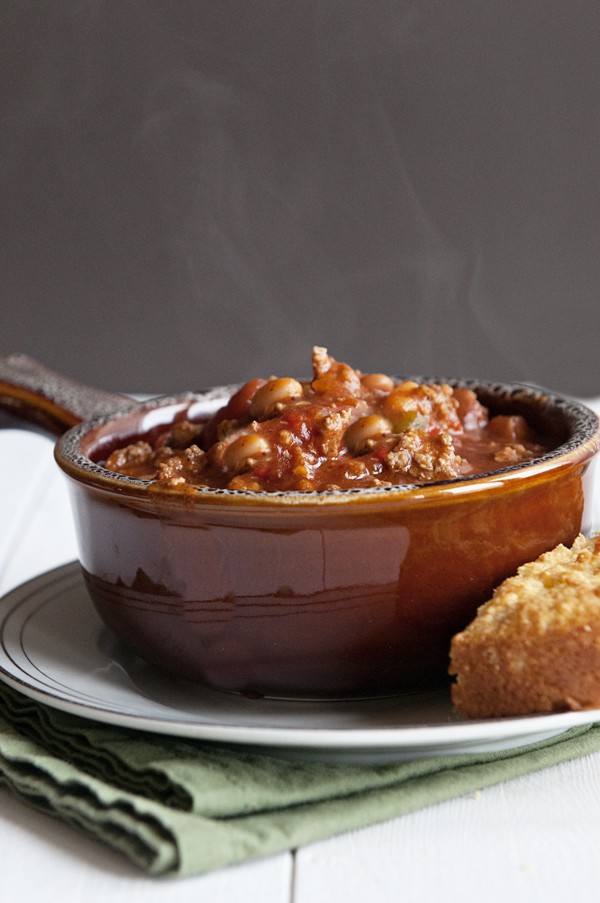 3 Bean Chili from Dine & Dish – alls I know is that I saw this photo and stopped in my tracks. It's cold. And damp. And cold. Steamy cozy chili is the ticket.
WEDNESDAY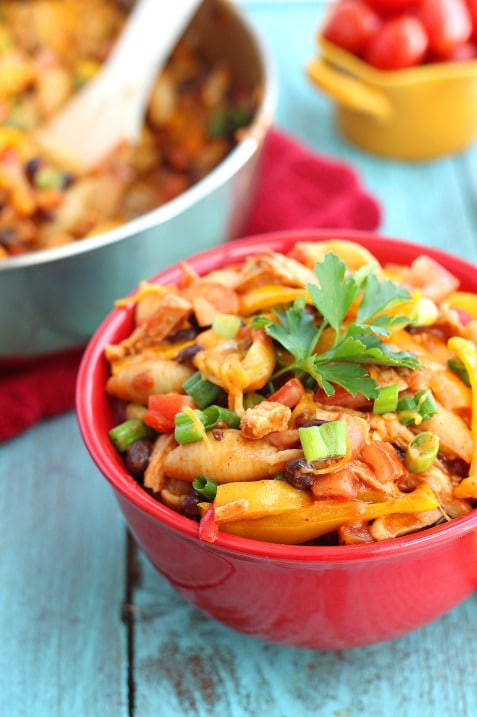 One Pot Chicken Enchilada Pasta from Chelsea's Messy Apron – This gorgeous colorful recipe made me so happy!!! One pan to clean, all the colors of the rainbow, and extra super delicious.
THURSDAY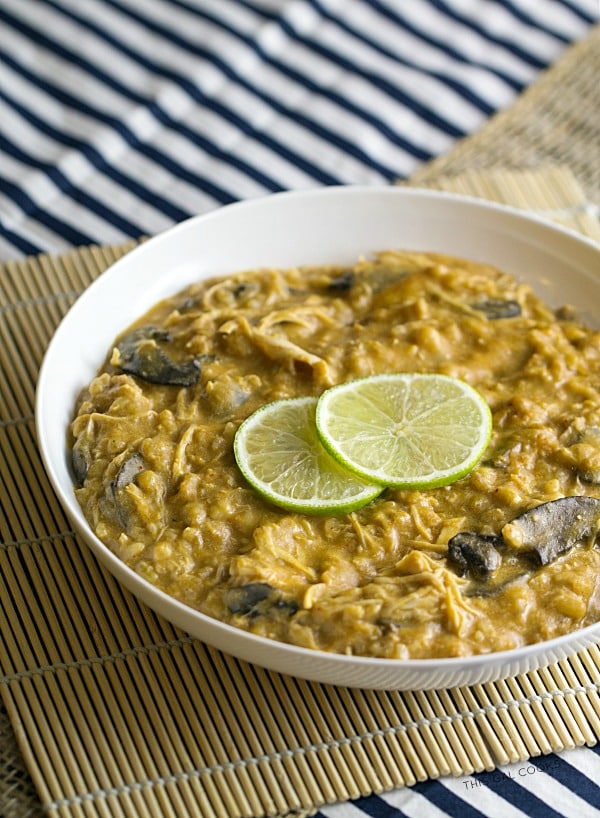 Crock Pot Thai Chicken Soup from This Gal Cooks – Do you guys love Thai food? I reeeeeeally do. This simple soup happens in the crock pot and has all my favorite things about Thai cuisine. You'll feel fancy but this is a dump and run recipe. Do it.
FRIDAY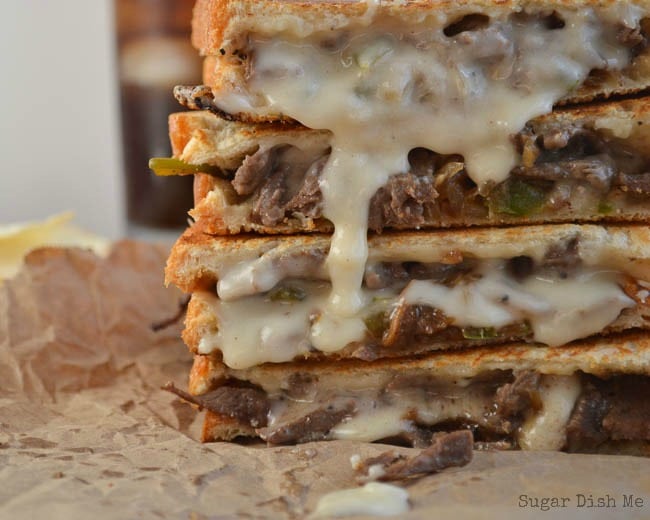 Philly Steak and Grilled Cheese from Sugar Dish Me – Grilled sourdough bread, tender steak, onions, peppers, and a horseradish cheese sauce that will seriously blow your mind. Grilled cheese to the 3rd power.
SATURDAY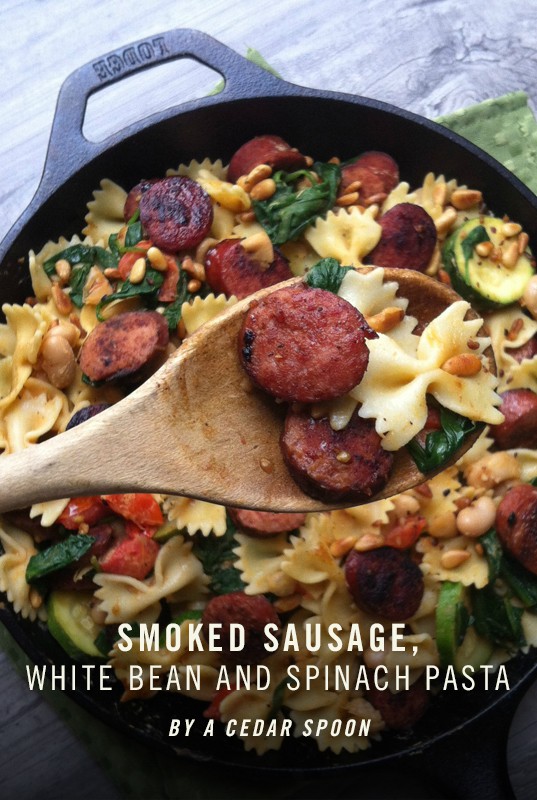 Smoked Sausage, White Bean, and Spinach Pasta from A Cedar Spoon – To me this looks like restaurant food but really it's so easy!!! A weekend meal with a glass of wine – delicious without all the fuss.
SUNDAY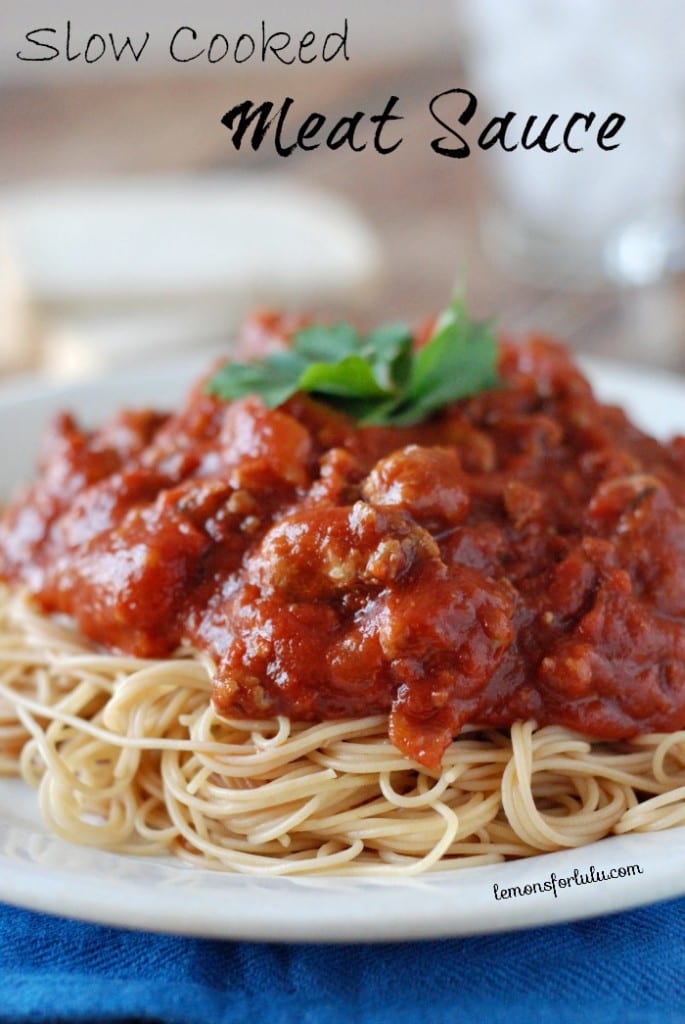 Slow Cooked Meat Sauce from Lemons for Lulu – Herbs, ground turkey, turkey sausage, onions… this rich sauce is actually on the lighter side and full of anti-oxidants! And if you don't feel like spaghetti, throw it in the freezer!
DESSERT
Chocolate Covered Strawberry Cheesecake Bites from Sugar Dish Me – Need an idea for a Valentine's Treat? These little cheesecake bites are it! Easy to make creamy cheesecake on a graham cracker crust covered in sprinkles and chocolate.
Don't forget that you can save all these recipes, make a shopping list, and get coupons! You can try Ziplist out HERE – let me know how it works for you!
MORE MORE MORE GOOD STUFF
If you need more ideas or inspiration you can find us on Pinterest.
Follow Sugar Dish Me's board Be My Valentine!!! on Pinterest.

Follow Tanya Schroeder @lemonsforlulu.com's board Pasta Monster on Pinterest.