These keto crinkle cookies are a fun way to bring your diet to the holiday table without missing out on the good stuff. These low-carb holiday cookies are always a hit!
Cookies are always popular this time of the year but unfortunately, they can set people back on their diets. With keto chocolate crinkles you don't have to worry about that because every bite is diet-approved. So enjoy the best of both worlds with these keto crinkles.
What are Keto Crinkle Cookies?
They're a super easy twist on the traditional crinkle holiday cookies you already know and love. Made with keto-friendly ingredients like almond flour, coconut flour, and powdered erythritol we get nicely soft cookies with crispy edges and the right balance of sweetness in every bite.
Ingredients you'll need for Keto Crinkle Cookies:
Almond flour
Coconut flour
Granulated erythritol
Eggs
Cocoa powder
Vegetable oil – can use melted coconut oil instead.
Vanilla extract
Baking powder
Powdered erythritol
For the exact amounts needed, please see the recipe card below.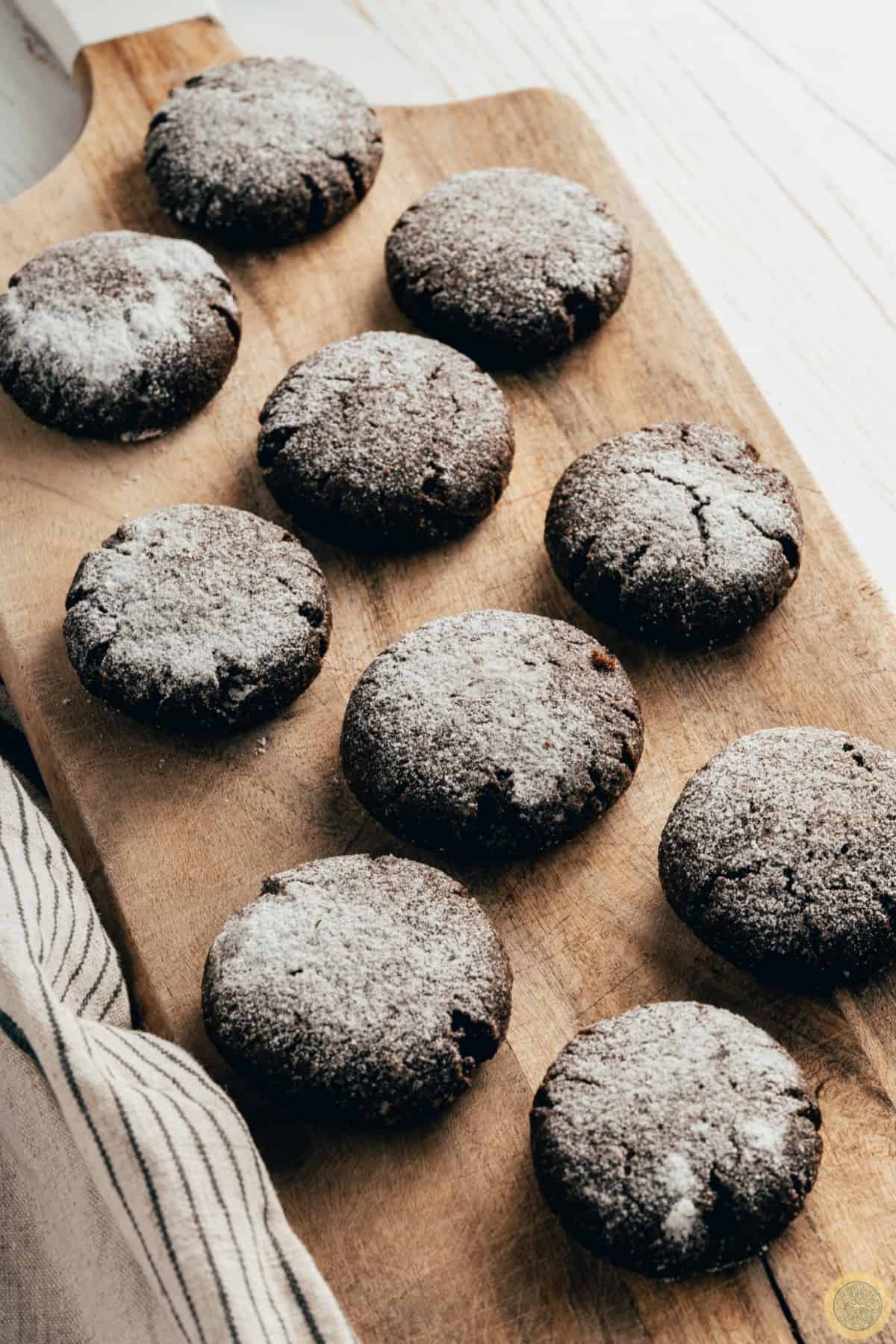 How to Make Keto Chocolate Crinkle Cookies
Preheat your oven to 350 degrees F and line 2 or 3 large baking sheets with parchment paper. Set aside.
In a mixing bowl cream together the granulated erythritol and the vegetable oil until well combined.
Add in the egg room temperature eggs and whisk together until frothy.

Add in the vanilla extract and mix again to combine.

In another bowl, whisk together the dry ingredients (almond flour, coconut flour, cocoa powder, and baking powder).

Add the dry ingredients to the wet ones and stir to combine.

Roll the batter out into 20 1.5inch sized balls and roll items in a small bowl filled with powdered erythritol to coat them.
Place the balls on your prepared baking sheets and press on them lightly to flatten using the bottom of a clean drinking glass.
Make sure to leave at least 1 inch of space between the cookies so that they have room to expand the whole baking.

Bake the cookies in the oven for about 10 minutes or until set. The cookies will look soft as they come out of the oven but they will harden as they cool.
After baking, dust with additional powdered erythritol.
Enjoy!

Recipe Tips
If you don't have room temperature eggs ready to go you can stick your eggs in a bowl of warm water for about 10 minutes to help bring them to room temperature quickly.
Important! When using sugar-free powdered replacement, it is expected that after baking, your cookies will seem like they were never coated as the cookie oils will absorb the sweetener. That's why sifting some extra powdered sweetener, in the end, will give these cookies a traditional look. Anyways, that's optional, as erythritol could be too sweet for some people's palates. My advice is to adjust that extra sweetness to your taste.
Store these cookies in the fridge, covered, for up to one week.
FAQs
What causes cookies to crinkle?
Cookies get their traditional crinkle appearance by being coated in powdered sugar before baking. As the cookies bake, they expand, making cracks in the powdered sugar coating.
Can I prepare the dough in advance?
Yes, you can make the dough for these cookies up to 2 days in advance and keep it stored in a covered container in the fridge before baking. I recommend letting the dough sit at room temperature for a few minutes as the oven preheats so that it's easier to scoop and roll ingot balls.
Can I freeze keto cookies?
Yes after these cookies have cooled completely you can freeze them in an airtight container for up to 3 months. I recommend coating them in another round of powdered sugar or powdered erythritol before serving (after the cookies have thawed) so that they can retain their traditional crinkle appearance.
Looking for more great holiday recipes? Check out my Frozen Christmas Punch Recipe or my list of 30 Easy Christmas Cookie Recipes.
Yield: 20 cookies
Keto Crinkle Cookies
Ingredients
1 ½ cup almond flour
2 tbsp coconut flour
¾ cup granulated erythritol
2 eggs, at room temperature
½ cup cocoa powder
¼ cup vegetable or melted coconut oil
1 ½ tsp vanilla extract
1 tsp baking powder
¼ cup powdered erythritol for coating
Instructions
Preheat the oven to 350F and prepare 2-3 large baking trays with baking paper.
Mix granulated erythritol with vegetable oil until well combined and creamy.
Then add two eggs at room temperature, whisk until frothy.
Add vanilla extract and combine.
Mix dry ingredients in a different bowl, almond flour, coconut flour, cocoa powder, and baking powder.
Add dry ingredients to the wet ones and stir until combined.
Roll the batter into 20 1.5 inch balls. Then place them in a small bowl with powdered erythritol to coat them.
Place the balls in the prepared baking tray and lightly flatten them with the bottom of a glass or ramekin. Leave at least 1 inch in between cookies for them to expand whiles baking.
Bake the cookies for approx 10 minutes. The cookies will come out soft from the oven but will harden up as they cool.
After baking, with the cookies still warm, dust with extra powdered sweetener, and enjoy!