Cheesy garlic Hasselback potatoes are a versatile side dish that can pair well with many different proteins. Whether you're serving roasted pork or grilled steak, these potatoes will please everyone at the table.
What Are Hasselback Potatoes?
Hasselback potatoes are a preparation of baked potatoes where the entire surface of the potato is flayed into thin slices.
Butter, cheese, herbs, and spices are then stuffed into these slits in the potato before baking.
How to Cut Hasselback Potatoes
To cut Hasselback potatoes, place the potato on a hard flat surface and hold it steady. Using a sharp knife, place slits in the potato roughly five millimeters to a fourth of an inch apart.
How to Make Cheesy Garlic Hasselback Potatoes
Ingredients
4 big potatoes
1/2 cup grated parmesan cheese
3 tablespoons roasted garlic paste
4 tablespoons butter
1 teaspoon salt
1 teaspoon black pepper
A bunch of fresh parsley, chopped
Cheesy Garlic Hasselback Potatoes Step-by-Step Instructions
1. Prepare the potatoes
Wash your potatoes in the sink and dry them with a paper towel. Lay the potatoes on their flattest side. Preheat the oven to 392 degrees.
It's a good idea to oil the potatoes after drying them with melted butter, olive oil, or spray canola oil. This will help keep the skins of the potatoes crispy while baking.
2. Cut the potatoes
With a sharp kitchen knife, place slits in the potatoes all the way across the top, making each slit roughly a fourth of an inch apart.
3. Prepare the cheese and garlic paste
After the potatoes are cut, prepare the cheese and garlic paste. Melt the butter in a pan and add the garlic paste, stirring until it becomes fragrant.
Once cooked, remove the butter and garlic to a bowl and reserve. The butter may congeal before you get around to using it, so pop it in the microwave to liquify it if necessary.
Slice parmesan from the wedge of parmesan with a grater, then grate additional parmesan for garnishing the potatoes.
If you're planning on adding any fresh herbs or spices, gather the spices and wash or chop fresh herbs as needed.
4. Prepare the potatoes with toppings
Brush each of the potatoes with reserved garlic butter using a BBQ brush.
Then place parmesan slices in each of the slits in the cut Hasselback potatoes.
Sprinkle the potatoes with additional parmesan and top the potatoes with fresh cracked black pepper before cooking.
5. Bake the Hasselback potatoes.
Place the Hasselback potatoes on a baking pan and bake for 45 minutes at 375 degrees.
It can be a good idea to baste the Hasselback potatoes with additional garlic butter halfway through baking to keep them flavorful and moist.
Cheesy Garlic Hasselback Potatoes Expert Tips
Use a skewer to prevent cutting all the way through. Placing a skewer in the bottom half of each potato will give your knife a stopping point when you slit it Hasselback-style.
Grease the potatoes before baking. Greasing your potatoes with melted butter, olive oil, or canola cooking spray can help keep the skins crisp while baking.
Parboil the potatoes. Cooking the potatoes until they are slightly soft can decrease the amount of time it takes to bake them and can ensure the middle is cooked through.
Swap in olive oil and omit the cheese to make these potatoes vegan. Vegan breadcrumbs and herbs are other options you can use.
Try adding herbs and spices to tailor Hasselback potatoes to their protein. Many spices from paprika to fresh rosemary work well with Hasselback potatoes.
Serve with a dipping sauce. Hasselback potatoes are almost like a classier type of French fries, so serve them with sauce to add extra moisture and flavor.
How to Serve Cheesy Hasselback Potatoes
To serve cheesy Hasselback potatoes, they should be hot from the oven. These potatoes are delicious served with sour cream or a dipping sauce like ranch dressing.
Hasselback potatoes shouldn't be allowed to cool before serving. Since this dish contains a lot of butter and cheese, it can congeal and become greasy if allowed to reach room temperature.
How to Store Cheesy Hasselback Potatoes
To store cheesy garlic Hasselback potatoes, you can make them ahead of time and then put them in an airtight container before reheating.
Hasselback potatoes can safely be stored in the refrigerator for up to five days. Reheat the potatoes in the oven with a fresh coating of melted butter to crisp them up.
Store cheesy garlic Hasselback potatoes in a glass or metal pan covered with aluminum foil or plastic wrap.
Sprinkling some water over the top of the potatoes before reheating can help prevent the potatoes from drying out.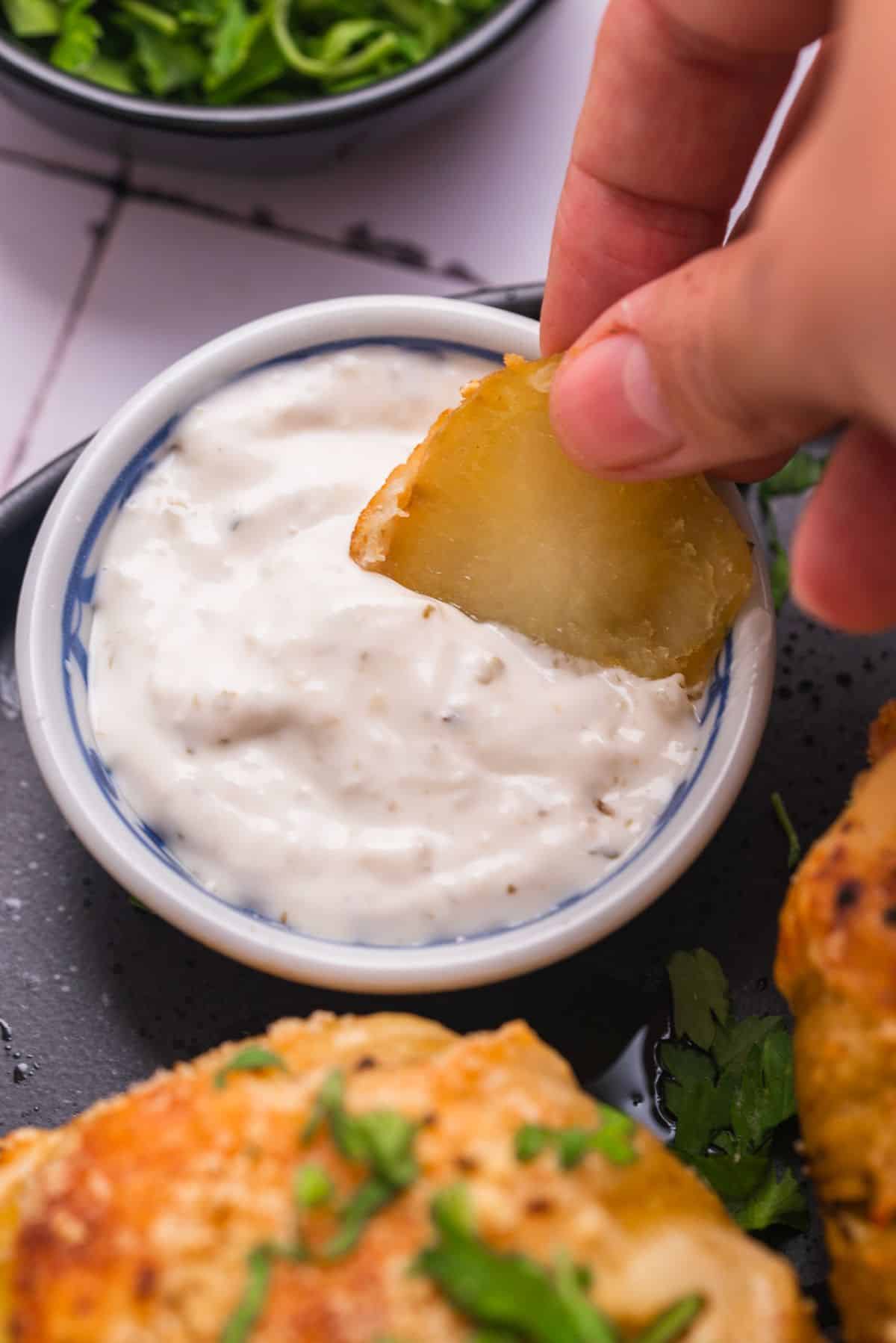 FAQ
Is There a Tool to Make Hasselback Potatoes?
There is a Hasselback potato tool that is a type of specialized mandoline blade that can slice an entire potato with one movement.
This tool is a useful investment if Hasselback potatoes are common in your weekly meal rotation. Otherwise, slicing Hasselback potatoes with a sharp kitchen knife should work fine.
What Main Dishes Can You Serve With Hasselback Potatoes?
Grilled or baked chicken breasts
Grilled salmon
Roasted turkey breast
Roast beef
Baked ham
Fried sausages
Roasted pork tenderloin
Steak tips
Strips of fried bacon
Roasted lamb
Hasselback Potatoes Are a Versatile Side
Cheesy garlic Hasselback potatoes go well with a wide variety of different meats, fish, and poultry. Change up the herbs and spices you use in your Hasselback potatoes to fit them into any meal you like.
Yield: 4
Cheesy Garlic Hasselback Potatoes Recipe
Insanely satisfying Hasselback potatoes with roasted garlic and parmesan cheese dressing.
Ingredients
4 big potatoes
½ cup grated parmesan cheese
½ cup parmesan slices
3 tablespoons roasted garlic paste (insert link to roasted garlic recipe) or 3 garlic cloves
4 tablespoons butter
1 teaspoon salt
1 teaspoon black pepper
1 bunch of fresh parsley
Instructions
Wash the potatoes thoroughly and dry with kitchen paper.
Make the cuts in each potato by placing them on the cutting board with the flattest side down.

1/8 inch thick slices without cutting through the potato.

Preheat the oven to 392F.
Grate and slice the parmesan cheese and set aside. The slices should be thin enough to fit inside the potato slices.
In a pan melt the butter and add the salt and the roasted garlic paste to it and saute for a couple of minutes on low. Once done transfer to a small bowl.
Place the potatoes in the oven tray and paint them with the garlic butter using a kitchen brush.
Place the cheese slices into each of the potato slices and sprinkle the grated cheese on top.
Sprinkle a bit of freshly cracked black pepper on top.
Bake for 45 minutes at 374F
Garnish with fresh parsley and serve with some ranch sauce or the sauce of your preference.
Notes
If you don't have the roasted garlic paste, you can substitute it with garlic cloves with equally delicious results. Try adding bacon slices or changing the cheese to make some variations on this recipe. 

Once baked they can be stored in the fridge for up to a week in a sealed container. Reheat in the oven at 374F for 10 minutes (or in the air fryer!)
Nutrition Information
Yield
4
Serving Size
1
Amount Per Serving
Calories

382
Total Fat

19g
Saturated Fat

11g
Trans Fat

1g
Unsaturated Fat

6g
Cholesterol

52mg
Sodium

1090mg
Carbohydrates

43g
Fiber

4g
Sugar

2g
Protein

12g