This homemade death by chocolate cheesecake is a sweet way to go. Loaded with a chocolate cheesecake filling and nestled in a chocolate crust before being topped in a rich chocolate ganache, this dessert is an incredible treat for any occasion.
Serve this chocolate cheesecake with Oreo crust up for holidays, birthday parties, or weekends when the chocolate cravings hit and you know you're going to be in for a good time. Made with simple ingredients and steps, this recipe is easy enough for anyone to follow!
What is Death by Chocolate Cheesecake?
The term "death by chocolate" is often given to recipes that feature several different types of chocolate (usually 4 or more).
In this recipe, we use 4 different types of chocolate ranging from the crust to the filling to the ganache on top to make every bite a sweet and indulgent treat that is sure to hit the spot. This is the ultimate death by chocolate cheesecake!
Ingredients You'll Need For This Death by Chocolate Cheesecake:
Oreo cookies
Melted butter
Cream cheese
Granulated sugar
Light brown sugar
Cocoa powder
Salt
Eggs
Semi-sweet chocolate
Chocolate chips
Heavy cream
For the exact measurements needed, please see the recipe card below.
How to Make Death by Chocolate Cheesecake
Preheat your oven to 350 degrees F.
In a food processor, pulse together the Oreos and butter until a fine crumb. You can also just smash the Oreos in a large plastic bag and then mix with the butter.
Add a piece of parchment paper that has been cut into a circle into the bottom of a springform pan and then spray the sides with nonstick spray.
Press your oreo butter mixture into the bottom of the pan and bake in the oven for 5 minutes.
In a large mixing bowl, beat together the cream cheese and both sugars until smooth.
Add in the cocoa powder and salt and then mix again until incorporated.
Add in the eggs, one at a time, until both have been combined.
Remove the crust from the oven and then let it sit until the filling has set.
Melt your chocolate in the microwave for 60 seconds and then stir.
Return to microwave and cook in 30-second intervals, stirring well between each until smooth.
Fold your melted chocolate mixture into the cream cheese filling. Mix to fully combine.
Spread the chocolate filling mix into your prepared crust.

Bake in the oven for 75-90 minutes, or until the center has been set.
Cool the cheesecake to room temperature but do not let it sit out for more than an hour before placing it in the fridge to chill.
Prepare the ganache when ready to serve.
Heat your cream until warm and then pour over the chocolate chips in a large bowl.
Stir together with a rubber spatula as the chocolate melts. Stir until smooth.
Once the ganache is thick and smooth, remove the cheesecake from the springform pan.
Pour your ganache over the cheesecake, coating the top and sides well.

Smooth it out to look nice before slicing and serving.
Substitutions
Oreos. If desired you can swap out the Oreos and butter for a storebought premade Oreo crust. This will help to cut down on time and energy needed as it comes premade and no pre-baking is required!
Brown sugar: Using all brown sugar or all granulated sugar will also work to help keep this cheesecake sweet. Brown sugar gives a nice depth of flavor thanks to the molasses and dark brown sugar would make the cheesecake even more flavorful.
Chocolate chips. You can use any type of chocolate chip for the ganache on top of the cheesecake. Most commonly used would be semi-sweet chocolate chips, but milk chocolate, dark chocolate, or even white chocolate would also work really well and help to add more flavor variety to your homemade chocolate cheesecake.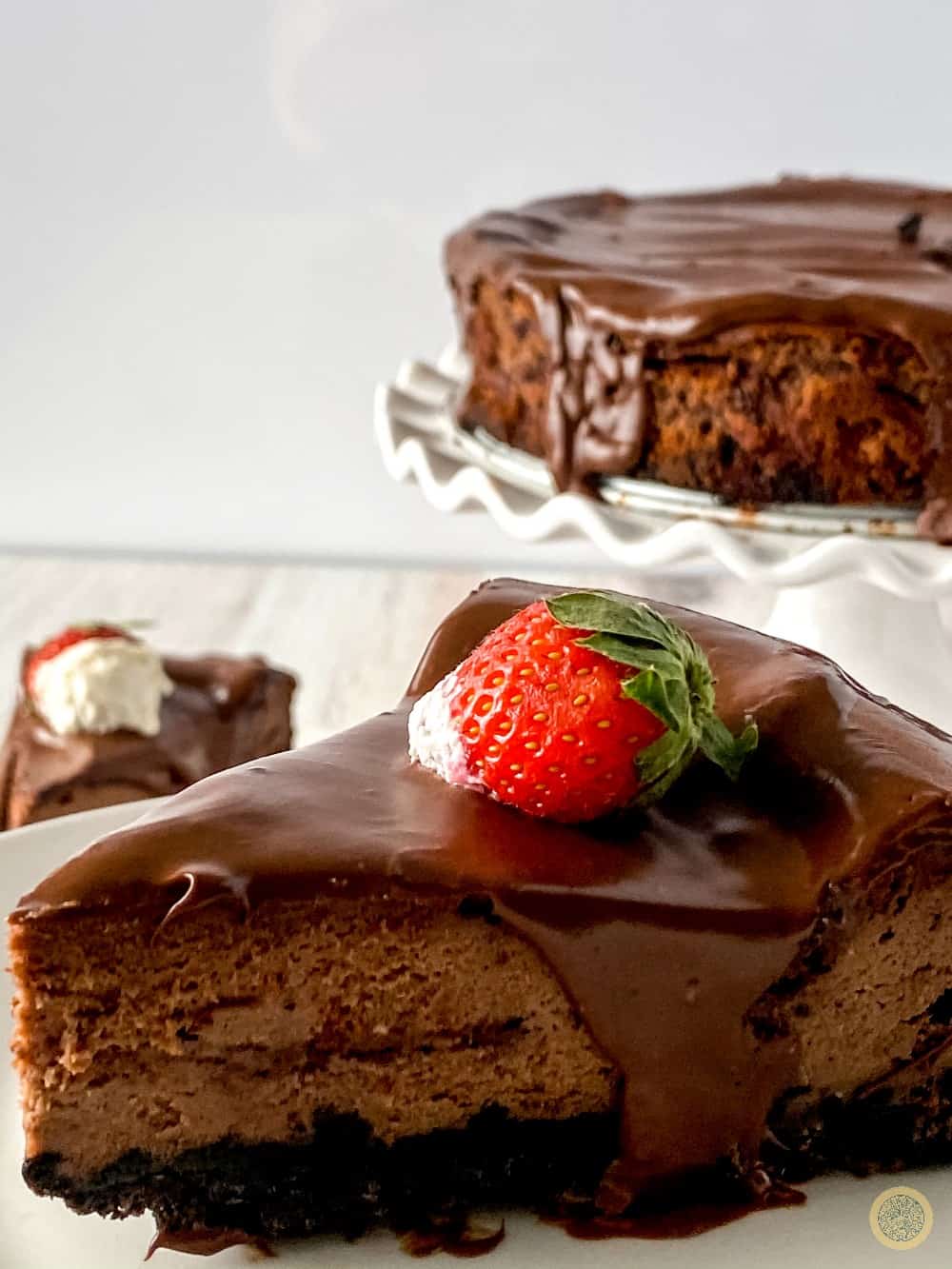 Recipe Tips
This easy chocolate cheesecake recipe is one that's hard to mess up on, but make sure to keep note of a few things:
You want your cream cheese bricks to be room temp so that they can blend smoothly into the batter without leaving little chunks of white. Because the cheesecake will be colored brown thanks to the chocolate, the white spots would be very noticeable.
When making your ganache you want the heavy cream to not be hot enough to be at a boil, but enough to be simmering hot or slightly scalding. The chocolate will look like it's not melting at first, but the more you stir it together the more it will come together until it eventually looks like a glossy and creamy thick chocolate mixture.
FAQs
How do I know when my chocolate cheesecake is done?
Besides checking the cheesecake center with a knife, you can also try the jiggle test. Using oven mitts gently jiggle the cheesecake side to side and if only the center has a slight wobble to it, you should be good to go.
How many days in advance can I make a cheesecake?
Cheesecakes can last up to 3 days if well covered in the fridge so I recommend not making it more than 2 days in advance of any party or occasion so that there's still an extra day to enjoy the leftovers after the event, assuming that there are any leftovers at all.
Will lumps bake out of cheesecake?
If you didn't chill your cream cheese well enough before blending it into the mixture then I'm sorry to say that those lumps will not bake out. Once lumpy, always lumpy. If you need help getting the cream cheese to thaw faster before using, take the foil-wrapped brick and wrap it in a kitchen towel that has been run under hot water and rung dry, so it's warm but not soaking, and let the brick sit well wrapped inside for about 10 minutes before use.
Check out these other sweet cheesecake recipes
Death by Chocolate Cheesecake
Ingredients
For the crust:
24 oreo cookies
6 tablespoons melted butter
For the filling:
3 (8) oz packages cream cheese
¾ cup granulated sugar
¼ cup packed light brown sugar
¼ cup cocoa powder
¼ tsp salt
4 large eggs
1 cup of semi sweet chocolate
For the ganache:
1.5 cup chocolate chips
¾ cup heavy cream
Instructions
Preheat the oven to 350F
Pulse the oreos and butter in a food processor or crush the cookies in a plastic bag and then mix in the melted butter.
Add a parchment circle or spray sides with a non stick spray.
Press into the bottom of a springform pan and bake for 5 mins.
Add the cream cheese and both sugars to a mixing bowl and mix until smooth.
Add in the cocoa powder and salt and mix until incorporated.
Add eggs one at a time, beating between each.
Remove crust from oven and let sit until filling is complete.
Melt the chocolate in the microwave for 60 seconds and stir.
Return to the microwave in 30 second intervals, stirring after each until chocolate is smooth.
Fold melted chocolate into the filling mixture.
Mix it fully and pour over the cookie crust in the springform pan.
Bake for 75-90 mins, until the center is set.
Cool to room temperature (no longer than 1 hour) and then place in the fridge to finish chilling.
Before serving, prepare the ganache.
Heat the cream and pour over chocolate chips in a large bowl
Stir with a rubber spatula while the cream melts the chocolate. As you continue to stir the ganache, it will become thicker as it cools off.
Once it is at a thick and pourable consistency, remove cheesecake from springform pan.
Pour ganache over top, starting with the sides. Then smooth out over the top of the cheesecake and serve.