For a quick and tasty side dish you can add to any meal, try air fryer green beans. They can also be made as a snack to enjoy while you cook. No matter which use you pick, read on to learn how to make your own green beans in an air fryer.
Benefits of an Air Fryer
Owning an air fryer has numerous benefits, we've listed the biggest ones below.
Healthier than frying foods
Easy to use, usually you just push a button
Works quickly—no need to heat up deep fryer oil
Food comes out crispy
Can be used for almost anything you want
Easier to clean than your oven
As you can see, an air fryer might be the exact kitchen appliance you've been needing to make the preparation of all sorts of meals a breeze.
How to Cook Air Fryer Green Beans
Air-fried green beans are super easy to cook. Simply toss them with your desired seasoning then put them in your air fryer for 10 minutes at a setting of 356°F or 180°C.
Ingredients for Air-fried Green Beans
Of course, before you can start the cooking process, you'll need the right ingredients. Here's what you should have on hand before you begin.
Green beans
Olive oil
Salt
Garlic Powder
Pepper
Step-By-Step Instructions on How to Cook Green Beans in the Air Fryer
We told you this recipe would be easy to make, and we weren't kidding. Below are the step-by-step instructions for the perfect air-fried green beans.
Step 1: Clean and Cut the Green Beans
Wash your green beans and cut off the ends. You can also cut them in half if you want.
Step 2: Toss with Seasonings
Put the green beans in a bowl and toss with the rest of the ingredients, ensuring the green beans are coated evenly.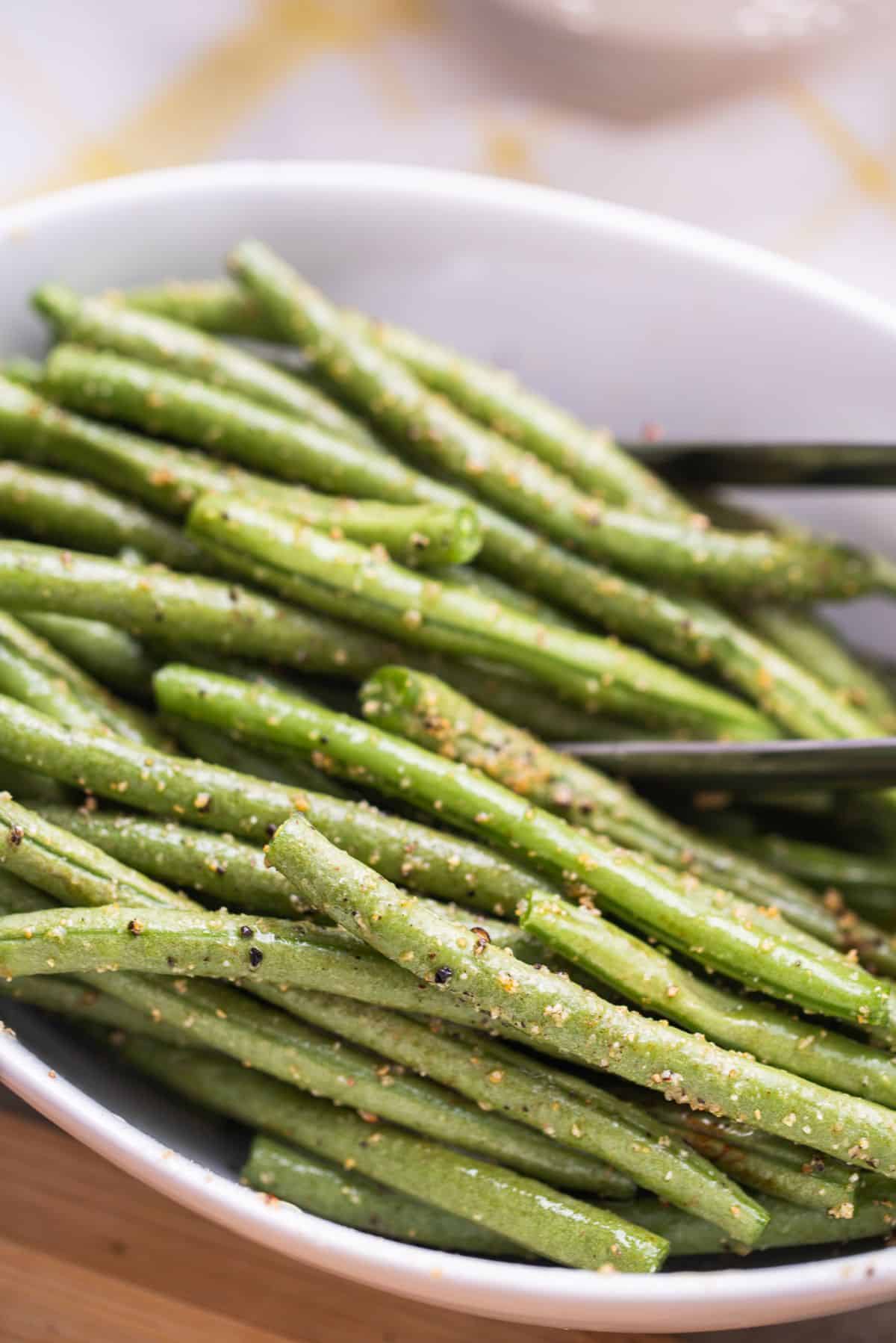 Step 3: Prep Air Fryer
Prep your air fryer basket with a light layer of olive oil by brushing it on all sides.
Step 4: Cook the Green Beans
Put the green beans in the air fryer in an even layer. Then cook for 10 minutes at 356°F. Let them cool for a minute, then serve.
Best Seasonings for Tasty Green Beans
Green beans are delicious, but only when they are dressed properly. We've made a list of the seasonings we recommend for tasty green beans.
Boil green beans in bouillon
Butter
Garlic powder
Onion powder
Thyme
Salt
Pepper
Bacon Grease
Olive Oil
Sugar (go easy on this one!)
Worcestershire sauce
The best part is that you don't have to stick to just using one. Feel free to experiment to make your own delicious green bean seasoning blends.
What to Serve with Air Fryer Green Beans
There are several dishes that pair well with air-fried green beans. We suggest serving them with mashed potatoes and a nice steak or roast. For those on a health kick, these green beans also go well with chicken and rice.
Honestly, you can serve this tasty side with any meat and starch you desire because they are so versatile. Vegetarians can also make them the main dish with a baked potato as a side.
Expert Tips
Air-fried green beans are fairly straightforward to make, but here are some tips to help you make the best ones possible.
You can replace the olive oil with melted butter for a heartier taste
You can use frozen green beans, but we recommend using fresh ones for the best results
Halfway through air frying, shake the green beans to ensure even cooking
How to Serve Air Fryer Green Beans
Green beans are a vegetable, meaning they lose heat quickly. After they are finished cooking, toss them into a serving bowl and serve immediately. Keep the salt shaker nearby because some people may want to sprinkle a little more salt on top.
How to Store Air Fryer Green Beans
Any leftover air-fried green beans can be put in an airtight container and stored safely in the fridge for up to 5 days.
FAQ
Does Air Frying Destroy Nutrients?
Foods cooked in an air fryer do lose some of their nutritional value, but they lose much less than if they were cooked using a different method. Therefore air frying is considered one of the healthiest ways to cook green beans.
Are Air Fried Green Beans Healthy?
As long as you stick to healthy seasonings, air-fried green beans are considered healthy as they contain fiber and a variety of vitamins and minerals. They are also low in fat and carbs.
Can You Use Frozen Green Beans in the Air Fryer?
You can use frozen vegetables in the air fryer. In fact, starting with frozen veggies is often suggested because it will lead to a crispier result.
How to Get Crispy Green Beans in the Air Fryer?
To get the crispiest green beans possible in the air fryer. you should start with frozen green beans and toss the basket halfway through the cooking process.
Air fryer green beans: Conclusion
Overall, there is no way to go wrong when you make air fryer green beans. Kids and adults love them, and they go with any dish you can think of putting on the table. So grab your air fryer and make this delicious side for your next dinner.
Yield: 2
Air Fryer Green Beans
Quick and easy green beans made in the air fryer, perfectly done in no time. 
Ingredients
9 oz green beans
1 tablespoon olive oil 
½ teaspoon salt
1 teaspoon garlic powder
½ teaspoon black pepper
Instructions
Wash the green beans and trim the ends and if you want chop them in half.
In a bowl add the trimmed green beans and add the olive oil, salt, garlic powder and black pepper and mix well making sure they are all well coated.
Spray the basket of your air fryer with olive oil (or brush it) to prevent them from sticking.
Add the dressed green beans to the basket and spread evenly.
Cook for 10 minutes at 356F /180 C
Notes
These green beans are perfect as a side dish for either lunch or dinner and are very good with any kind of meat or fish. 
They can be stored in an airtight container for up to 5 days in the fridge.
Nutrition Information
Yield
2
Serving Size
1
Amount Per Serving
Calories

111
Total Fat

7g
Saturated Fat

1g
Trans Fat

0g
Unsaturated Fat

6g
Cholesterol

0mg
Sodium

531mg
Carbohydrates

12g
Fiber

4g
Sugar

5g
Protein

3g