I'm so excited to be participating in "Take a Bite of My State Cookie EGGs-change"  sponsored by the Ohio Poultry Association!
Buckeye Brownie Cookies – Chocolate cookies with a perfect peanut butter center!  A new, quick version of Buckeye Peanut Butter Balls! ( An Ohio favorite)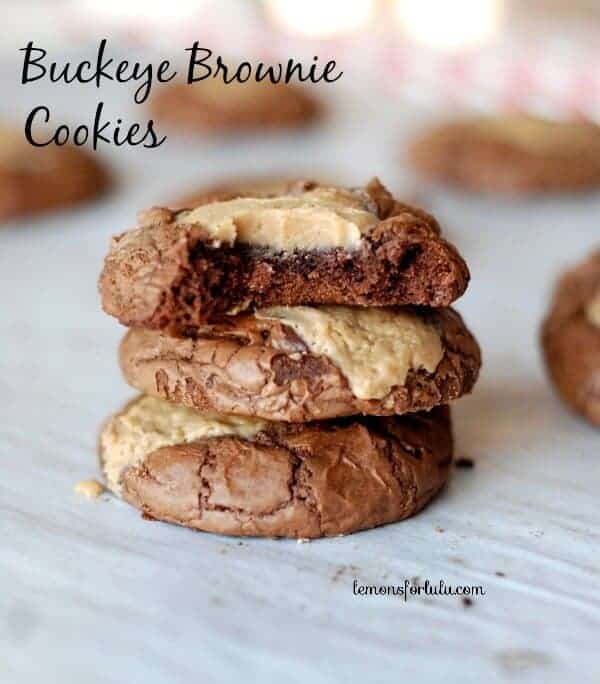 We are rapidly approaching the end of the year.  It's time to think about those little things called "resolutions".  Each January, I sort of think to myself, "this year I'm going to work on being a better person".  It's a total cop out.  I never REALLY elaborate on what it means to be a better person.  And besides, don't we all want to be a better person?
This year I NEED to work on eating better, exercising more and managing my time better.  Truth is, if I take care of the last resolution, the other three will naturally fall into place.  I have a big job ahead of me.  The whole time management thing eludes me.  I can get up at 5 a.m. to start my day, but by 11:00 a.m I will be totally behind.  If anyone has any suggestions on how to be more efficient with my time, please enlighten me!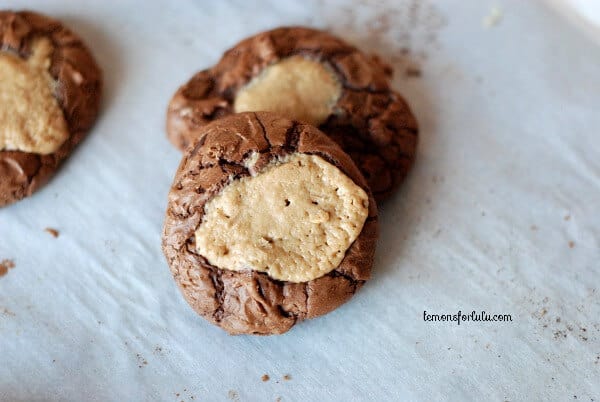 Here's an example of my time management issues.  I've been wanting to make Buckeye's for weeks now.  It's the only cookie my kids ask for each Christmas.  I made the dough about 3 weeks ago.  I put it in a large bowl and set it in the fridge to roll out later.  Well, two weeks came and went and still no peanut butter balls.  Finally the opportunity presented itself in the form of idle kids.   They were eager, I was desperate, it was the perfect situation!  We promptly froze them to be dipped later.   And here we are, waiting for the perfect time to dip 4 dozen peanut butter balls.   I'm thinking it's not going to happen before Christmas.  Oh well, maybe we'll have Valentine's Day Buckeyes!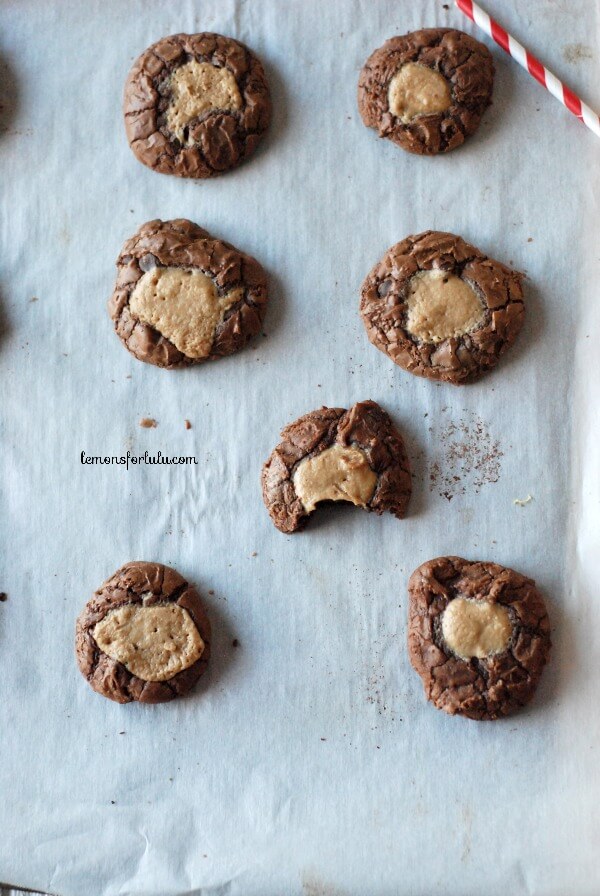 Buckeye Brownie Cookies Will Do
My mom guilt set in.  I couldn't possibly deny my little ones their favorite treat.  So I made these Buckeye Brownie Cookies just for them.  These are beautiful!  The cookies are thick and fudgy,  and made with loads of chocolate.  I made a little peanut butter filling to dollop on top of each cookie before they baked in the oven.  The idea was for these cookies to taste like Buckeye Balls and you know what?  They DID!  And the best part was we were munching on these cookies in an hour's time!
Since those cookies took hardly any time to make, I find myself with a little extra time to think about those resolutions.  I figure I'm already ahead of the game.  I  mean, here it is December 11th and I'm already thinking about New Year's Resolutions.  See, how organized I am already?  2014 is going to be great year!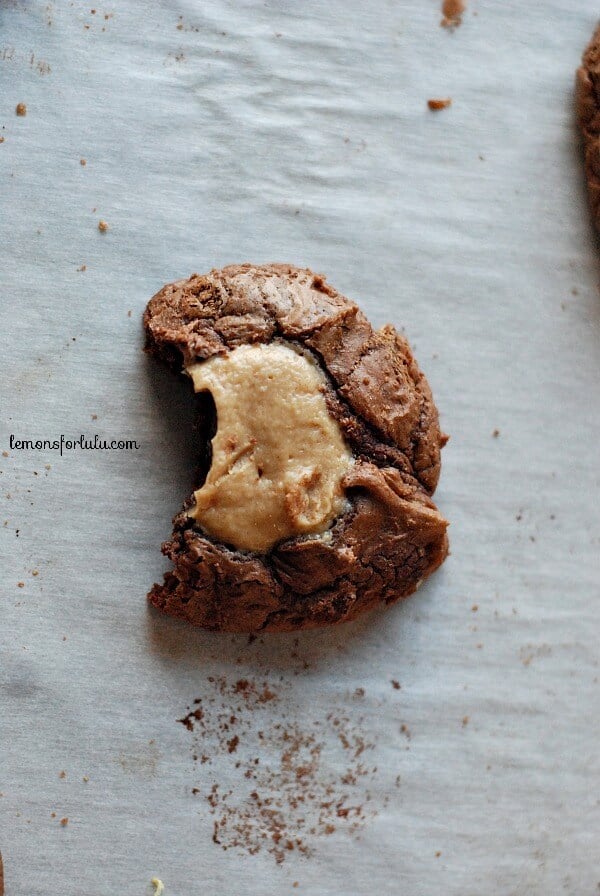 As for the diet, well I know one way to improve the way I eat: I need to eat more eggs! Want to learn a little more about eggs?
Egg Nutrition
·         One egg has 13 essential vitamins and minerals in varying amounts, high-quality protein, unsaturated fats and antioxidants, all for 70 calories.
·         The protein in eggs is the highest-quality protein found in any food and can benefit people of all ages in many ways, including forming muscle tissue, building muscle strength, repairing muscles after exercise and warding off the loss of muscle tissue as we age.
·         Eggs have 14 percent less cholesterol and more vitamin D than previously thought. Eggs are one of the few foods that are a naturally good source of vitamin D, and eating one egg each day fits easily within dietary guidance, which recommends limiting cholesterol consumption to 300 mg per day.
Are you baking with eggs this holiday season?
Holiday Baking with Eggs
·         Eggs are one of the most important, indispensable ingredients in baking during the holidays, and all year long! Eggs add moisture, color, flavor, and nutritional value to cookie recipes.
·         Egg yolks can increase richness, tenderness, flavor, and color in homemade cookies, and they can also extend shelf life by delaying the staling process. The egg white provides strength and stability, and it adds moisture.
·         Eggs are a holiday staple: In fact, more eggs are consumed during the winter holiday season than any other time of the year, including Easter.
Hey, now that I think about it, I'm way ahead of my diet resolution too!  These Buckeye Brownie Cookies are made with 4 eggs.  Dang, it's not even 2014 and I've already worked on two resolutions.  As I said 2014 is going to be a good year!
To learn more about the Ohio Poultry Association, see them on:
Facebook, Twitter and Pinterest!
Lemons for Lulu
Buckeye Brownie Cookies
Soft and rich chocolate cookies with a creamy peanut butter center.
Ingredients
For the cookies:

1/2 cup butter
4 oz unsweetened chocolate, chopped
3 cups semi sweet chocolate chips, divided
1 1/2 cups flour
1/2 teaspoon baking powder
1/2 teaspoon salt
4 large eggs
1 1/2 cups sugar
2 teaspoons vanilla

For the peanut butter filling

2 tablespoons butter, melted
1/4 cup powdered sugar
1/2 cup smooth peanut butter
1/8 teaspoon salt
1/4 teaspoon vanilla
Instructions
Combine the butter, unsweetened chocolate and 1 1/2 cups of semi sweet chocolate in a saucepan. Cook over low heat, stirring until butter and chocolate have melted. Stir until smooth, remove from heat and let cool.
Combine flour, baking powder and salt in a small bowl. Set aside.
Beat eggs, sugar and vanilla in the bowl of mixer. Carefully beat in flour mixture. Beat well. Add in cooled chocolate. Beat until well combined. Stir in remaining chocolate chips.
Drop dough by 2 tablespoon fullâ??s onto lined baking sheets.
Prepare filling. Combine all ingredients in a bowl, beating with a spoon.
Spoon a 1/2 teaspoon full of peanut butter filling and place a dollop on the middle of each cookie. Bake in a 350-degree oven for 10 minutes. Let cookies cool on baking sheets for 1 minute before removing to a cooling rack.
Makes 48 cookies.
http://www.lemonsforlulu.com/buckeye-brownie-cookies/