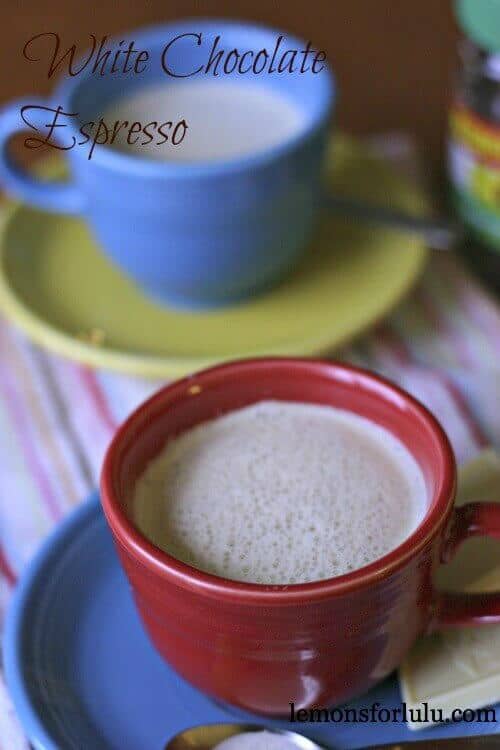 It's a dull, rainy Sunday.  Roxy, my Jack Russell doesn't even want to go outside.  She's been napping all day.  She's a smart dog.  I wish I could nap.  I cannot remember the last time I actually took a nap!  Probably 2008 when my youngest was born.
I didn't have enough coffee today.  I find it difficult to speak when I haven't had a sufficient amount of caffeine.   Actually,  I can't form clear thoughts, let alone form actual speech.
This afternoon, I thought I'd treat my husband and myself to a little espresso.  It didn't go so well.  You know those moments where you are doing something that you know is a bad idea, but you can't stop yourself.  You can see the outcome before it happens, but you just can't stop.  That happened to me today.  See, the above picture was almost non-existent.  I found this lovely espresso recipe in a magazine.   I really couldn't wait to try it.  So simple and so few ingredients.   All I had to do was boil some milk and pour it in a blender.  What could go wrong???  It exploded on me, thats what could go wrong.  I sort of forgot that you can't put a lid on a blender full of hot liquid!  There was white espresso everywhere!  My eyelids, my clothes, my hair , the floor, the countertop, the cabinets, the wall.  I mean EVERYWHERE!  It was a mess.  But I did what anyone would do in this situation.  I staged my picture, then sat and enjoyed two lovely cups of white chocolate espresso.  Totally worth the fiasco!  I am a white chocolate fanatic!  The white chocolate sweetens up the bold espresso perfectly.   This espresso was smooth, creamy and frothy.  Perfect for this sleepy and rainy afternoon.
Perhaps, this whole mishap could have been avoided if I had my usual 3 cups of morning joe.  But then I wouldn't have had the need for an afternoon pick me up.  Which means this gloriously tasty  kitchen catastrophe wouldn't have happened.   Yes, I had a mess to clean up, but I also had lots of energy to put into my cleaning!
If you'd like a little lulu in your day, please subscribe via email, RSS, Facebook or Google +.  I love keeping in touch with friends!
 You might enjoy these too: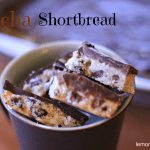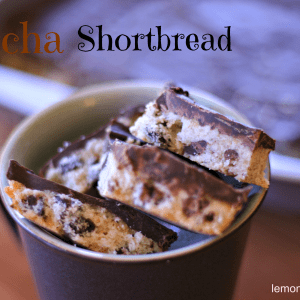 2
adjust servings
Ingredients
1 1/2

cups milk

3

oz white chocolate, chopped

1

tablespoon instant espresso

1

teaspoon vanilla
Instructions
In a saucepan, warm milk until steamy. In a blender, combine chopped chocolate, espresso and vanilla. Carefully pour hot milk into blender. While allowing steam to escape, carefully blend ingredients until well mixed, frothy and creamy.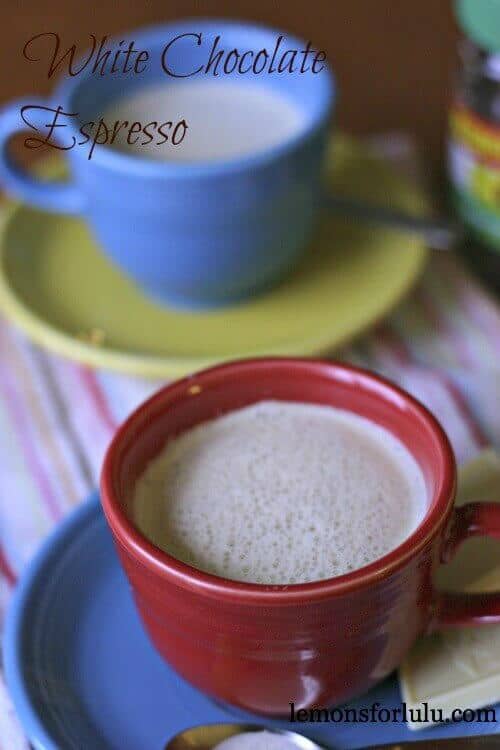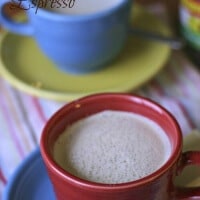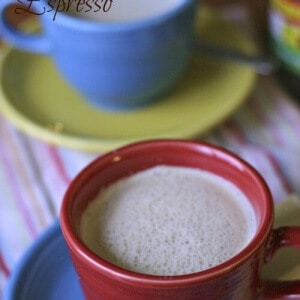 Recipe adapted from Better Homes and Gardens