Cashews are the perfect compliment to this easy , double chip cookie recipe!
The salty nut balances both the sweet  butterscotch chips and the creamy white chocolate chips!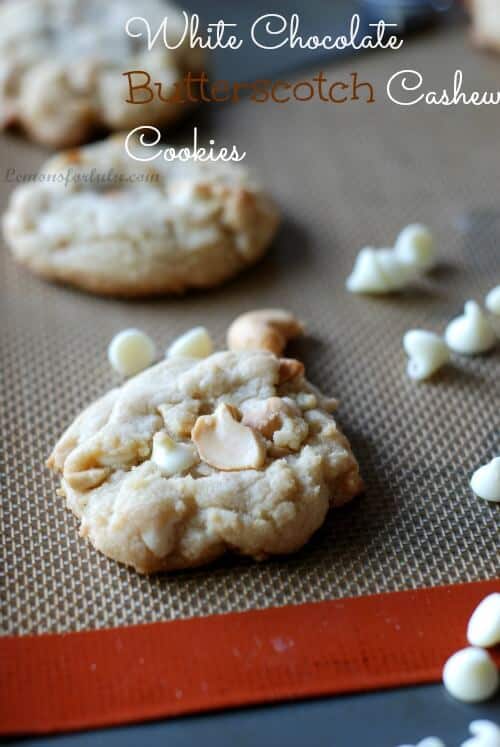 My four year old really made me question my parenting.  It all started with an innocent question.  The conversation went something like this:
Lucy:  "I'm your favorite right mommy?"
Me:  "No, I don't have a favorite, I love you all equally, I love you all very much"
Lucy: "You even love Owen?" (Owen is our 8 year old son)
Me: " Of course I love Owen!
Lucy" "Huh, I didn't think you did."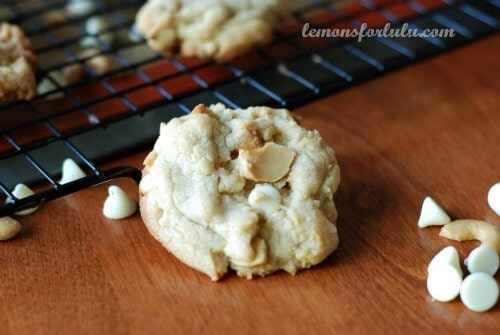 I laughed at the time.   Then I panicked.  Did Lucy just assume I loved her the most simply because she has me to herself each and every day while our older kids are at school?  Or, do I actually show favoritism?  Do I show Owen less love than I do our girls?  Does HE feel as though I love him less?  I would be mortified if any one of our kids felt less loved.  AND I myself would be devastated if I felt that my own mother loved me any less than my two sisters!  A mother is supposed to love her children equally and unconditionally.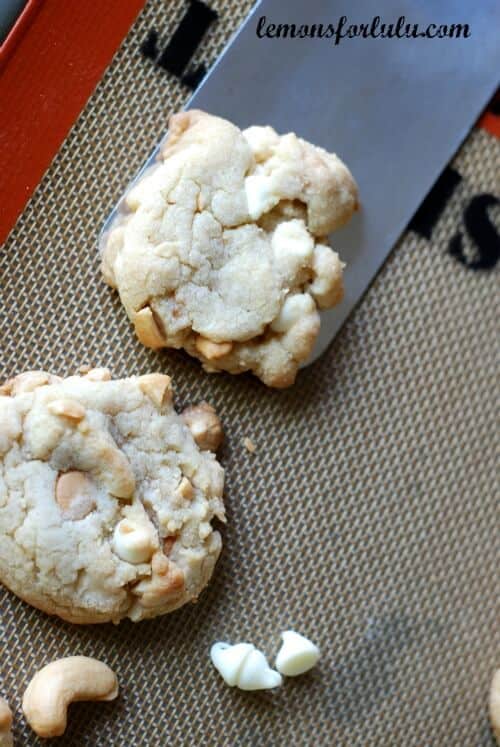 Yet, do we?  I once read a quote from a mother who said her favorite child was the one who was napping.   I think this quote is very funny.  The way I interperet it is it's not really a matter of loving one child more than any other.  It's really all about who is driving me the least amount of crazy!  I love them all equally, I honestly do.  And I'm an equal opportunity yeller.  I could turn on any one of them at any given moment.   But I'm also inclined to kiss, hug and smother our kids with love at any given moment.  No one gets preferential treatment from me and my split personalities.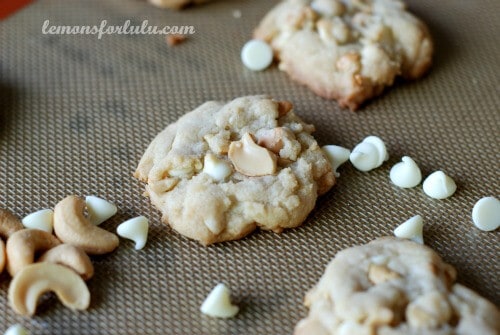 The dog is a totally different story.  She never gets in trouble.    And if I could have these cookies for kids, they would NEVER drive me nuts (no pun intended).  They are truly exceptional.  Nutty, salty and sweet all at the same time.  I have made a number of cookies, like these Chocolate Chip Butterfinger Cookies or these Butterscotch Gingerbread Cookies over the years.  But these white chocolate butterscotch cashew cookies just might be one of my favorites.  It's ok to have a favorite cookie right?
MORE COOKIES THAT NEED MILK: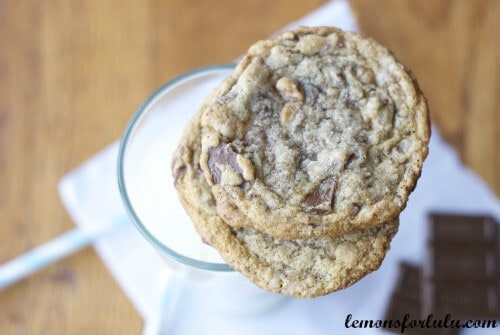 NEVER MISS A RECIPE!  SIGN UP FOR MY EMAILS TODAY!
FOLLOW ME:
FACEBOOK | RSS | TWITTER | GOOGLE +| BLOGLOVIN
White Chocolate Butterscotch Cashew Cookies
Ingredients
1

cup butter softened

1

cup sugar

1

cup brown sugar

2

eggs

2

teaspoons vanilla

3

cups flour

1/2

teaspoon baking soda

1

teaspoon salt

1

cup white chocolate chips

1

cup butterscotch chips

1

cup chopped cashews
Instructions
Preheat oven to 350.
Cream butter and sugars together until creamy. Add eggs one at a time, followed by vanilla. Gently stir in flour, baking soda and salt. Mix in chips and cashews.
Drop dough by teaspoons onto lined baking sheet. Bake for 10 minutes or just until edges are lightly browned. Allow cookies to cool on baking sheet for 1-2 minutes before removing to a cooling rack.
Makes 4 dozen small cookies