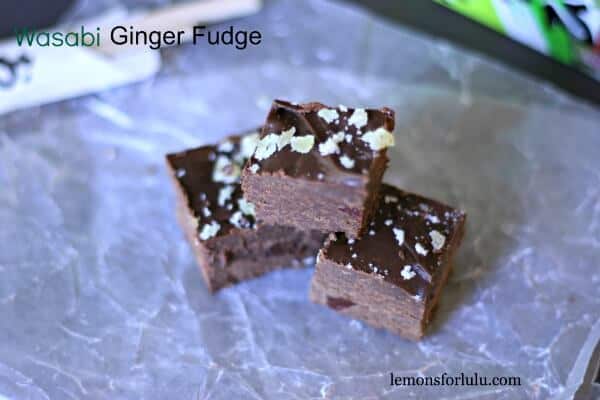 I'm sure I'm not the only one who has stumbled upon an ingredient in their cupboard and thought "oh what the heck"?  Well that's sort of what happened here.  I found wasabi and I immediately thought of ginger.  Now how I ended up with homemade fudge, I cannot say.
I know it sounds like quite an unusual combination (ok, fine, it IS a weird combination!), but it works!  The wasabi is not very pronounced, it's just a touch of heat.   The crystallized ginger is really the star of this fudge!  It's sweet, but with that bite that only ginger can provide!  The dried cherries are a nice, tart surprise!  You can leave out the wasabi all together and this would still be a fantastic fudge-assuming you like ginger that is!  Ok, even if you left out the wasabi AND the ginger, you'd still have a rockin piece of fudge!  Now if you are going to omit the cherries too then you may have to go find a new recipe!
Want a little lulu in your life each day?  Come subscribe via email, RSS, Facebook or Pinterest!  I love keeping in touch with friends!
You may like these too:
 Cherry Chocolate Fudge                               At Second Street
Maple Pecan Fudge                                         Fake Ginger
Wasabi Ginger Homemade Fudge
16
adjust servings
Fudge on the edge! Wasabi, crystallized ginger and dried cherries!
Ingredients
1 1/4

cup sugar

1 5oz

can evaporated milk

2

T butter

1/8

t salt

2

cups mini marshmallows

2

t Wasabi paste

1 2/3

cups bittersweet chocolate such as Ghirardelli

1

t vanilla extract

3

T crystallized ginger, chopped

3/4

cup dried cherries
Instructions
Line an 8x8 square pan with foil. Set aside.
Combine sugar through salt in a saucepan. Cook over medium heat stirring constantly until mixture comes to a boil. Remove from heat. Add in marshmallow, wasabi paste and chocolate. Stir by hand until melted and completely smooth. Stir in cherries. Pour into prepared pan. Sprinkle with ginger, pressing onto fudge. Refrigerate for at least 2 hours.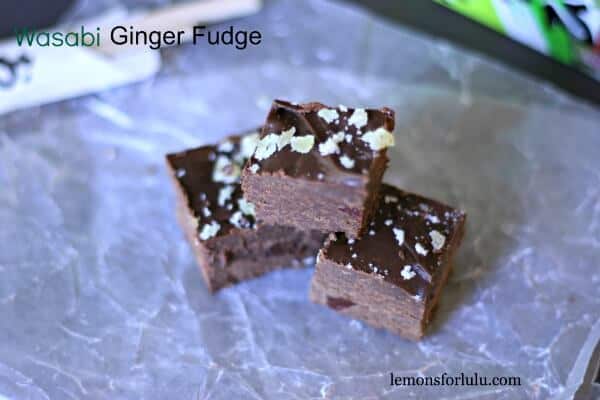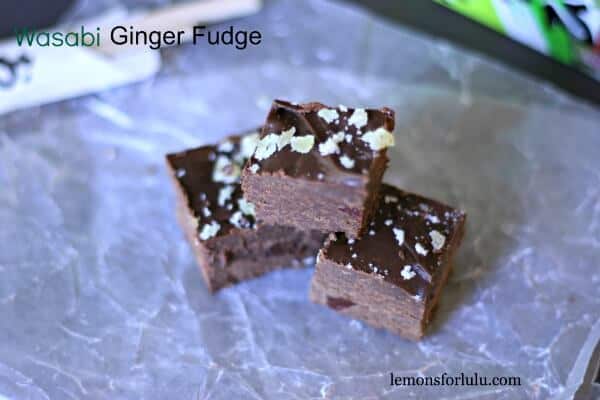 I'm linking this recipe up to these fabulous link parties as well as to:  Jam Hands,  The DIY Dreamer