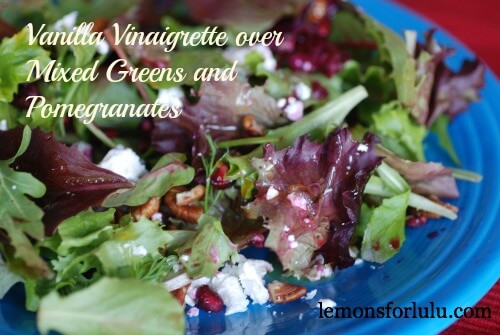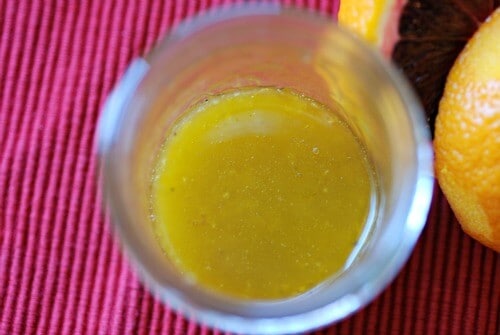 So here it is, the second installment of Iron Chef Mom.  The ingredient this week is vanilla.  Sure, I could have shared any baked good, since vanilla extract is in just about everything.  But I wanted to challenge myself to use vanilla in a different way.  Amazingly, salad was my first thought.  I don't really eat salads that often.  But ever since I watched Nacho Libre over Christmas, I've been craving a good salad!
I added vanilla to the vinaigrette.  The dressing isn't overly sweet as you may suspect.  The vanilla flavor sort of teases you.  It's there, but not overly powerful.  The sweetness comes from a bit of honey.  Orange zest freshens it all up.
I do not use nuts very often in my baking.  But I love nuts in salads.  I used pecans, but you could substitute almonds or walnuts.  I love the blend of ingredients in this salad: the peppery arugula in the mixed greens, the crunchy pecans, the creamy tang from the  goat cheese and the pomegranate seeds bursting with sweet goodness.  You could use your favorite ingredients instead of what I have listed.  This is a very "user-friendly" salad.  It's more of a guideline!  But you should absolutely try the vanilla vinaigrette!  It will add a unique, but delicious flavor to your greens!!
After constructing this salad.  I realized how appropriate this would be for Valentine's Day!  Supposedly, several ingredients in this salad are aphrodisiacs.  Specifically the honey and vanilla from the dressing as well as the pomegranates in the salad.  And if you use walnuts instead of pecans, then you have an extra little "romantic" boost.  I'm just going to say, that I cannot be held responsible for what happens after you serve this salad!   I can only promise that you will love it (the salad that is!).
If you'd like a little Lulu in your life each day, please subscribe via email, RSS, Facebook or Google +.  I love staying in touch with friends!
You may enjoy these too:!
Strawberry Tomato Salsa
Mediterranean Dip 
Vanilla Vinaigrette over Mixed Greens and Pomegrantes
Ingredients
For the vinaigrette
1/3

cup olive oil

3

tablespoons white wine vinegar

1

teaspoon vanilla extract

1/2

teaspoon honey

1/2

teaspoon salt

1

teaspoon orange zest

pepper
For the salad
1 5

oz package mixed greens or spring mix

1 4

oz package goat cheese, crumbled

1

cup pecans, chopped

1

pomegranate, seeded
Instructions
Mix all the dressing ingredients in a jar with a lid. Shake well. Store in fridge until ready to use.
In a bowl, combine salad ingredients. Pour dressing over salad just before serving.
Makes 4 side salads, or 2 dinner salads.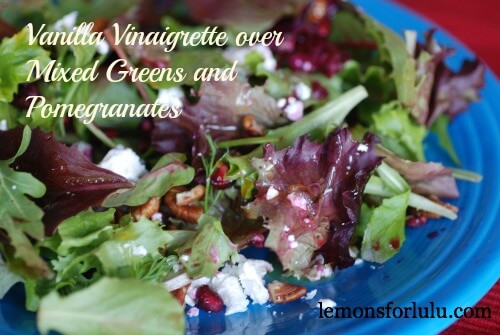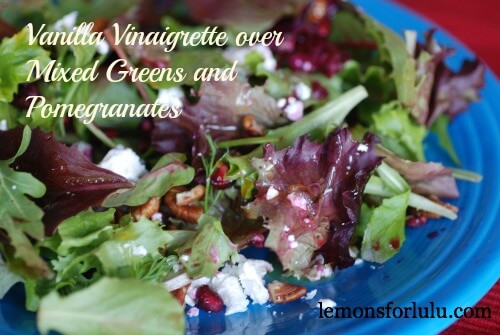 I'll be sharing this recipes with these fabulous sites as well as too: Jam Hands, DIY Dreamer, Iron Chef Mom-Mom on Timeout and