My family loves Mexican food!  I love QUICK Mexican food!
These turkey tostadas are quick and easy, but so tasty, especially with the spicy sweet 
raspberry chipotle sauce!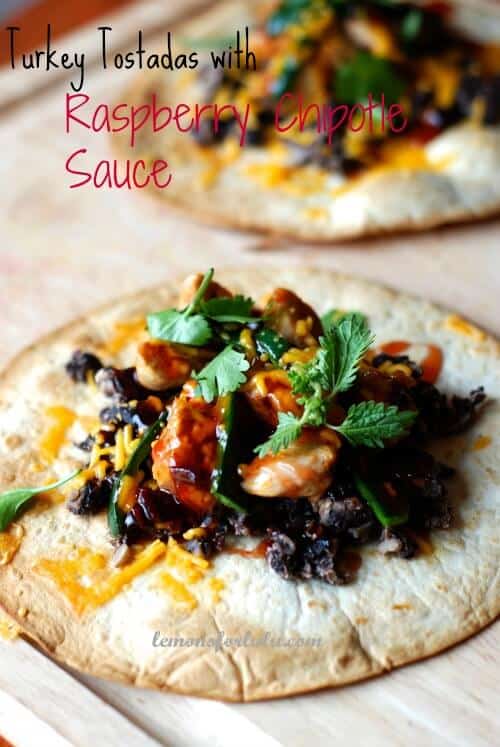 When I was in elementary school, my favorite school lunch was "Tostada Pizza".   When I saw that on the lunch menu, I would plead with my mother to give me 75 cents to buy lunch on that day!!!   That was the first time I ever even heard the word "tostada".  It sounded exotic and exciting to me at the time.  Looking back, I have no idea why it was called a tostada pizza.  It was simply a doughy, octagonal shaped pizza with some sort of zesty meat on top.  That was all there was too it.    Wikipedia says a tostada should be:
tos·ta·da
Noun
A Mexican deep-fried corn-flour pancake topped with a seasoned mixture of beans, ground meat, and vegetables.
Of course, as a kid I could care less that what I was eating was grossly mislabeled!  To me, my tostada pizza, smartly lying on my compartmentalized plastic lunch tray next to my tater tots and Jello, was simply  heaven!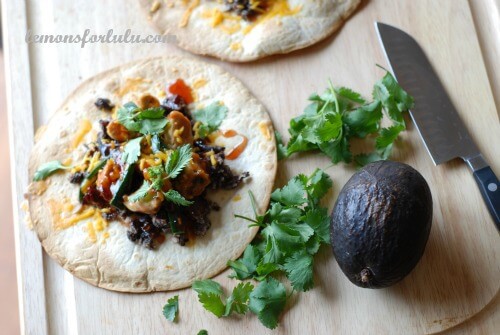 My family and I enjoy our fair share of Mexican food.  Taco night has become a staple in our home.  I was in the mood for something a little different than our usual Ortega tacos.  I switched out our traditional ground beef tacos for a leaner, lighter Mexican fare.   I think we found our new favorite meal.   The kids could still eat with their hands and the baked tortilla's satisfied their need to bite into  something crunchy like their favorite taco shells.  My husband and I loved the seasoned turkey and the black beans, but the best part would have to be the raspberry chipotle sauce drizzled over our tostadas!  Spicy, sweet, smooth and delicious!  Pair these with either avocado salsa verde or avocado feta salsa for a piquant fiesta!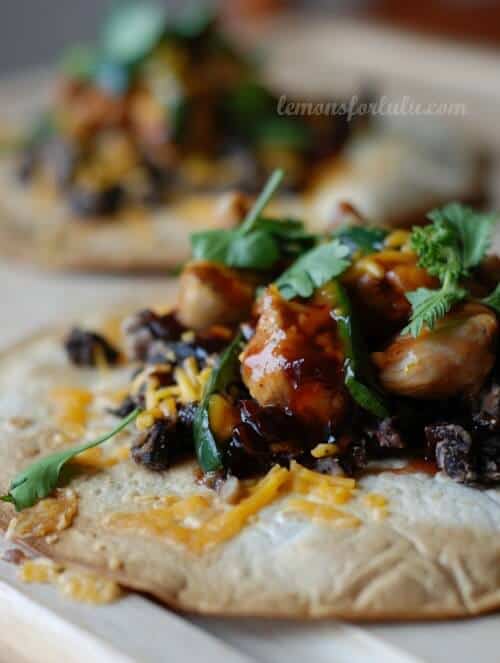 My kids will not experience the gratifying taste of a tostada pizza in their own school lunches.   Now that we've added turkey tostada's to our weekly meal plan, I hardly think they are missing out.  Don't you agree?
A LITTLE MORE FOR YOUR VIEWING PLEASURE:
NEVER MISS A RECIPE!  SUBSCRIBE TO MY EMAIL TODAY!
FOLLOW ME:
FACEBOOK | TWITTER | RSS | GOOGLE + | BLOGLOVIN
Turkey Tostada with Raspberry Chipotle Sauce
Ingredients
1

lb turkey tenderloin, diced

2

tablespoon taco seasoning

1

tablespoon olive oil

1 14oz

can black bean rinsed and drained

1

poblono pepper cut into strips

1

cup shredded cheddar cheese

1/2

cup raspberry jam

1/2-1

chipotle pepper in adobo sauce, finely chopped

6 10

flour tortillas

1

tablespoon chopped cilantro
Instructions
Pre heat oven to 400. Spray a two large baking sheets with cooking spray. Set aside.
While oven heats, cook turkey in oil until cooked through and no longer pink. Season with taco seasoning. Remove from pan and set aside.
Cook pablano peppers in the same skillet for about 6 minutes or until peppers soften. Remove and set aside.
Drain and rinse black beans. Remove half of the beans into a bowl and gently mash with a spoon. Combine with remaining black beans.
Arrange 3 tortillas on each baking sheet and spray tops of tortilla's. Bake in oven for 3 minutes per side our until tortillas bubble and begin to brown.: remove. Top with black beans, turkey, peppers, and cheese. Heat in oven just until cheese melts. Meanwhile, heat raspberry jam and chipotle peppers in microwave for about 45 seconds. When cheese has melted, remove tostadas and drizzle raspberry sauce over each one. Top with chopped cilantro and avocados if desired.