*I am proud to be a Become a Better Baker ambassador for Karo® Syrup through One2One Network. This original recipe and all opinions are my own.*
A thick, homemade sugar cookie is topped with a white chocolate glaze and toasted coconut.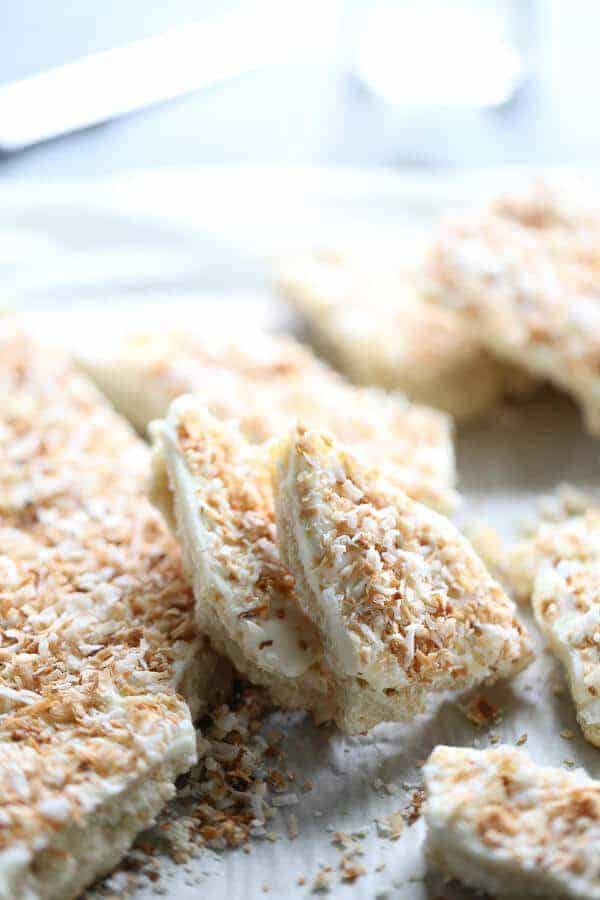 April marks the start of baseball season for the Cincinnati Reds. It's a holiday of sorts around here. It's like the St. Patty's day of baseball. Everywhere you look people are wearing red. People take off work early to go downtown to watch the three-hour long parade and then head to the ball park for the game. The drinking and the cheering start early, and that is totally acceptable. The city is electric with the anticipation of this year's baseball season. There is an unspoken hope that maybe this will be our year.
You can walk into any restaurant on opening day and you can be sure that the daily special will honor the Reds. Breweries craft special beers and bakeries bake special red and white treats. You can't help but get caught up in the hoopla.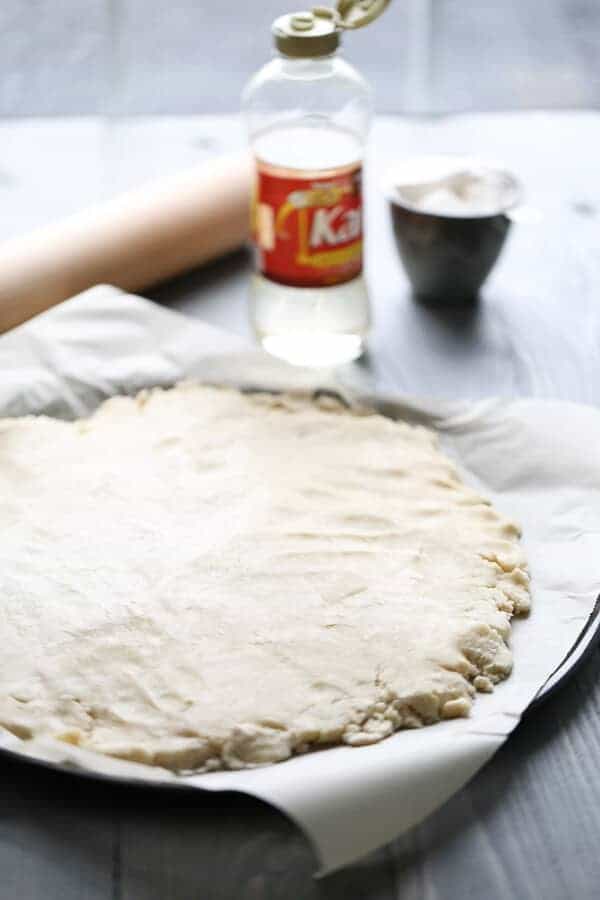 When the kids were little, we (I) would celebrate opening day with sugar cookies frosted to resemble baseballs. I would painstakingly create red stitching on each cookie while the kids were napping. When they would awake, I would gleefully shove a cookie in their faces and wait for their eyes to light up. Their eyes always did light up, but it was never because of my decorating prowess, they were just so happy to eat sugar cookies. It took me a few years to realize that the kids never really cared what the sugar cookies looked like, they were just happy to have sugar cookies. The reality was that while I pretended to decorate the cookies for the kids, I was really doing it for myself.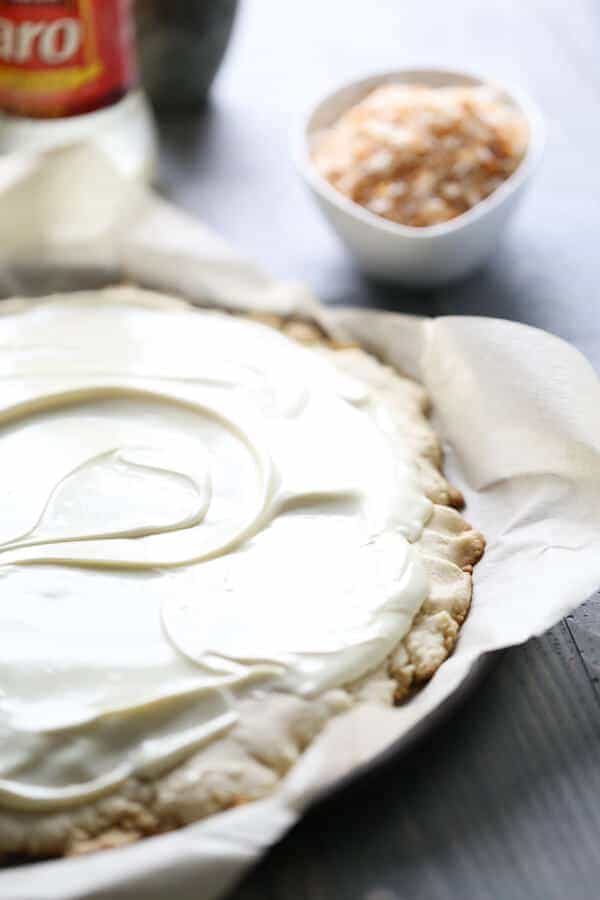 This year I made a cookie for opening day. I made it just for me. I made one giant homemade sugar cookie, because bigger is better right? I topped my sugar cookie with white chocolate (my favorite) and toasted coconut (another favorite), then I broke it into pieces and called it Sugar Cookie Bark. It had absolutely nothing to do with baseball, but I loved it!
This Sugar Cookie Bark would also make a delicious Mother's Day gift! Say "I love you, mom" by serving this sweet treat at a brunch in her honor. I guarantee she'll enjoy it just as much as you will.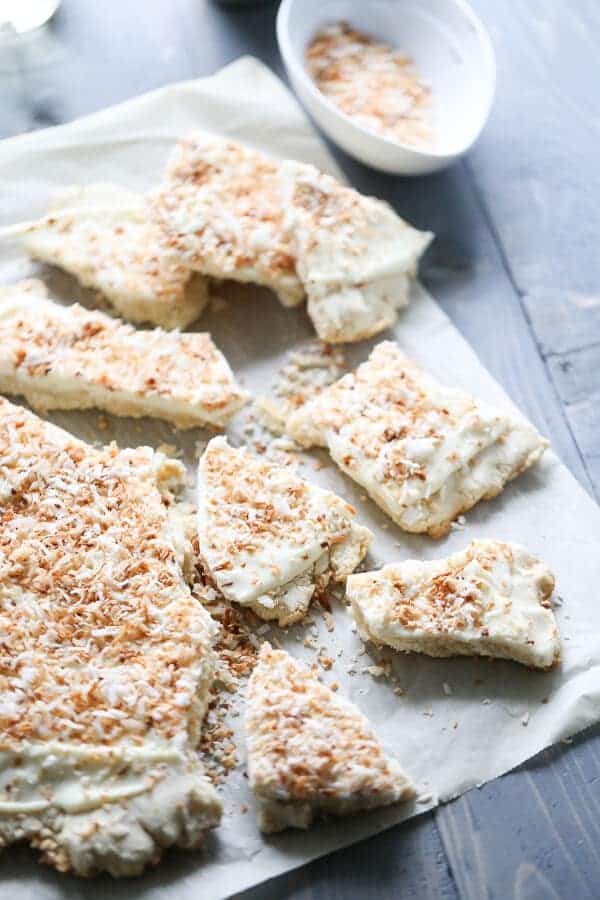 My recipe is adapted from the Sugar Cookies I found on the Karo Syrup website. It was so simple to prepare, although you do have to allow an hour for the dough to set up in the fridge. What I love most about this recipe is that it isn't too sweet. The hint of lemon shines through for me, making this a memorable recipe. You could certainly prepare the recipe as is, but I thought the bark was a fun take on the classic sugar cookie.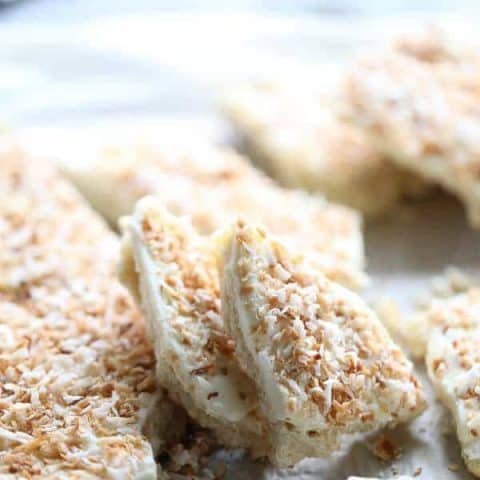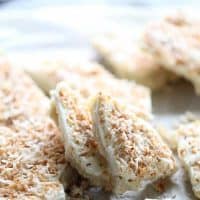 Toasted Coconut Sugar Cookie Bark
Prep Time:
1 hour
15 minutes
Total Time:
1 hour
27 minutes
A thick, homemade sugar cookie is topped with a white chocolate glaze and toasted coconut.
Ingredients
1 cup butter or margarine, softened
2/3 cup sugar
1/2 cup Karo® Light Corn Syrup
1 tablespoon lemon juice
1 egg
3 1/2 cups flour
1/4 teaspoon salt
16 oz white chocolate wafers
1 1/2 cups toasted coconut*
Instructions
Beat butter or margarine, sugar, corn syrup, lemon juice and egg in large bowl with mixer at medium speed until well blended. Slowly beat in flour and salt. Cover and refrigerate dough for at least 1 hour or until dough is easy to work with.
Preheat oven to 350°F. Line a pizza pan with parchment paper. Working with your fingers, gently spread dough out in a circle to fit the pan.
Bake 10-12 minutes or until lightly browned. Remove and cool on a wire rack.
Melt wafers in a microwave safe bowl in 30 second intervals or until chocolate has melted and is smooth. Pour chocolate onto cooled cookie and spread chocolate to the edges of the cookie. Sprinkle toasted coconut over chocolate, pressing gently with your fingers. Let chocolate set completely before breaking into pieces.
Store pieces in an airtight container.
* To toast coconut: preheat oven to 325°F. Spread coconut in an even layer on a baking sheet. Place in the oven, stirring every 10 minutes until coconut is golden in color. Coconut burns quickly, so be sure to stir every 10 minutes. This should take 20-30 minutes total
Nutrition Information
Yield

20
Serving Size

1
Amount Per Serving
Calories

342
Total Fat

15g
Saturated Fat

9g
Trans Fat

0g
Unsaturated Fat

5g
Cholesterol

34mg
Sodium

259mg
Carbohydrates

50g
Fiber

2g
Sugar

24g
Protein

4g
The kids didn't miss the baseball cookies and once again, they were just happy to be eating sugar cookies!
For more about Karo Syrup, including recipes and product information, please visit them at karosyrup.com.