Soft and juicy turkey burger with homemade guacamole!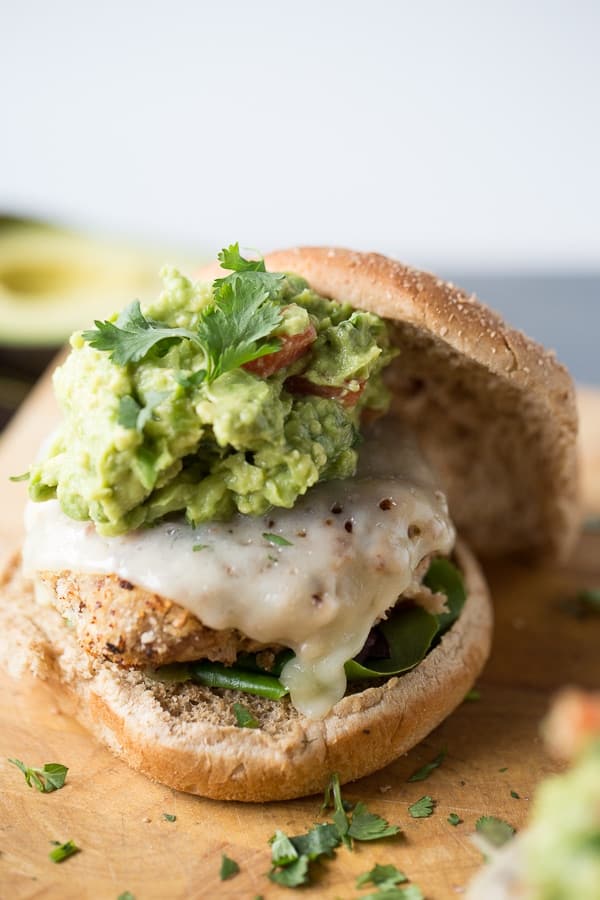 I love the word "Fiesta". It's one of the few words that can truly evoke the feeling that life should be a party.  Honestly, what do you think of when that word is uttered?  You think of margarita's right?
Is there a more festive drink than a margarita?  I have always had lots of fun on those nights where the drink of choice was a margarita.  Yes, tequila has blurred my memory a bit, but I SEEM to remember those nights fondly.   I wish there were more words that instantly make you want to kick off you heels and dance on the table!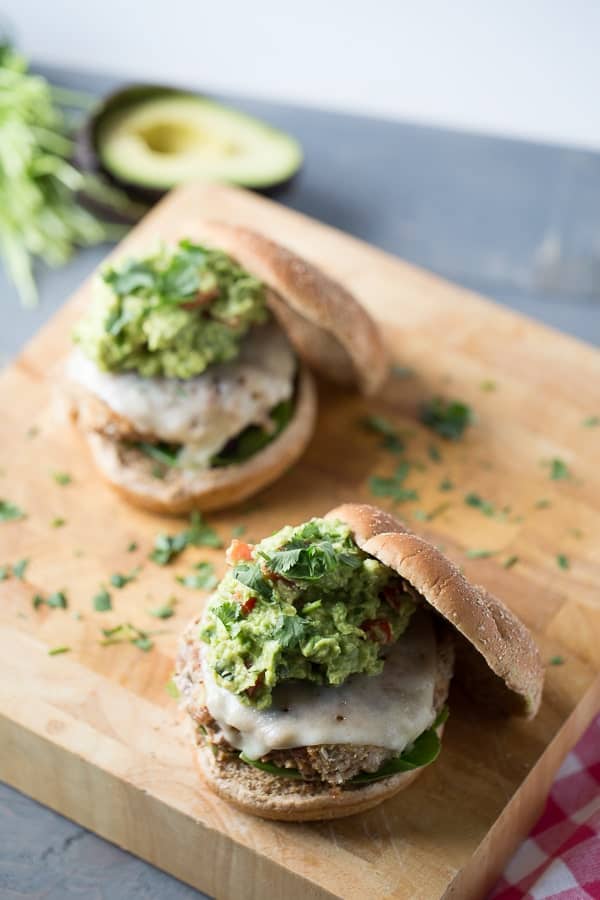 Cinco de Mayo is right around the corner.  I have the perfect meal for you:  Taco Turkey Burgers smothered in guacamole!  You could add more chili peppers if you like.  My kids don't handle heat very well.  The spiciness from the peppers and the Jack cheese is tamed by the cool, creamy guacamole.  Yes, it is the ideal burger for fiesta night!   Goes great with any flavor margarita!  I promise.  The heat from these turkey burgers may make you drink more, just to warn  you.  But that's ok.   The Life should be a fiesta!

Taco Turkey Burger with Guacamole
4
adjust servings
Taco flavored turkey burgers are topped simply with homemade guacamole.
Ingredients
2

lbs ground turkey

2

tablespoons taco seasoning

3

tablespoons diced chilies, canned

1

cup Panko crumbs

1/4

teaspoon salt

1/2

teaspoon garlic powder

2

avocados

1

tomato, diced

1

teaspoon lime juice

1/2

teaspoon cumin

1/2

teaspoon salt ( or to taste)
Toppings
Pepper jack cheese

Salsa

4

Hamburger buns
Instructions
Preheat grill
In a bowl, combine ground turkey, taco seasoning, diced chili peppers, garlic powder, salt and pepper. Â Mix thoroughly so that peppers are evenly distributed. Â Form into 4 patties. Â Either dip patties into the bread crumbs or pat bread crumbs INTO each side of your burger. Â Grill your burgers about 8 minutes per side.
While burgers are grilling, prepare your guacamole. Â Mash the avocados in a bowl with a fork or a pastry cutter, until desired the consistency is achieved. Â I prefer my guacamole to have a chunky texture. Â Add diced tomato, cumin, lime juice, salt and pepper to taste, set aside.
Top burgers with pepper jack cheese during the last minute of grilling.
To assemble, top each burger with a generous dollop of guacamole and salsa. Â Ole!