Soft and juicy turkey burgers are grilled to perfection then they are topped with a simple and delicious homemade guacamole!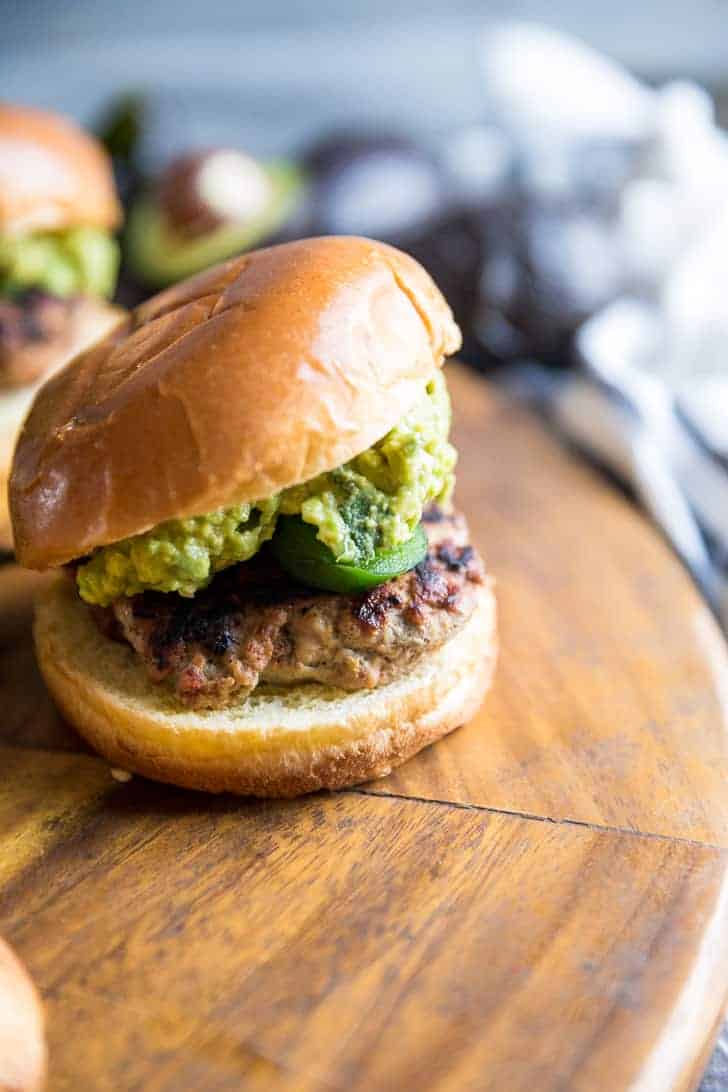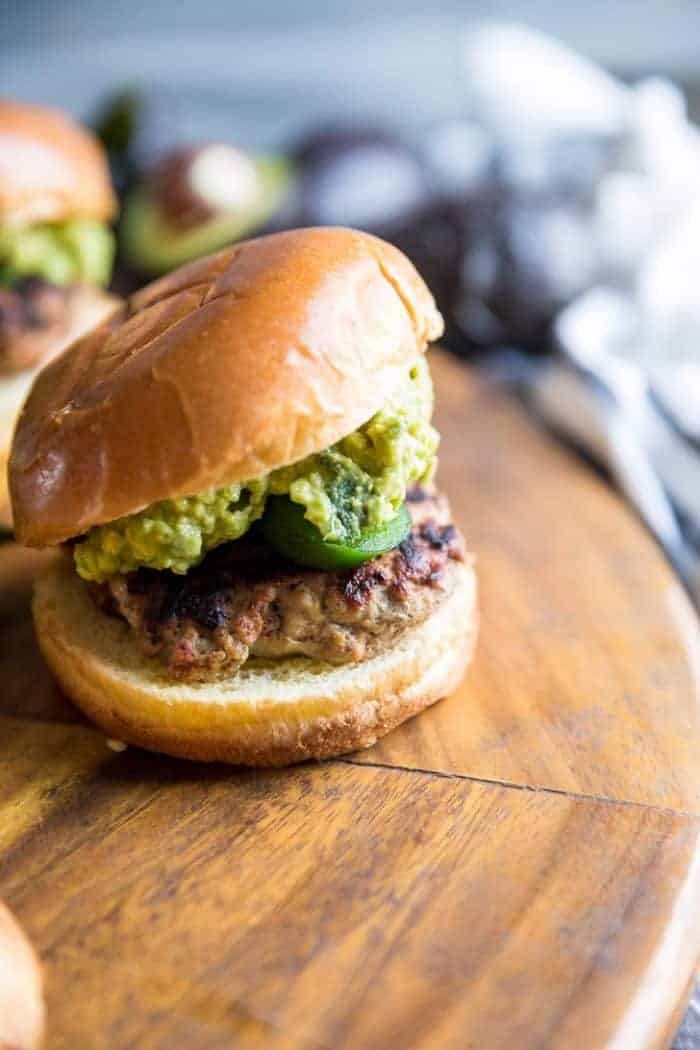 A Fun Kind of Turkey Burger
I love the word "Fiesta". It's one of the few words that can truly evoke a feeling that matches its meaning. Do you want to know what I think of I hear that word? I think of bright colors, parties, sombreros, castanets, and margaritas.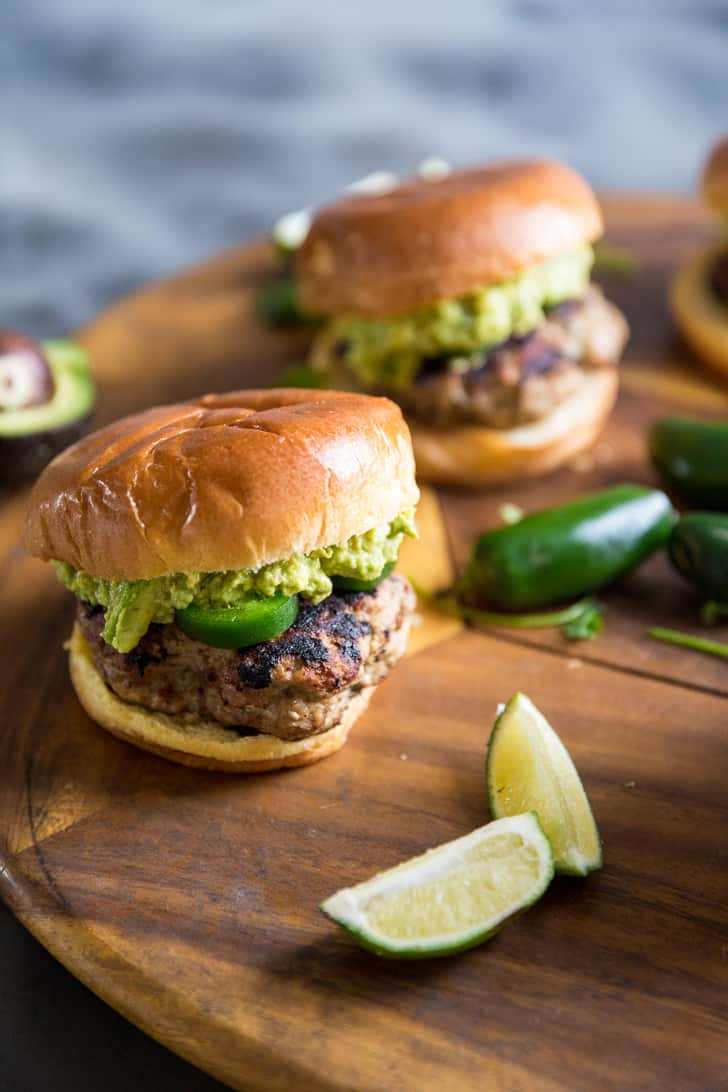 Is there a more festive drink than a margarita? I have always had lots of fun on those nights where the drink of choice was a margarita. Yes, tequila has blurred my memory a bit, but I SEEM to remember those nights fondly. I wish there were more words like "Fiesta"; words that instantly make you want to kick off your heels and dance on the table!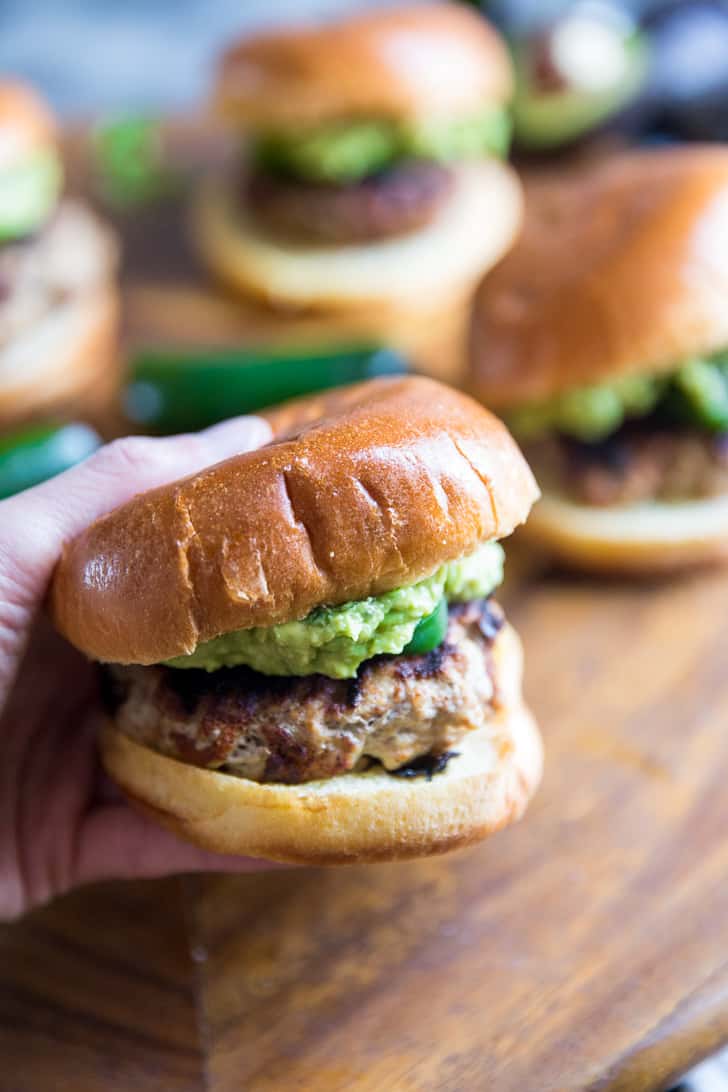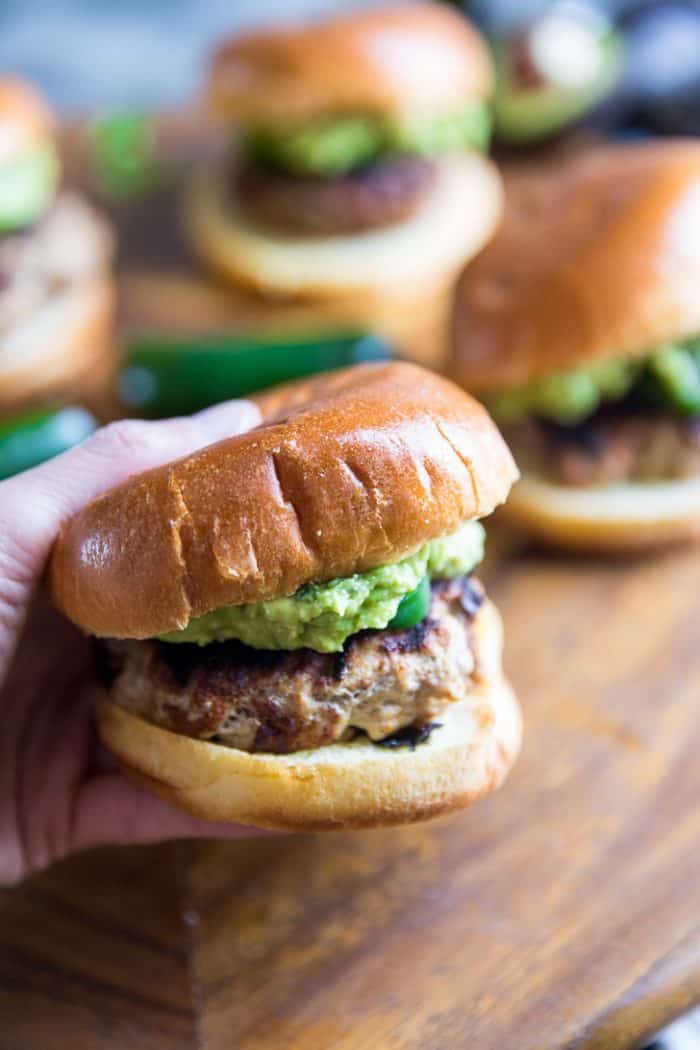 Need Turkey Burgers Please!
Cinco de Mayo is right around the corner. I have the perfect meal for you: Taco Turkey Burgers smothered in fresh guacamole! You could add more chili peppers if you like. I made mine on the mild side because my kids don't handle heat very well. The spiciness from the peppers and the Jack cheese is tamed by the cool, creamy, homemade guacamole. The guacamole is very simple. Avacodas are mashed and seasoned with salt, cumin, and lime juice. Tomatoes and cilantro are stirred in if desired! Be sure to make extra guacamole to pair with your chips and salsa. The guacamole is a stand out all on its own!
Yes, it is the ideal burger for fiesta night (or any night for that matter)! These burgers go well with any flavor margarita, I promise. The heat from these turkey burgers may make you drink more, just to warn you. But that's ok. The Life should be a fiesta!
What else to do with avocados? How an Avocado Feta Salsa, Shrimp Salad with Avocado Dressing, or Deviled Egg Avocados.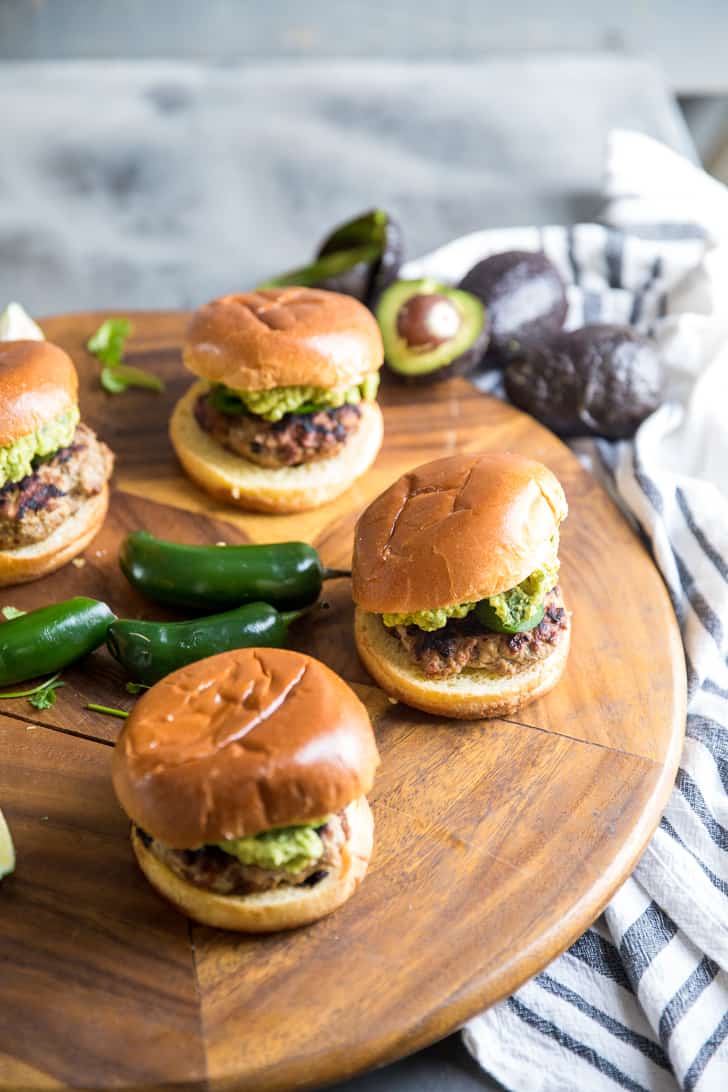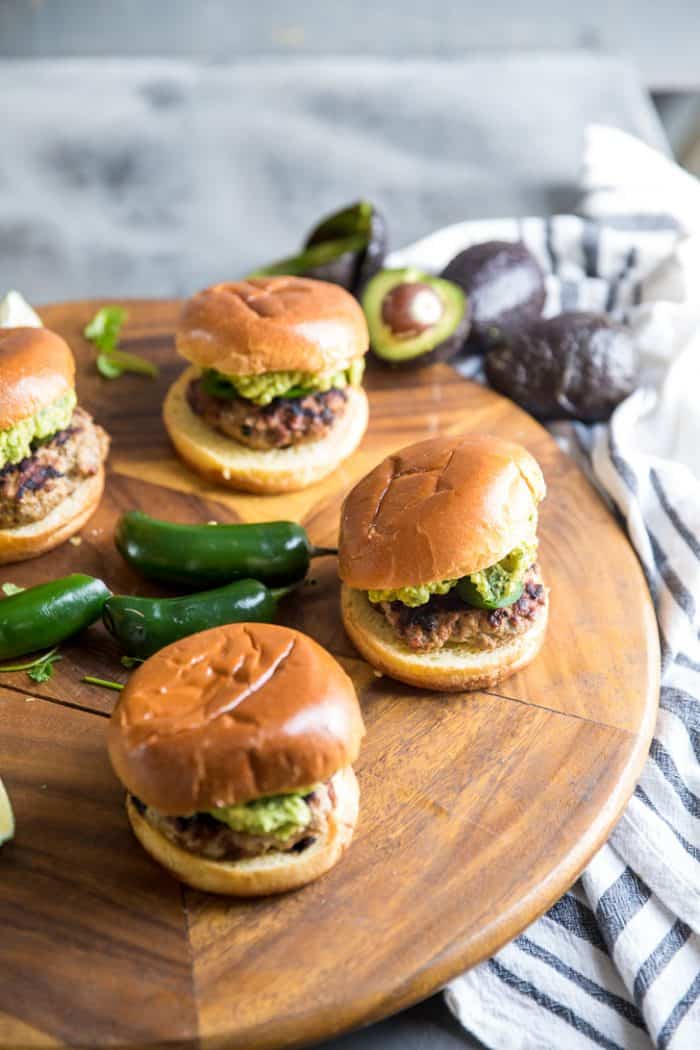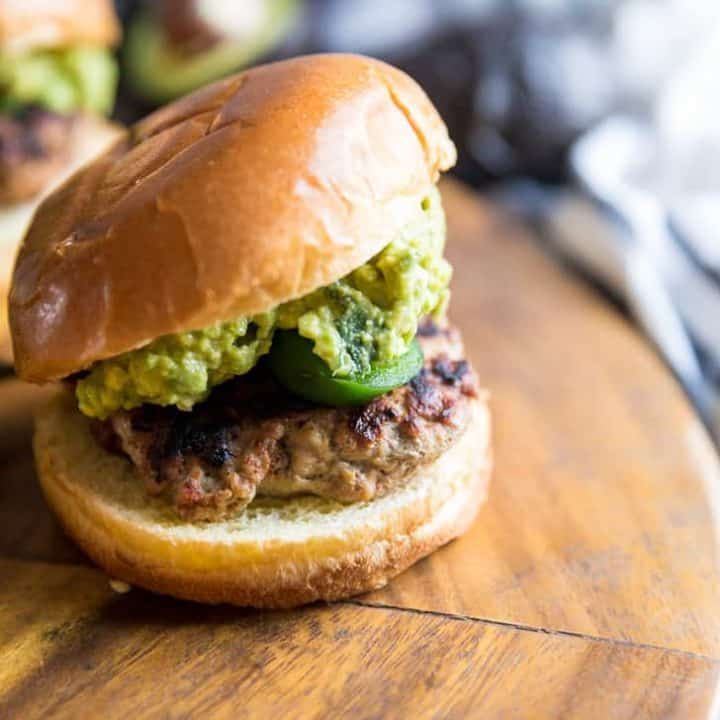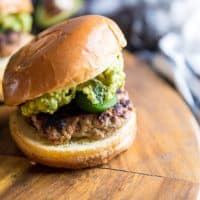 Taco Turkey Burgers with Guacamole
Yield: 4

Prep Time: 15 minutes

Cook Time: 16 minutes

Total Time: 31 minutes

Soft and juicy turkey burgers are grilled to perfection then they are topped with a simple and delicious homemade guacamole.
Ingredients
2 lbs ground turkey
2 tablespoons taco seasoning
3 tablespoons diced chilies, canned
1 cup Panko crumbs
1/4 teaspoon salt
1/2 teaspoon garlic powder
2 avocados
1 tomato, diced
1 teaspoon lime juice
1/2 teaspoon cumin
1/2 teaspoon salt ( or to taste)
Toppings
Pepper jack cheese
Salsa
4 Hamburger buns
Instructions
Preheat grill
In a bowl, combine ground turkey, taco seasoning, diced chili peppers, garlic powder, salt and pepper. Â Mix thoroughly so that peppers are evenly distributed. Â Form into 4 patties. Â Either dip patties into the bread crumbs or pat bread crumbs INTO each side of your burger. Â Grill your burgers about 8 minutes per side.
While burgers are grilling, prepare your guacamole. Â Mash the avocados in a bowl with a fork or a pastry cutter, until desired the consistency is achieved. Â I prefer my guacamole to have a chunky texture. Â Add diced tomato, cumin, lime juice, salt and pepper to taste, set aside.
Top burgers with pepper jack cheese during the last minute of grilling.
To assemble, top each burger with a generous dollop of guacamole and salsa. Ole!
Nutrition Information
Yield 4 Serving Size 1
Amount Per Serving Calories 880 Total Fat 54g Saturated Fat 14g Trans Fat 1g Unsaturated Fat 34g Cholesterol 247mg Sodium 1239mg Carbohydrates 34g Fiber 7g Sugar 6g Protein 65g