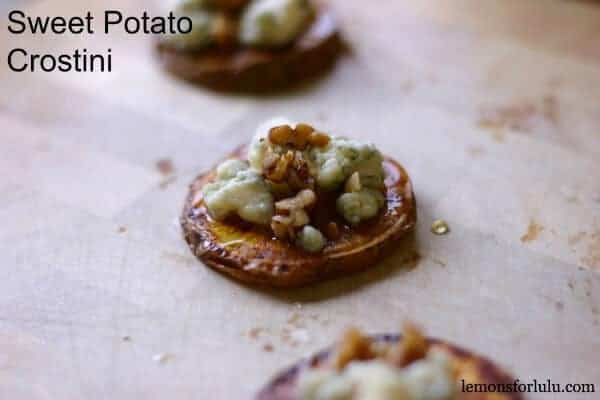 I've never been a big sweet potato fan.  I want to like them, I really do, but there's just something holding me back.  Perhaps it's just that I can't get past the fact that the word "sweet" is coupled with potato.   I keep expecting them to taste different.
I've had many sweet potato casseroles over the years.  You all know the ones, don't you?  The marshmallow topped casserole as well as the pecan topped version.  Both are fine, I suppose.  They just don't grab me.  Do they really qualify as a side or are they dessert?  My taste buds are too confused to eat!
I'm making Thanksgiving dinner this year.  I'm excited about how to season the turkey and looking forward to sprucing up some greens to go on the side.  I've got the perfect mashed potato recipe saved on Pinterest, my stuffing has been decided upon and of course my desserts have been planned for months.  My only hurdle is the sweet potato.  I asked my husband if he'd be ok without them.  He said no.
Today, I figured how I am going to serve sweet potatoes.  As an appetizer!!!  Now this I will eat!  These aren't technically crostini.  The sweet potato replaces the crusty bread.  But visually, you can see why I labeled them this way.  Cute little sweet potato coins are roasted in the oven until they are crispy and browned.   Tangy gorgonzola sits atop the simply seasoned  sweet potatoes.  Pecans are toasted in butter with cinnamon and paprika to add a smokey sweet crunch.  Finally, this is all topped with a thin drizzle of honey.  OMG!!!  The flavor is amazing!  They threw my taste buds into overdrive!  The flavor and the textures play off one another perfectly!  I had a hard time taking a picture as I found I couldn't stop eating these little beauties!
If you need a little change from the ordinary, I highly suggest you try these little sweet potato crostini.  They will change the way you look at that old sweet potato casserole!
If you'd like a little Lulu in your life each day, please subscribe via email, RSS, Facebook or Google +.  I love staying in touch with friends!

4
adjust servings
Sweet potatoes coins are roasted until brown and toasted. Each are topped with tangy gorgonzola, crunchy pecans and a thin drizzle of honey.
Ingredients
2

large sweet potatoes

2

T olive oil

salt

pepper

1

cup pecans, chopped

1

T butter

1/4

t paprika

1/4

t cinnamon

6

oz gorgonzola, crumbled

2

T honey
Instructions
Preheat oven to 450. Scrub sweet potatoes, but leave skins on. Cut potatoes into coins, keeping them the same thickness. Arrange potatoes in an even layer on a baking sheet. Drizzle with olive oil and sprinkle with salt and pepper. Roast in the oven for 15 minutes. Turn potatoes and roast another 10 minutes or until potatoes have browned. Remove from oven and let cool for a minute or two.
While potatoes are in the oven, melt butter in a small skillet. Add pecans, cinnamon and paprika. Brown nuts in skillet for about 5 minutes.
Arrange potatoes on a serving tray, Top each coin with gorgonzola and nuts. Drizzle potatoes with honey. Serve immediately.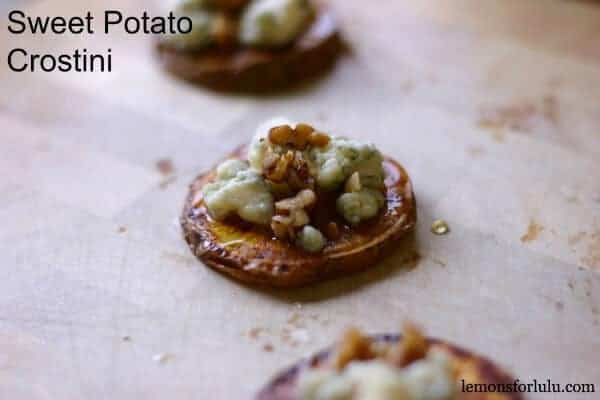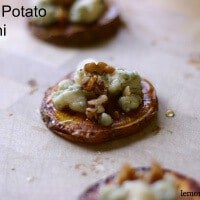 I'll  be linking this up to
these
fabulous websites!