Strawberry Thumbprints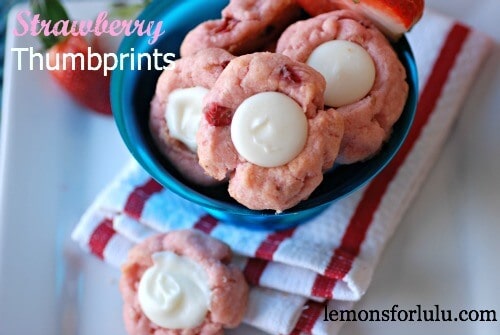 I do not like taking my kids to Sam's.  For one thing, I end up spending way more money than when I shop alone!  Some how books and giant bags of M & M's always make their way into my cart!  Another reason I don't like taking my kids to Sam's is because of the wide aisles.  Sounds odd, I know.  But I think my kids see this extra space as an invitation to run, play, skip, hop and dance.  It calls to them and draws them in.  And because the aisles are so tall, I think my kids forget they are in public.  Finally, I do not like taking my kids to Sam's because of the samples.   My kids embarrass me.  It's the truth.  They turn into greedy little vultures as they shout and yell for me to move from one sample to the next!  It wouldn't be that bad, except that they literally scream "samples" as we approach each little stand.  The poor unsuspecting souls who man the booths  have no idea what will befall them when my kids get wind of their free goods!  I don't care if what's given away is joint juice for seniors, my kids want it!  If it's in a small, white paper cup and it's free, watch out!!!  There is nothing wrong with tasting samples here and there.  It's just that my kids give the distinct impression that they've never been fed!  This is when I run to the check out and just plan on returning when the kids are in school.
I like buying strawberries at Sam's.  I bought strawberries with the sole intention of making cookies.   I wanted cookies loaded with strawberries and I wanted them to be pink.  My first batch of strawberry cookies was made with a strawberry cake mix.  But they turned out flat, and tasted like cake (go figure?).  So I took a lesson from Chocolate, Chocolate and More and made cookies with Jello!  I went with a shortbread cookie this time.  I figured shortbread dough would hold its shape and would handle the strawberries nicely.  I was right!  The strawberry Jello turned these cookies the perfect shade of pink and enhanced the strawberry flavor!  To say I was merely pleased, is an understatement!  I used white chocolate candy melts for the filling.  I stuck them in while the cookies were cooling and after the chocolate melted, I swirled it just a bit.
I think I'll box these up and give them to teachers this Valentine's Day.  Assuming my family doesn't eat them all first!
You might enjoy these too: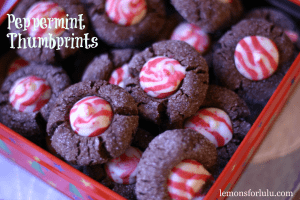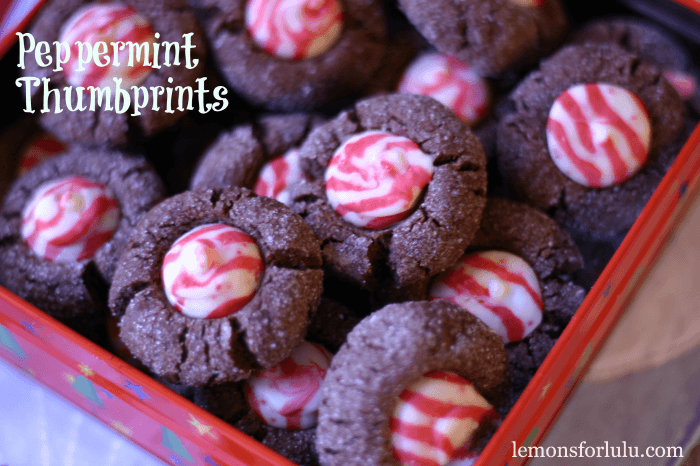 If you'd like a little Lulu in your life, please subscribe via email, RSS, Facebook or Google +.  I love staying in touch with friends!
Ingredients
1

cup butter, softened

2/3

cup sugar

2

teaspoons strawberry flavored gelatin

1/2

teaspoon almond extract

1/4

cup strawberries, chopped

2

1/4 cup flour

1

cup vanilla flavored chocolate wafer candy melts
Instructions
Combine butter, sugar, gelatin and extract in a large bowl. Beat on medium speed until creamy. Gently mix in strawberries. Carefully beat in flour, scraping bowl until dough is well mixed.
Cover and refrigerate dough for at least 1 hour.
Preheat oven to 350. Shape dough into one inch balls and place on prepared cookie sheets, about 1 inch apart. Using your thumb or the back of a teaspoon, make indentations into each cookie. Bake in preheated oven for 14 minutes. Remove and place one vanilla wafer into each indentation. When chocolate begins to melt, swirl with a spoon.
Let cool on baking sheet for 1 minute before removing to a cooling rack.
Makes approx. 3 dozen cookies