A quick easy way to get a hot breakfast into your day!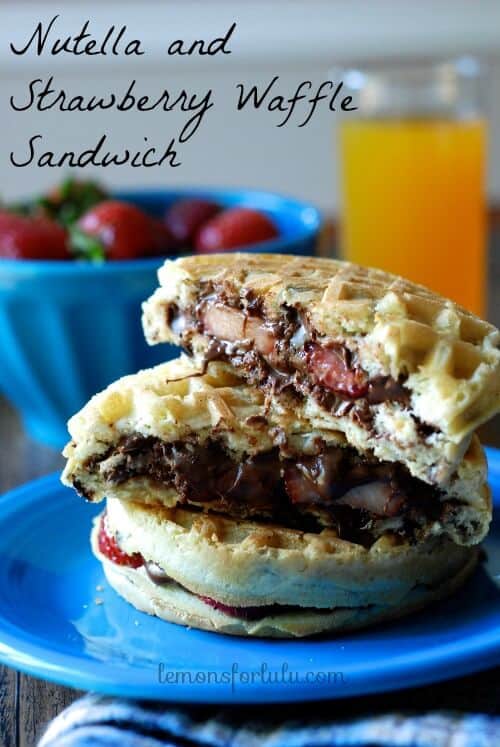 With back to school comes back to school mornings.  Not fun.  Here's a peek into what I experience on a daily basis.  Each morning  the school bus picks my kids up at 8:50 am.  Which means we need to be at the bus stop no later than 8:45 a.m.  My oldest daughter is almost 10 and is a self starter.  She pops up out of bed (without an alarm) by 7:00 am.  She dresses, fixes her bed and with a sunny disposition in tow, she bounds down the stairs where she immediately sets about making her own breakfast.   She then sits down to read, write or draw-just for fun.  After breakfast she makes her own lunch.  And since she loves making things in the kitchen, she often graciously makes her brother's lunch too!
Her brother is 8 and is a bit less motivated.   My first attempt to rouse him out of bed is 8:00 a.m.  Needless to say I'm unsuccessful.  10 minutes later I yank the covers off him and turn on his lights and loudly pronounce that he now only has 30 minutes until the bus will come.
While he frustrates me, I acknowledge that he may be the smartest of us all.  Because by the time he comes down, his lunch is made, his back pack is packed and because we don't have much time I'm unwrapping a granola bar or a pop tart so he can eat as we head out.  The fact that he has slept longer than everyone else has not escaped me.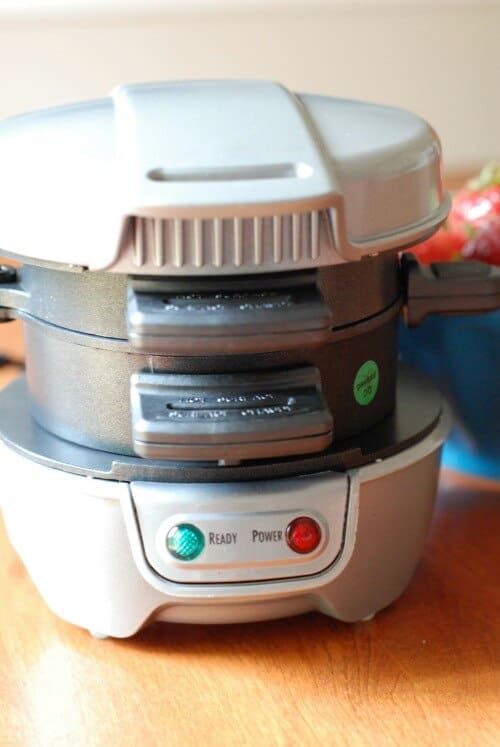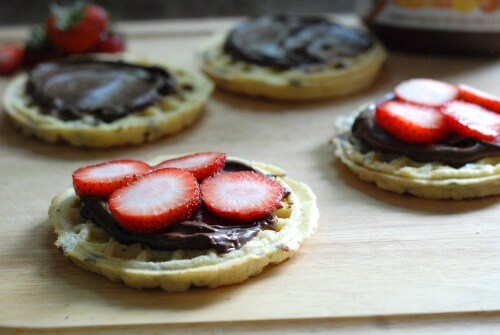 Hamilton Beach kindly sent me this breakfast sandwich maker to test out.  I thought the first week of school would be the perfect opportunity.  It turned out to be the best idea!  I thought it would be fun to serve waffles as the "bread" for our breakfast sandwiches, I mean duh? Right? We eat waffles for breakfast all the time!  You could use any sort of filling, such as eggs, sausage, ham, peanut butter, apples. etc.  I chose Nutella and strawberries because we adore that combo!  The sandwich maker was easy enough for my daughter to use herself!  In a matter of minutes she had a hot sandwich for her brother and one for herself!  It was that easy!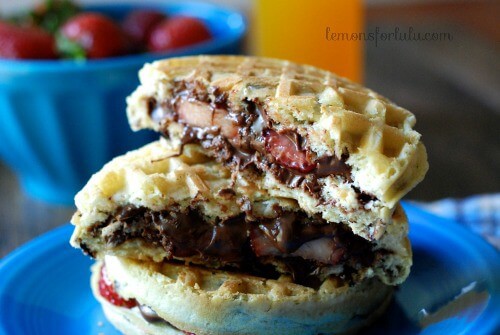 It was the perfect scenario.  Ellie got to "cook", Owen got breakfast made for him and I knew everyone would start the day right!
You can purchase the Hamilton Beach Breakfast Sandwich Maker on Amazon.com for under $25.  They are also available at most Kroger, K-Mart, Target or Sears stores. Because I love you, I will make it even simpler.  You could enter here to win one for free!  We all love free don't we?
To enter, just use the handy form below.  Winner will be drawn at random and contacted immediately following the close of the drawing.
NEVER MISS A RECIPE! SUBSCRIBE TO MY EMAI TODAY!
FOLLOW ME:
FACEBOOK | RSS | TWITTER | GOOGLE + | BLOGLOVIN | INSTAGRAM 
Strawberry Nutella Waffle Sandwiches (And A Hamilton Beach Sandwich Maker Giveaway!)
Ingredients
4

Frozen waffles

4

tablespoon Nutella Hazelnut spread

1/4

cup sliced strawberries
Instructions
Warm sandwich maker according to package directions. Meanwhile place on tablespoon of Nutella on each waffle. When ready, place one waffle, Nutella side up on sandwich maker plate, top with strawberries and finally second waffle, Nutella side down. Pull down sandwich maker cover and toast 2-4 minutes. When ready, slide plate handle and carefully life sandwich maker lid. Remove waffle sandwich and serve. Repeat with remaining ingredients.
Serves 2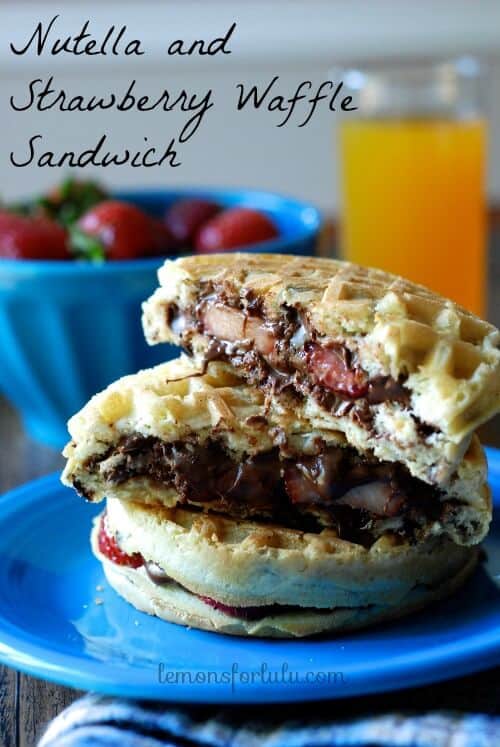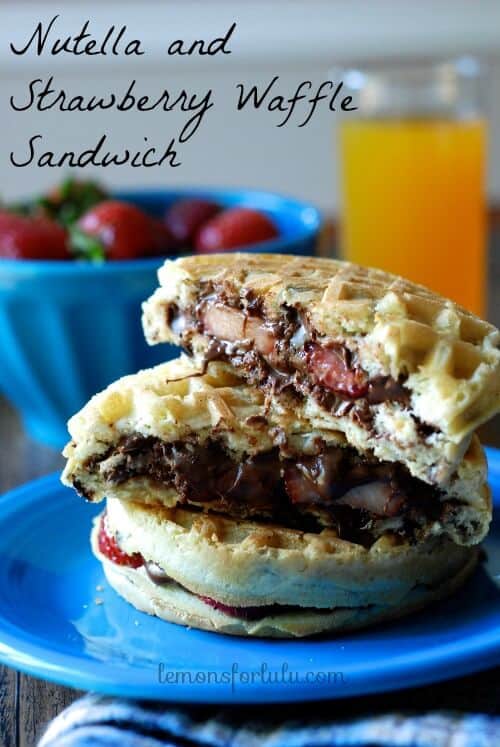 SEE THIS ON MY PINTEREST BOARD!