*I am proud to be a Become a Better Baker ambassador for Karo® Syrup through One2One Network. This original recipe and all opinions are my own.*
Strawberry Lemonade Bars are an easy dessert! Fresh fruit is the star of these delicious bars. Spring flavors can be enjoyed any time of year!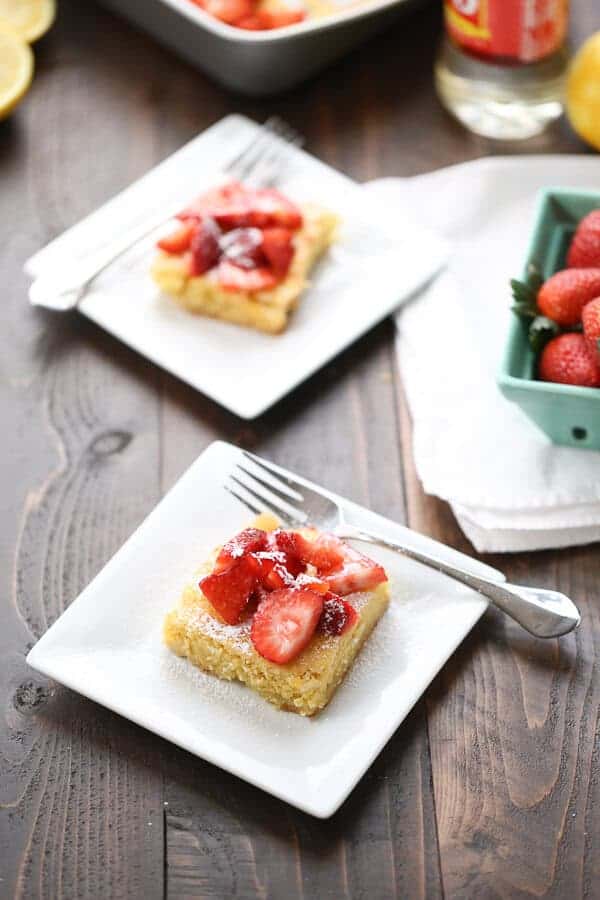 Magic
I used to love magic. David Copperfield was the big name when I was growing up. Watching his shows, I was a mix of awe, fear and excitement. If David could make something disappear, maybe I could make my parents disappear. It's not as though I wanted them to disappear forever. Just long enough for me to stuff my face with forbidden junk food.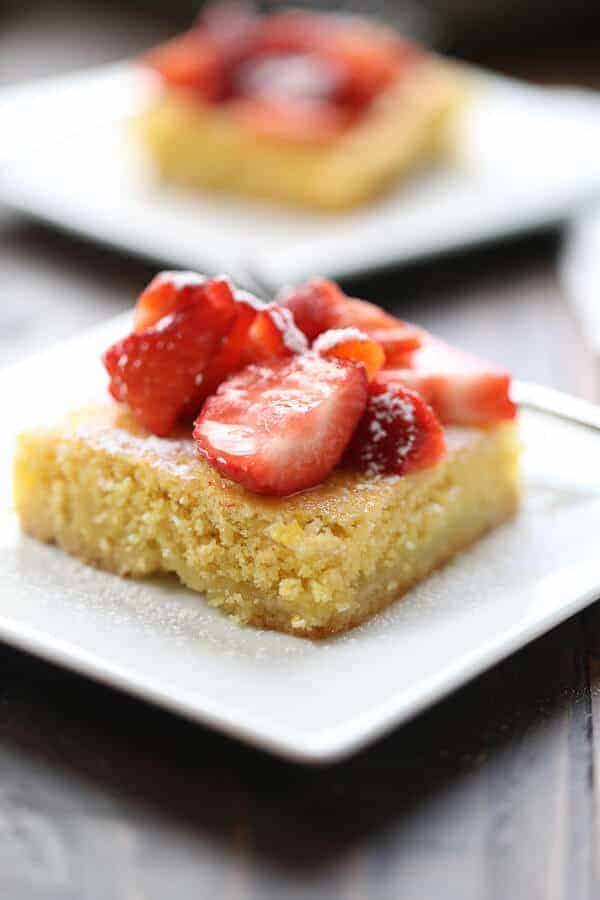 My kids have recently discovered magic. YouTube has helped them discover their inner David Copperfield. Their tricks leave a lot to be desired, but far be it from me to tell them otherwise. That's the beauty of kids, they believe in themselves. They will do all sorts of tricks for us and feel certain they are pulling the wool over our eyes. As if we were that gullible.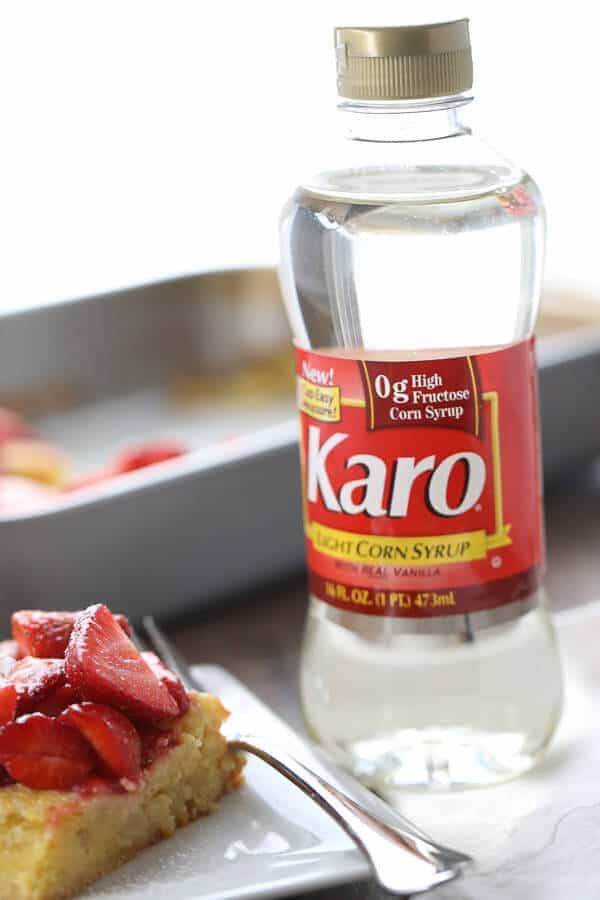 How to Make Strawberry Lemonade Bars
I recently took a turn with magic. I turned a Strawberry Lemonade Pie into Strawberry Lemonade Bars. Pretty neat huh? I found this pie recipe on Karosyrup.com. I was drawn to this recipe because of the lemon flavor. I'm tired of winter and the combination of lemon and strawberries made me think of spring. With seasonal fruit and fresh flavors, they are perfect for any springtime celebration from Easter through Mother's Day and beyond. Easter brunch plans coming up? Welcome spring and end your feast with this showstopping sweet treat.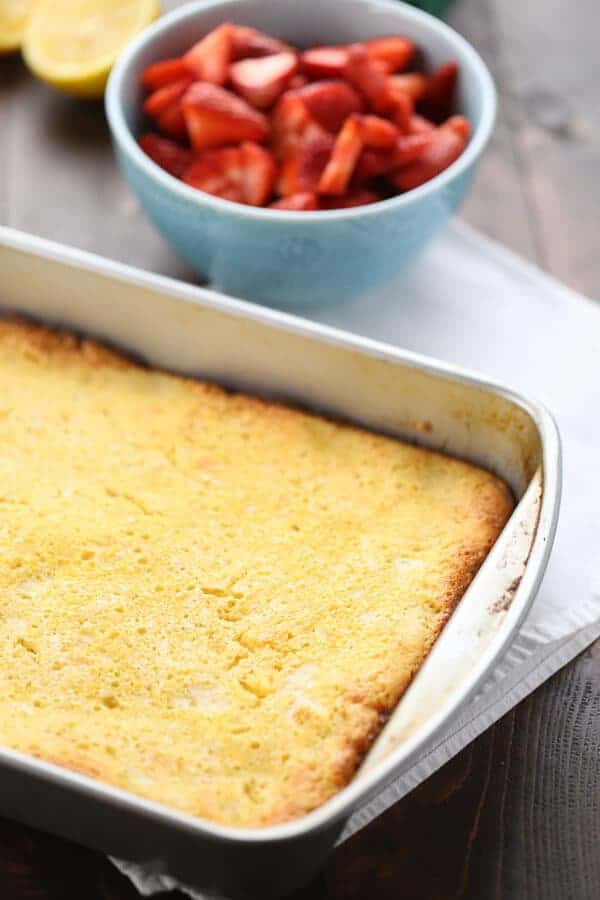 This recipe was easy to convert to bars. I used a yellow cake mix as my base, then followed the lemon filling per the original recipe and baked it. I combined Karo® Light Syrup with strawberries and topped my bars just before serving. Keep the berries refrigerated until ready to use and try to avoid topping the whole pan of lemonade bars unless you like soggy bars.
These were so refreshing and simple to make. While the Strawberry Lemonade Pie is perfectly fine, these strawberry lemonade bars are tart, soft and absolutely lovely. An easy, crowd-pleasing recipe that is sure to disappear quickly.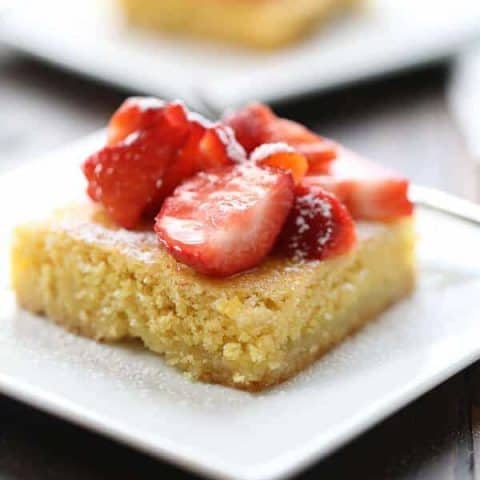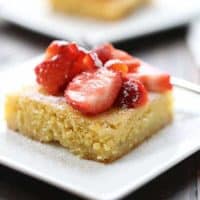 Strawberry Lemonade Bars
Yield: 2 dozen

Prep Time: 10 minutes

Cook Time: 25 minutes

Total Time: 35 minutes

Strawberry lemonade pie make an excellent tasty bar that is a snap to prepare!
Ingredients
For the crust
1 18.25 oz box yellow cake mix
1/2 cup butter, melted
1 egg
For the filling
3/4 cup sugar
2 tablespoons flour
4 eggs
1/2 cup Karo® Light Syrup
1/3 cup lemon juice
1/2 teaspoon Spice Islands® Pure Vanilla Extract
For the fruit topping
3 cups sliced strawberries
2 tablespoons Karo® Light Syrup
1 teaspoon lemon juice
1 teaspoon lemon zest
Powdered sugar or whipped topping
Instructions
Preheat oven to 350. Spray a 9x13 inch pan with baking spray.
In a bowl, combine cake mix, butter and egg; spread mixture into prepared pan.
In a separate bowl, combine 3/4 cup sugar and flour. Stir in remaining filling ingredients. Pour filling mixture over cake. Bake in the oven for 23-25 minutes or until set. Remove from oven and set on a wire rack to cool.
In a bowl, combine strawberries, syrup, lemon juice and zest. Keep refrigerated until ready to serve.
When serving, top each lemon bar with berries and sprinkle with powdered sugar or top with whipped topping.
Nutrition Information
Yield 24 Serving Size 1 bar
Amount Per Serving Calories 200 Total Fat 6g Saturated Fat 3g Trans Fat 0g Unsaturated Fat 2g Cholesterol 49mg Sodium 224mg Carbohydrates 35g Fiber 1g Sugar 24g Protein 2g