Ravioli lasagna is layered with a homemade spinach marinara sauce for a fun, quick take on a traditional dish!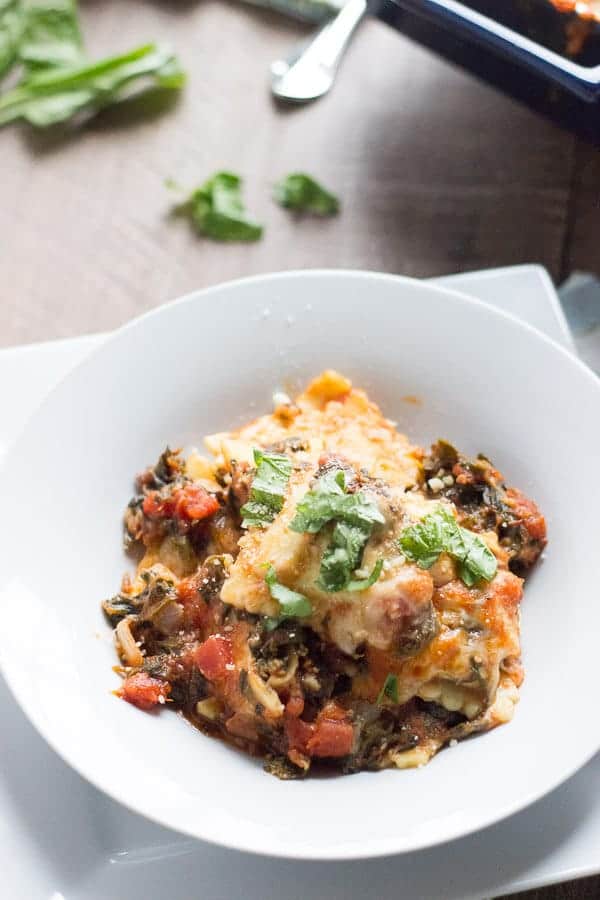 For 13 years my husband has been telling me he doesn't like cooked spinach. For 13 years I've obliged him. I've been adding spinach to the end of my cook time in soups so that it stays vibrant and fresh and I've been serving it up in dips and patty melts because we all know cheese will make anything taste better.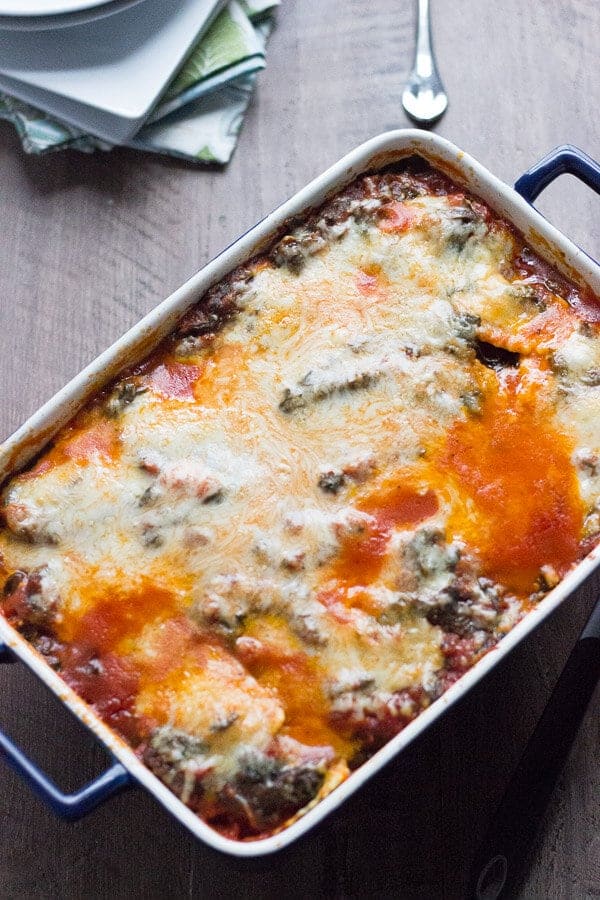 The problem is I really liked cooked spinach. I grew up in the era of Popeye and therefore believed that I too would be "strong to the finish because I ate my spinach". I was gullible back then so I ate loads of spinach. But that certainly helped me develop an affinity for the green stuff that my husband is lacking.
I decided enough was enough. We will all enjoy spinach darn it. No more catering to everyone else's tastes (at least for this meal)! I was gentle, I didn't serve it plain or creamed but in a robust homemade marinara sauce with garlic and spices. I thought is was rather cleverly disguised. There was lots of cheese of course and meat filled ravioli.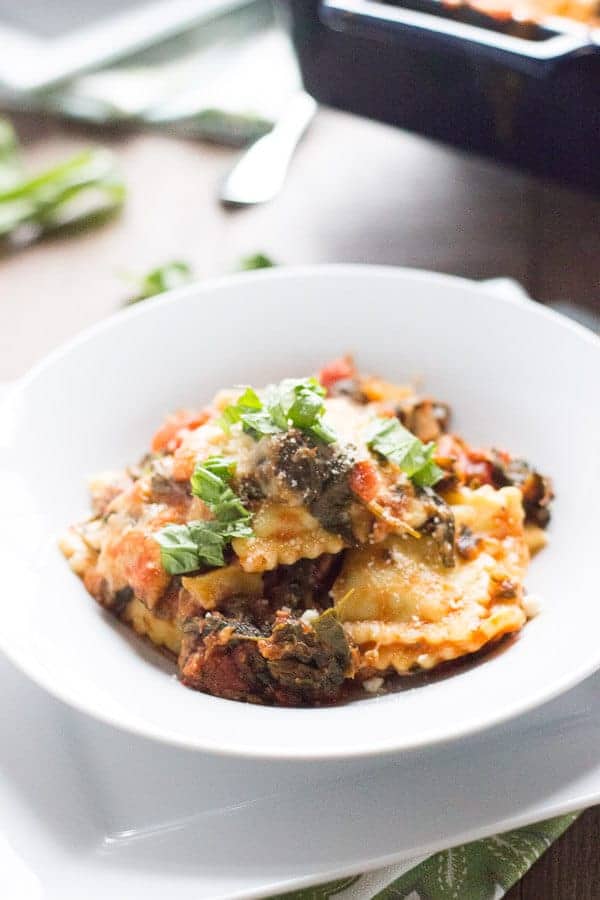 Lasagna is one of my favorite dishes but boy can it take time to prepare. Ravioli lasagna is a great way to enjoy the flavors of the lasagna in a fraction of the time. If my spinach averse husband could eat this (and enjoy it) then your picky eaters will too. Spinach today, mustard greens and swiss chard tomorrow… I know, I know, let's not push it right?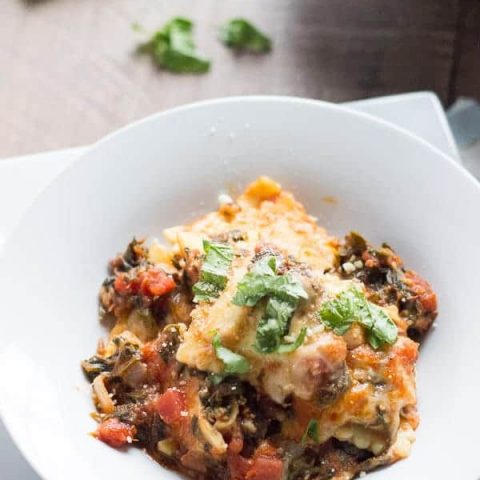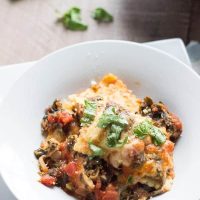 Spinach and Ravioli Lasagna
Ravioli lasagna is layered with a homemade spinach marinara sauce for a fun, quick take on a traditional dish!
Ingredients
19 oz meat filled frozen ravioli
1 teaspoon olive oil
1 shallot, diced
2 cloves garlic, minced
1 10 oz package frozen spinach, thawed and drained.
1 teaspoon dried oregano
1 teaspoon dried basil
1/2 teaspoon salt
1/2 teaspoon pepper
1 28 oz can crushed tomatoes
1 14 oz can petite diced tomatoes
2 cups shredded Italian blend cheese
1/4 cup grated Parmesan cheese
Instructions
Prepare ravioli according to package directions, rinse and drain.
Meanwhile, in a small saucepan, heat olive oil over medium heat. Add shallot and cook 3-4 minutes until soft. Stir in garlic, cook 1 minute. Add thawed spinach, break it up as it cooks. Stir oregano, basil, salt and pepper. Add tomatoes, reduce heat and simmer sauce for 15-20 minutes.
Preheat oven to 375. Spray a 9x13 baking dish with non stick spray. Ladle a half cup of sauce over the bottom of the pan. Arrange half of the ravioli over the sauce, top with half of the remaining sauce, 1 cup shredded cheese and two tablespoons Parmesan cheese. Repeat layers, ending with cheese.
Cover lasagna with foil and bake for 30 minutes. Remove foil and cook an additional 5 minutes or until cheese has melted. Remove and let stand 5 minutes before serving.
Nutrition Information
Yield

8
Serving Size

1
Amount Per Serving
Calories

357
Total Fat

21g
Saturated Fat

10g
Trans Fat

0g
Unsaturated Fat

9g
Cholesterol

95mg
Sodium

720mg
Carbohydrates

14g
Fiber

5g
Sugar

6g
Protein

30g