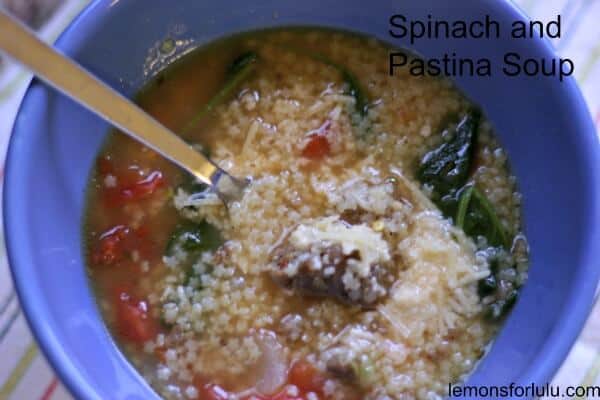 In my freezer I have 24 packs of butter.  Yes, you heard me.  I am in possession of 24 POUNDS of butter.  I like to stock pile baking ingredients, what can I say?  You never know when the baking mood will strike and I do NOT want to be caught without the necessary ingredients!
To be fair, (to me), I come by my stock piling naturally.  My mom is the same way.  The biggest difference is she predominantly buys from the "scratch and dent" section of the grocery store.   While I think that's fine for appliances, I don't always want "scratch and dent" food.
When I visit my mom each week, she shares her latest finds with me.  For a while, she'd give me bread she bought for 50 cents a loaf.  When we moved into our new home, I had 3 big, blue Ikea bags full of bread!  Explain that to the movers!  Her latest kick is pasta.  Specifically, pastina.  She's been finding boxes on the cheap!  Lots and lots of boxes.  But one day she had several bags of spinach for me as well.  Unfortunately my family is not big on eating spinach.  I try to serve it in many ways in the hopes that they will develop a love for the leafy green super food.   We eat it in salad, and throw it in pasta and burritos.    I forget that my kids aren't the Popeye generation.   They can't be easily persuaded to eat more spinach simply because I say it will make them stronger.
This soup was my last-ditch effort to get spinach in the bellies of my family.  Pastina is such a fun pasta!  It's shaped like stars, it's little, it's cute.   My kids love pasta and certainly find soup more enjoyable if there is plenty of pasta in it.  The Italian sausage adds lots of flavor and spice.  It makes it more savory, although this would be a great vegetarian soup as well.   My family surprised me.  They ate this soup up, spinach and all!
I can't help but chuckle at my mom's frugal shopping and her endless stash of food.  But I am also so touched that my mom still thinks of me while she shops.  There's something comforting knowing that your mom is still looking out for you.  Know what else is comforting?  Yep, you guessed it, this soup!  Spinach and pastina soup is a perfect soup for chilly weather!
If you would like a little Lulu in your life, please subscribe via email, RSS, Facebook or Google +.  I love keeping up with friends!
You might enjoy these too:
Pumpkin and Black Bean Chili                                                             Lemons for Lulu
Spinach and Orzo Soup                                                                           5 Dollar Dinners
Sausage and Spinach Soup                                                                   The Reluctant Gourmet
6
adjust servings
Italian inspired savor soup with pastina pasta, Italian sausage and spinach
Ingredients
1

lb Italian Sausage

1

large onion

2

cloves garlic, minced

1

T olive oil

2

quarts chicken broth

1 14

oz can diced tomatoes

1

cup spinach

6

oz pastina pasta (or other small pasta)

Shaved parmesan
Instructions
In a large stock pot, brown sausage until no longer pink. Remove sausage with a slotted spoon and set aside. Add olive oil and cook chopped onion until translucent and soft. Add garlic and cook 1 minute. Add diced tomatoes and chicken stock. Bring to a boil. Stir in spinach and pasta. Add salt if desired. Boil for 3 minutes. Stir in sausage. Let simmer on low for about 20 minutes. Top with shaved parmesan if desired.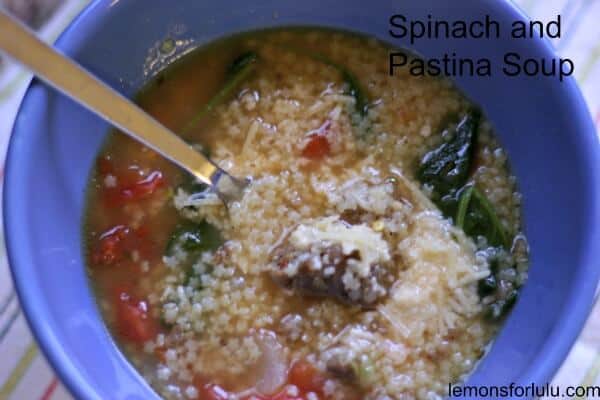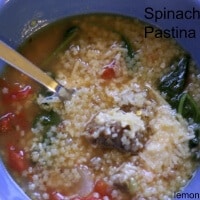 I will be linking this recipe to these fabulous parties as well as to Jam Hands, The DIY Dreamer and