Kicked up ground pork served along side Japanese noodles and crisp veggies!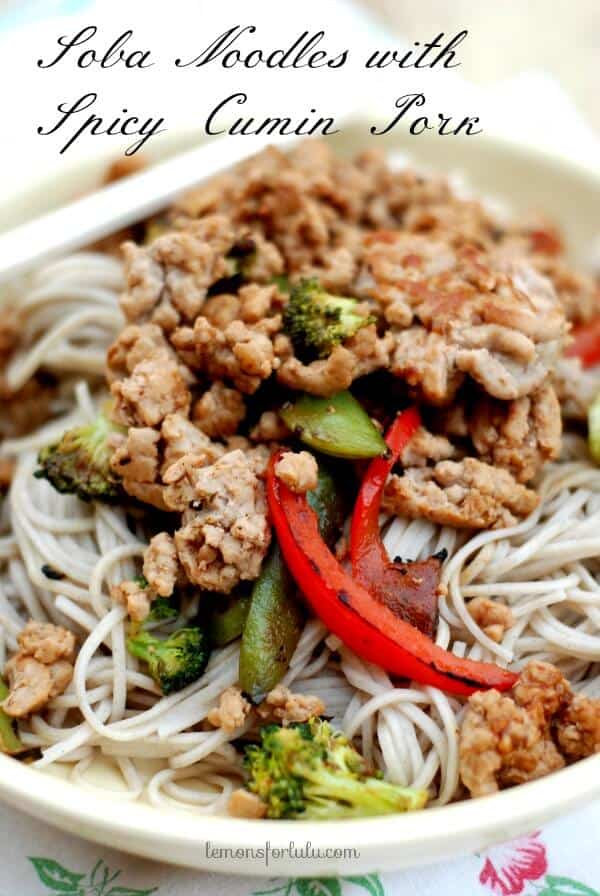 When you get ready to embark upon the voyage that is parenthood, you receive all sorts of  unsolicited advice.  People love to tell you all about sleep schedules, diapers and nursing.  And when you move into the toddler stage all you hear about is how to survive potty training and the "terrible two's".  There is no shortage of information on kids from birth to age 4.  It's the older years that no one tells you about.
I can see now that the people with older kids are too busy to stop and tell you that once your kids hit a certain age you'll start enrolling them in all sorts of extra curricular activities.  And by doing that, you give up the rights to all your time and your money.  I'm so thankful that when our kids were small we were homebodies because now our bodies are not at home!
Between the three kids we are gone every single night of the week except for Sunday.  Often we have kids and parents going in different directions.  If I didn't plan out our meals each week, we may not have meals!   My favorite place to find inspiration is Cooking Light Magazine, specifically their Super Fast Dinners.  I basically take what they offer each month and run with it.  I don't have time for meals that take hours to prepare.  I need quick, I need easy and I need satisfying.  Leftovers are a bonus!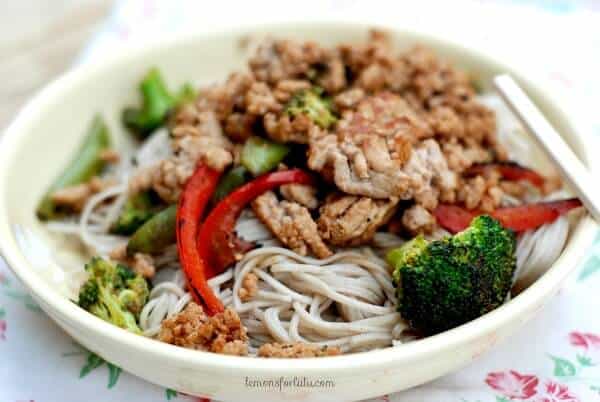 I recently tried their Soba Noodles with Spicy Cumin Lamb, however I replaced the lamb with ground pork because that's a flavor my family prefers.   This dish had dinner on the table in under 30 minutes and it was delicious.  We loved the Japanese Soba noodles, they were a nice change from our usual Angel hair pasta.  The veggies were cooked just long enough to leave a bite and the sauce had the perfect amount of heat and flavor although I cut back on the spice for the sake of my kids.
 This will be added to my meal plan for sure!  The best was eating leftovers for lunch the next day!
MORE SPEEDY SUPPERS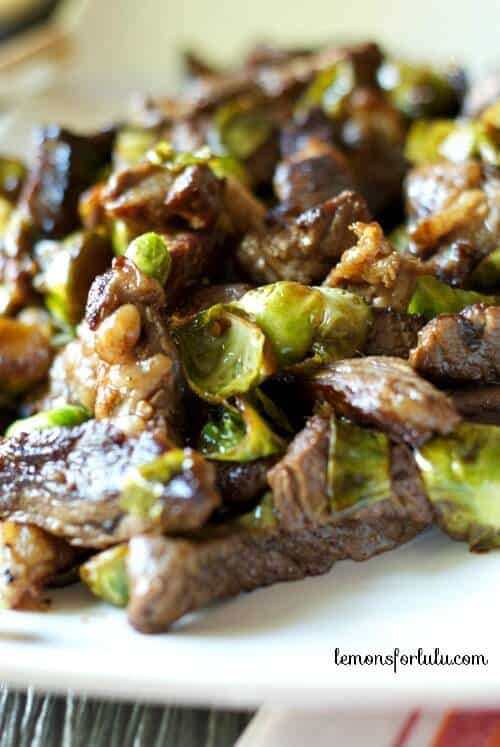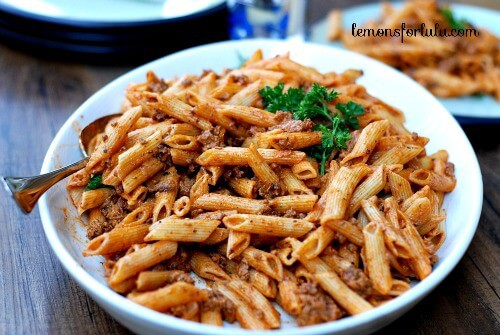 NEVER MISS A RECIPE!  SUBSCRIBE TO MY EMAIL TODAY!
FOLLOW ME:
FACEBOOK | RSS | TWITTER | GOOGLE + | BLOGLOVIN | INSTAGRAM
Soba Noodles with Spicy Cumin Pork
Ingredients
7

ounces uncooked Soba noodles

1/2

cup chicken broth

2

tablespoon rice wine vinegar

4 1/2

teaspoons Hoisin sauce

1/4

teaspoon five-spice powder

1

teaspoon garlic

8

ounces ground pork (or lamb)

1

tablespoon dark sesame oil

1

teaspoon cumin seeds

3/8

teaspoon crushed red pepper

1 1/2

cup broccoli florets

1

cup snow peas trimmed

1/2

cup thinly sliced red bell pepper

9

baby carrots, halved lengthwise
Instructions
Cook noodles according to package directions. Drain, rinse and drain again.
Combine chicken broth through garlic in a small bowl and whisk.
Heal a large skillet over medium high heat. Add ground pork and cook for 2 -3 minutes or until browned. Remove pork and set aside.
Return pan to medium high heat and add oil, swirling to coat. Add cumin and red pepper and cooking for about 30 seconds or until seeds begin to pop. Add vegetables to pan stirring frequently. Cook for about 5 minutes. Return pork to pan along with broth mixture. Cook for 1 minute or until liquid has reduced. Serve over noodles.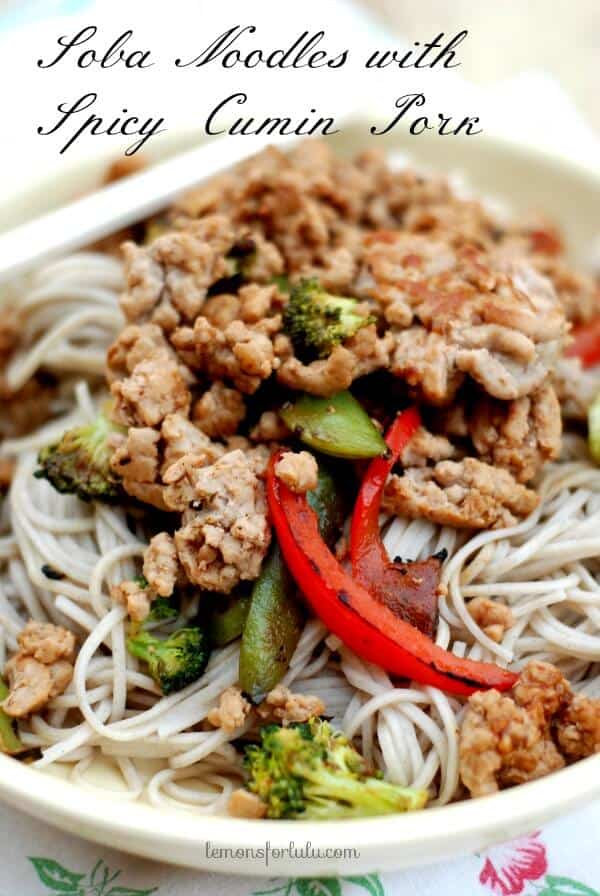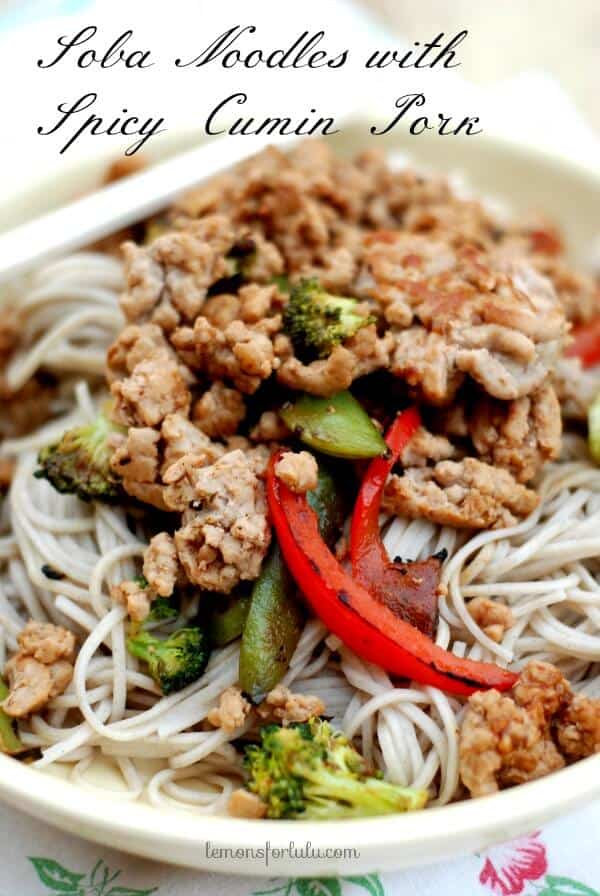 SEE THIS ON MY PINTEREST BOARD!
I may be sharing this with these parties and with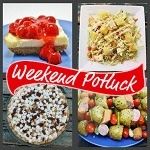 Help me out! Take this survey and come back here to comment that you took it. One commenter will be entered to win a $100 VISA gift card! Giveaway ends 8/24/201. http://bit.ly/1DaTWGd.