A soft chocolate donut dipped in a simple glaze then frosted with chocolate frosting! Mini marshmallows and graham cracker crumbs make them complete!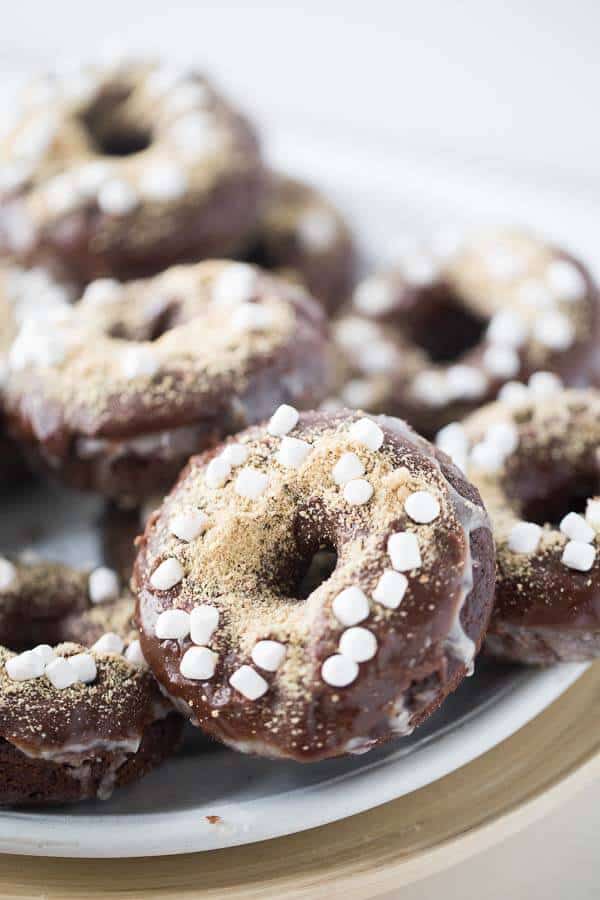 Alas, I have another s'mores donut for you.  This one is much more decadent.  You may remember my Donut S'More Sandwich.  You know, the glazed donut embracing sweet milk chocolate and gooey marshmallows????  Well, this one is better!
Today is National S'Mores Day.  Don't know who decides these things.  Is there a committee?  Or was this one left up to the Girl Scouts??  Guess I don't care.  Why not celebrate the s'more!  It's about as American as apple pie, coney dogs, and funnel cakes!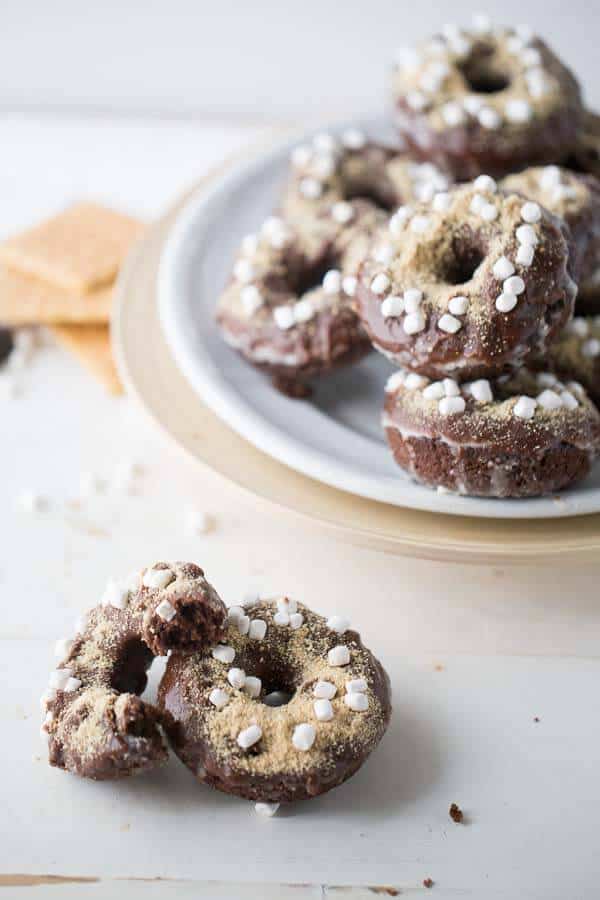 I like this donut.  It's moist and big on chocolate.  It tastes like cake and boy do I like cake.  I dipped  my s'mores donut in a sugary glaze first, just to make it feel safe.  Then I dunked it in the richest chocolate glaze….ever.  Of course, it wouldn't be a s'mores donut without a few more key ingredients.  Bring on the graham cracker crumbs and marshmallow bits!!  Ta da!  Now you have s'mores donut!!
I hope you  enjoy this "holiday".  For many of us, s'mores are a bit of nostalgia, a reminder of our youth.   For me, they represent times with my kids.  The summer nights we spent by the campfire, watching fireflies, telling ghost stories and roasting marshmallows for s'mores.   With this little gem of a donut, we can declare it s'mores day any day we want!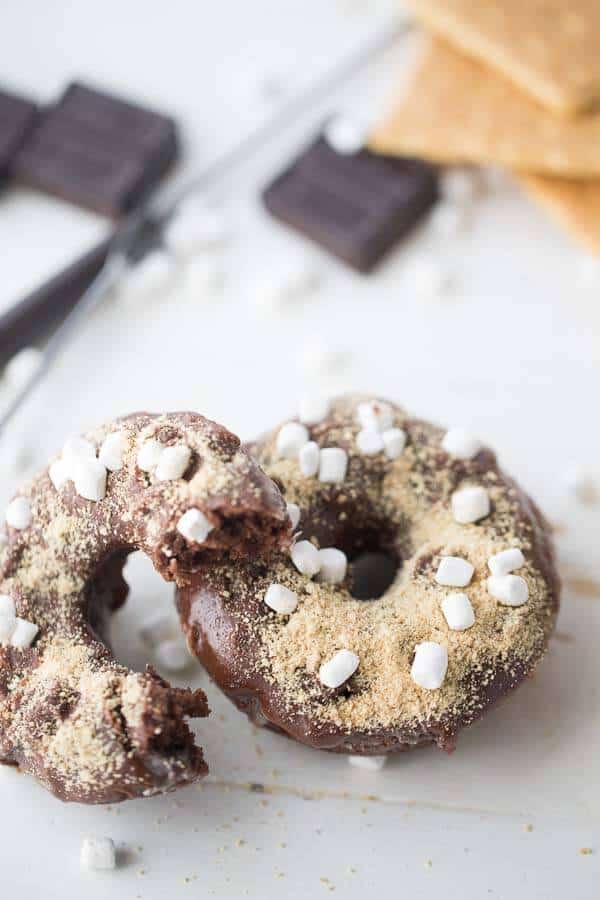 If you've enjoyed this post, please consider following via email, RSS or Facebook.  I love keeping in touch with friends!
Here other s'more treats you may like:
S'mores Bars                                         Sugar Cooking
S'mores Candy Bar                              Not So Humble Pie
Ultimate S'mores Bar                         Fat Girl Trapped in a Skinny Body

12
adjust servings
All the flavors of your favorite treat in a chocolate donut!
Ingredients
Donut

1 1/2

cup flour

1/2

cup cocoa

1/2

cup sugar

1

T baking powder

1

egg

3/4

cup buttermilk

1/4

cup vegetable oil

1

t vanilla

1

cup graham crackers crumbled

1

cup marshmallow bits

Glaze

2

cups powdered sugar

2

t vanilla

4

T milk

Chocolate Glaze

1/2

cup butter

1/4

milk

1

T corn syrup

2

t vanilla

4

oz chocolate, chopped

2

cups powdered sugar
Instructions
For the donuts, combine dry ingredients in a large bowl. Add in egg, buttermilk, oil and vanilla. Mix well. I did this by hand and the consistency was perfect. Fill donut cavities about 3/4 full. Bake in a preheated 320 oven for 11 minutes. When done, remove from oven and let cool in pan for 5-7 minutes.
When donuts are slightly warm, quickly dip in the first glaze and rest on a baking sheet until the glaze is set.
When ready, dip donut tops in the chocolate glaze. Immediately sprinkle on the toppings.
To prepare the white glaze:
Mix all ingredients in a bowl. You want it to be somewhat thin as this is just the first glaze.
For the chocolate glaze:
In a medium saucepan, combine butter, milk, corn syrup and vanilla stirring until butter has melted. Add in chopped chocolate stirring with a whisk. When chocolate has melted and mixture is smooth, remove from heat and whisk in powdered sugar. Dip donuts while icing is warm.
Store donuts in a single layer in a covered container. Donuts are best when consumed with in a day or two.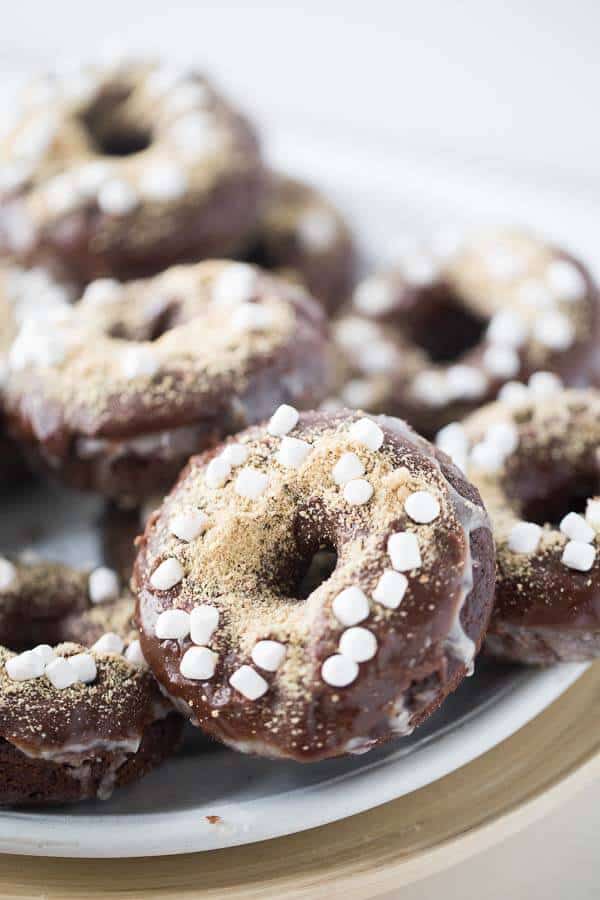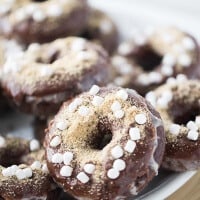 Donuts adapted from Babycakes
Chocolate Glaze adapted from Alton Brown-Food Network