Shrimp is baked with pasta in a lusciously creamy cheese sauce!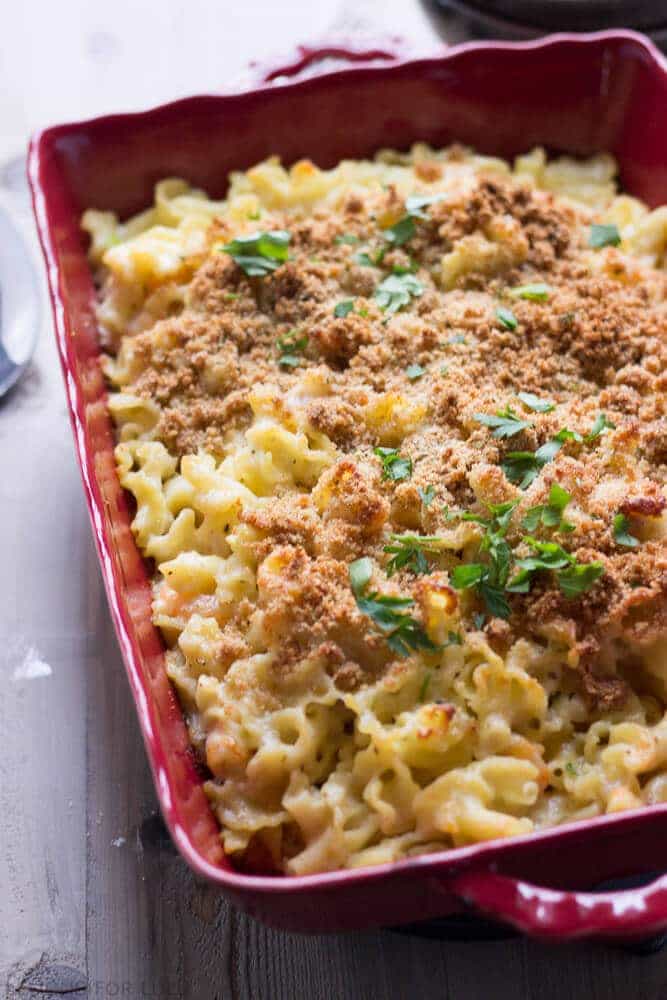 Our family's Christmas meal is centered around the meat.  Lamb is our traditional roast, and boy is it delicious.  It's cooked with lots of garlic, olive oil and a hint of lemon.  My mom is the master when it comes to lamb, so each year, it's her contribution.  My sisters and I are left to orchestrate the rest of the meal.
Pasta is my favorite kind of side dish.  I love pasta dishes like this crab and bacon mac and cheese or even this buttermilk ranch mac and cheese.   The common thread is all the cheese.  I love a good cheesy pasta.  I've been wanting to serve up this shrimp and pasta bake for years.  Each time I suggest it to my sister's however, they quickly dismiss my idea.  Their standard answer is they don't want anything too filling; we have enough food as it is.  Usually I politely agree and settle upon making a Brussel's sprouts salad.  This year will be different.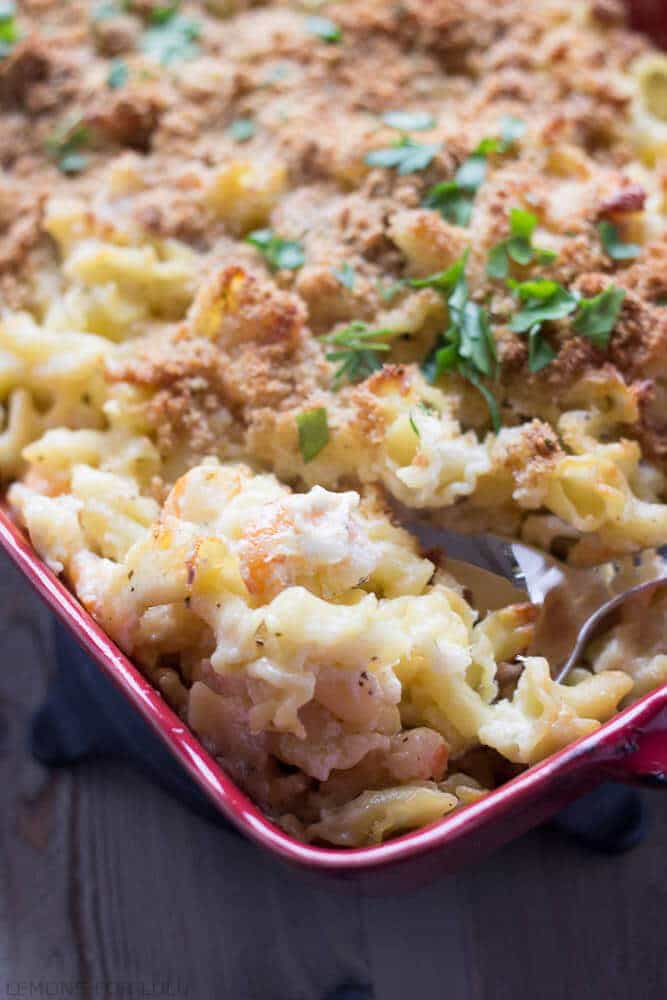 This year I WILL be serving this seafood and pasta bake and the whole family will like it!  Really, how could they NOT like this pasta? With the creamy gouda and smooth mascarpone cheese, this pasta is perfectly scrumptious.  While I can certainly see how the succulent shrimp would make this pasta bake a meal, I find the shrimp makes this pasta the perfect side dish for a special meal, just like Christmas.
While the mild gouda works nicely with the soft mascarpone cheese, you could make substitutions as you see fit.  Cream cheese will work in place of the mascarpone, but there may be a bit of an aftertaste.  Munster or Monterey jack cheeses would be fine in place of gouda.  I used uncooked shrimp for this pasta bake, however if you wanted to  use pre-cooked shrimp, add your shrimp just before baking.
I'll serve this shrimp and pasta bake to my family, you serve it to yours and we can we can both sit back and bask it all the smiles and compliments!

8
adjust servings
A rich and creamy shrimp baked pasta
Ingredients
1

teaspoon butter

1

lb uncooked shrimp

1

teaspoon dried basil

4

tablespoons butter

4

tablespoons flour

2

cups milk

8

oz mascarpone cheese

2

cups shredded Gouda

1/4

teaspoon pepper

1/2

teaspoon salt

1

lb cavatappi pasta

2

tablespoons butter, melted

1

cup Panko breadcrumbs

2

tablespoons Parmesan cheese
Instructions
Prepare pasta according to package directions, seasoning pasta with salt.
In a large skillet, heat 1 teaspoon of butter. Add shrimp. Season with salt, pepper, and basil. Cook for 3-4 minutes or until shrimp are light pink. Remove from heat and set aside.
In a large saucepan, melt 4 tablespoons of butter. Add flour with a whisk and cook for one minute. Slowly add milk, whisking until smooth. Let milk come to a slow bubble, then add mascarpone cheese and stir until melted and mixture is creamy and smooth. Add shredded cheese and continue to stir.
In a small bowl, combine breadcrumbs and Parmesan cheese. Add butter and toss with a fork to combine.
When pasta is ready, drain and add to cheese mixture. Stir in shrimp. Pour mixture into a greased 9 x 13 baking dish. Sprinkle breadcrumbs over pasta. Bake in a 375 degree oven for 25 minutes or until bubbly.