Sauerkraut crowns a hot, sliced brat for a burger that is out of this world!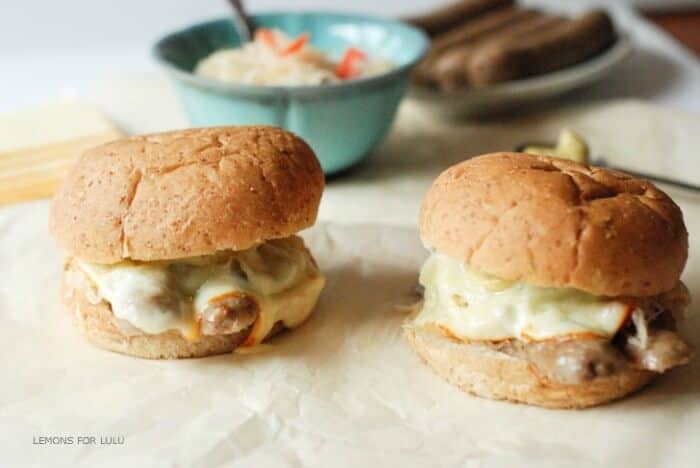 My mom is a health nut (emphasis on nut).  She loves her herbal and homeopathic remedies.  There is nothing wrong with those things, I just don't live by them.  My mom drags my dad to her favorite natural food store each week to seek out the latest and greatest herbal supplement that will prevent high cholesterol, high blood pressure, arthritis, dementia, bad moods, constipation etc.  Then she promptly comes to tell me why I should be stocking up on the same pills.
There was a period of time my mom was rubbing coconut oil in her hair.  She thought if it works for the women of India it should work for her.  It did not work for her, it just made her smell like Mounds Bars.  Then there was the time she started sprinkling turmeric on all her foods because she thought it prevented some sort of ailment.  Turmeric is used in curry and will turn your food yellow.  Nothing like seeing a yellow bowl of turmeric smelling oatmeal.  Thankfully she got tired of eating turmeric.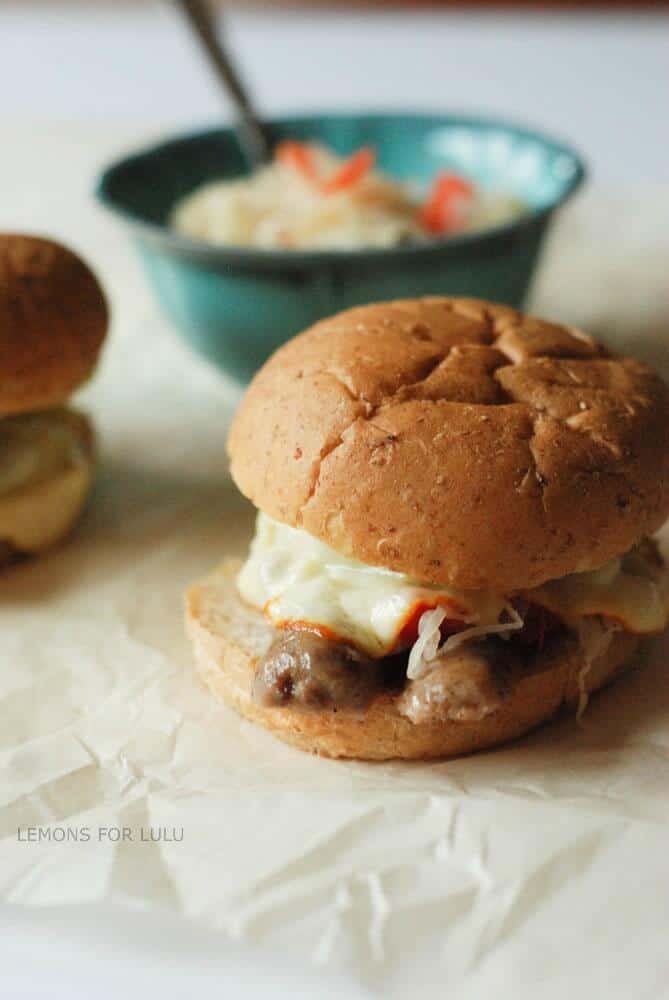 My mom has always sworn by sauerkraut.  She has always believed it will cure whatever ails you.  She would tell stories of people from the old country who ate nothing but barrels of sauerkraut each day and lived to be 105 with no health problems, fabulous eyesight and impeccable hearing.  Her best day was when she found an article on the health benefits of sauerkraut.  She felt vindicated.  She made all us daughters read the article to her aloud.  She made copies of the article and then told us exactly how to prepare sauerkraut.  As you can imagine, there was a significant amount of eye rolling by us daughters.
I personally  love sauerkraut.  But it's one of those "you either love it or hate it" types of foods.  I won't eat bowls full or anything like that but I do love a piping hot brat piled high with kraut.  Something about the hot salty brat and the cool vinegary kraut that makes my mouth water.  I  usually indulge in this meal at baseball games (in other words about twice a year).  I don't make this at home as my family is definitely in the "hate it" camp.  They do love brats however.  So I made everyone brat burgers.  I sliced brats in half topped with mustard for the kids.  For me, I also topped mine with a mixture of sauerkraut and giardinara for some heat and flavor. The result was a pretty darn good sammie if I do say so myself.  While I'm not going to start eating my oatmeal with turmeric infused sauerkraut or anything like that, I may eat this brat burger on a weekly basis.  Simply because it tasted darn good.
Want more sammies?  Check out all my recipes on Food Fanatic!