Samoa Popcorn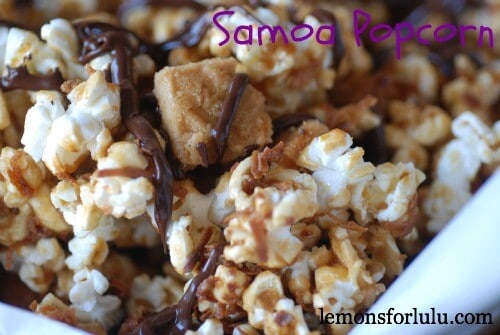 When I say Girl Scout Cookies, what comes to mind??? I'll tell you what comes to MY mind. SAMOAS!!!! The world's best cookie if you ask me! This is one of the many reasons I love February. Yes, my son celebrates his birthday and of course there's Valentine's Day and Groundhog's Day (ok, ok, I'm reaching with that one)! Another great thing about February is it's a short month and we usually have off on Presidents's Day. All wonderful things in their own right. But February is also the month we get our Girl Scout cookies!!!!
Christmas cookies are a distant memory at this point, so those colorful little boxes couldn't arrive at a more opportune time! We are ready to eat!!! My only complaint with Girl Scout Cookies, is the size of the packaging. I mean really, the number of Samoa's in that purple box just isn't going to feed this family of 5!!! Inevitably, someone gets short-changed. This time it was me. Honestly, by the time it took me to pay for our cookies, our entire box of Samoa's was gone! As in devoured, eaten, shoveled, disappeared. I stood there with my mouth agape as my family sat there licking their lips with crumbs circling them and coconut falling from their chins! Animals.
Did I get mad? No, I got even. I made a huge batch of this popcorn that tasted every bit like a Samoa Girl Scout Cookie. I made it all for myself. I added sticky sweet caramel to my popped corn. That alone would've been divine. But to get it to taste like my favorite cookie I added toasted coconut and chopped shortbread cookies! But it wouldn't be a Samoa without the chocolate would it? So after it came out of the oven, I channeled my inner Jackson Pollack and drizzled chocolate all over the whole heaping pile! Ha! Who had coconut all over their face now??? Me and I didn't even wipe it off.
This popcorn was not saturated in caramel, so it stayed a bit airy – not chewy. The toasted coconut is subtle but adds some extra crunch while the shortbread cookies softened. This really does make a huge batch, so you may want to cut the recipe in half unless, like me, you and everyone around is obsessed with anything Samoa!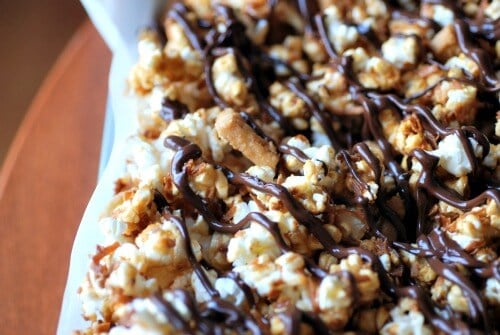 You might enjoy these too: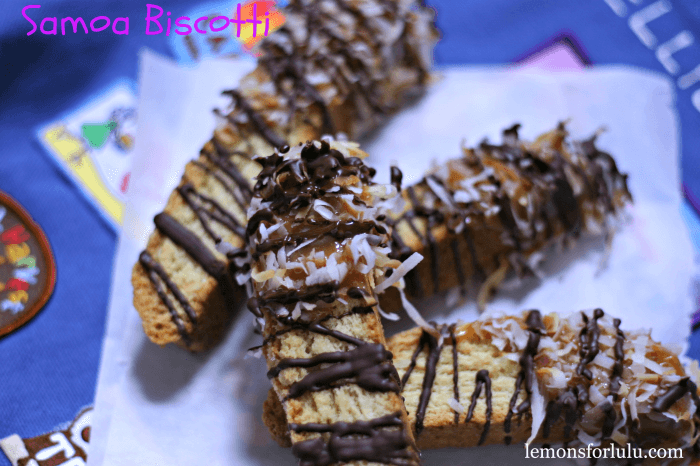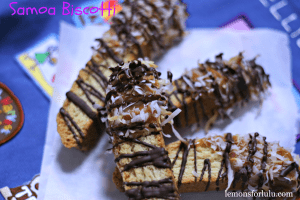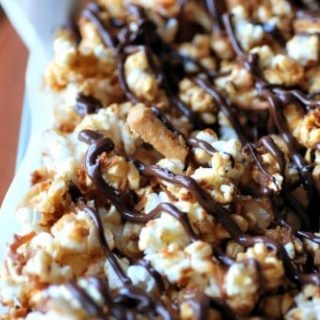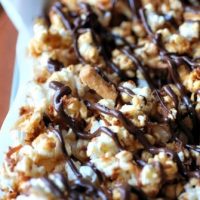 Samoa Popcorn
Additional Time:
25 minutes
Total Time:
1 hour
40 minutes
This really does make a huge batch, so you may want to cut the recipe in half unless, like me, you and everyone around is obsessed with anything Samoa!
Ingredients
15 cups popped corn (3 microwave packages)
1 cup butter
2 cups brown sugar
1 teaspoon salt
1/2 cup corn syrup
1/2 teaspoon baking soda
1 teaspoon vanilla
1 cup toasted coconut (see note)
24 shortbread cookies chopped (Lorna Doone)
1 cup chocolate chips
Instructions
Microwave popcorn according to package directions. Pour popcorn into a large bowl, but remove all up popped kernels. To popcorn add toasted coconut and chopped cookies.
In a saucepan, melt butter butter over medium heat. Add brown sugar, corn syrup and salt. Bring to a slow boil, stirring constantly. Boil 4 minutes without stirring, while mixture bubbles. Remove from heat and stir in baking soda and vanilla. Drizzle caramel over popcorn stirring to coat.
Pour popcorn mixture onto a large baking dish or two baking sheets. Bake popcorn in a 250 degree oven for 1 hour. Stir popcorn every 15 minutes. In a microwave safe bowl, melt chocolate in 30 second intervals stirring until melted. Drizzle over entire batch of popcorn. Let popcorn cool completely before breaking apart.
Store in an airtight container.
To toast coconut:
Spread coconut in an even layer on a baking sheet. Bake in a 300 degree oven for 20 minutes, stirring every 5 minutes to prevent coconut from burning.
Nutrition Information
Yield

15
Serving Size

1 cup
Amount Per Serving
Calories

556
Total Fat

25g
Saturated Fat

13g
Trans Fat

1g
Unsaturated Fat

9g
Cholesterol

33mg
Sodium

380mg
Carbohydrates

86g
Fiber

5g
Sugar

52g
Protein

7g