I was never a Girl Scout.  I tried something called Blue Birds.  I lasted one meeting.  That's how long it took for me to realize I suck at crafts!
My daughter was a Daisy for two years.  I wanted to experience this with her so I opted to be a co-leader.  Lets just say it was a learning experience for both of us.
This is what I learned from my time with the daisy troop:
I'm still no good at crafts.  I like the idea, I just can't execute them.
I don't like selling cookies.  I only like eating them.
Service projects were wonderful for the girls.  It was good for them to donate their hard-earned cookie money to local animal shelters.  It was rewarding for them to hand out home-made Christmas ornaments at senior centers.   Learning to give time, money and energy is a valuable lesson.
The most important lesson  I learned is that  I don't want to camp in a cabin, on rusty cots, in the woods with a bunch of young girls.  That is where I draw the line on the whole Girl Scout experience!!!  No thank you!!!!
I know Girl Scouts is more than cookies, but for me it was really all about the Samoas!  The best cookie flavor!!!
There are so many Samoa recipes.  You just can't go wrong  with coconut, caramel and chocolate.  I love biscotti, especially to give as gifts at Christmas.  I promise if you give these as gifts, you'll have a friend for life!  The vanilla biscotti has just the right amount of sweetness, and all the crunch you expect from a biscotti.  Perfect for dipping in coffee!  The real sweetness comes from the smooth, creamy caramel.  Once the biscotti gets bathed in caramel,  they immediately get dunked and rolled in toasted coconut.  A little drizzle of chocolate rounds out the flavors.  These are so good, I may just end up giving them to myself as a gift.
I'm sorry little Girl Scouts.  I no longer have a need for your little purple box of Samoas.  I have these Samoa Biscotti to keep me happy now!
You might enjoy these too:
Milk Dud Nutella Cookies                                          Lemons for Lulu
White Chocolate Cookies with Toasted Coconut   Lemons for Lulu
Homemade Samoas                                                     Spabettie
If you'd like a little Lulu in your life each day, please subscribe via email,RSS, Facebook or Pinterest.  I love staying connected to friends!

20
adjust servings
The adult version of your favorite Girl Scout cookie!
Ingredients
6

T butter

2/3

cup sugar

1/2

t salt

2

t vanilla

1/4

t almond extract

1 1/2

t baking powder

2

eggs

2

cup flour

2

cups coconut, toasted

1

package caramel, unwrapped (14oz)

3

T heavy cream

1

cup chocolate morsels
Instructions
Preheat oven to 350. Line a baking sheet with parchment paper. In a medium bowl, beat butter, sugar, salt and both extracts until creamy. Add baking powder. Beat in both eggs. Set your mixer to low and carefully add flour to dough and continue to mix until well incorporated. Batter will be sticky. Move dough to prepared baking sheet. Shape into a large log, straighten the sides and flatten the top. Bake in oven for 25 minutes. Remove and lightly spray biscotti with water to make cutting easier. Reduce oven temperature to 325. Let dough sit on pan for 5 minutes. Using a serrated knife, cut biscotti crosswise into 1/2" to 3/4" slices. Set the biscotti on edge and return baking sheet to the oven. Bake an additional 25-30 minutes until biscotti start to turn golden. Remove from oven and let cool on a baking rack.
In a saucepan combine caramel and heavy cream over low heat. Stir until completely melted. Remove from heat.
Spread toasted coconut in a shallow dish. Dip biscotti in caramel and roll in toasted coconut until covered. Place on a wax paper covered baking sheet to set.
Microwave chocolate morsels. Drizzle over biscotti.
Store in an airtight container.
To toast coconut. Spread coconut on a baking sheet in an even layer. Bake on 325 for about 15 minutes, stirring every 5 minutes.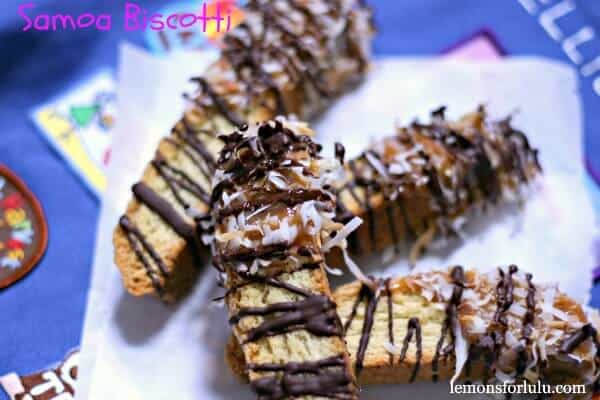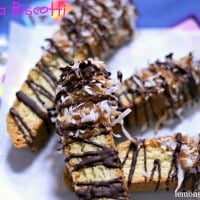 Biscotti recipe adapted from King Arthur
I'll be linking this recipe up to these fabulous sites as well as to:  Jam Hands,
The DIY Dreamer,
 and