Soft pumpkin cookies studded with chocolate chips and filled with a salted caramel center! Fall flavors to fall in love with!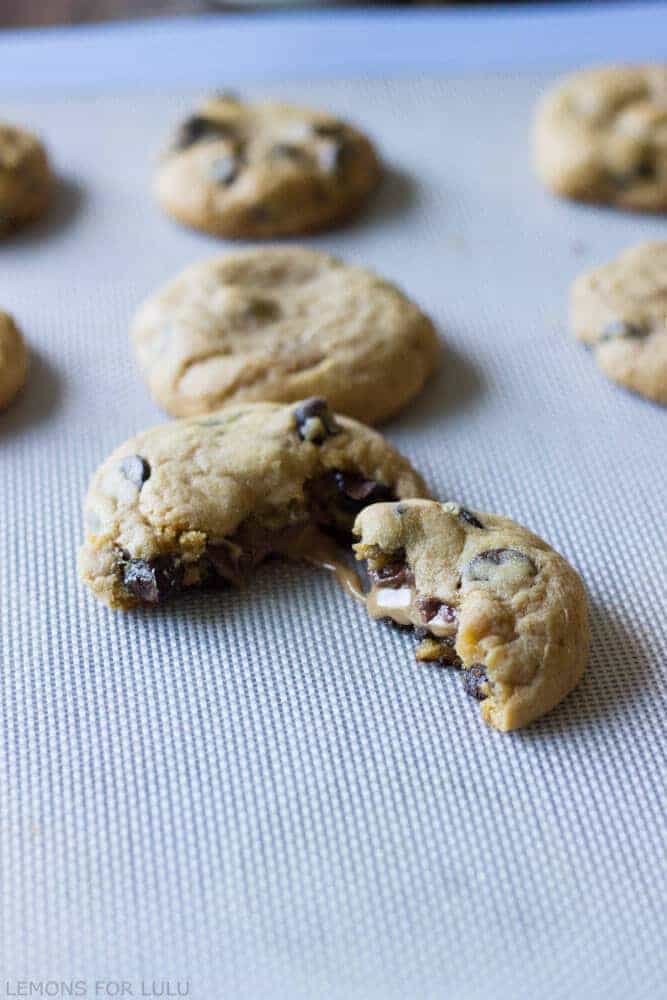 I spent last Sunday with Batman, a few Storm Troopers, Indiana Jones, Harry Potter, Charlie Chapman and a slew of unfamiliar comic book characters. Our convention center hosted a Comic Expo with a portion of the space dedicated to the world of Lego's. Let me be clear, I had no interest in Batman. Sure he looks good in his uniform and all but I'm a Lego kind of girl.
For the most part, the Lego area was separate from the Comic Expo. Occasionally a stray Spider Man would wonder in and out. It is safe to say that the Lego room was filled with normally dressed parents with normally dressed kids ogling the cleverly built landscapes built by the geniuses known as Master Builders. The one oddity in this "Lego Land" was the Comic persona known as "Rocky Doll". He was largely out-of-place, but one look at him and you knew he felt in his element. He had black and blue hair flowing like Medusa. He seemed to be 7 feet tall, partly because of his 4 inch heeled boots. I couldn't exactly see the heels however, they were covered up by his furry neon pink leg warmers. If that weren't eye catching enough, he had a slimming black mini dress which he wore with an enviable amount of confidence.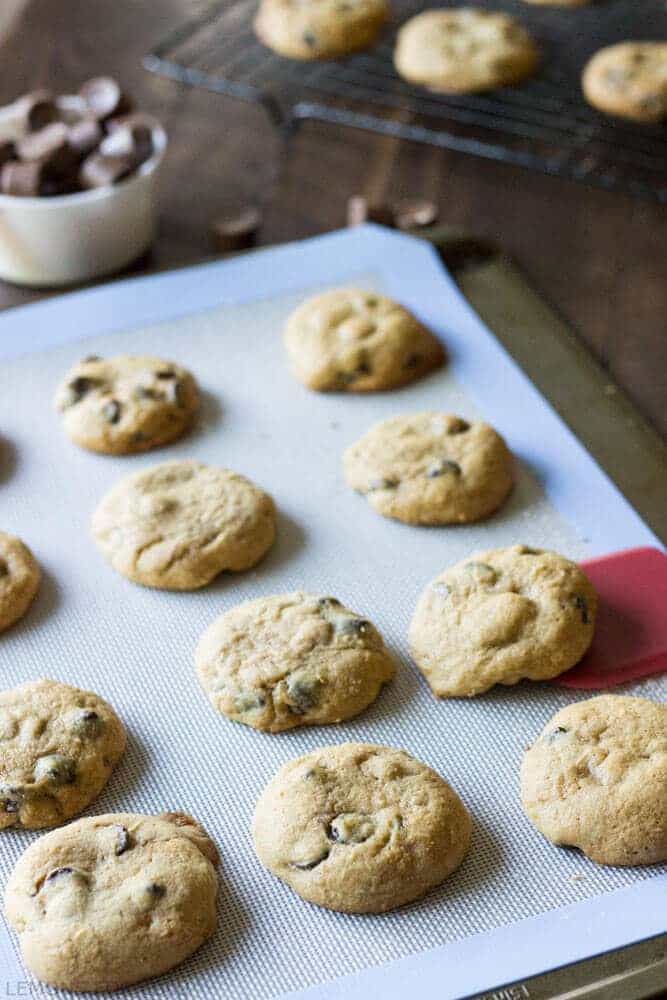 The kids stared at him for a solid minute then realized they were here to see Legos and moved on. I on the other hand couldn't stop staring at him. It wasn't so much what he was wearing, it was more about how he was wearing it. He strutted around with ease and grace. He was poised and self-assured. The truth is most of us don't carry that air of confidence in our skin let alone in neon pink leg warmers! Then it occurred to me, what is HE like in his own skin? Does dressing up like an alter ego give us confidence we don't have as our every day selves?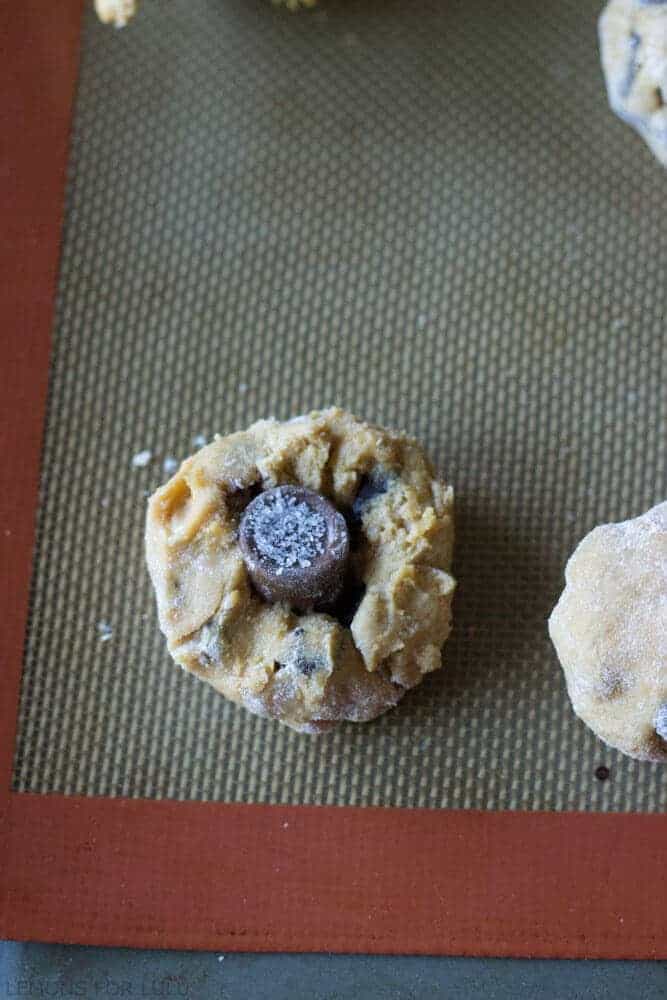 When I told my friend Heather at Sugar Dish Me where I was, she asked if I was dressed up too? I joked and told her I was dressed as a mom trying to contain her overly excited kids. But perhaps if I were dressed up the entire day would have been totally different. I would have walked and talked totally differently. I would have had swagger and charm and would have been enormously funny. My alter ego would bring out the suppressed version of myself…. who am I kidding? At the end of the day, I'd still be a mom trying to contain her overly excited kids.
I should have dressed up as a baker. Sure, that's not really a comic book character, but definitely my alter ego. I recently baked up a batch of these chocolate chip pumpkin cookies and let me tell you they were epic. They were soft and tender with loads of chocolate chips. The centers of these pumpkin cookies are filled with caramel candies and a pinch of sea salt. When you bite into the cookie you taste the pumpkin, the chocolate, the caramel and a little saltiness which totally takes the edge off the abundant sweetness.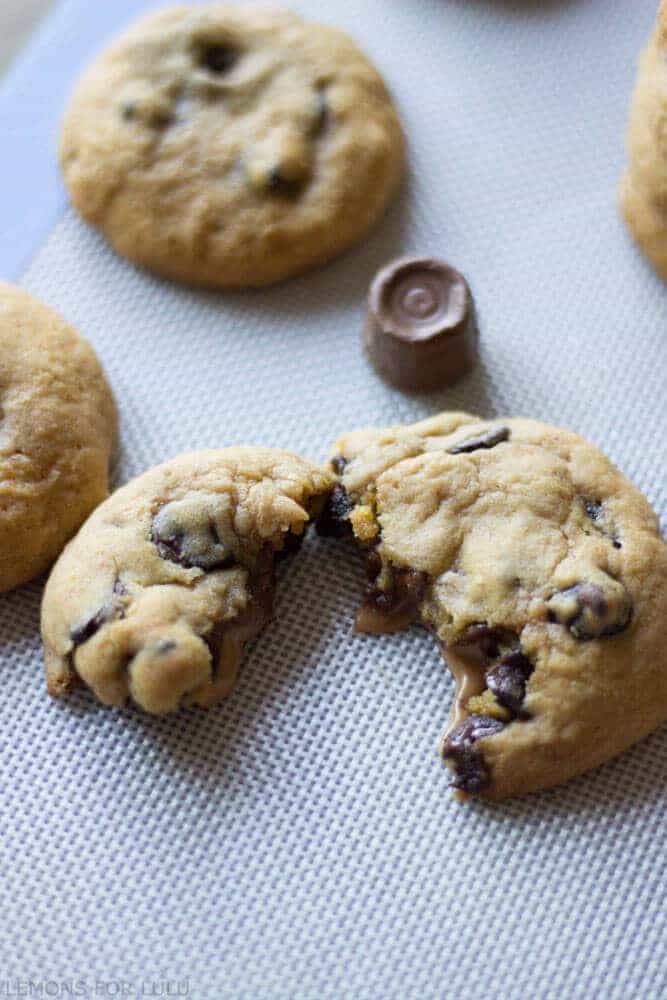 A few notes: you must refrigerate the batter. Several hours is good, but a whole day (or two) is better! The dough is very sticky. Definitely keep flour on your hands!
I used a large cookie scoop and rolled the dough in my floured hands. I inserted the candy and sprinkled just a tiny amount of salt. This would be a great job for your kids to do! Kids are great at rolling dough!
When the cookies come out of the oven, let them rest on the hot cookie sheet for a minute or two. They will be too soft to remove to racks.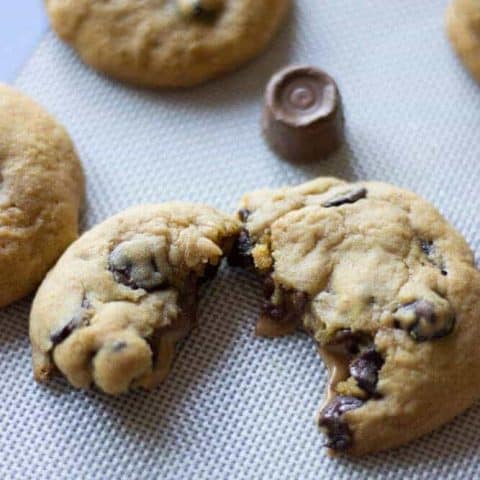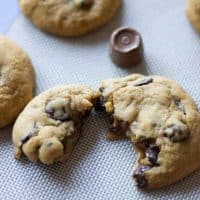 Salted Caramel Pumpkin Cookies
Total Time:
2 hours
15 minutes
Soft pumpkin cookies studded with chocolate chips and filled with a salted caramel center! Fall flavors to fall in love with!
Ingredients
3 cups flour
1 1/2 teaspoons baking soda
3/4 teaspoon pumpkin pie spice
1/2 teaspoon salt
1 cup butter, softened
3/4 cup granulated sugar
1 1/4 cup brown sugar
2 eggs
2 teaspoons vanilla
1 cup canned pumpkin
1 12 oz package semi sweet chocolate chips
48 Rolo candies, unwrapped
sea salt
Instructions
In a small bowl, combine flour, baking soda, pumpkin pie spice and salt. Set aside.
In a large bowl, cream together butter and sugars. Beat until creamy. Mix in eggs one at a time, beating well after each addition. Stir in vanilla and pumpkin until combined. Slowly beat in flour until fully incorporated. Stir in chocolate chips.
Refrigerate dough for 1-2 hours, 24 hours is better.
Preheat oven to 350. Scoop a tablespoon of dough, place one Rolo candy in the center of the dough, top candy with a pinch of sea salt and seal dough over chocolate and roll into a ball. You may need flour for you hands as the dough will be sticky.
Place cookies on a lined baking sheet and bake for 12- 14 minutes. Let cool on baking sheet for 1 minute before removing to a cooling rack.
Nutrition Information
Yield

48
Serving Size

1
Amount Per Serving
Calories

160
Total Fat

8g
Saturated Fat

5g
Trans Fat

0g
Unsaturated Fat

2g
Cholesterol

19mg
Sodium

121mg
Carbohydrates

23g
Fiber

1g
Sugar

16g
Protein

2g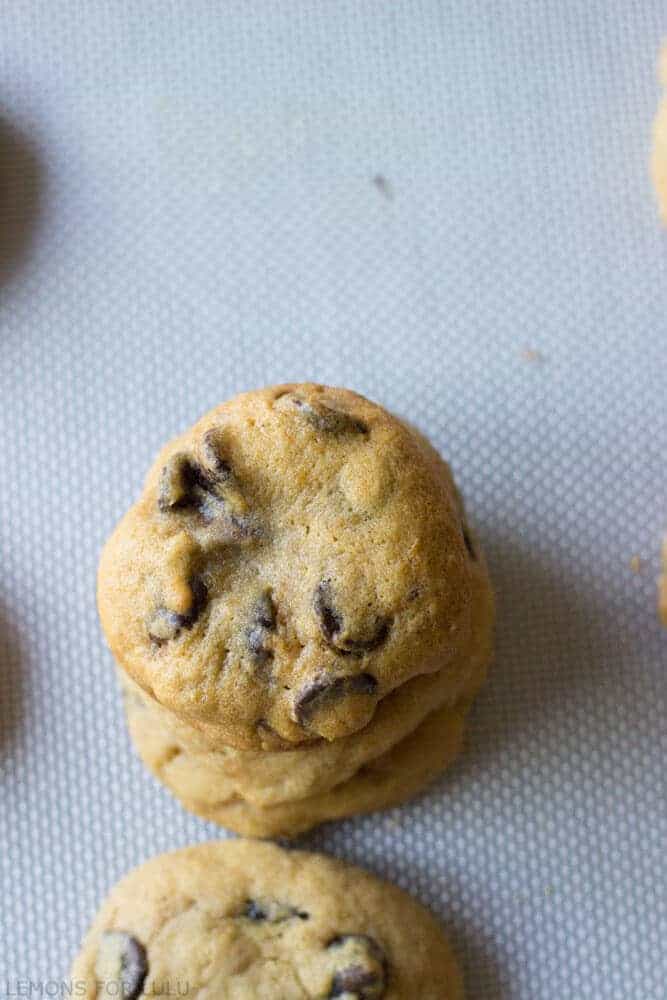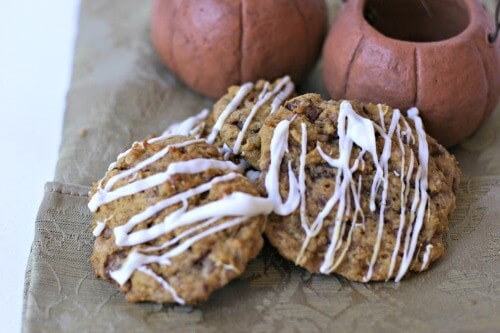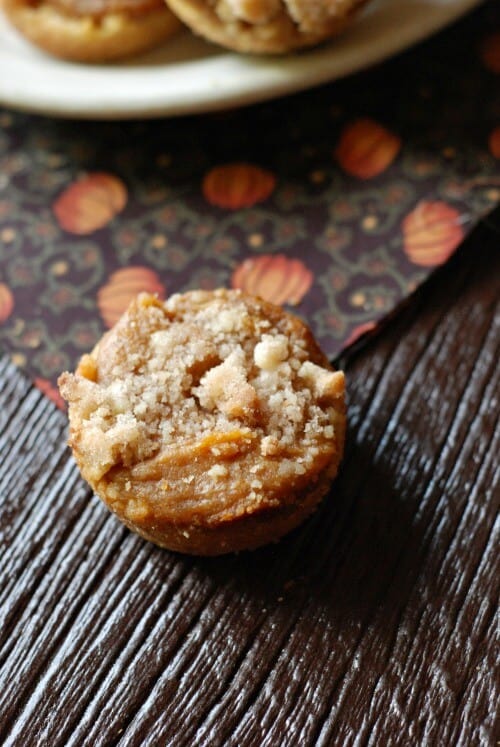 Click here for more caramel recipes
More pumpkin recipes:
Pumpkin Pie Thumbprints – The Weary Chef
Easy Pumpkin Spice Bars – Wine & Glue
Pumpkin Pound Cake with Buttermilk Glaze – Cookinglight.com