Fresh sage, sweet caramelized onions, and creamy gruyere cheese make this cheese dip an all-around crowd pleaser!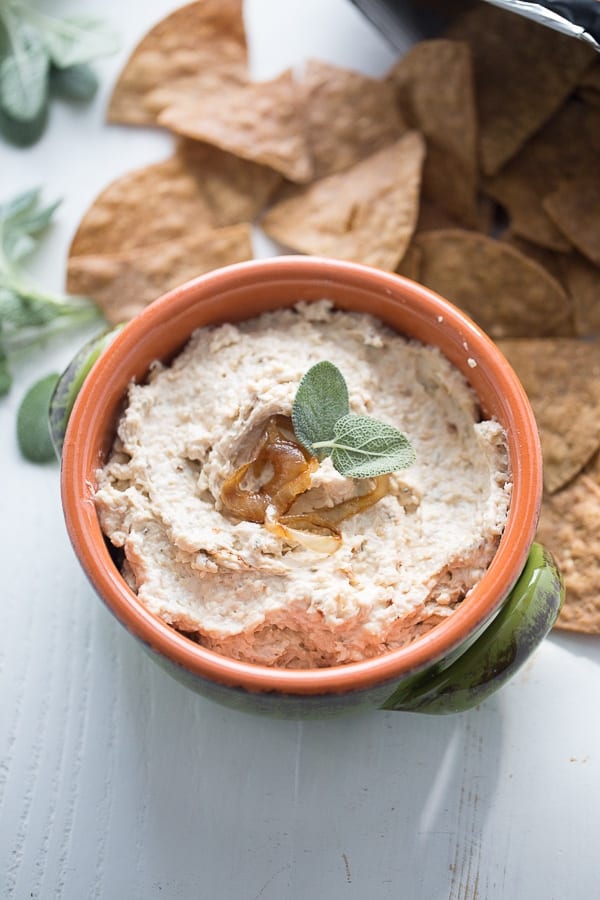 I was recently asked if I was going to a party, what dish would I bring. My favorite party dishes are hot, melty cheese dips. Dips like this Hot Bruschetta Dip or this Chipotle Black Bean Dip are my go-to party faves. There is something that is so irresistible about hot, gooey, melted cheese. I think it's a combination of warmth and comfort that keeps everyone going back for more.
While I love these hot dips, I don't want to be a "one trick pony". I like to change things up, you know, surprise everyone. This cheese dip I'm sharing with you is an excellent alternative to the typical hot cheese appetizer. It certainly has it's fair share of cheese between the cream cheese and the gruyere (let's face it, everything is better with cheese), but it also has tender and sweet caramelized onions and fresh sage.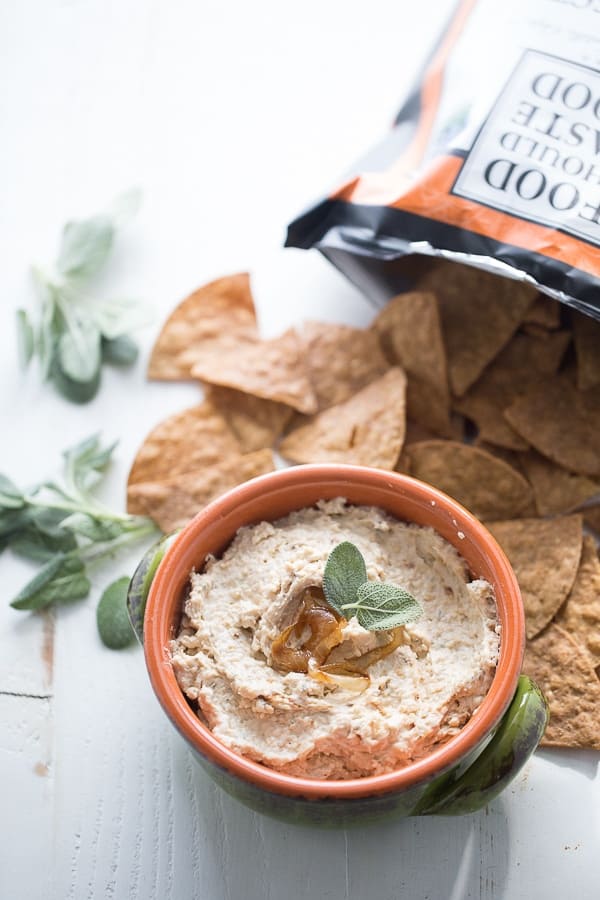 The sage adds an unexpected bite to this cheese dip while the cream cheese and the nutty GFruyere keep it creamy and rich. The caramelized onions add just a hint of sweetness. This simple cheese dip found a perfect partner in these Harvest Pumpkin Tortilla Chips. These crunchy pumpkin chips are dusted with a hint of nutmeg and cinnamon that compliment this dip in the most natural way.
I love Food Should Taste Good tortilla chips because they are Gluten Free, Non-GMO and Certified kosher. But I love them even more for their taste and when coupled with this cheese dip, they make a complete fall-flavored snack.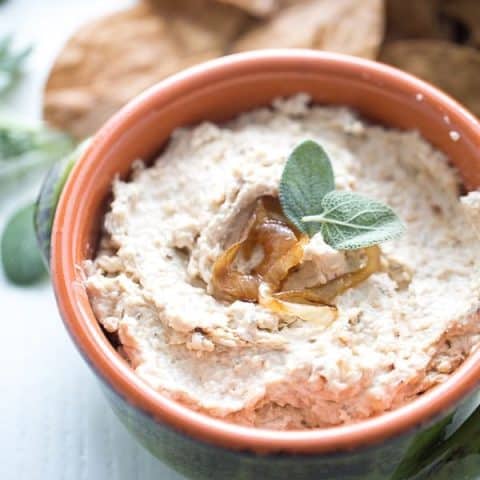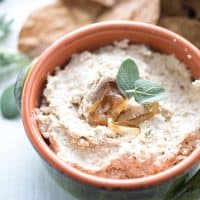 Sage, Caramelized Onion and Gruyere Cheese Dip
Yield: 16

Prep Time: 5 minutes

Cook Time: 15 minutes

Total Time: 20 minutes

Cream cheese, Gruyere, caramelized onions and fresh sage come together in one unbelievable dip!
Ingredients
1 teaspoon olive oil
1 large onion sliced into rings
1 8 oz block cream cheese softened
1 cup shredded Gruyere cheese
1/4 teaspoon salt
1 tablespoon chopped fresh sage
1 bag of Food Should Taste Good Harvest Pumpkin Tortilla Chips
Instructions
Heat one teaspoon of olive oil in a skillet over medium heat. Add sliced onions to skillet and reduce heat to medium-low. Cook onions until soft and caramel in color which should take about 12-15 minutes. Remove onions from heat and let them cool completely.
In a food processor, combine softened cream cheese, Gruyere, and salt. Pulse just until combined. Remove cheese to a serving bowl and stir in fresh sage just before serving.
Nutrition Information
Yield 16 Serving Size 1
Amount Per Serving Calories 96 Total Fat 8g Saturated Fat 5g Trans Fat 0g Unsaturated Fat 3g Cholesterol 24mg Sodium 140mg Carbohydrates 3g Fiber 0g Sugar 1g Protein 4g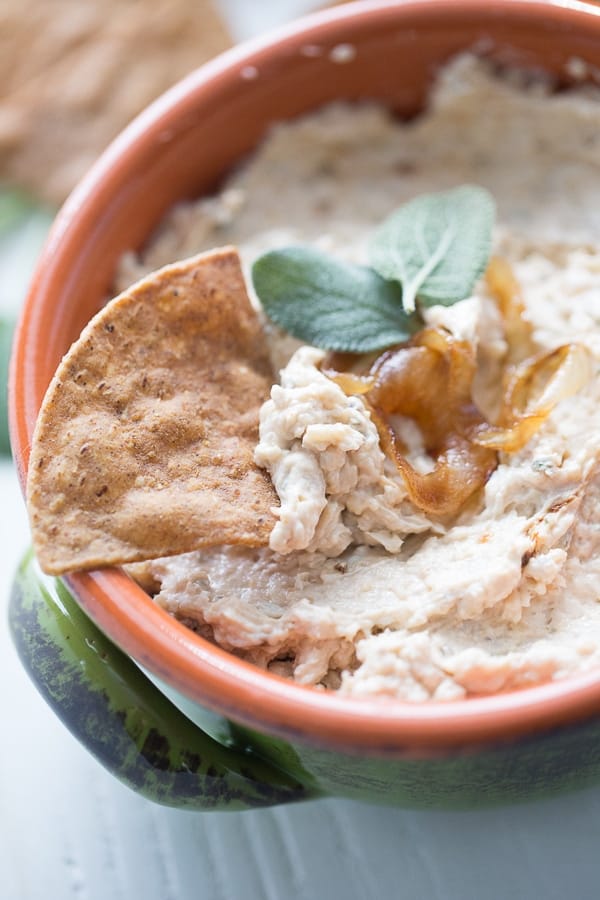 If you would like to learn more about Food Should Taste Good, including products and recipes visit them:
Facebook | Twitter | Instagram | Pinterest | Website
I created this post in partnership with Food Should Taste Good. Thanks for supporting the brands and companies that make it possible for me to provide quality content to you!