This baked garlic pasta is sure to be a crowd pleaser!  It's rich and creamy and will leave everyone reaching for seconds.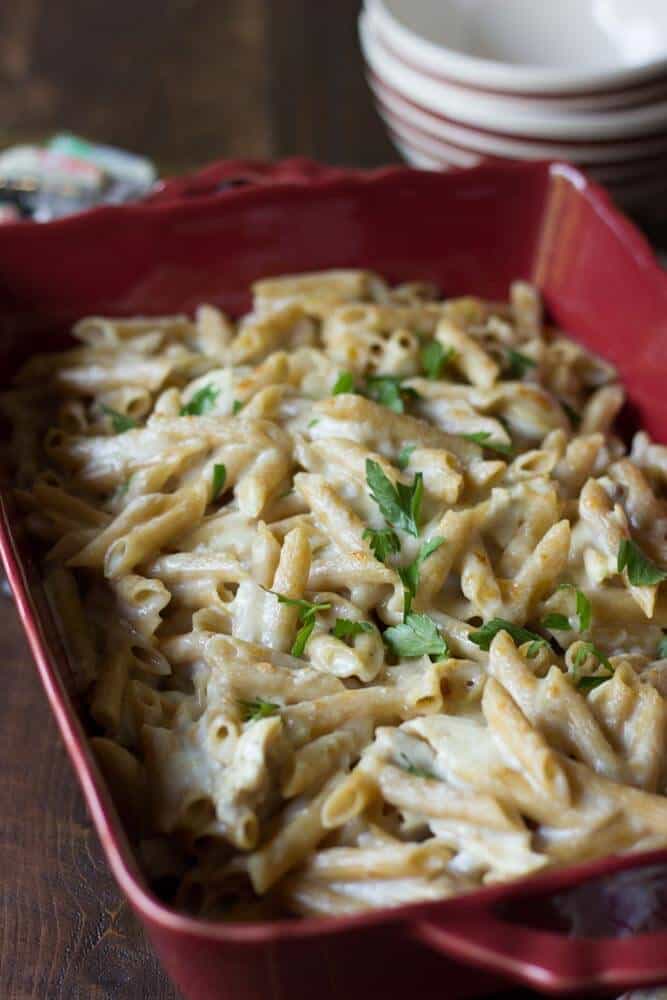 The best thing about this garlic pasta is that it's made with roasted garlic.  Roasted garlic is truly dreamy.  If you've never tried it, you will have to trust me.  After sitting in the oven, the garlic becomes soft and creamy with a super intense flavor.  Who needs butter for bread when you can smear on creamy roasted garlic instead.  Garlic is a powerful flavor that makes this pasta taste out of this world.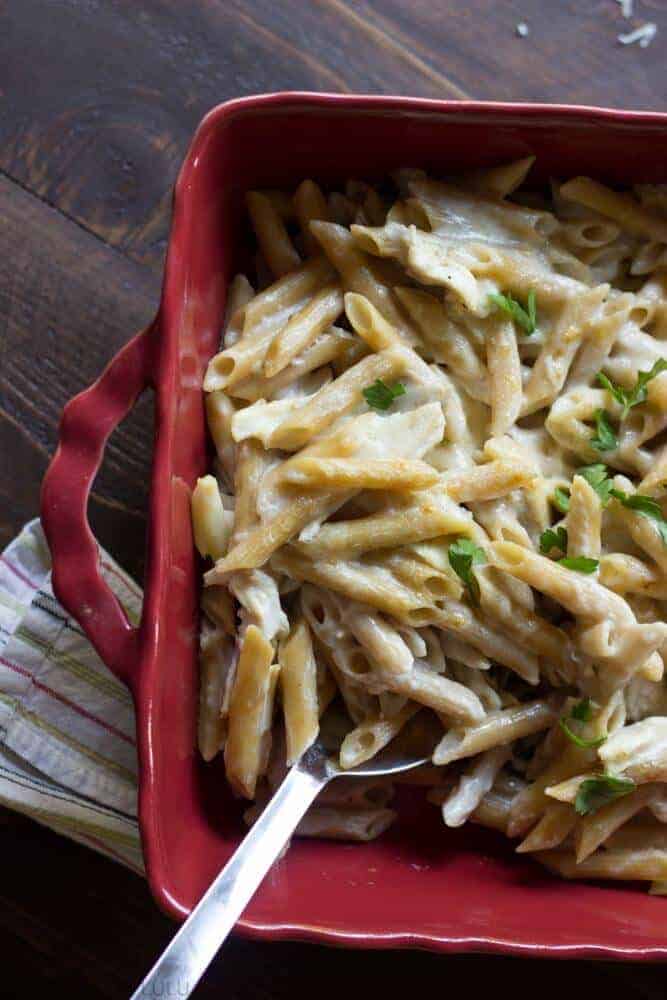 My dad used to eat whole cloves of raw garlic right before work.  That's pretty hard-core if you think about it.  Garlic has a way of lingering, you know what I mean?  Eat too much and the aroma emanates from your pores.  People start giving you a wide berth.  That's exactly what happened to my dad.  He was oblivious to the hints people around him were no doubt giving him.  He happily munched on his daily dose of garlic and went about his day.  Finally a coworker had the guts to approach my dad and kindly asked him to lay off the garlic for the sake of everyone in the office.  Thankfully my dad never appeared to take it personally.  Instead he resorted to eating garlic cooked into his meals like a normal person.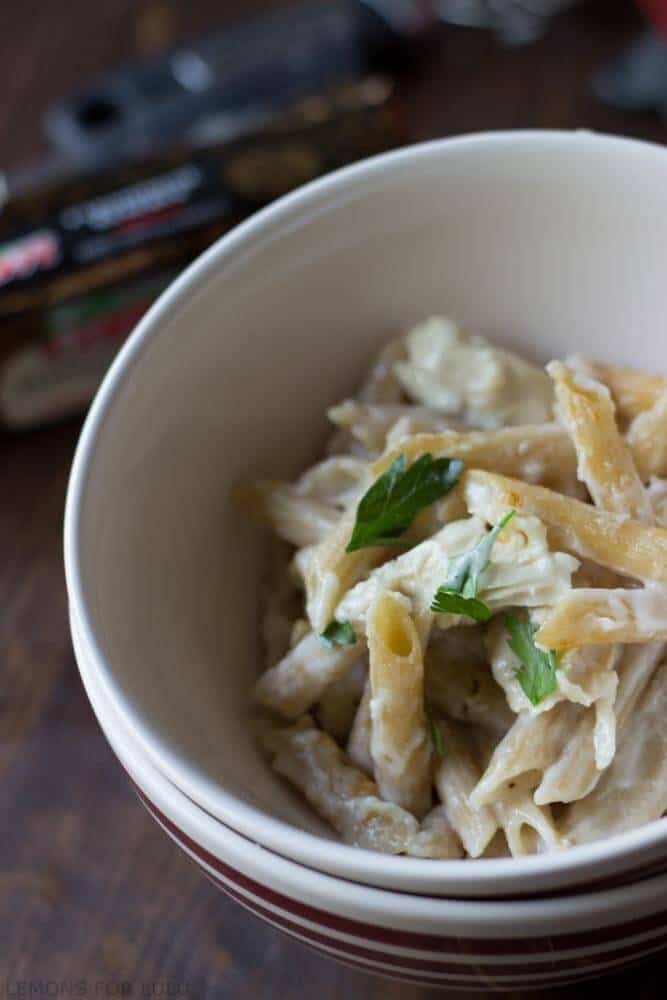 So, back to this pasta.  It does have lots of strong garlic flavor, just in case you were thinking of making this for a date night or something.  You've been warned, keep some mints handy.  I used a white cheddar in this pasta but a mild cheddar would work too.  I personally love the sharpness the white cheddar lends this garlic pasta.  The sauce itself is very creamy, in part because of all the cheese and partly because of the roasted garlic.  I added chicken to this pasta as well,  I wanted this to be more of a well-rounded dish.  This is perfect for leftover chicken, rotisserie chicken or even left over turkey (Thanksgiving IS just a few short weeks away).  The result is one aromatic, filling, cheesy, satisfying meal!
Roasted Garlic Pasta with Chicken
6
adjust servings
A creamy, cheesy, roasted garlic pasta thatâ??s as flavorful as it is delicious!
Ingredients
1

whole head of garlic

1

tablespoon olive oil

2

tablespoons water

1

lb penne pasta

3

cups milk

3

tablespoon flour

1

teaspoon salt

1/2

teaspoon pepper

3/4

cup cubed, cooked chicken

1

cup shredded white cheddar cheese

1/2

cup Monteray Jack cheese
Instructions
Preheat broiler to high.
Remove papery skin from garlic head. Place garlic in a microwave safe bowl. Pour olive oil over garlic and rub. Pour water into the bottom of the bowl. Cover with plastic wrap. Microwave on high for 4 minutes or until garlic is tender. Let cool.
Cook pasta according to package directions. Drain.
Combine milk and flour in a medium saucepan. Bring to a boil over medium heat, stirring constantly with a whisk. Cook until mixture begins to thicken, about 3 minutes. Remove from heat stir in salt, pepper and 1/4 cup cheese.
Seperate garlic cloves. Squeeze garlic pulp into a blender along with 2 cups of milk mixture. Process until smooth. Stir the garlic mixture into the remaining milk mixture. Combine sauce, pasta and cooked chicken. Pour pasta into a greased 11 x 7 baking dish. Top with remaining cheese. Broil pasta for 2-3 minutes or until the cheese begins to brown. Let stand 5 minutes before serving.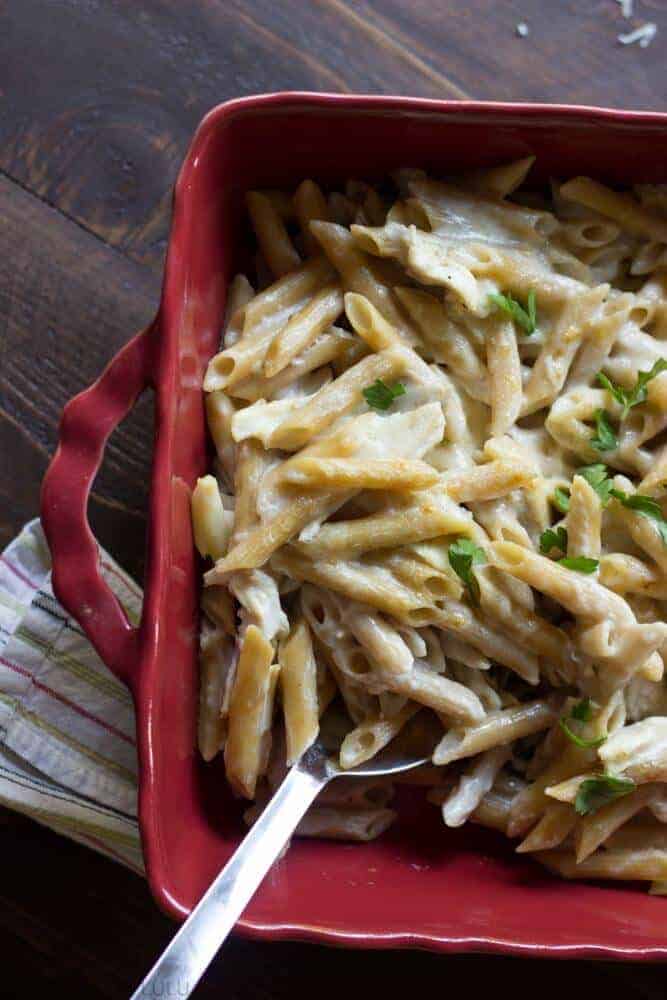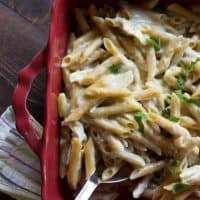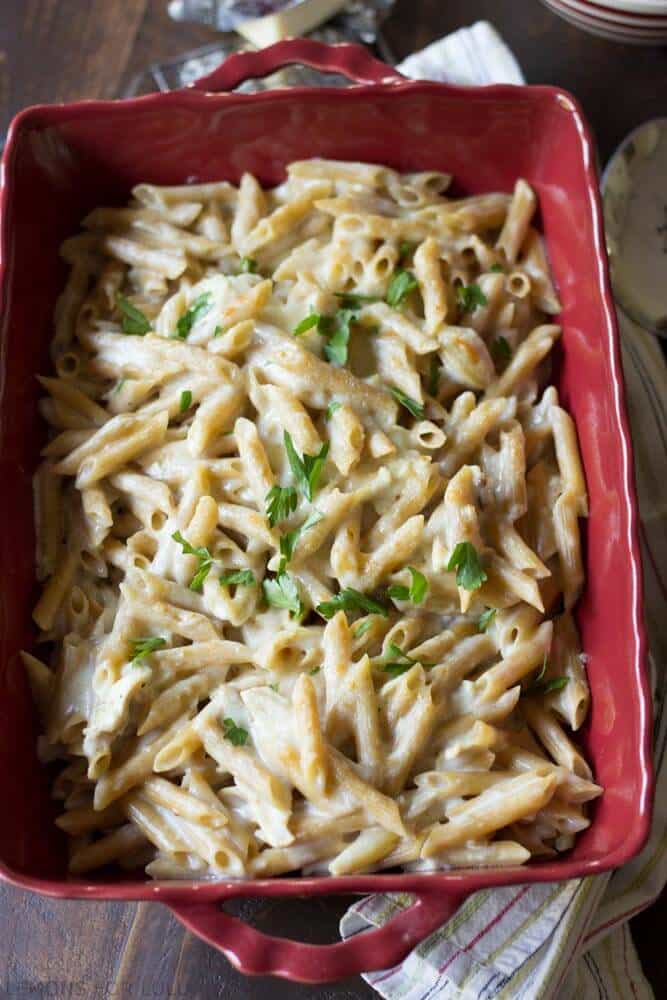 Recipe adapted from Cooking Light.