Red Velvet Cups with White Chocolate Amaretto Filling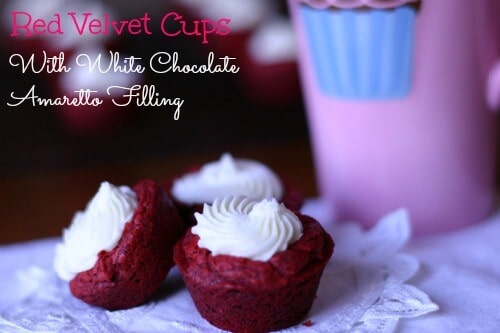 This time of year, nothing seems to say "I love you" like red velvet.  The color is bold and romantic.  Because I love YOU, I made these little red velvet cups.  They were extraordinarily easy, since I started with a cake mix.  I know everyone is still watching their waistlines,  so I baked them in little muffin tins.    You can have one little cup and not feel like you are sabotaging your diet!  See how much I love you?
The filling will make you swoon!   Smooth white chocolate is melted and then mixed with luscious buttercream.  Each little bite has just a hint of almond from the amaretto liqueur.  Yep, this is just love in a cup.  Who needs fancy chocolates when you can have this?
You might enjoy these too: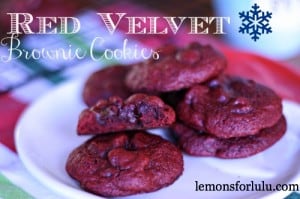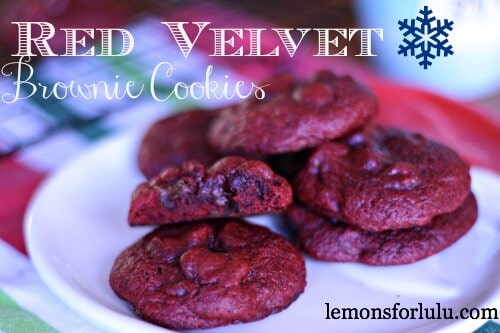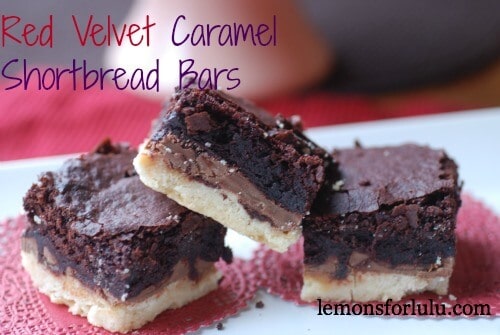 If you'd like a little Lulu in your life, please subscribe via email, RSS, Facebook or Google +.  I love staying in touch with friends!
Red Velvet Cups with White Chocolate Amaretto Filling
Ingredients
1

box 18.25oz Red Velvet Cake mix (plus ingredients to make cake)

2 4oz

white chocolate baking bars

1/3

cup heavy cream

1

cup butter, softened

6

cups powdered sugar

1/4

Amaretto liqueur
Instructions
Preheat oven to 350. Spray two mini muffin tins with cooking spray and set aside.
For the cups:
Prepare cake mix according to package directions. Scoop batter and roll into balls. Place in each muffin tin cavity. Bake for 12-15 minutes. Remove from oven. Let stand for one minute. Using small spoon, carefully make indentation into each cup. Let cool completely. Remove to a cooling rack.
For the frosting:
Melt white chocolate and cream in a microwave safe bowl for 1 minute. Stir. Continue to melt in 30 second intervals until completely smooth. Let cool to room temperature. In a mixer, beat butter and 1 cup of powdered sugar until creamy. Carefully add remaining powdered sugar, alternately with liqueur on low speed until smooth and creamy. Beat in white chocolate mixture until smooth and creamy. Add heavy cream as necessary to achieve piping consistency. Pipe frosting into each cooled cake cup.
Makes 48 cups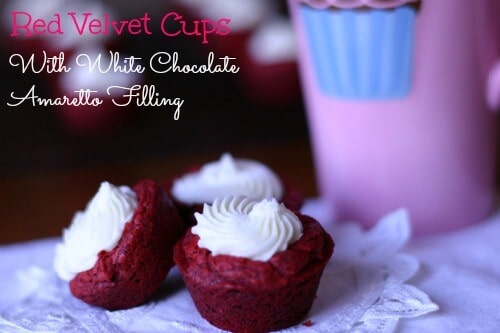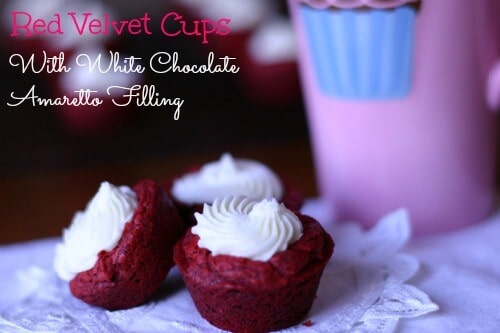 Frosting adapted from My Recipes
I'll be linking this recipe to these fabulous sites as well as to: Jam Hands, The DIY Dreamer and