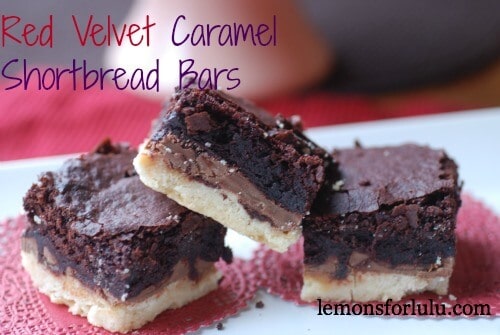 I was quite the cougar back in the day. When I was in the eighth grade, I had a very serious relationship with a seventh grader. I think we "went together" for a whole two weeks. Of course, back then, the term "going with someone" meant that I thought he was cute and he thought I was cute. That was it. We didn't really see each other, unless it was a school event. And we didn't really talk on the phone. It was easy to forget about the other person when you only saw each other in passing at school. This is why these relationships were so short-lived. Two weeks was quite the deal.
I remember those dreamy two weeks were in February. I was sort of excited to buy this guy a Valentine's Day gift. I never dated anyone on Valentine's day, so this was huge! I remember going to Walgreens to buy his gift. I knew what the gift would be before I even met him! I always wanted to buy someone those large Hershey Kisses! I don't know why I thought that a giant, pyramid of chocolate was the gift that said " I love you", but in my mind, it totally did! Of course, I would have preferred he buy one for me, but whatever. I'm a giver. I carefully worded his card and I wrapped the kiss in heart covered paper. Then, I decided to walk it to his house, which was very bold of me. As I said, we never communicated outside of school. My best friend went with me for support. When we got to his house, he stepped outside and promptly told me it was over. He wanted to just be friends.
Contrary to what you might be thinking, I was not sad. The first thing I thought of was that I was so relieved he broke up with me BEFORE I gave him his gift!!! Whew! The Hershey Kiss was mine, ALL MINE!!! I practically skipped all the way home! When I got into my room, I shut my door, ripped open that crinkled silver wrapper and dug in! I made short work of that giant kiss and each morsel was heaven.
I've come a long way since those days of young, unrequited love. But one thing remains the same, I still LOVE my chocolate!!! Chocolate is the first thing that hits you with these bars. The top layer is the red velvet brownie. They are full of chocolate flavor with a texture that is both cake like and fudgy-as a brownie should be. The middle layer is chocolate covered caramel Ghirardelli squares that melt just enough during baking. You can really feel and taste that lovely caramel. The final layer is one of my favorites: buttery, flakey shortbread. This is one decadent bar!! You will win anyone over with these red velvet dreams!
I served myself one of these bars before anyone else had one. I had that same mouth-watering anticipation I experienced before I ate that Hershey Kiss so many years ago. There's just something about that moment right before you bite into something that you know will amaze your taste buds! And these red velvet bars did not disappoint!
You might enjoy these too: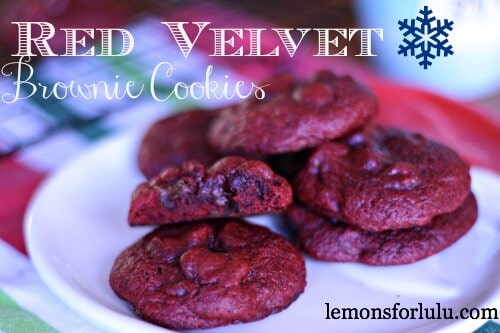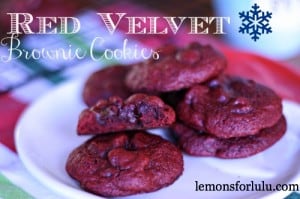 If you'd like a little Lulu in your life, please subscribe via email, RSS, Facebook or Google +. I love staying in touch with friends!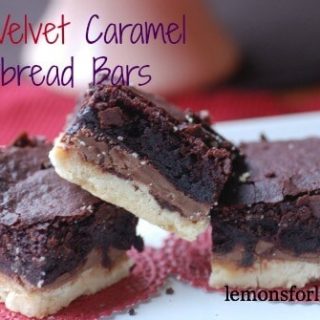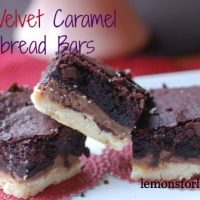 Red Velvet Caramel Shortbread Bars
Yield: 24 bars

Prep Time: 25 minutes

Cook Time: 50 minutes

Total Time: 1 hour 15 minutes

Chocolate is the first thing that hits you with these bars.
Ingredients
1 cup butter, softened
1/2 cup sugar
2 cups flour
pinch of salt
20 caramel filled Ghirardelli Squares (.375oz ea)
1 cup unsalted butter
2 1/4 cups sugar
1 1/4 cup cocoa powder
1 teaspoon salt
1 teaspoon baking powder
1tablespoon vanilla
4 eggs
1 bottle red food coloring (1 oz.)
1 1/2 cups flour
Instructions
Pre heat oven to 350. Spray a 9 x 13 pan and set aside.
In a mixer, cream butter and sugar. Carefully add flour and mix until crumbly. Press dough into prepared pan and bake for 25 minutes or until just brown around the edges. Remove and let cool completely.
In a microwave safe bowl, melt butter. Add sugar , stir and heat mixture once more until it becomes shiny ( about 1 minute). Stir in cocoa, salt, baking powder vanilla and food coloring. Whisk in eggs until batter is smooth. Carefully stir in flour.
When crust has cooled, place caramel filled chocolate squares over crust. Pour brownie batter over chocolates. Bake for 25-28 minutes or until brownies are set around the edges. Do not over bake.
Nutrition Information
Yield 24 Serving Size 1 bar
Amount Per ServingCalories 397 Total Fat 17g Saturated Fat 10g Trans Fat 0g Unsaturated Fat 5g Cholesterol 72mg Sodium 305mg Carbohydrates 59g Fiber 1g Sugar 43g Protein 4g

I'll be linking this recipe up to these fabulous parties as well as to: Jam Hands, The DIY Dreamer and